How to Make – 5 Minutes Tomato Garlic Pasta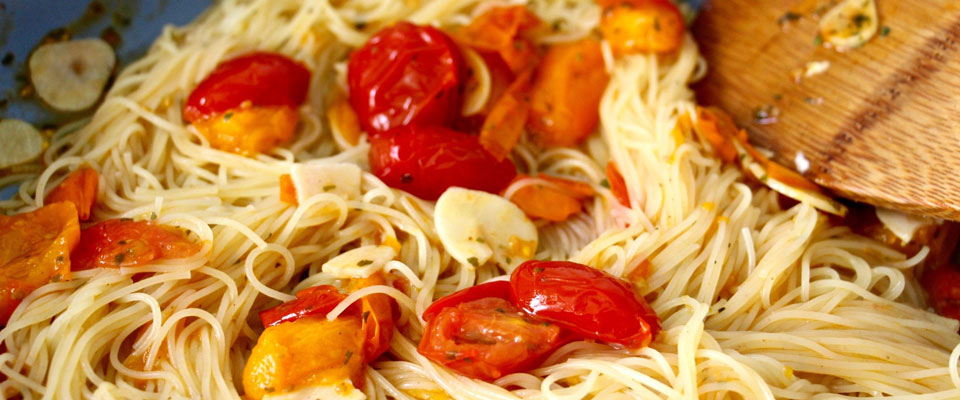 Let's face it, a home cooked dinner sounds like a fantastic idea…until it comes to crunch time, when you're drained from a day at work and barely have any time to clobber a meal together. Weeknight dinners are often hectic in our household – even though my work revolves around good eating. The battle of grocery store lines and muling all the bags home is enough of a discouragement, and sometimes, I just want to eat a simple meal and relax on the sofa with some quality TV time.
Ta Da! One of my fallback comfort meals is my 5-minutes tomato garlic pasta, which, LITERALLY, takes 5 minutes from start to finish. Key time savers that make this meal delicious, healthy, yet effortless are allies like angel hair pasta (which takes 2 minutes to cook!) and dried parsley and garlic flakes (which add instant oomph and flavour). I am in love with the wafer thin dried garlic flakes I get from Regency Spices, which is my go-to premium spice merchant in Hong Kong. They source all the finest spices and herbs from all over the globe. These garlic flakes are fragrant, crisp, and hail from Jiangsu province in China. They add instant flavour without the hassle of me having to peel countless cloves of fresh garlic and painstakingly slicing them with a mandolin. It really is the cheater's way to full impact flavour
What You'll need (Feeds 2 hungry hippos):
2 cups of grape or cherry tomatoes
a fistful bundle of angel hair pasta
2 tbls dried garlic flakes
1 tsp dried parsley
olive oil
1/4 cup white wine (optional)
1 tsp sugar (to taste)
salt and pepper to taste
pecorino or parmesan (optional)
Prep Time: 1 minute
Cook Time: 5 minutes
Ready, get set, start!
Either pour hot water from a kettle or bring a pot of water to the boil. Salt the water liberally.
While the water is heating up, halve the tomatoes and toss them in a pan with a good lug of olive oil, dried garlic flakes, and dried parsley. Let that simmer down on medium low heat for a couple of minutes, until the tomatoes become a bit withered. If you are feeling a bit "chefy", then deglaze with white wine. Otherwise, just taste the sauce and adjust for seasoning.
Depending on how tart the tomatoes are, you may need to add a bit of sugar, and balance that out with peppercorn and salt.
While the sauce is simmering, the pasta water should have come to a boil. Tumble in the pasta and stir gently. Remember, the thin angel hair pasta cooks in 2 minutes, so no mucking about here!
Transfer the al dente pasta into the sauce pan, and toss it all together. A little pasta water could help loosen up the sauce so that it coats every luscious strand.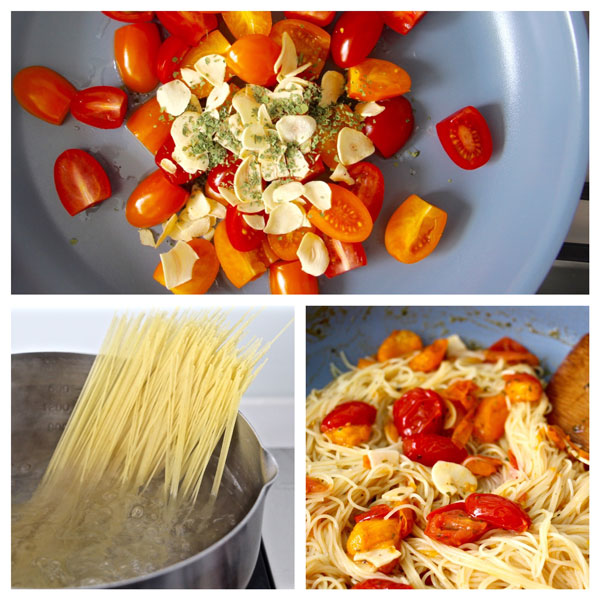 Voila! If you have some pecorino or parmesan lying around, shave some on top of the pasta for that extra umami pop.
From stove top to dinner plate in under 5 minutes, now, that's what I call a good weekday meal!
Bon Appetit!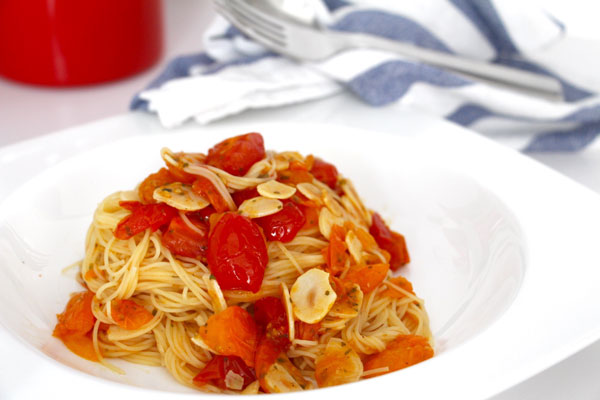 Sites We Adore