Afterthoughts – "No-Frills" Dining at ABC Kitchen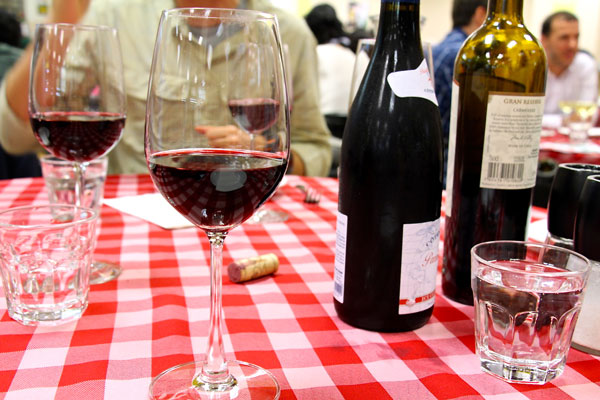 Sometimes, the best things are found when two worlds collide.  A few weeks back, we had the pleasure of hosting a couple of our New York friends in Hong Kong, and I wanted a dining experience worthy of showcasing the magnitude of diversity in this little island of ours.  Sure, there are plenty of fancy, critically-acclaimed restaurants in Hong Kong, but we wanted a place rugged enough to bring us back to Hong Kong's roots, and with a menu familiar enough for our American friends to truly feel comfortable savouring.  ABC Kitchen, jostled amidst Queen's Road's bustling Cooked Food Centre, came as a natural choice.  Set in a stereotypically "local" Hong Kong dai pai dong, ABC Kitchen's cheerful "classic Italian" red checkered tablecloths and delicious, no frills western menu, stands out like a juxtaposition.  Patrons swirl glasses of wine and smear fat dollops of terrine on fluffy bread while  neighbouring tables sip oolong tea and slurp up wonton noodles – the setting is truly what Hong Kong is all about, a conduit between East and West.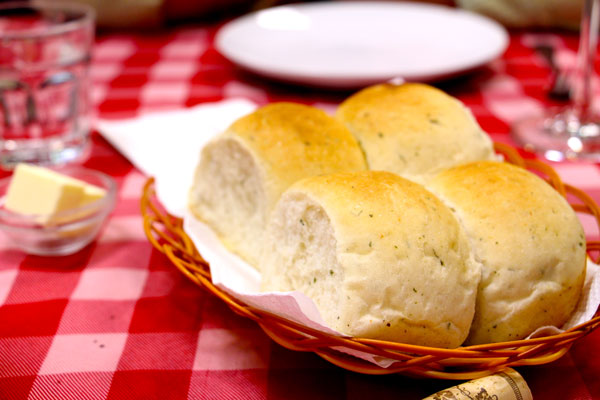 We were ushered to our table by a cheerful waiter, who spared no time in proliferating a corkscrew to relieve us of our bottles of wine.  Another advantage of this very casual restaurant – no corkage!
Service here is brisk yet in no way rude or obtrusive.  The menu is simple, very straight-forward, and blissfully lacking in fanciful, pretentious terms like "espuma"!
We started our meal with a refreshing salad of tomato, mozzarella, basil and lettuce (HK$88).  The greens were crisp, the tomato ripe and the cheese beautifully creamy.  No frills, just straight-forward, simple food.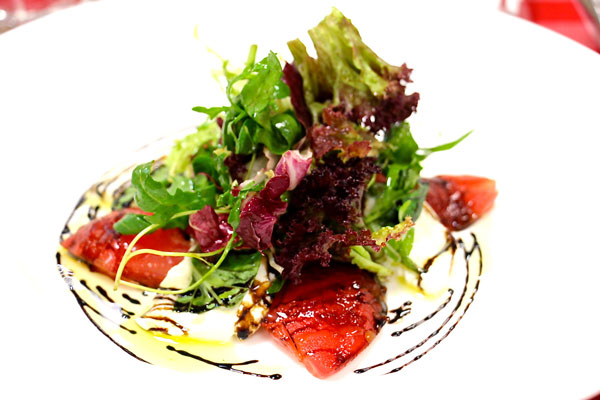 I love my pork, and couldn't resist the ham hock terrine (HK$98) with slices of raisin bread.   The texture reminded me of head cheese, and the brininess of the pork worked perfectly with the sweetness of the bread.  I also adored the giant globes of capers.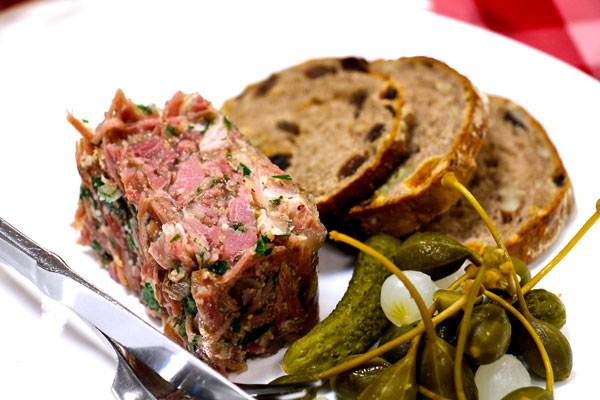 Since we are still at the height of white asparagus season, we opted for the white asparagus with Iberian ham and soft poached egg (HK$128).  The asparagus was incredibly tender, and its mellow sweetness paired well with the rich, salty ham.  Curls of parmesan added further decadence, and the velvety egg yolk tasted orgasmic when spilled over the bed of asparagus.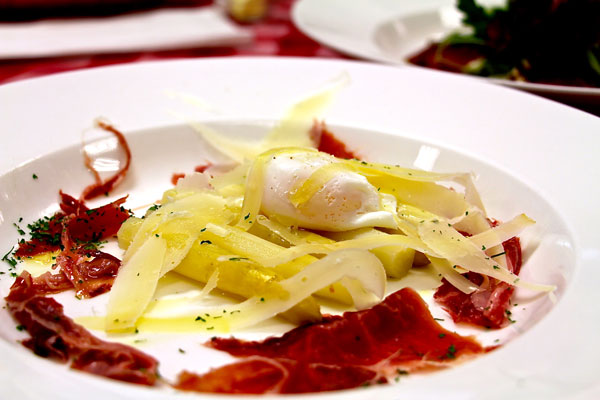 Egg / food porn at its finest…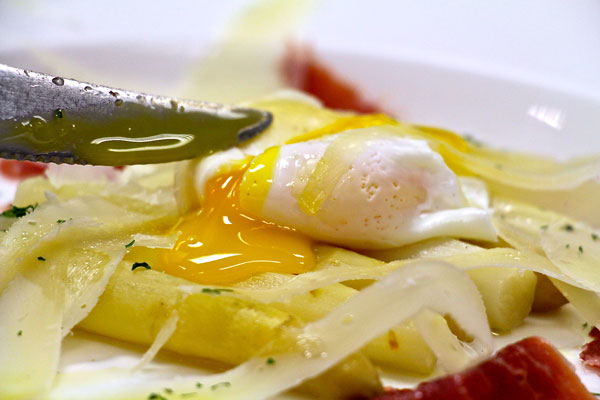 The mushroom risotto with truffle oil (HK$148) was ginormous, and cooked a bit passed a perfect al dente.  Nevertheless, it was deliciously creamy, especially in contrast with the crisp, peppery arugula.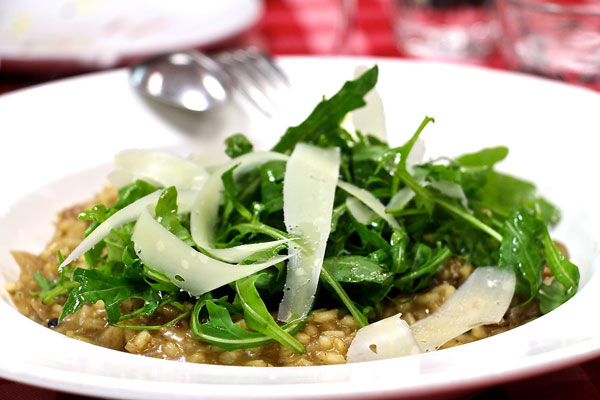 The braised pork cheek with mash and sautéed spinach (HK$178) had comfort food written all over it.  The meat was fork tender, although I would have preferred a bit more of that stickiness from the connective tissues that make this cut of meat so irresistible.  The sauce was glossy and made the buttery mash impossible to resist.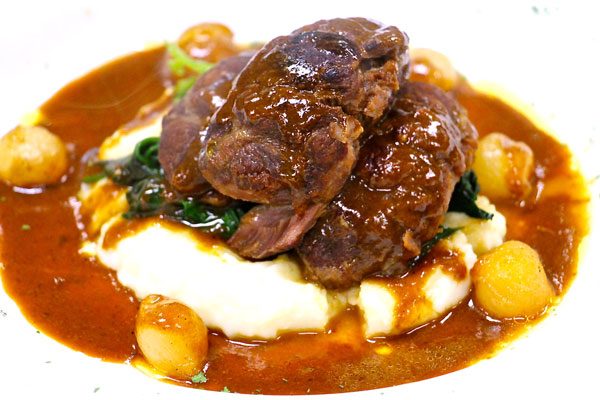 Whatever you pick, make sure you get the suckling pig!  I called in advance just to make sure they had this available!  The suckling pig with sweet potato mash and braised red cabbage (HK$168) had me chortling with delight.   The skin was crackling perfection, and the meat was glossy and tender with juicy fat.  The sweet potato mash complimented this piggy beautifully.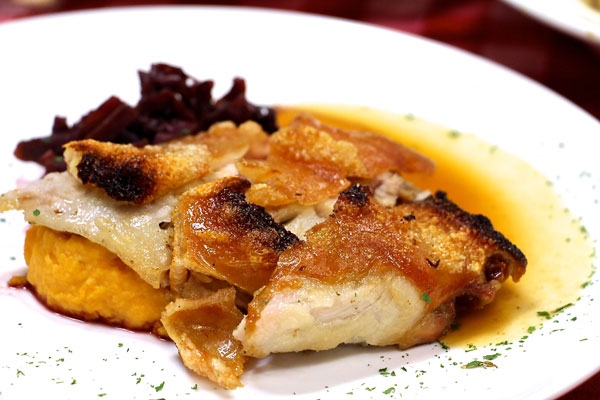 By this point, we were ready to surrender to our porky dishes and move on to dessert.   The passionfruit and white chocolate cheesecake (HK$48) was a bit awkward, as we were expecting a more heftier slice rather than a thin sliver with a questionable jelly-like finish.  It was also overly sweet without the addictiveness to justify the calories.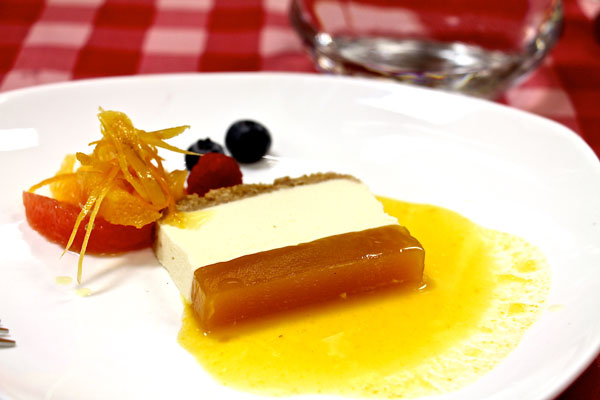 The pavlova (HK$58), however, put us back on the right track.  The sugary meringue base was dreamily light, and the cream and fresh fruits contrasted well with the crunchiness of the base.  This was a decadent dessert, but, without the guilt factor.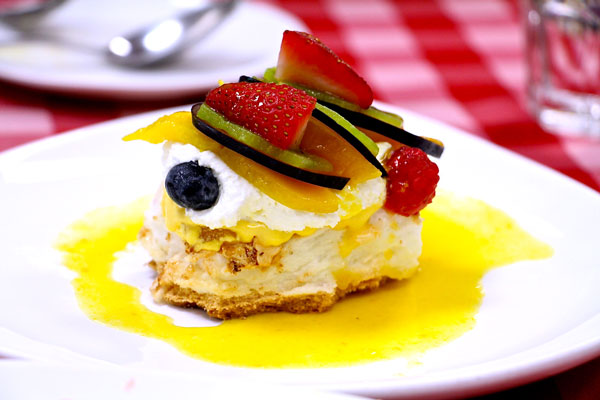 The black sesame soufflé (HK$48) was a great way to cap off the evening.  With a lead time of around 10 minutes, our patience was royally rewarded with this pillowy, ethereally light soufflé.  The top was lightly caramelised and the entire fluffy puff oozed with the nuttiness of black sesame.  This was a perfect "fusion" between East and West ingredients and cooking techniques.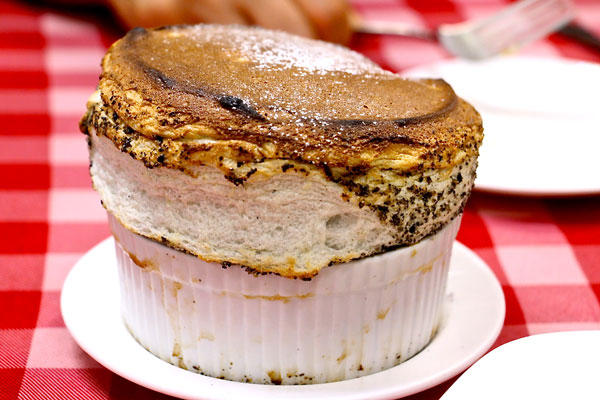 Verdict:  Delicious, simple, down-to-earth food that's easy on the wallet.  In Hong Kong, it's easy to be jaded by the plethora of luxurious dining options, and it's refreshing to still find uncomplicated, good food amidst the pretension.  A great find for those who just want an easy, satisfying meal with no frills attached.  In my opinion, some of my best meals are had in this fashion.  Yes, there's always a time and place for Kobe beef and truffled caviar, but some times, a girl just needs to sit back and munch away on some crispy piggy in a carefree environment.
ABC Kitchen
Shop 7, Food Market, 1 Queen Street
Sheung Wan, Hong Kong Island
Tel:  +852 9278 8227
Sites We Adore