Afterthoughts – French Rustique at Metropolitan
On a hot, muggy evening not so long ago, we happened upon this charming little French bistro on route to a friend's housewarming party in steep, hilly Sai Ying Pun.  Metropolitan, the newest baby of restaurant group French Creations, serves up rustic comfort food against a decor background of a Parisian train station.  The cozy little restaurant is furnished in the ways of industrial chic, with plenty of exposed, raw metal beams to drive home the impression.  It was every bit the stylised Parisian train station, but minus the pigeons (thankfully!).  The whole place had a cheerful, lively beat to it.
Armed with glasses of chilled Loire Valley sauvignon blanc, we opted to sit at the bar alongside the open kitchen, so we can get ringside seats to all the action.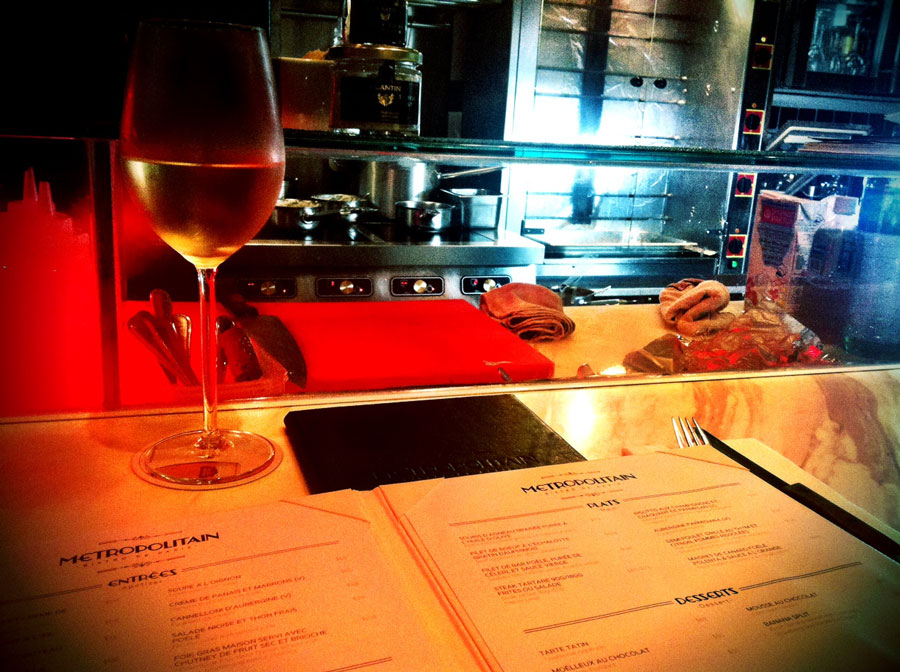 Chef Frank putting the finishing touches on the beef and potato dauphinoise.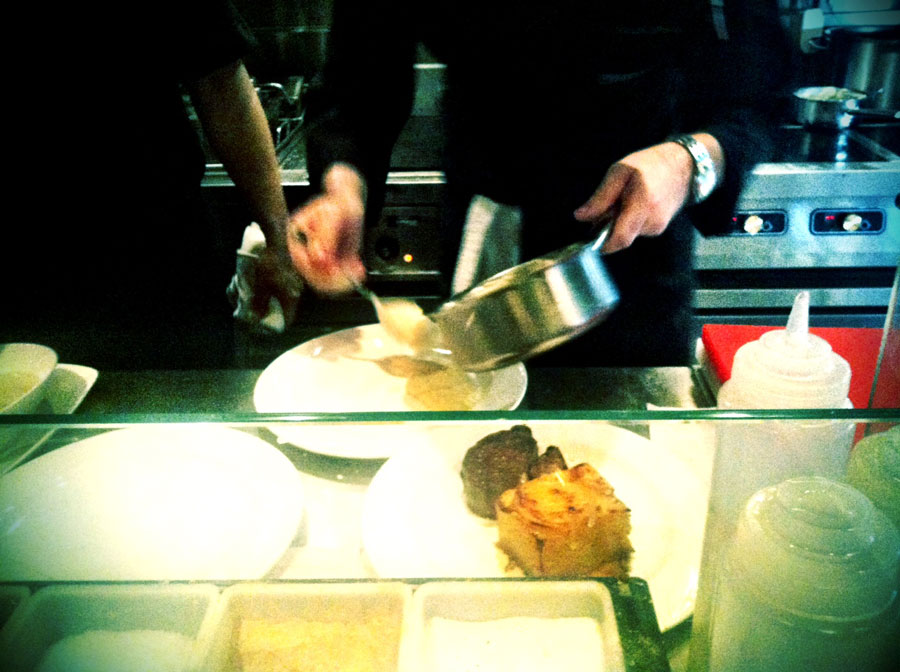 After drooling over what we saw behind the counter, we started our meal with the cannelloni d'aubergine, a delightfully light dish of rolled eggplants around cheese and diced vegetables.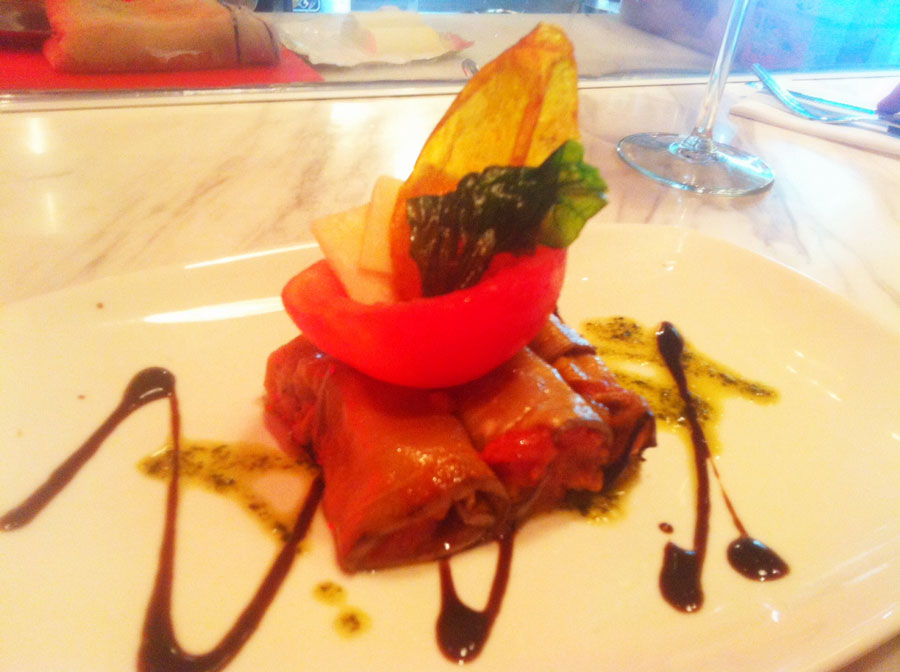 I really wanted the beef tenderloin with golden layers of potato dauphinoise, but had to restrained myself since it was late into the evening and I have an unforgiving mermaid wedding dress to fit into in a couple of month.  So I opted for a slightly less guilty choice – the braised lamb shank with olive oil and mashed potatoes.  The lamb shank was tender enough, although I felt it could be improved with more moisture.  Parts of the meat were slightly dry.  The buttered mash was a fluffy cloud of heaven – incredibly silky and rich thanks to the huge quantity of fine French butter.  But then again, I always feel that if you are going to eat mashed potatoes, you might as well do it right and eat the kind rich with butter.  It's a classic case of "go big or go home".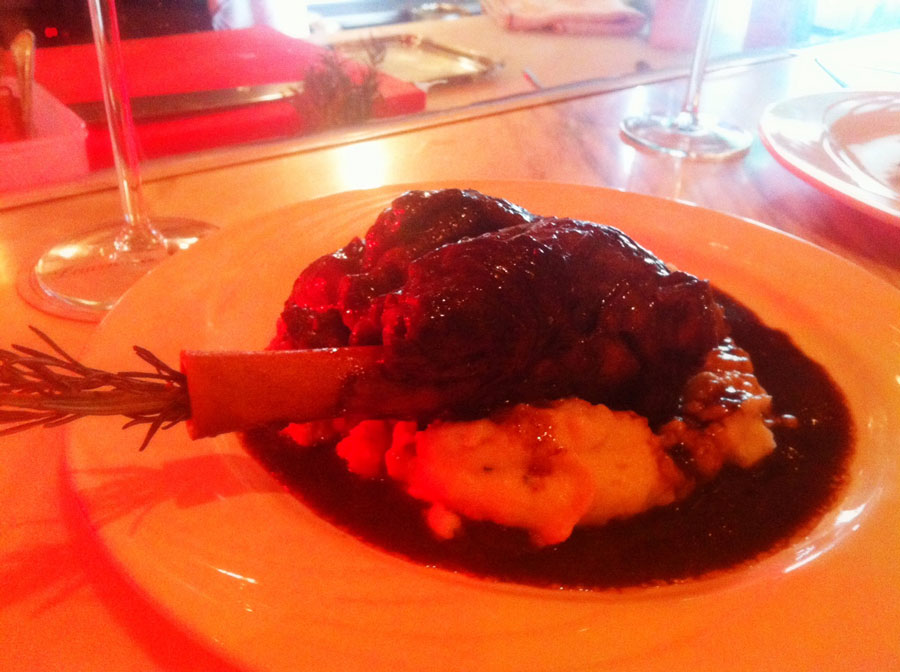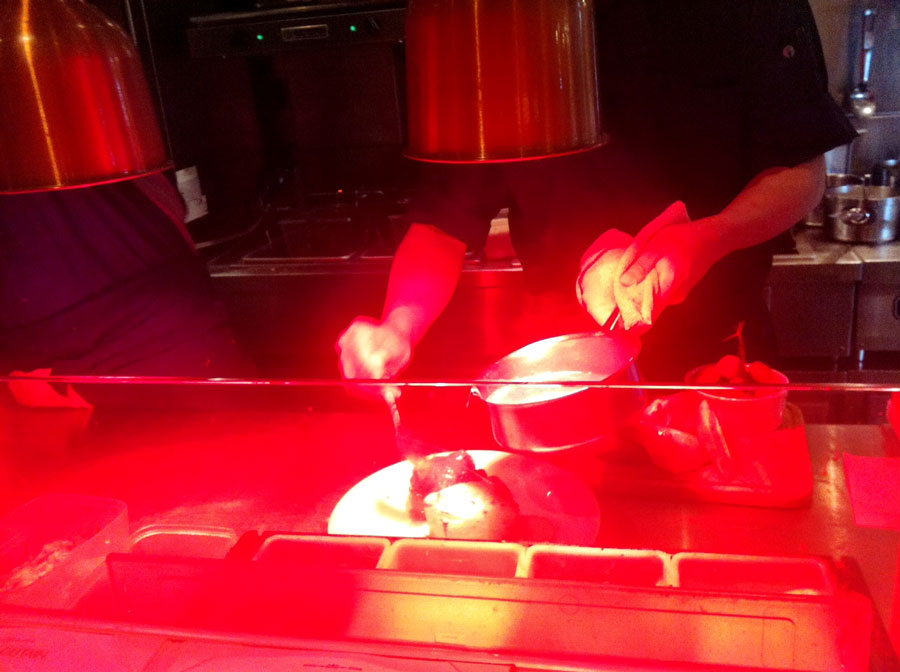 My dining companion chose the "girly" version and went with the seared sea bream on celeriac puree and sauce vierge.  The skin of the fish was seared beautifully to golden perfection, and the flesh was incredibly succulent.  I couldn't resist bartering some of my lamb and mash for tender morsels of fish.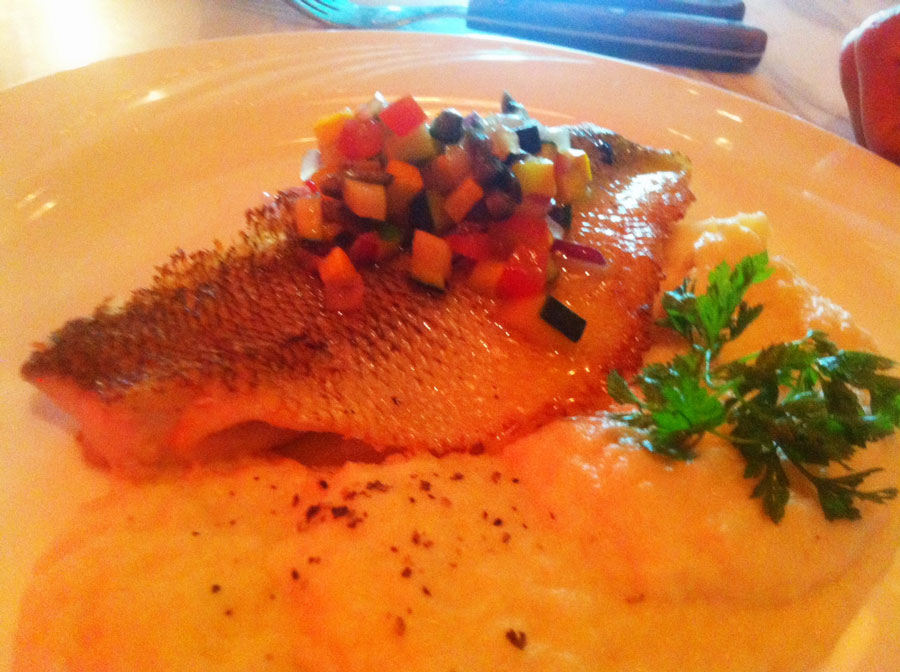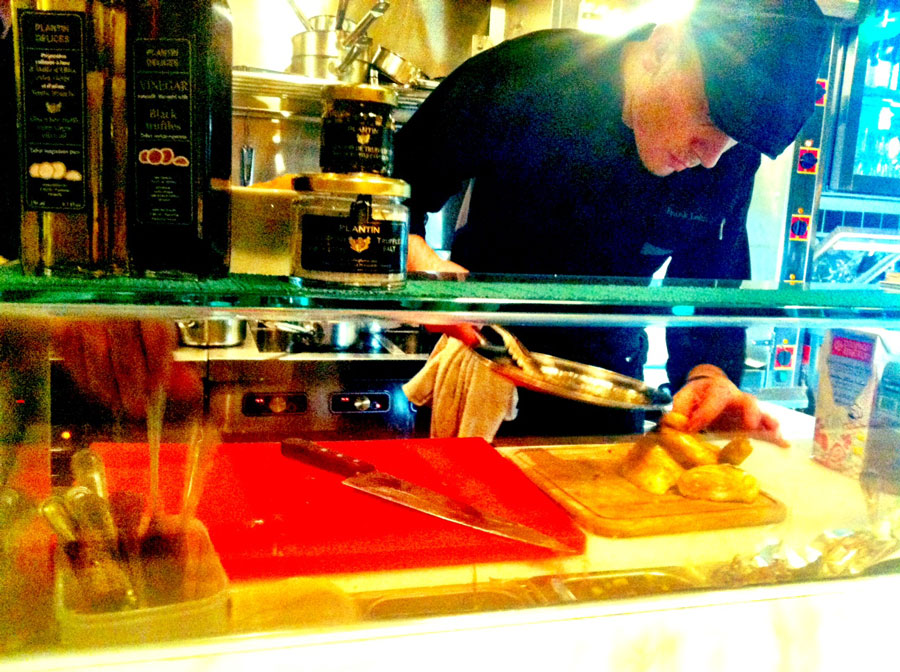 Good meals are always made better with a sweet ending.  Although predictable, I voted for the warm chocolate fondant with a scoop of vanilla ice cream.  You can't really go wrong with warm, oozy chocolate paired with icy vanilla cream.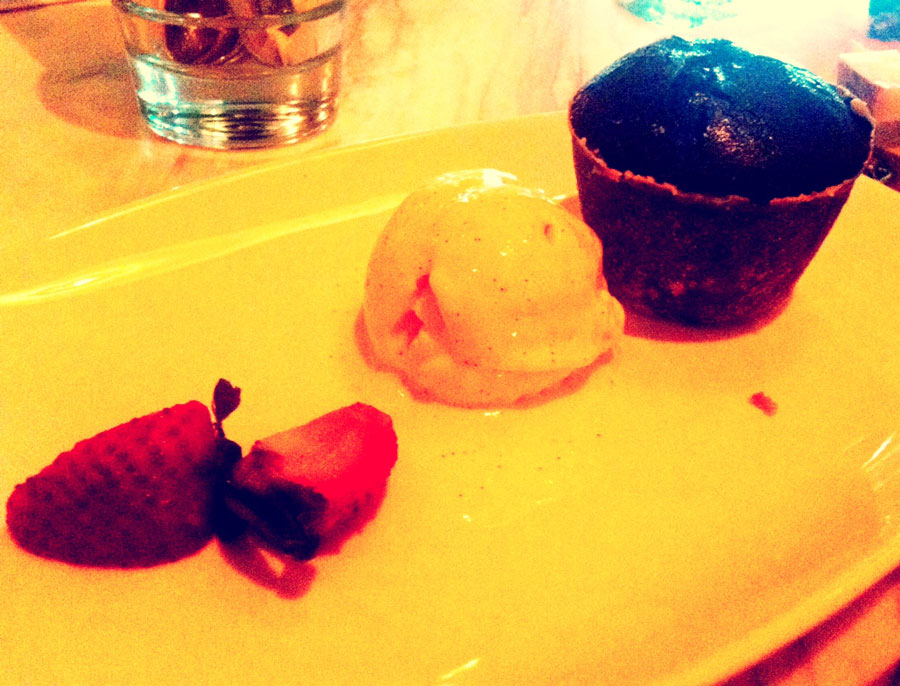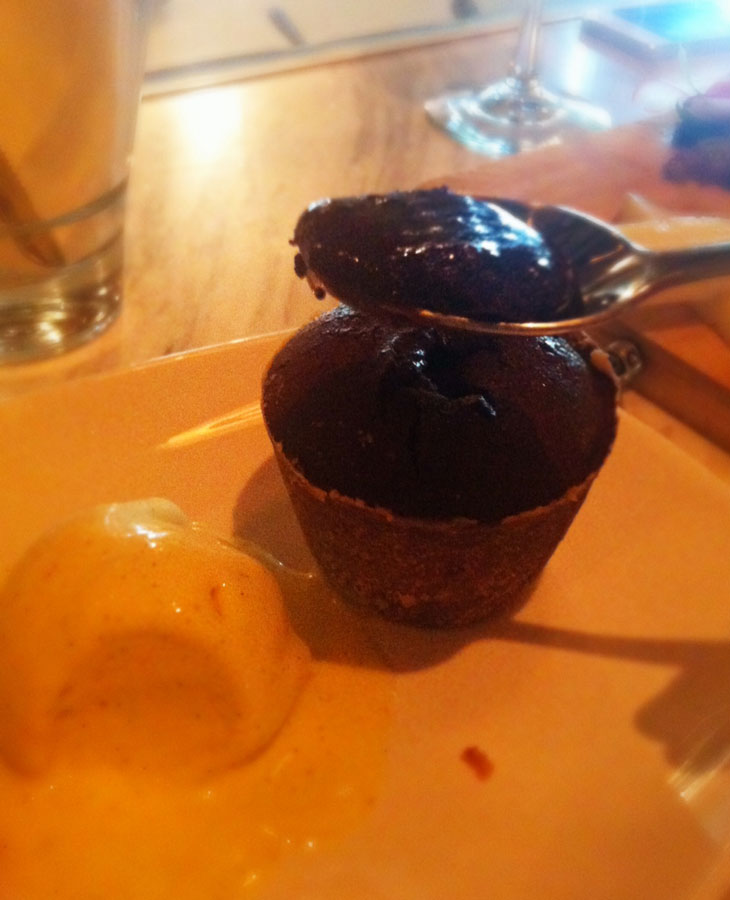 Keeping true to his French roots, the Mister opted for a savoury platter of pungent cheese.  Chef Frank was very obliging and rustled through an entire box of cheese to give us recommendations.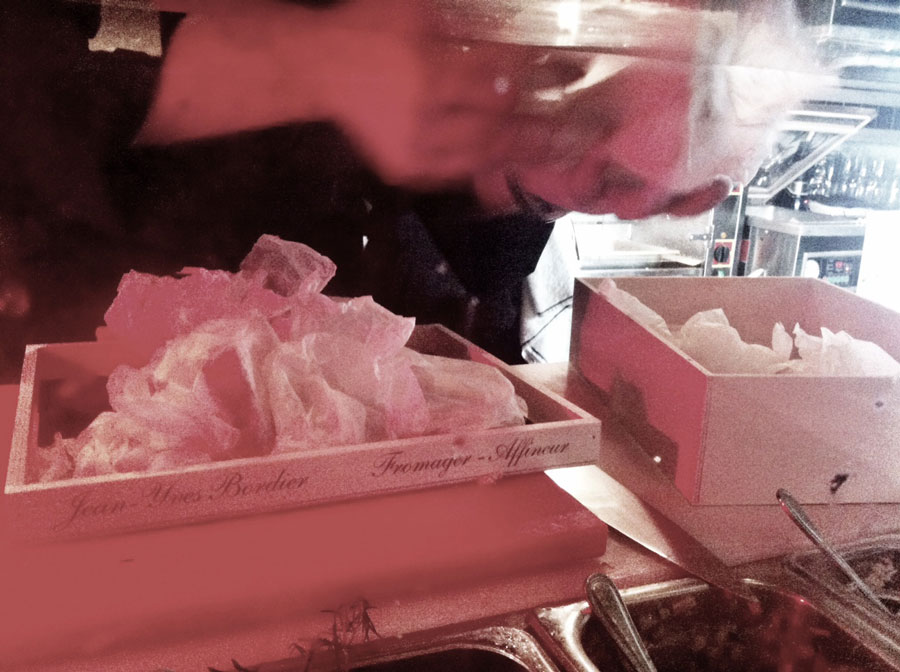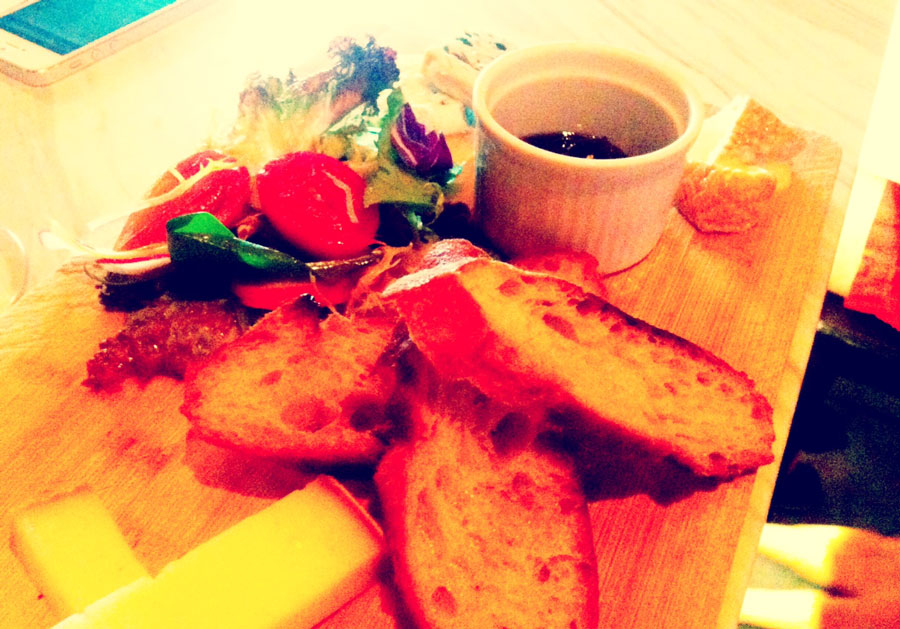 Verdict:  What a cool area Sai Ying Pun and High Street have become!  It feels like a younger, fresher version of Soho.  Metropolitan sits on a street with a dozen other restaurants, yet it's the only one packed to the brim with customers.  I think this says a lot about the restaurant.  I've always loved French Creation establishments (St. Germain, Pastis) and Metropolitan has definitely become a top contender whenever I'm in the mood for simple, French comfort food.  The service was very attentive, and we loved chatting with the very talkative Chef Frank.  Prices were very reasonable, and we did a double take at the small amount on the bill.  We will definitely be back for more, especially since I have my eye on that beef tenderloin!
Metropolitan
G/F, 46 High Street, Sai Ying Pun
Hong Kong Island
Tel:  6271-6102
Sites We Adore