Afterthoughts – New "Salt Discovery" Menu at Armani Aqua
A pinch of salt:  Salt is possibly the world's oldest seasoning.  Wars have been fought over this most flavourful commodity, and time-worn phrases such as "worth one's salt" sprung up from the days when Roman soldiers were paid their salaries (stemming from the Latin word salarium) to purchase salt.  So it comes as no surprise when Armani Aqua decided to celebrate this most important of ingredients with a tailored "salt discovery" menu to showcase salt's unique abilities to enhance natural flavours.  The tasting menu, comprising of six courses, partners with seven unique salts both distinct in appearance and flavour.  Some of these salts looked like precious jewels with their soft opaque hues.
I sat down on behalf of Foodie Magazine, with Head Chef Andrea Magnano, to taste this new Salt Discovery menu.
On my tablescape –  a "spice market" of various types of salt, ranging from the bold, smokey Viking Java mix, to the iridescent pink Himalayan, to saffron infused Cypriot salt.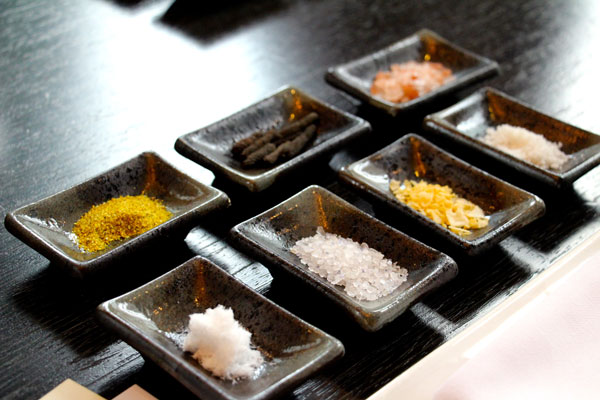 I love the "fluffy" snow-like texture of the Hoarfrost salt, harvested from an ancient, dried-out oasis in the Egyptian desert.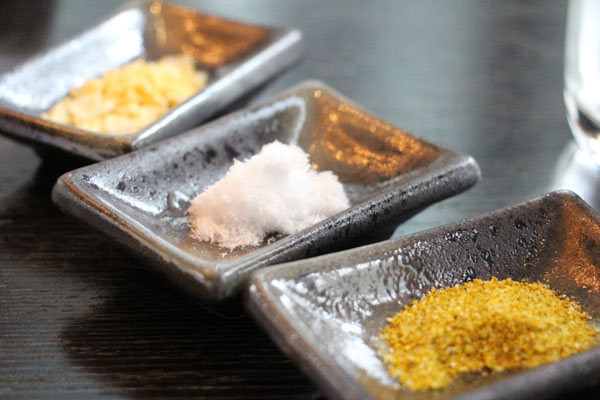 The 260 million year old pristine pink Himalayan salt reminded me of pink quartz.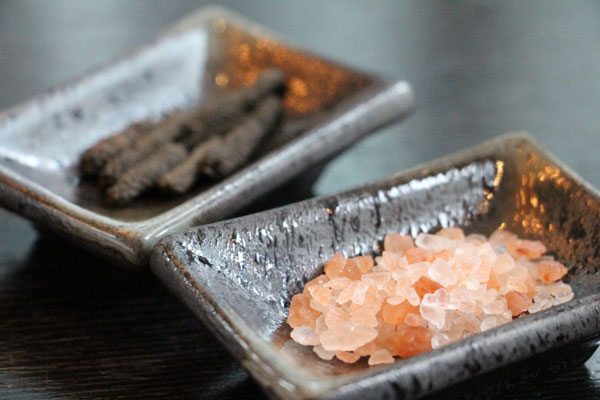 A toast, to salt:  The creative salt pairings doesn't just end at the kitchen, but continue onwards to the bar.  Unique salty twists add new dimension to classic cocktails.  We especially loved the Blue Margarita, served with shavings of cobalt-like Iranian Persian blue salt, and the timeless Dirty Martini, rimmed with Essencia Arbequina olive salt.
(Clockwise from left):  Dirty Martini, Pink Poodle, Blue Margarita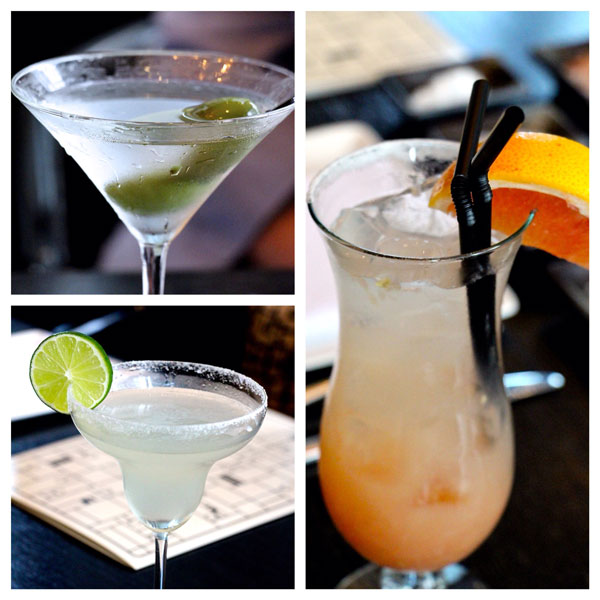 The salt trail:  The salt discovery journey began with a showstopper – three translucent pink Botan prawns served on a block of 260 million year old pink Himalayan salt that reminded me of chiselled marble.  The sweetness of the prawns were further accentuated by the slight curing provided by the salt block, and accompaniments such as Amalfi lemon mayo, clementine granite and licorice yellow Cypriot saffron salt ensured a multitude of contrasting flavours.  My favourite was the fresh, zesty clementine granite, which tasted like golden drops of sunshine and balanced well with the savouriness of the salt block.  If you looked close enough, you can even find tiny fossils embedded in the pink salt crystals.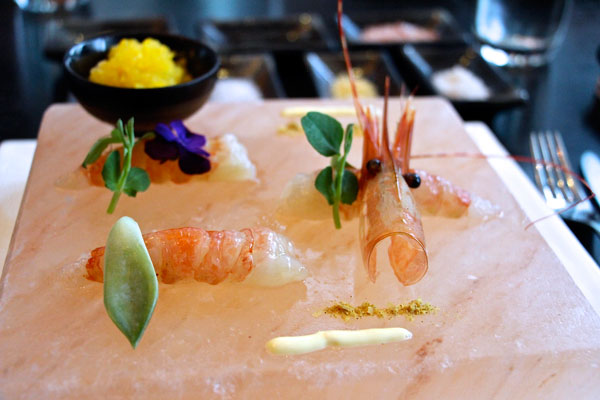 I am a sucker for edible flowers, especially when perched delicate on a sweet morsel of raw Botan prawn.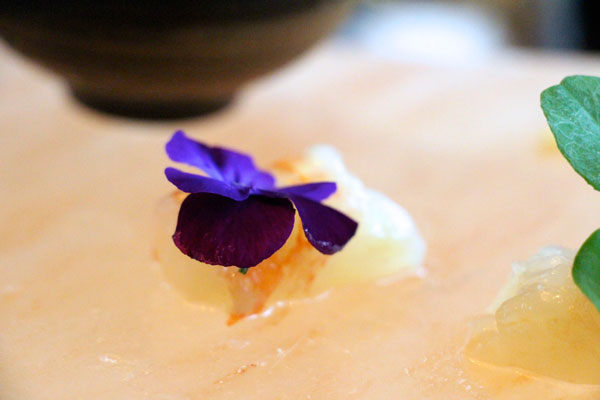 The "duck two ways" comprised of velvety pan-fried duck foie gras and homemade cured duck ham sheathed under a wafer of sherry caramelized green apple, served with truffled caviar and accented with Viking Java salt.  This particular salt is based on an ancient Viking recipe of infusing salt with five types of smoke from various roots including onions, and then blending the salt with long fingers of Javanese peppercorn.  The duck ham was cured using Mayan salt, which can only be used for curing since the salt content is too high as regular seasoning.  I thought the rosemary caviar (little balls of golden oil) were a refreshing touch to the luxurious dish.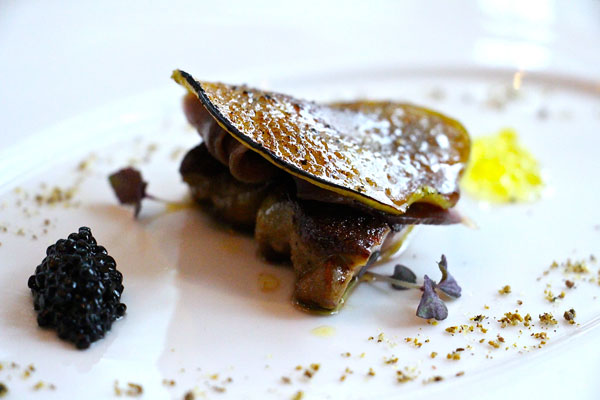 The red prawn risotto with French malossol caviar and Maltese scampi crudo came with a shaving of Persian blue salt.  The salt had to be shaved table-side as its flavour changes with oxidization.  After 5 minutes, we mixed the blue salt into the risotto, and the salt actually enhanced the sweetness of the prawns.  I really enjoyed the contrast between the al dente gooey risotto to the raw sweet shrimp – the difference between hot and cold really were the ying and yang of this dish.
Our meal's finale came in the from of succulent cubes of grass-fed Black Angus, brushed with balsamic and served with warm rocket jelly sprinkled with snow-like Hoarfrost salt.  More of a rarity, the grass-fed beef is from Southern California, in a country that prides itself on corn-fed cattle.  Personally, I feel grass-fed cattle has a much more robust taste and flavour, and is a perfect match for meat lovers.  The balsamic vinegar struck a high note with its syrupy sweetness, and interestingly, came from a producer owned by the Pavarotti family.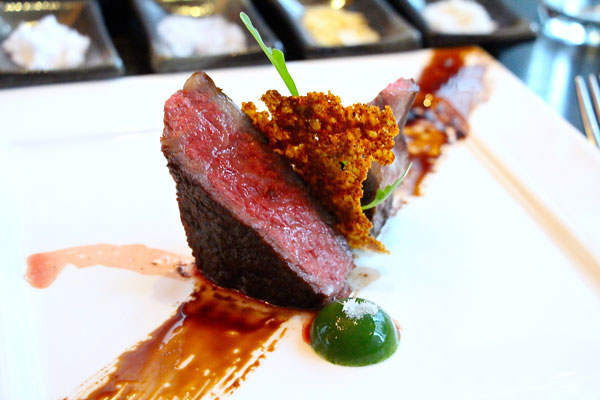 Verdict:  A great culinary introduction to this humble, and often overlooked, essential ingredient.  I particularly loved the snow-like fluffy Hoarfrost salt and the golden Cypriot saffron salt.  Although we consumed quite a lot of salt during the tasting, the sodium content of these natural salts are low compared to table salt, so the menu is still a health-conscious one.  The Salt Discovery dishes are available at Armani Aqua either as a la carte items, or as a six course tasting menu priced at HK$1288, or $1888 with wine pairing.  The menu is definitely worth it's weight in salt.
Sites We Adore