Afterthoughts (Japan edition) – Grilled Goodies at Bang Bang Izakaya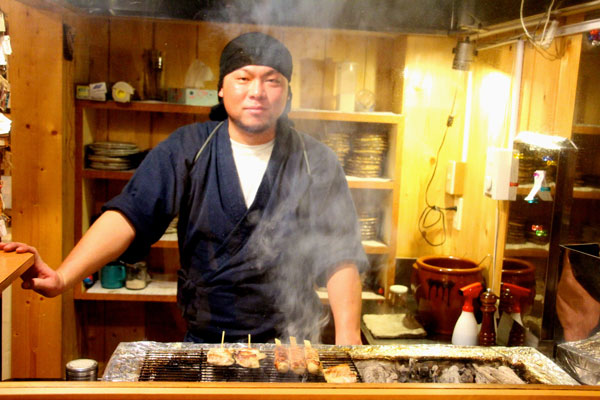 I always equate ski holidays in Japan with cosy izakayas, where we can relax after a long day of chasing powder on the slopes with cold glasses of nama bīru (draft beer) and hearty skewers of grilled meat.  Izakaya culture is one part fantastic food and one part casual, relaxed environment.
As we reside in subtropical Hong Kong, the closest we can get to some pow action is in Japan.  We're lucky enough to indulge in a few snowboarding holidays each year, and one of my favourite ski destinations is Niseko in Hokkaido prefecture.  The mix of western influences and Japanese tradition ensures that visitors still get a good dose of local culture with the added advantage of easy navigation using English.  A lot has changed in Niseko since we first visited 6 years ago.  Hip, new restaurants and posh apartments have sprung up almost overnight, but we always love sticking to some old favourites – one of which, is Bang Bang.
With over 30 years of history, Bang Bang has been around long before Niseko became an international ski destination.  Founded by Saito-san and his wife, who was drawn to Niseko by the skiing (of course!) and the excitement of frontier living, Bang Bang has been wildly popular ever since.  So popular, in fact, that its sister restaurant, Bang Bang 2, has sprung up in recent years.
On a particularly frosty night a few weeks ago, we revisited this izakayas after a long day on the slopes with a big group of 12 hungry snowboarders.
(Below) Starting off with some sweet, crisp edaname sprinkled with coarse sea salt.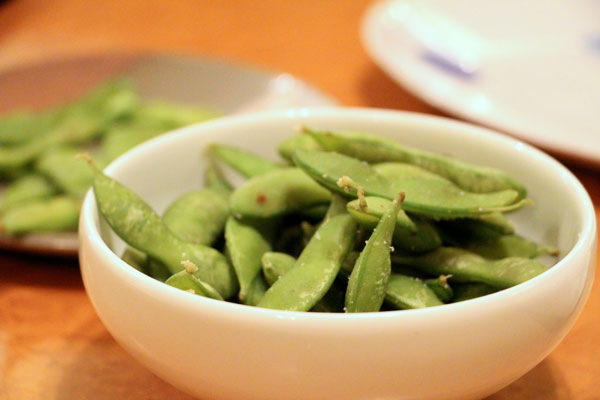 And of course, a few bottles of red wine and umeshu (plum liquor)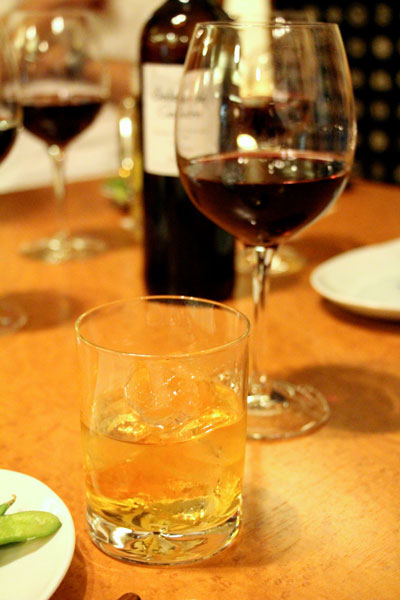 Tofu salad to start the meal – simple, healthy, and refreshing.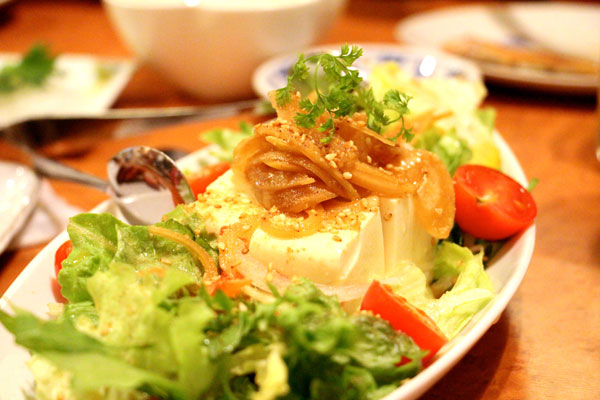 Four gradients of salmon sashimi – we were advised to start from the lightest flavoured sashimi to the fattest.   The sashimi was very fresh, although I wouldn't focus on sashimi in an izakaya.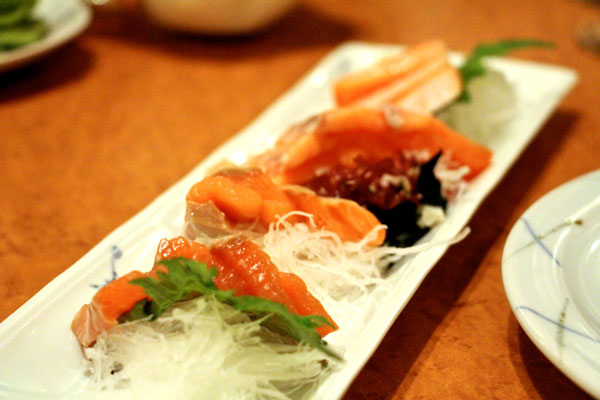 Grilled Hokkaido sausage with crispy, caramelised skin.  I thought this dish was a bit underwhelming, as the sausage tasted a bit over-processed.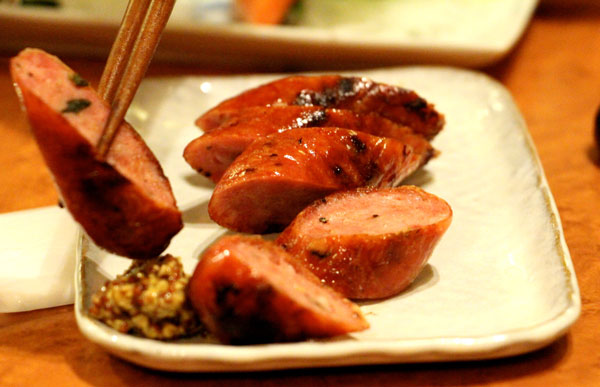 Grilled squid – this was a fantastic dish.  The squid was unbelievably tender, and full of briny juices.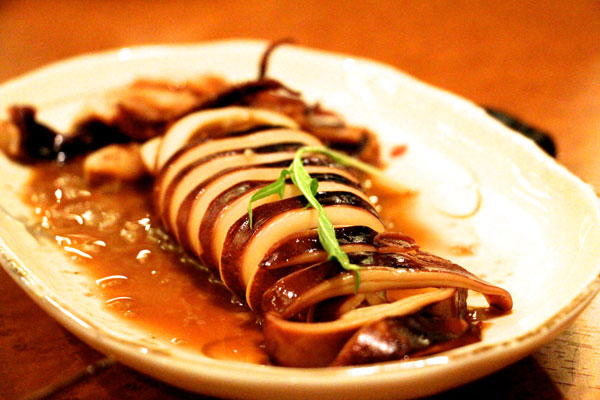 A classic staple of Bang Bang's – sautéed spinach with new potatoes.  I know this dish is unbelievably simple, but I love the combination of the starchy potato and the tender spinach.
Grilled Hokke fish – wonderfully savoury to pick at.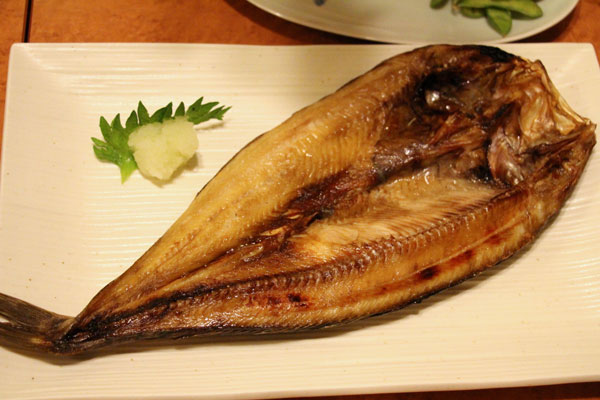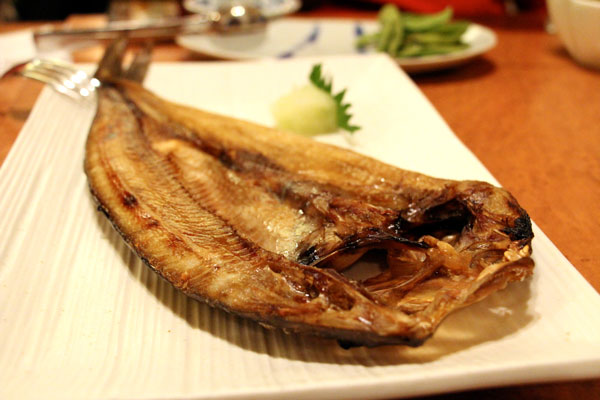 Catching up with sake and more umeshu.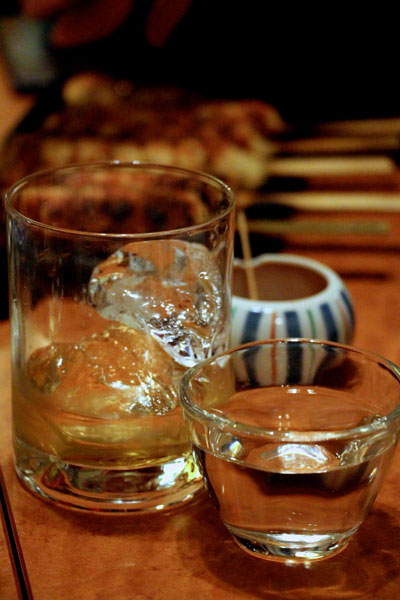 Chicken wings stuffed with mentaiko (salted cod roe).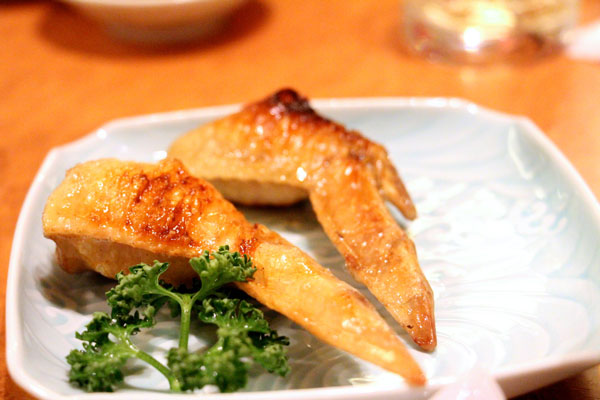 Another shot of the wings with the mentaiko inside – I am a sucker for salted cod roe, whether it's on creamy udon, or grilled by itself.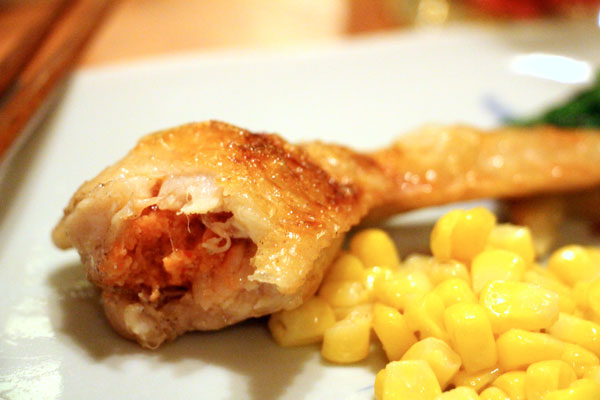 Bang Bang chicken karaage (fried chicken) – big pieces of golden, juicy chicken.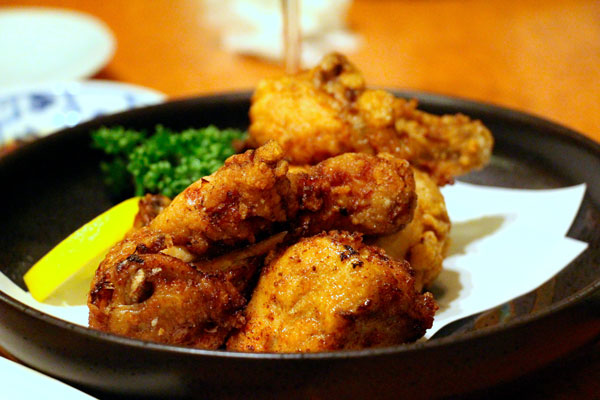 Bring on the skewers!  Pork & ox tongue skewers.  I am usually a huge fan of ox tongue, but Bang Bang's version was too tough for my liking.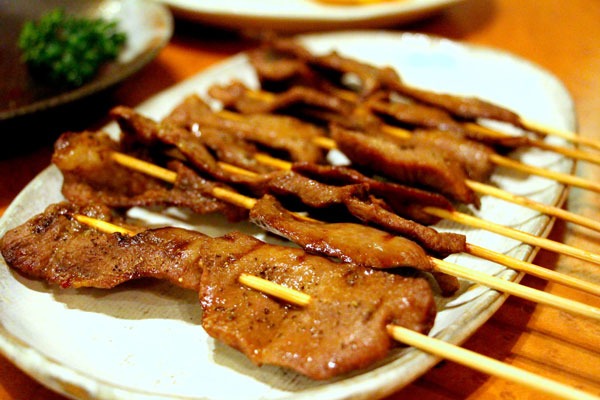 Finishing off the meal with grilled sweet pumpkin sticky mochi (pounded rice cake).  This had incredible texture – a slight caramel crust on the outside, with chewy, sticky mochi inside.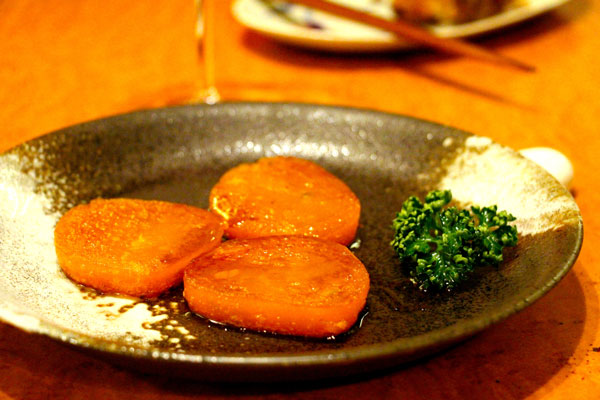 Verdict:  We like to stick to tradition and try to do at least one meal at Bang Bang every ski trip. The food is good but nothing outstanding.  With so many delicious options nearby, it's not a must-visit in my books.  One of the menu features here is their sizeable wagyu steak, but I've tried this on other occasions and did not find it particularly memorable.  Prices are quite steep for an izakaya, ranging from HK$700 – 1200 per person.  The staff are welcoming and try to speak as much English as possible, but I would advise that guests go over their bill carefully, as we've found substantial errors on several occasions on our bills.
Bang Bang & Bang Bang 2 (they are 1 minute walk from each other)
188-24 Aza-Yamada, Abuta-gun Kutchan
Niseko, Hokkaido
Japan
+81 136-22-4292
Sites We Adore