Afterthoughts – Gobbling Pork Belly Baos at BaoWow
Over the past year, plenty of new eateries that "hipsterfy" street food have popped up.  After gorging myself like a happy piggy at Little Bao (read my review here), a trendy little diner built around the glorification of the pork belly bao popular in Taiwan, I couldn't resist trying the new competition tucked away in Wan Chai.  Snappily named BaoWow, this little quick service joint has bought into the winning formula that melty buttery fat plays well with fluffy sweet carbs.
Unlike Little Bao, which projects a trendy bar / restaurant vibe,  BaoWow zeros in on the fast moving customer market (wow, I sound like my economic prof!).  It's "fast food", Chinese style, with what could easily be dubbed – the Chinese hamburger. Set in a small storefront in bustling Wan Chai, BaoWow is a no frills place where the ultimate goal is getting those delicious little baos in the stomach, FAST.  Orders are made at the cashier, and baos are briskly assembled from a Subway-isque prep counter for maximize speedy service.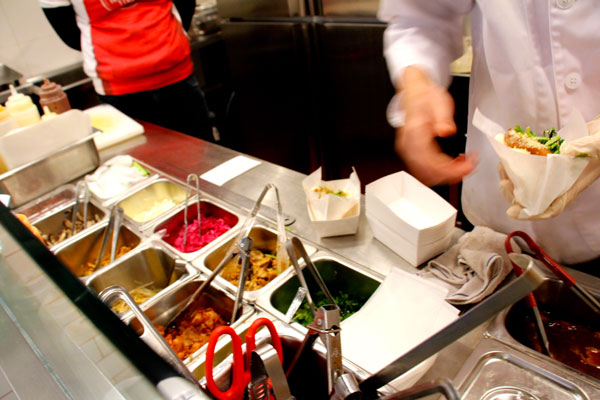 (Below) A big steamer of piping hot, chubby little baos.  Unlike Little Bao, BaoWow does not pan-sear the buns before serving.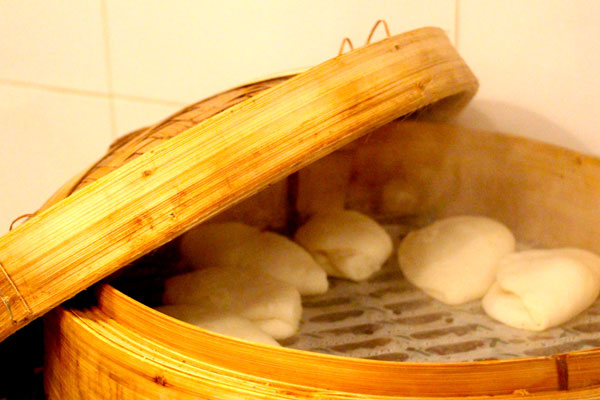 First to arrive – our pork belly bao ($58 for 2).  Lovingly braised for over 5 hours, these buttery slices of happiness literally melted in the mouth.  Garnished with fresh cilantro, diced preserved vegetables and a dusting of crushed peanuts, this piggy delight was a delicious study in contrast. I loved how the preserved vegetables played crunchy briny contrast to the yielding tender flesh.  However, the entire bao was undermined by the steamed bun, which was overly soft and almost soggy.   The bun almost dissipated in our hands while we ate, and felt overly processed.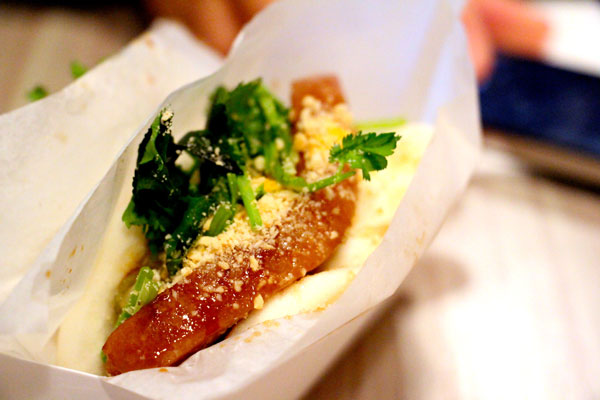 Next up – taro fries ($28) served with Sriracha mayo.  In comparison to potato, taro fries are drier and less starchy.  We loved the addictive pop of the garlicky Sriracha mayo, but were lukewarm about the underwhelming taro fries.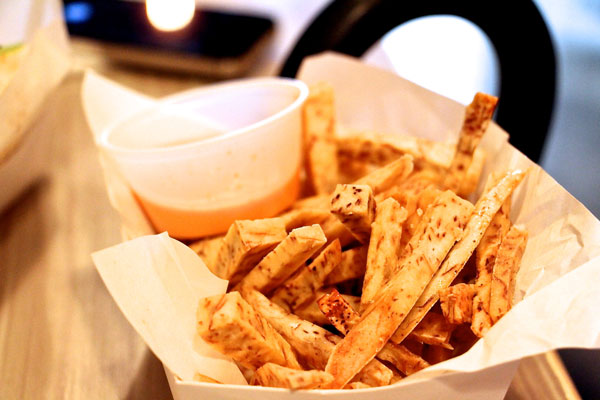 I had the pleasure of sharing this meal with my fellow contestant, Jun Wu (of HomemadeinHK), whom I battled out with in kitchen wars on our upcoming food reality show in the Asian Food Channel – The Amazing Food Challenge.  When we were roughing it in the Philippines during our month-long filming, the cuisine we loved most was Korean.  And it seems that every time we've eaten together since coming back to Hong Kong have had, ironically, a Korean spin.  So, it was no surprise that we had to inaugurate this food experience with the bulgogi kimichi beef bao ($58 for 2).
The bulgogi beef was fair, although a far cry from the pork belly.  The bao wasn't packed with filling, and we found the slices of beef a bit tough.  We ended up wolfing down most of the meaty content in one bite since we couldn't bite through sections of the beef, which left the rest of the bao with very little filling.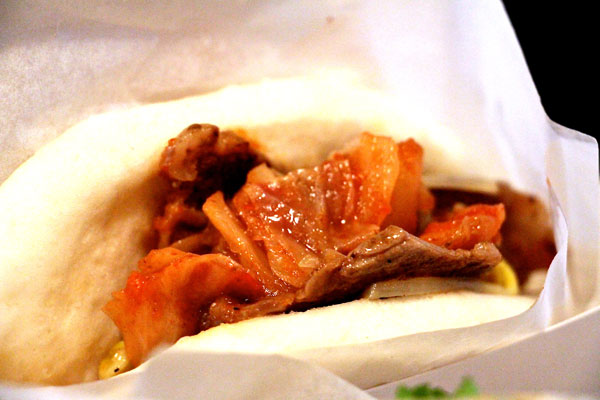 Finally, we come to the kimichi cheese fries ($48).  This menu item was a better idea on paper than in reality.  I was drawn to it because it reminded me of one of the iconic dishes of my proud home nation of Canada – the poutine.  However, this version at BaoWow did not do justice to our proud national dish.  The cheese was flavourless with a slight plasticky aftertaste, and the kimichi was so limited in quantity it almost felt like an afterthought.  I have to admit, the photo looks great, but the taste test was far from it.  We left most of it untouched, as none of us could justify consuming all those calories for something not terribly delightful.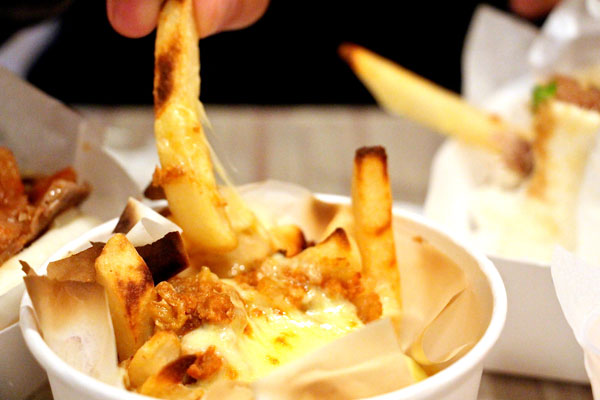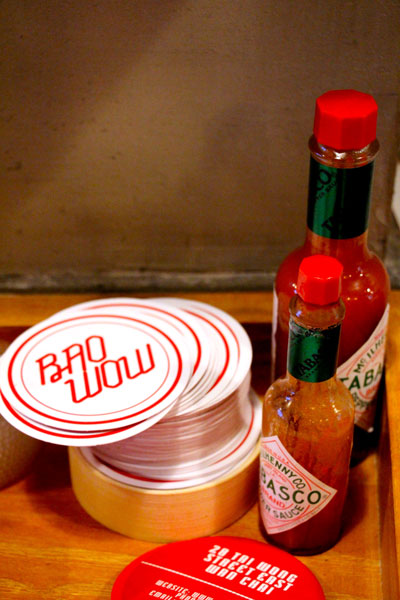 Verdict:  Look, I feel I've been a bit overly harsh to BaoWow.  I think it's mostly because I expected it to be so much more than it is due to the expectations set by Little Bao.  These two are very different restaurants, and the prices stand testament to this.  BaoWow is a great place for a quick, no fuss bite, without dropping above HKD$100 per person.  It is what it is.  Is it the ultimate bao in Hong Kong?  Well, the short answer is "no", but it is a great place to satisfy a craving without the line.  So, it really all comes down to how you want to satisfy your hunger.
BaoWow 
28 Tai Wong Street East
Wanchai, Hong Kong Island
Tel:  +852 2528 9505
Sites We Adore