Afterthoughts – Juicy, Beefy Burgers at Beef & Liberty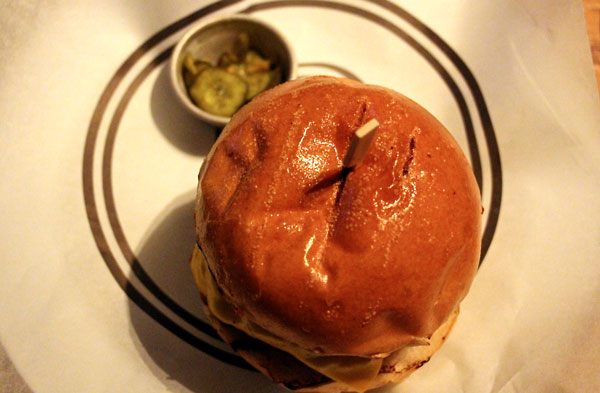 Sometimes, nothing quite satisfies like a really good burger.  There's just something magical about that perfect proportion between juicy beef, melty cheese and bread that gives burgers that ultimate indulgent factor.  As a true North American girl, I like to finish a long day by kickin' back with a couple of cold ones and sinking my teeth into a meaty burger.  I'm always on the quest for the perfect burger in Hong Kong, so, when I heard about the newly minted Beef & Liberty, I just had to give it a go.
Recently, we had a couple of friends visiting from New York, and so we thought "who better to wolf down burgers with than Americans?"  These New Yorkers, spoiled by the likes of the legendary Shake Shack, were our ideal candidates for our burger test.  Will Beef & Liberty make the grade?
We started our night with some cold brewskis (that's Canadian for beer).  I particularly enjoyed the crisp, clean taste of Black Isle Organic Goldeneye Pale Ale (HK$65).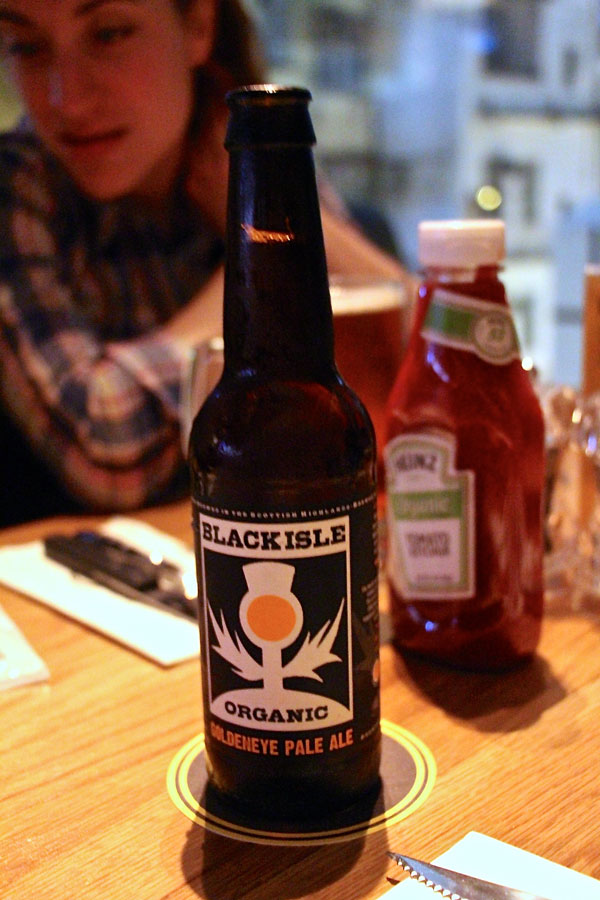 To start off, we basically ordered all their appetisers.  The Crispy Chicken Wings (HK$62) dressed in Korean spicy sauce was a no-brainer crowd pleaser, although the wings lacked flavour if you happen to get a bite without the batter and sauce.  They could have done with a better marinade.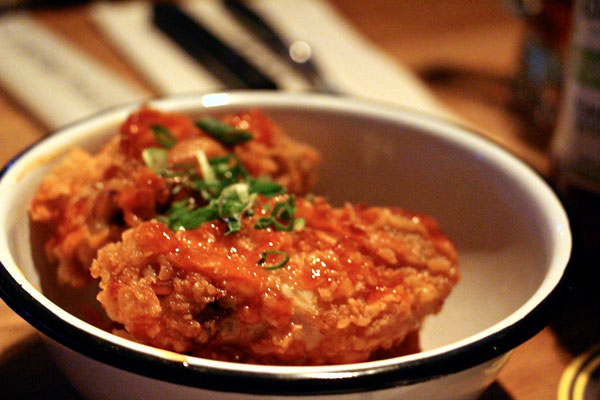 The Sticky Rib Fingers ($68) smothered in honey BBQ marinate, was a hit with the Americans, although I found it a tad on the dry side.  Living in Asia, we get spoiled with tender, fall-off-the-bone ribs, and these ribs just didn't meet the "succulence" grade for me, although the sauce was pretty finger lickin' good.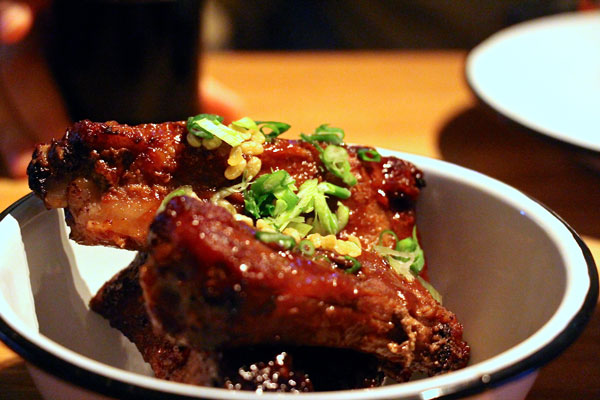 The Sweet Corn Cobbler (HK$38) with jalapeño and crunchy dahl was a nice surprise.  We loved the zingy pop of the jalapeño but couldn't really locate the crunchy dahl.  In North America, cobblers are baked dishes comprising of some element of flour to bend the corn together, and the Beef & Liberty version was a complete departure from this.  I really could not find the "cobbler" in this dish.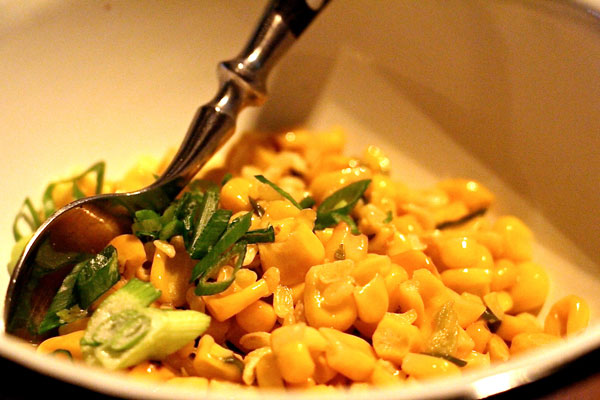 Now comes the main event – burgers!  My heart skipped a beat when I read "bacon jam" on the menu under Bacon Cheese Burger (HK$108).  The burger came stacked with a layer of scrumptious crispy piggy streaks, but I couldn't really locate the "jam" part of the equation.  Nonetheless, this burger was definitely worth running for an hour at the gym the next day.
Beef & Liberty sources all their beef from Tasmania, from a certain breed called Hereford cattle.  These happy cows are grass-fed in some of the most pristine pastures on earth (having recently visited Tassie, I can vouch that it's comparable to Canada – and that's saying a lot).  As I've recently learned from a beef conference (yes, there is such a thing), grass-fed cattle have a more robust flavour, and heartier texture.  I loved how the patty was juicy, and incredibly tender.  I'm not a big fan of thick, hard-packed burger patties.  Each patty is sandwiched between custom-made white sourdough.  I liked the flavour of the bread but found that it easily fell apart during an intense burger fest.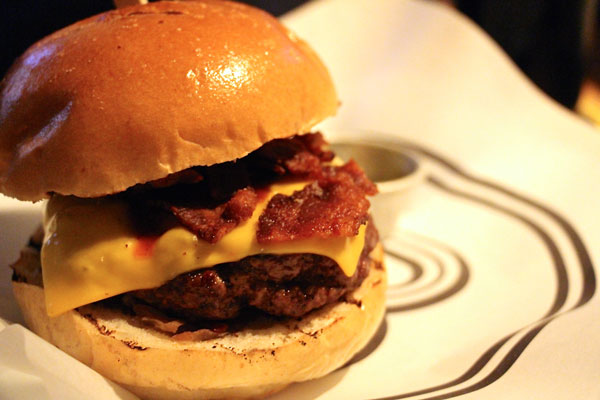 Next up, we had the classic Cheese Burger (HK$92), garnished with butter lettuce, tomatoes and, of course, melty cheddar.  This was one good lookin' burger, and I loved the use of butter lettuce instead of the usual iceberg.  The glossy leaves just held a lot more crunch, and when paired with refreshing tomato, really balanced out the fattiness of the beef.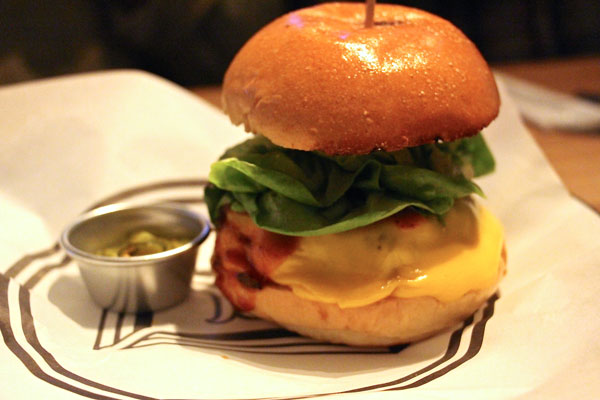 Can't end a meal without a little sweetener.  The Warm Skillet Cookies & Cream (HK$48) was the perfect finish to an all American meal.  The soft, crumbly giant cookie came to the table along with a little saucepan of ecstasy-inducing cream, and the server just pours all that over the cookie until you cry "mercy!"  I still dream about this cookie, in fact, I'm drooling while writing this comment.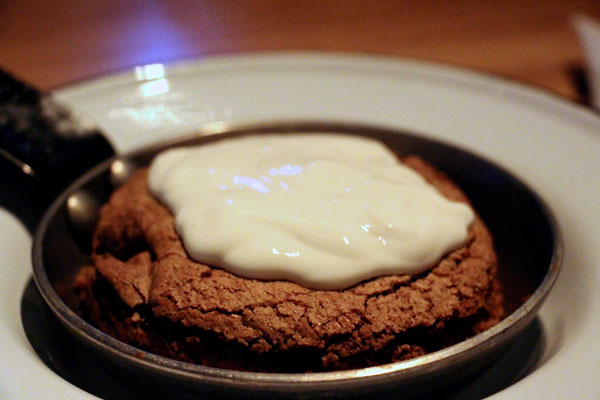 Verdict:  Ok, so this isn't the best burger we've had (and our American friends agree) but this is a pretty good burger by Hong Kong standards.  I loved how juicy and tender the burger patties are, and you really can't go wrong by adding cheese and bacon on top.  The burger bun was a beauty with a glossy sheen, but fell apart too easily.  Perhaps the softer bread is adapted more towards Asian tastes?  The appetisers were "just ok" in our books, but we will definitely be back for more burgers and that warm, creamy cookie!  A great, laid-back hangout for a casual night amongst friends.  And don't forget to knock back a few brewskis!
Beef & Liberty
2/F, 23 Wing Fung Street (above Pizza Express)
Wanchai, Hong Kong
Tel:  +852 2811 3009
Sites We Adore