How to Make – Rum & Coke Beef Short Ribs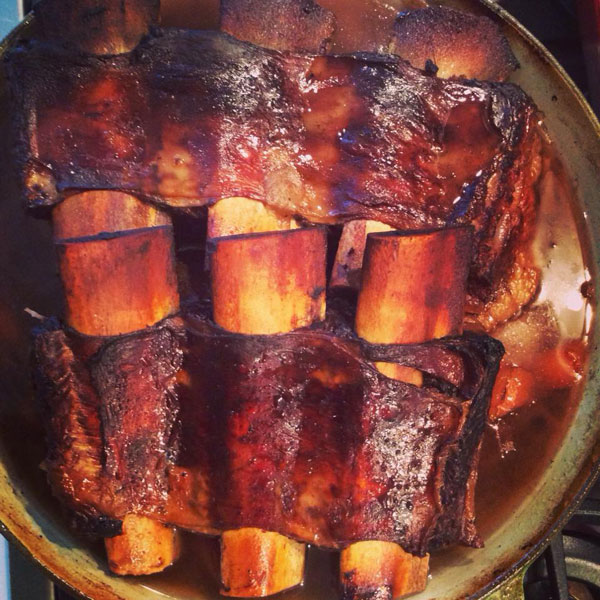 Any time Rum and Coca-Cola are involved together, you know you're going to have a good time.  This very causal, yet classic party drink accompanied me throughout my university days (it always reminds me of wild frat parties and sticky floors the morning after – thanks…FIJI Phi Gamma Deltas).  Besides the adolescent debauchery that usually associates with this drink, what ultimately gives this drink its timelessness is its simplicity.
I've been meaning to experiment with slow-cooking beef short ribs for some time now, and have also heard chefs rave about the intrinsic magic between meat and Coke, so this recipe came as a natural marriage of the two ideas.  To aid me in this culinary experimentation, I called on the camaraderie of fellow home chef, Jun Wu, of homemadeinhk.com.  Jun and I slaved away in outdoor cooking challenges for an entire month in the Philippines while filming The Amazing Food Challenge on AFC, and nothing bonds better than shared hardship.
The idea of including rum in the recipe came both as a necessity as well as a fun tribute to the classic drink.  The rum was a great way to deglaze the pan and add layers of flavour.  Slow-roasted with plenty of patience and care, this dish will have your guests pledging their undying devotion to your cooking.  And the best part is – you barely have to do any actual cooking, just let the oven do its job!
What you'll need (feeds 6- 7 lucky individuals):
6 lbs of beef short rib (with bones attached)
1 litre of Coca-Cola
1.5 tbls of rum
2 tsp of oil (canola / vegetable)
1 onion
3 cloves garlic
2 carrots
salt & pepper
1 tbls thyme
1 tbls rosemary
Prep Time:  15 minutes
Cook Time:  3 hours
Pre-heat oven to 190 degrees celsius.
Prep your meat – dust all sides of the beef short ribs with generous amounts of coarse salt and pepper.  Just looking at the beautiful marbling on the meat makes me happy.  All this fat and connective tissue will breakdown slowly and create amazing flavour and melt-in-the-mouth texture.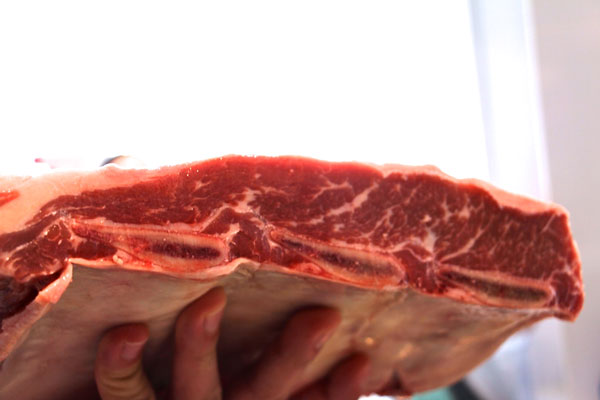 In a heavy bottomed pan, drizzle in a generous slug of cooking oil.  On medium high heat, sizzle all sides of the ribs until you get a golden crust.  I love using my 30cm Le Creuset Braiser pan for this task.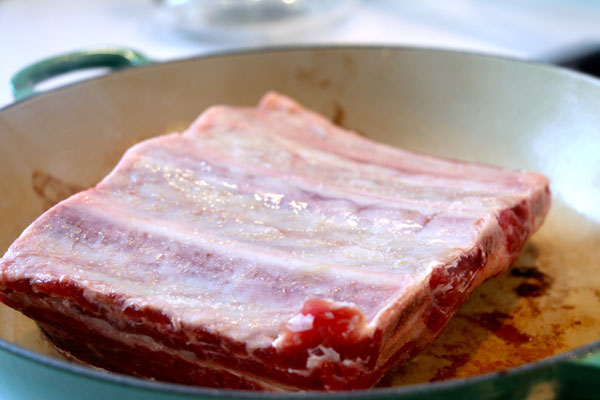 What a beauty!  You will notice that the heat will start slowly shrinking the meat away from the bones.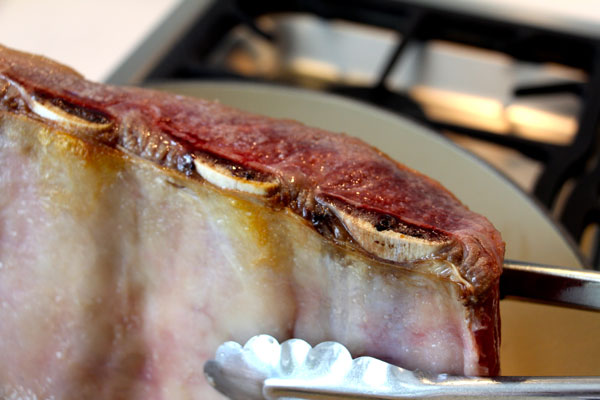 (Below) This is the kind of golden colouring you want to achieve.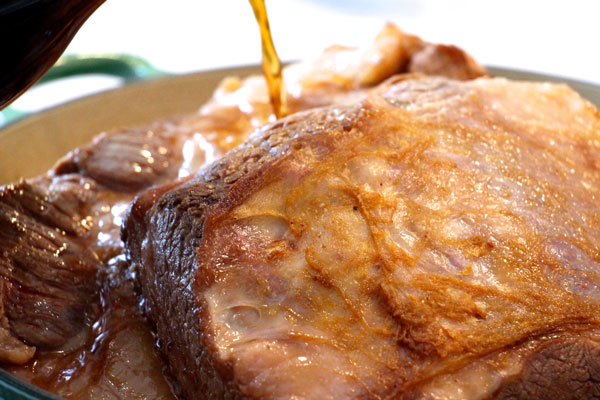 Lift the seared ribs out of the pan, and tumble in the roughly chopped carrots and onion.  Saute the vegetables in the left over beef drippings.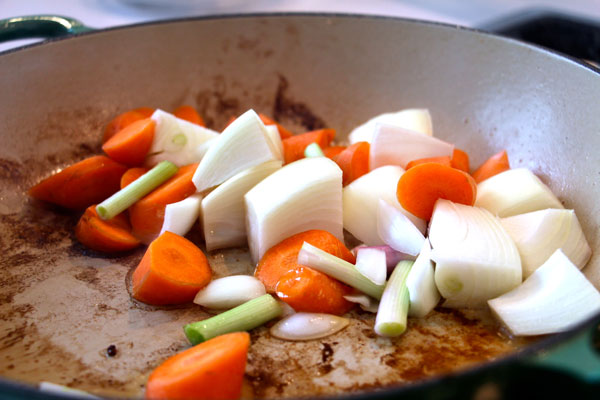 Party time!  Deglaze the pan with a shot of rum.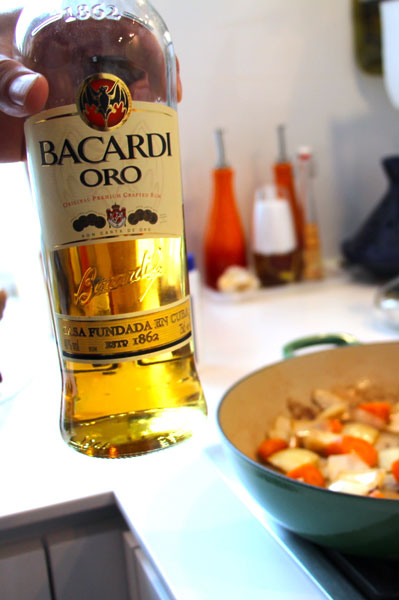 Now, stack the beef ribs back into the pan over the vegetables, and pour in the Coke.  This all depends on how wide and deep your pan is, but a good guideline is to have about 2-3 inches of liquid in the pan.  This allows enough moisture to penetrate the meat while it sits in this flavourful bath in the oven.
Clamp a lid on and carefully slide this feast into the pre-heated oven – careful, by this point, it could be very heavy!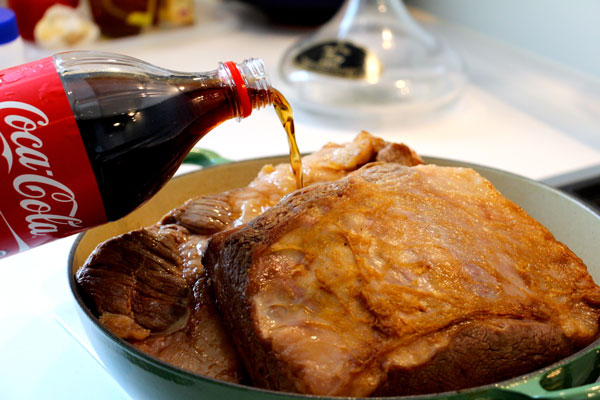 Check the meat from time to time, and flip the meat so that all sides get some time in the Coke & Rum bath.  This is a good time to adjust for seasoning – add more salt to balance out the sugariness of the Coke, and add in the thyme and rosemary.
(Below) what the ribs looked like after 2 hours of roasting – the connective tissues and fat are starting to breakdown and become super tender.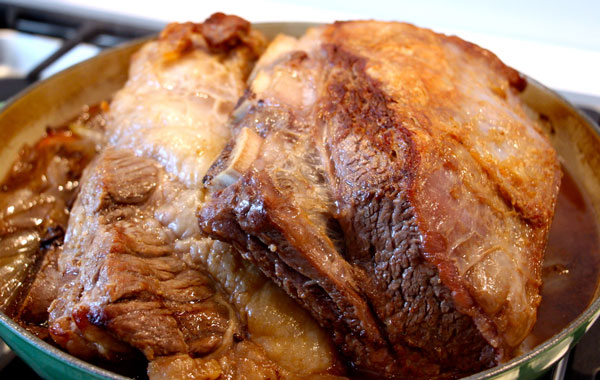 By this time, our golden retriever house guest was going wild with animalistic anticipation, turning on the pleading, irresistible "dog face" in full force.
 (Below) The ribs after 3 hours slow-roasting in the oven – so tender the hefty, buttery morsels of meat fall right off the bones!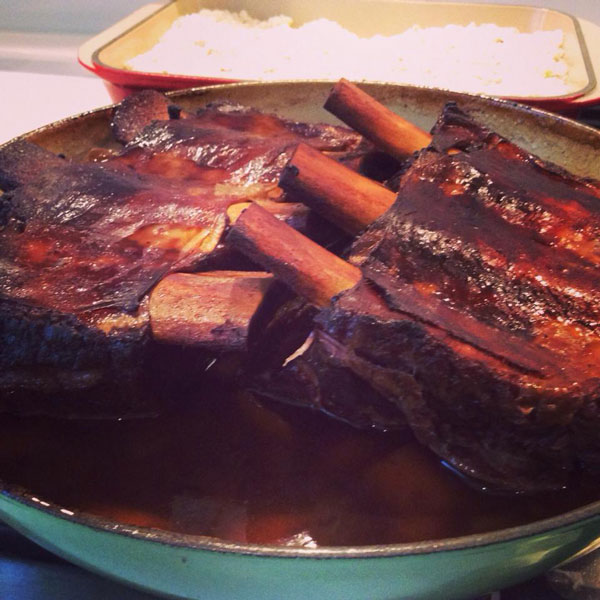 Carefully lift the super tender ribs out of the pan, and reduce the meaty juices into a gravy over low heat.  You can also thicken the sauce slightly with a bit of flour.  Drizzle over ribs and prepare for ecstasy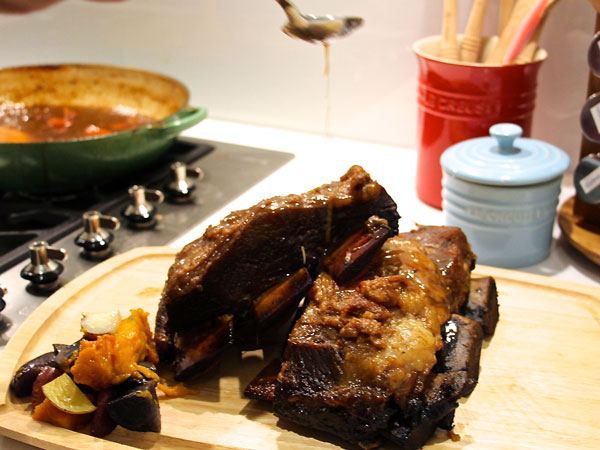 Voila!  Bon Appetit!
Oooooh……give it to me, baby.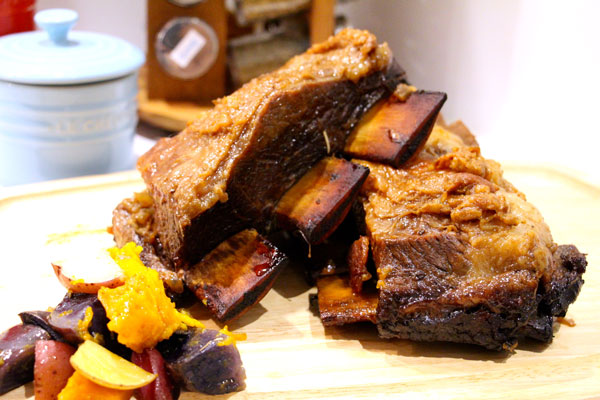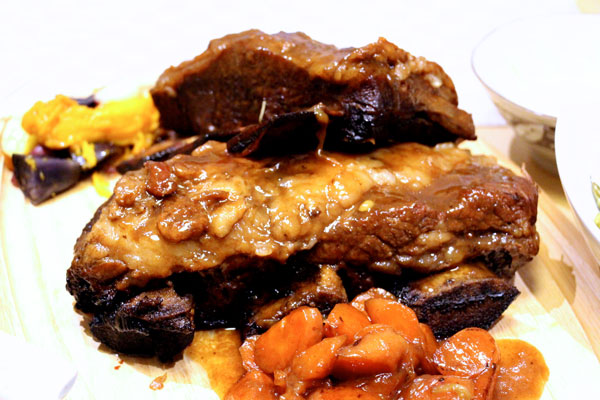 One happy dog – she's just waiting for some ribs to fall from above!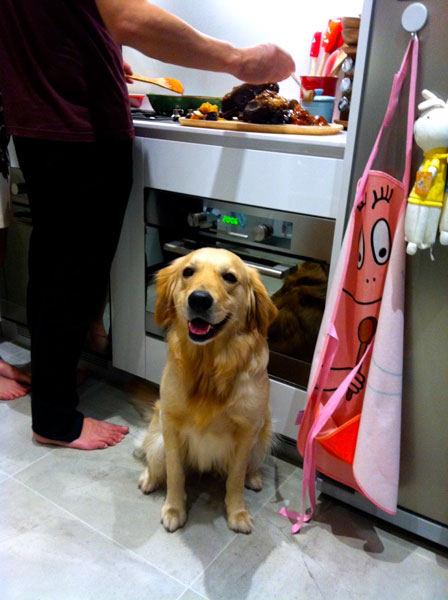 Jun & I, proudly posing with our hefty dinner centrepiece.   Enough already – let's eat!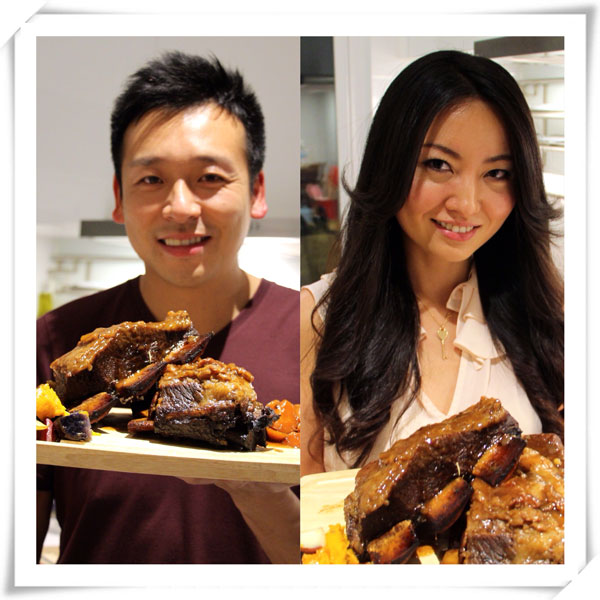 Sites We Adore