Afterthoughts – OMG Cream Puffs at Beta 5!!!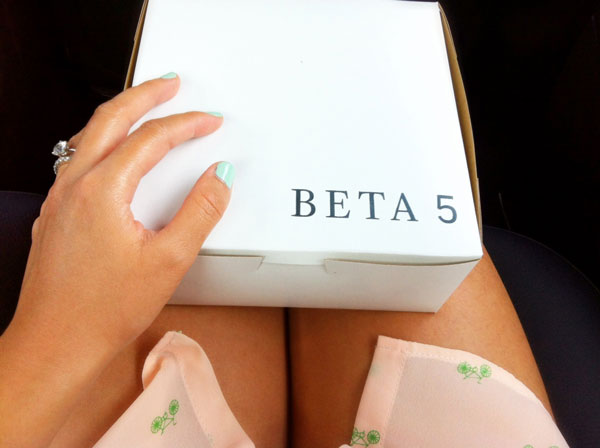 Lately, the Mister and I have been addicted (pun, intended!) to the series Breaking Bad.  In the TV show, cancer patient / high school teacher Walter White uses his vast chemistry knowledge to meticulously craft the purest meth on the street.  As I watch the fictional chemistry teacher painstakingly measure out each component in beakers and flasks, I'm reminded of another "laboratory" I've seen recently, that is, the working kitchen of Beta 5.  Tucked into a jumble of industrial factory space in Vancouver's gritty Eastside, Beta 5′s unassuming exterior reveals nothing about the magic within – namely, some of the most magical chocolates and sweet treats you'll ever taste.  Crowned this year's Canadian National Chocolate Winner, Beta 5 has been quietly reinventing the way we think of chocolate.
The name "Beta 5" stems from the form-5 beta crystal structure, which is the most stable form of cocoa butter crystallisation, and is what gives this award-winning chocolate its unique sheen and crisp snap.  See, being a chemistry geek do pay off!  This is truly a revenge of the nerds moment.  The cocoa are ethically grown and come from France's famed chocolate maker, Michel Cluizel.
But aside from morsels of jewel-like chocolates, Beta 5 also tempts with specialty preserves, oven-fresh croissants and their jaw-dropping cream puffs.  Jaw-dropping, in the sense that they are so imaginative in flavours and so delicious, and also, because they are so big that you'll have to open your mouth REALLY wide in order to eat one.
Below are some photos I recently snapped in their industrial kitchen / shop in beautiful Vancouver.  Come along for the tour…
(Below) The laboratory where chocolate alchemy happens.
The surface of each Polygon bar has peaks and valleys to reflect the breathtaking coastal mountains of Vancouver.
Jewel-like chocolates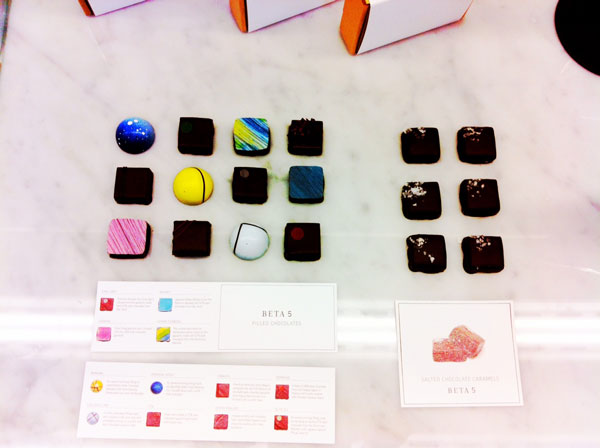 Now, let's talk about the cream puffs!!!  These are the most fabulous cream puffs I've eaten so far – better than the ones on my French wedding cake or croquembouches (sorry France) !!!
During my recent trip back home to Vancouver, nearly every dinner party featured these decadent desserts, and I've had the immense pleasure of trying ALL the flavours.
(Below) Clockwise from top left:  Vanilla with chantilly cream, salted caramel, milk chocolate praline, blueberry yuzu.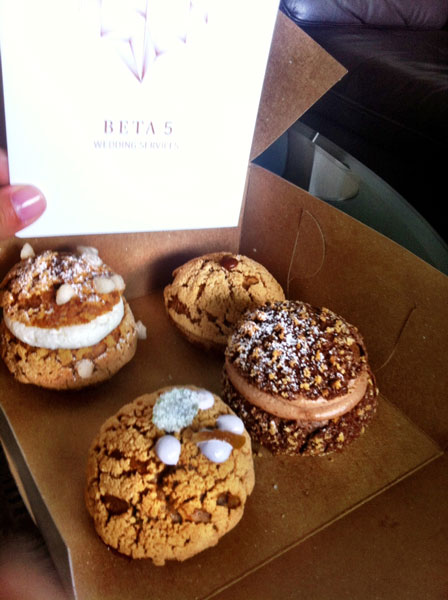 Another day, another box of Beta 5 cream puffs………
S'more cream puff!!!!!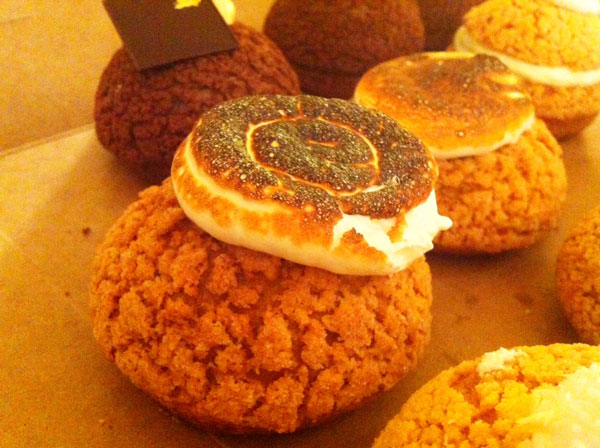 Verdict:  I am a savoury meat kind-of-girl and yet these sugary treats have me panting for more!  I'm the kind of person who would always choose a chunk of tender brisket over sweets, but Beta 5′s cream puffs would put me in a dilemma.  With flavours ranging from banana cream, black forest, blueberry yuzu, coconut & passionfruit, milk chocolate praline, milk chocolate s'more, salted caramel, vanilla, and 85% dark chocolate & caramel, it's hard to turn your back on these scrumptious beauties.  The golden puffs seem resilient until the first bite, when they seem to dissipate into airy sugariness in the mouth.  The flavoured creams all pack a distinctive punch.  My favourites are the gooey chocolate s'mores (which always reminds me of campfires), and the vanilla chantilly.  The vanilla might seem predictable, but the delicate chantilly cream makes it an unassuming knockout!
My only complaint?  That Beta 5 is about a 12 hour flight away from Hong Kong!  Ms. B Bakery, eat your heart out!
Beta 5
413 Industrial Ave.
Vancouver, British Columbia, CANADA
Tel:  +604 669 3336
Sites We Adore