How To Make – Slow-Braised Oxtail with Hearty Vegetables & Buttery Orzo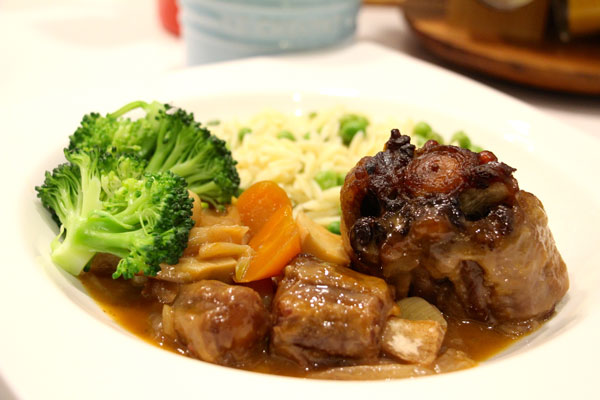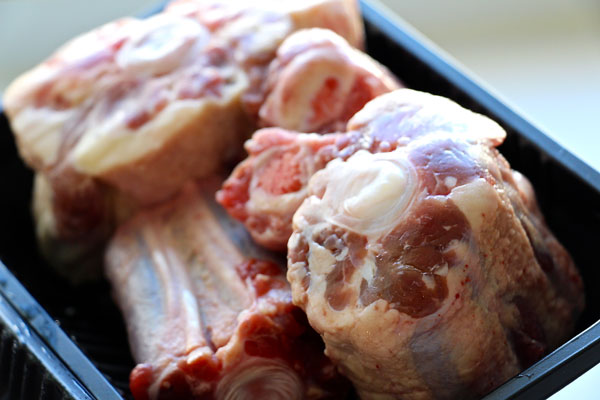 For dedicated carnivores such as myself, nothing is as mouth-watering as meat around the bone.  Any meat connoisseur will tell you that meat found near the bones have the fullest flavours, and the most incredible texture – there's just something magical about the luxuriant stickiness of all that connective tissue.  So, it is no surprise that one of my favourite meat dishes to cook is slow-braised oxtail.  The robust flavours of meaty oxtail, when lovingly slow-braised for hours, yields tender morsels of succulent meat and the most mouth-watering sauce brimming with sticky collagen.  It's the ideal meal for a cold winter's day, and a favourite in our household.
I hope this cozy dish brings joy to your household as well.
What you'll need (makes enough for 2-3 people):
approx. 8-10 meaty segments of oxtail
3 tbls flour
1/2 tbls paprika
1/2 tbls vegetable oil
1 onion
2 carrots
1 glass of red wine
2.5 cups of hot beef stock
5-6 bay leaves
2 tsp of thyme
1 tbls of tomato puree
2-3 tsp of salt (this really depends on how salty your beef stock is, so adjust to taste)
cracked black pepper
1 head of garlic, peeled (optional)
For the orzo
1/2 cup of dried orzo pasta
1 tsp salt
a dollop of butter
1/2 cup frozen peas
Prep Time:  15 minutes
Cook Time:  3-4 hours
Pre-heat oven to 200 degrees celsius.
Chop onion and carrots into rough pieces – no pretty knife work needed here
Heat up the beef stock and have that on standby.
To avoid messy cleanups (because I am irrevocably lazy), sprinkle 3 tbls of flour, a tsp of salt, pepper, and 1/2 tbls paprika into a plastic bag.    Pour the oxtail segments into the bag, tie a knot to close, and shake the bag to evenly dust each piece in flour and seasoning.  This will not only help retain moisture inside the meat, but will also help to thicken the sauce during the braising process.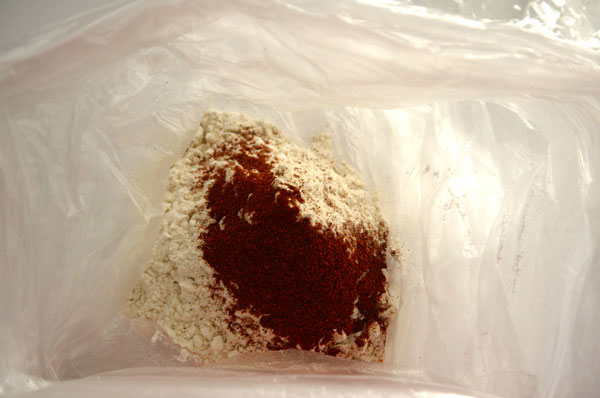 In a heavy bottomed pan (I love my Le Creuset 3L cast iron for this), drizzle in a good slug of oil, and pan sear the floured oxtail pieces over medium heat until golden brown.  The idea here is not to fully cook the meat, but to only sear the outside of each piece.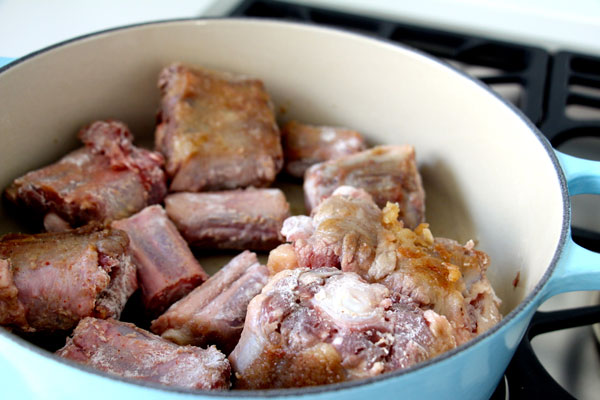 Now, there may be some sticky bits at the bottom of your pan, but don't worry – we will soon deglaze the pan with red wine.  Tumble in the chopped onion and carrots, and give it a good stir.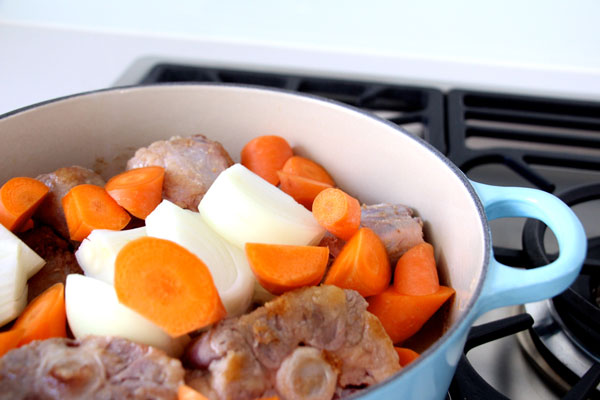 Pour in the glass of red wine to deglaze the pan  (you can steal a few sips in between – no one will know).  Stir the wine into the meat, and let that simmer for about a minute.  Pour in about 2 cups of the hot beef stock.  You want the liquid to just skim over the contents of the pot.  Stir in the tomato puree, thyme, and bay leaves.  This is the time to adjust your seasoning, so taste the stock and see if you need to add more salt and pepper.  Remember, the end product will be slightly stronger in taste, since the flavours will be more concentrated.
Bring the contents to a low simmer, clamp the lid on, and transfer the pot to the pre-heated oven.
Slow-braise this for 3-4 hours, until the meat is succulently tender.  If you like the taste of sweet, roasted garlic, then 30-40 minutes prior to the end of the cooking process, plop a few cloves in so that they slowly braise in the sauce alongside the beef.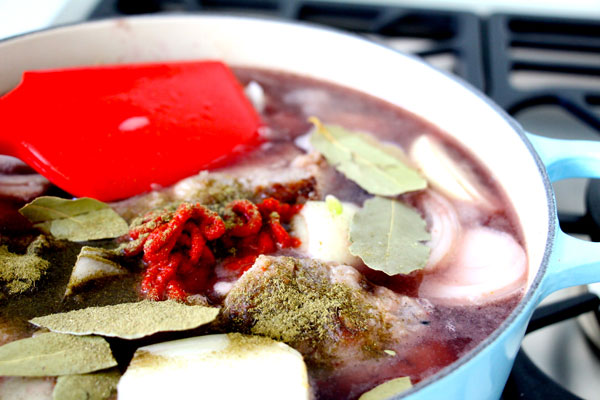 Simply heavenly!  The smell whiffing out of your oven will be pure seduction.
You can serve this intoxicating dish alongside blanched vegetables and buttery orzo for a complete meal.  For the orzo, bring a pot of water to the boil, then pour in the dried pasta and cook according to package instructions.  I love the tender sweet pop of peas, and like to pour in a handful about 3 minutes before the pasta has completed cooking.  Strain out the water, and sprinkle in salt to taste.  Then, stir in an indulgent cube of creamy butter to elevate the orzo to ethereal status.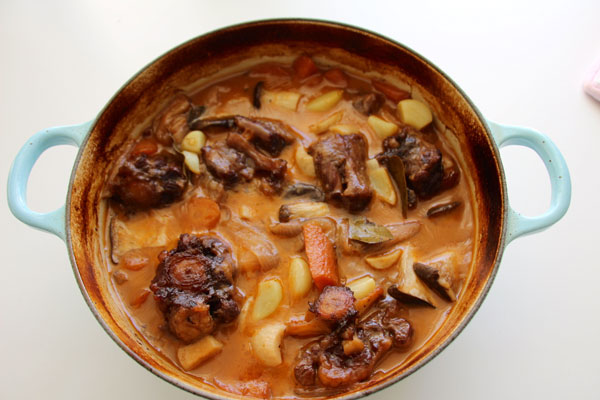 What's amazing about meaty stews, is that they taste even better the next day!  That is…if you can resist finishing off the whole pot in one meal!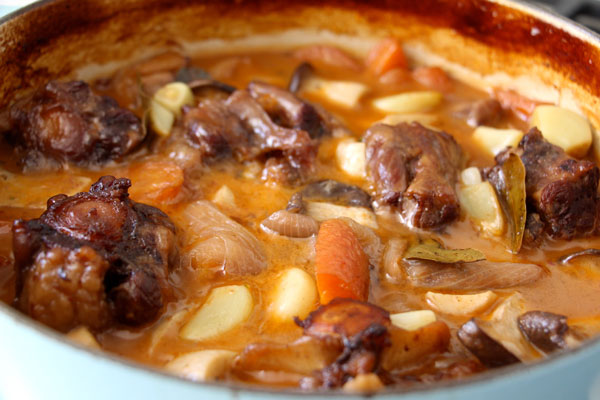 Bon Appetit!
Tender beef, aromatic sticky sauce, hearty vegetables, sweet garlic, all soaked up by buttery orzo – it's hard not to fall in love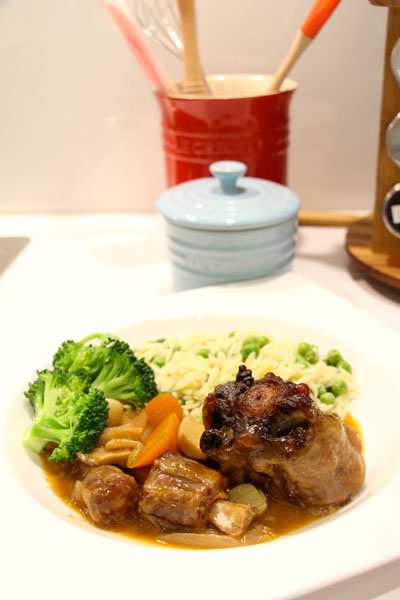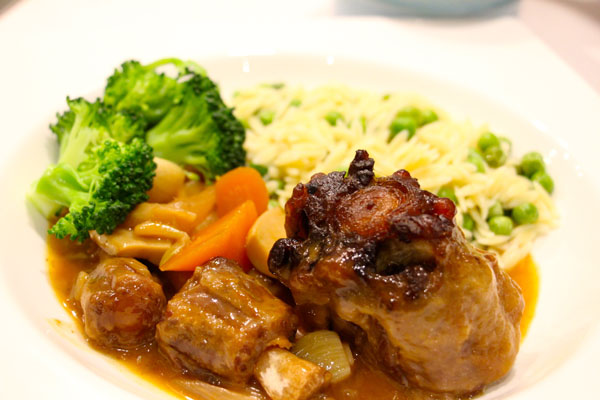 Sites We Adore