Gourmet BBQ at Burnt Ends Singapore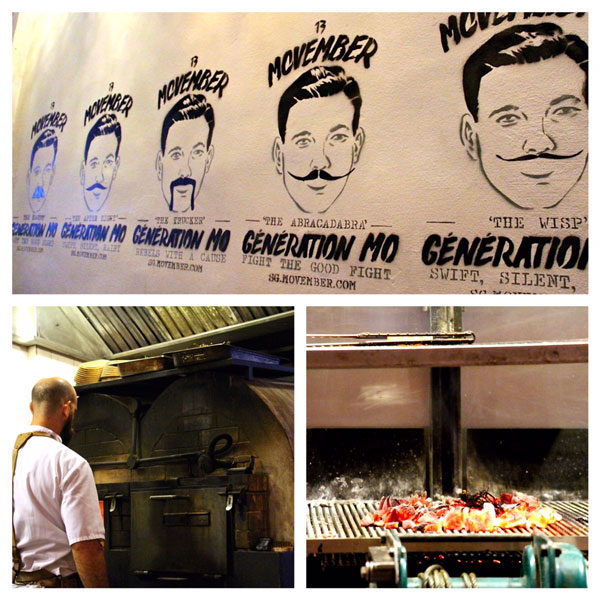 Two weeks ago, I was in Singapore on a press trip to attend the awards ceremony for Asia's 50 Best Restaurants. There were a few surprises along the way, one of them being Burnt Ends, which placed #30 on this year's list. I was "surprised" because I remember my dinner there a while ago in August 2014, when a chef friend and I decided to walk-in to the ever-so-packed establishment on a whim to check out what all the hype was about, and I remember thinking "ok, the food is decent, but this type of restaurant is a dime a dozen in North America". Perhaps it's because this type of cooking is relatively new to Asia, that makes it seem so… extraordinary?
Burnt Ends made its Singapore debut in April 2013, riding on the success of its similarly named "Burnt Enz" pop-up in East London the previous summer during the 2012 Olympic Games. The Singapore-based Burnt Ends is headed by Australian chef David Pynt, and backed by Andre Chiang, who is the owner and chef of renowned Restaurant Andre in Singapore, which coincidentally placed at the coveted #5 spot on this year's Asia's 50 Best Restaurant list. Other backers include Loh Lik Peng of Unlisted Collection group, and hotelier Mavis Oei, both of whom Chef David worked for during this stint in London working at the Michelin-starred Viajante.
Alright, enough about background details, let's talk about the actual restaurant. Burnt Ends is perched on Teck Lim Road, in trendy Chinatown, and is a quirky little space with a 18-seater bar that faces the open kitchen, plus a 6 seater Chef's Table at the back. A massive brick and steel oven dominates the room, fired with a mix of aromatic apple and almond wood, that allows the oven to reach temperatures well beyond 700 celsius.
Miraculously, on the night of our visit, there were two spaces open smack in the centre of the bar counter, and we happily plopped down in anticipation of a great feast. To entice our palates, we started with a Brooklyn cocktail (SGD$24) as well as a special "bartender's blend" (SGD$28) which tasted of dark oak with a slight nose of blood oranges. To get the party really going, Chef David offered the Pickleback (SGD$10), a shot of Monkey Shoulder whisky chased down with pickle brine. The savoury concoction gave us quite a jolt.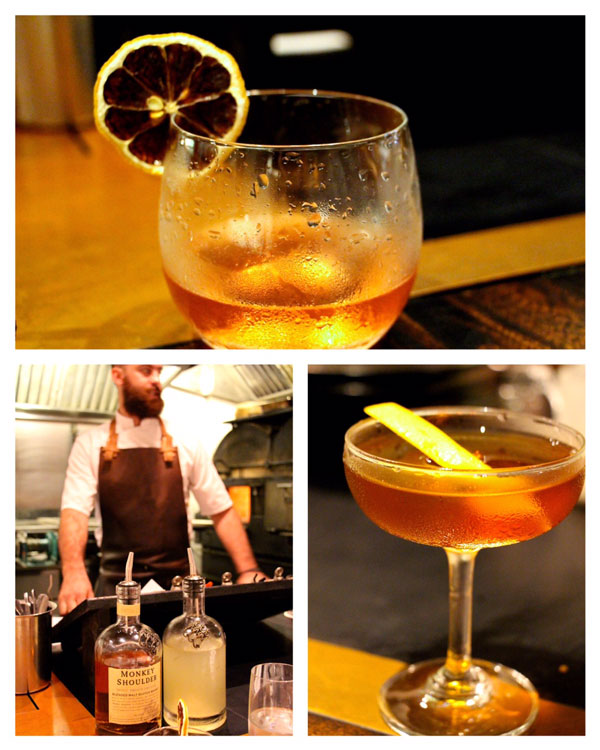 The menu is as expected for a gourmet BBQ joint, with cuts of fine beef, seafood and interesting pairings between veg and less-popular meats like duck hearts, making an appearance. All these small plates are met to be shared, and we opted for the sea urchin with cauliflower (SGD$10 for each spoonful) and smoked quail eggs (SGD$6) to start.
The sea urchin, adorned with briny pops of sea grapes, was sweet, although the creaminess was a bit overdone with the accompanying cauliflower puree.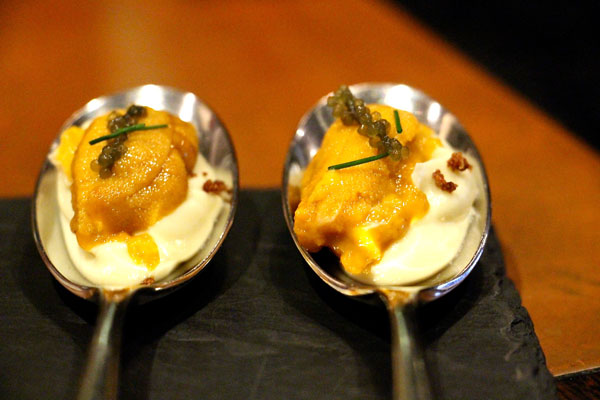 Everyone raves about the smoked quail eggs, but we couldn't see what the fuss is all about. Yes, the gooey egg yolk is still runny as you cut into it, and the egg is infused with a slight smokiness, but come on, this isn't exactly rocket science! As a resident of Hong Kong, I've eaten so many more flavourful renditions of this egg, as smoked eggs are a quintessential part of Shanghainese cuisine (and there's a lot of Shanghainese restaurants in Hong Kong!). And if you want to talk about skills and innovative dishes, I would harken back to that incredible siu mai at Hong Kong's Mott 32, where the dim sum chef manages to incase a quail egg in pork and shrimp mince, wrap it in golden dimsum skin, steam it and manages to maintain a runny yolk centre!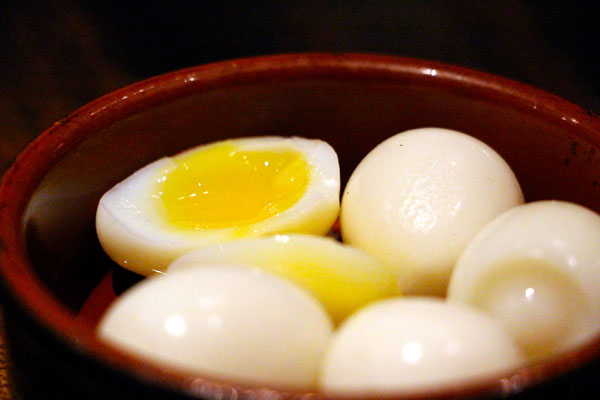 Moving onwards, we come to the iliocostalis (SGD$14), a well-marbled, tender cut of beef grilled to perfection with a flavourful charred crust enveloping juicy tender meat. Sprinkled with some fat salt flakes, and that's all the dressing you need for this beautiful cut of beef, although our particular cut had a vast amount of fat that wasn't quite palatable.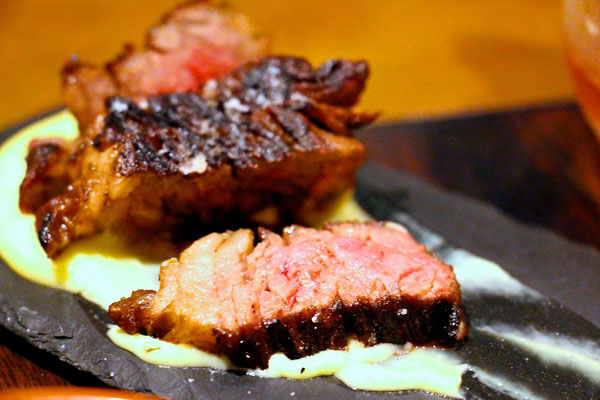 We were eyeing the suckling pig with cider, but it got sold out right in front of us! To comfort our wounded souls, we ordered the much-talked-about "sanger" (SGD$20), a brioche bun loaded with pulled pork shoulder and coleslaw, smothered in chipotle aioli. This was a delicious glutton's feast, although I've encountered many of its kind during my food journeys in North America.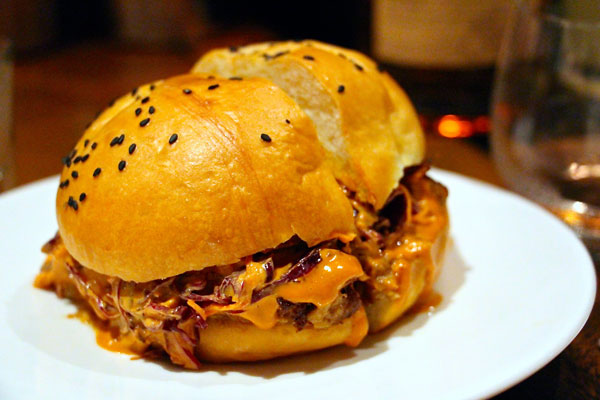 To finish, we shared an apple and blueberry tart (SGD$12) topped with whipped cream, which was more cake than tart, and quite forgettable. The charred marshmallow (or s'mores) on a stick reminded us of summer nights and campfires, although not exactly innovative. The salted chocolate cube was a nice touch.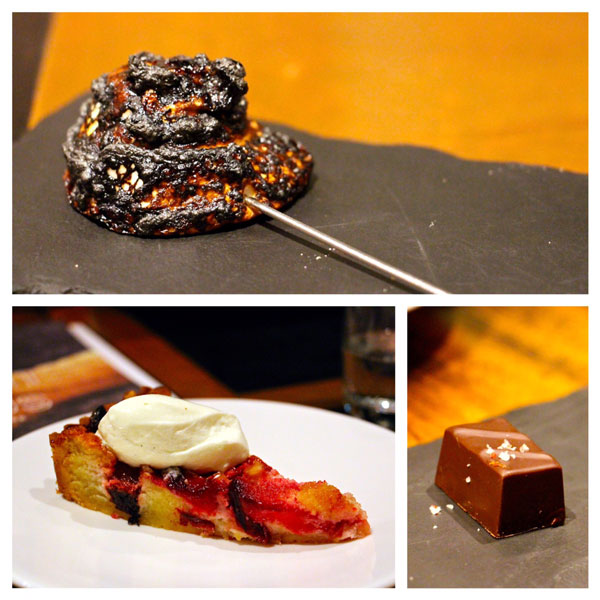 Verdict: Decent but nothing extraordinary. We enjoyed the atmosphere and Chef David's attentive service, but the food didn't dazzle us. Don't get us wrong, it was rather delicious, but we've seen this type of "gourmet" BBQ restaurant all over North America for years. We just figured, that to be on Asia's 50 Best Restaurant list, a restaurant had to have innovative, incredibly memorable food, but then again, we're not on the judging panel. 
Burnt Ends
20 Teck Lim Road, Chinatown
Singapore
Tel: +65 6224 3933
Open for lunch & dinner, Mon – Sun, no reservations after 6:30pm except for Chef's Table
Sites We Adore