Afterthoughts – Butchery and Wine at Butchers Club Nose-to-Tail Class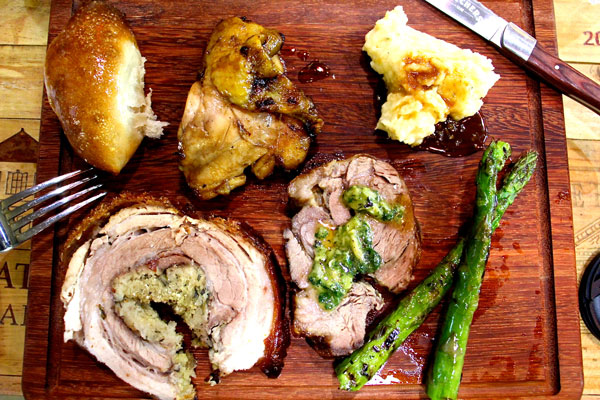 I have to admit, I used to be very squeamish around raw meat.  It was intimidating going into the markets and buying pieces of meat, that I had to rework on the cutting board at home.  Luckily, my love of good food forced me to overcome this fear, and today, I am pretty nifty with a sharp knife!  (And yes, although I am a fan of serial killer thriller novels, I will never transfer fiction into reality – it's just too messy)
So, when I heard about the Nose-to-Tail Butchery class at Hong Kong's Butchers Club, I just had to sign up!  Treating every part of an animal as sacred is nothing new – our ancestors have been respecting this cardinal rule of nature for millenniums.  It's only in the recent half a century that major wastage of animal parts have become prevalent, due to abundant access to animal protein in, predominately, the Western Hemisphere.  So many people I've talked to can only use pre-packaged, pre-cut meat purchased at supermarkets, with no connection to, or understanding of, the animal it comes from.  This disconnect means that more consumers are buying the "prime" cuts of meats, and neglecting the "butchers cuts", which are some of the most flavourful and beautiful pieces.
Well, the Butchers Club Nose-to-Tail butchery class comes at an opportune time, to challenge ambitious home chefs to step out of their comfort zone, and take apart an animal piece by piece until all the parts are fully utilised.  I can't think of a better way to honour a beautiful beast, as we so often take for granted how valuable and sacred each animal is.  I will never stop myself from eating meat, but I will only purchase meat from ethical, environmentally sustainable farmers.
Led by Master Butcher Ned Nolan, our class of media and bloggers got our first stab of nose-to-tail butchery a few weeks ago in the Butchers Club Headquarters in a kooky industrial building in Tin Wan.  During the night (fuelled by plenty of wine and beers), we carved up an entire lamb, deboned a solid piece of lamb shoulder, skinned, scored, stuffed and rolled a slab of pork belly, and deboned and butterflied a whole chicken.  And of course, the reward of the evening was sitting down to a feast, served family style, of the bounty we just carved up!
(Below) Master Butcher Ned taught us how to take apart a whole lamb, with cleavers and saws!  I was quite thankful that this lamb was sizeable, rather than the tiny ones with incredibly fluffy curly hairs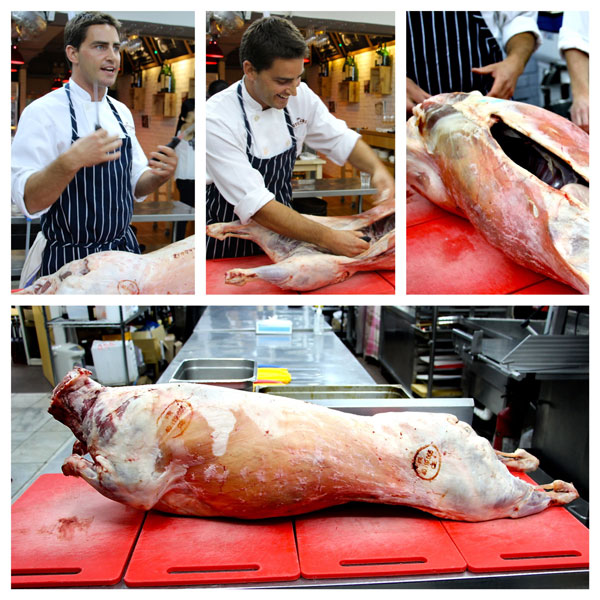 The whole lamb, transformed into the more familiar cuts we see at the butchers.  We learned that no part of the animal is wasted – the fats and off cuts went into sausage meats, the bones went into stock.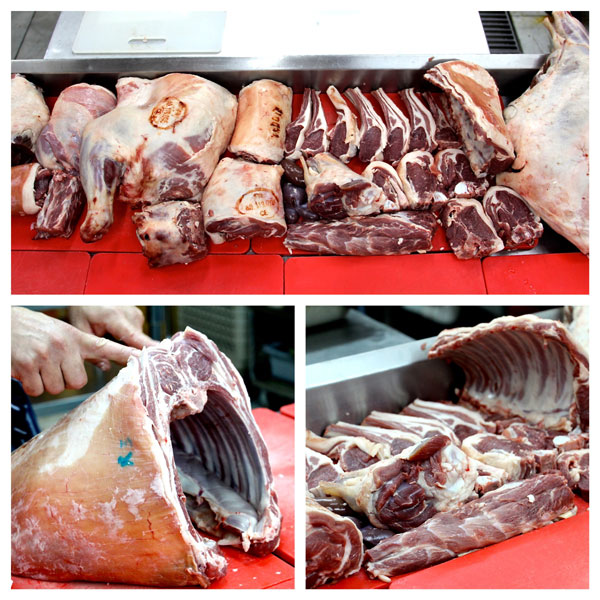 (Below) Skinning, scoring, stuffing and rolling the pork belly.  We learned that separating and perforating the skin makes for delicious crispy crackling, and I was very proud of my neatly rolled pork belly with tidy little slip knots.  The last, and easiest, task was deboning a chicken.  Those soft cartilages were super easy to cut through.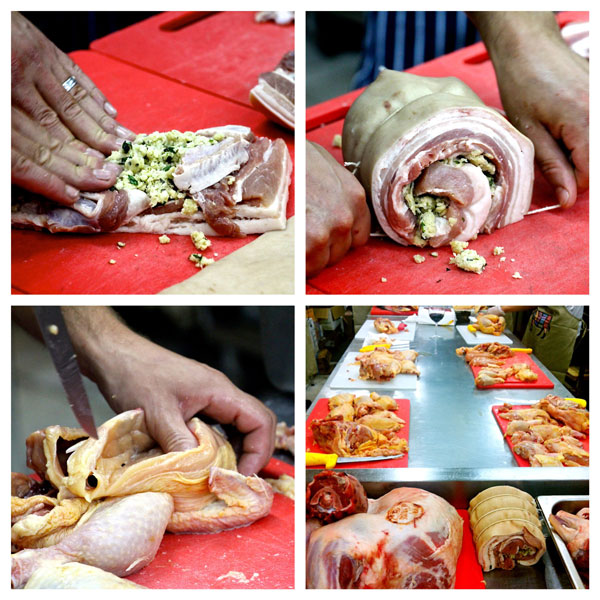 And now, we feast!  We carved up these beasts until way past 9pm, and after a brisk cleanup, we sat down to enjoy the splendours of our labour (well, to be precise, the meal was cooked up by the chefs!).  First up, the most addictive cheddar and sage mashed potatoes with glossy gravy.  Since it was well past 10pm at this point, I had to refrain from overstuffing myself – it was truly a test in self discipline!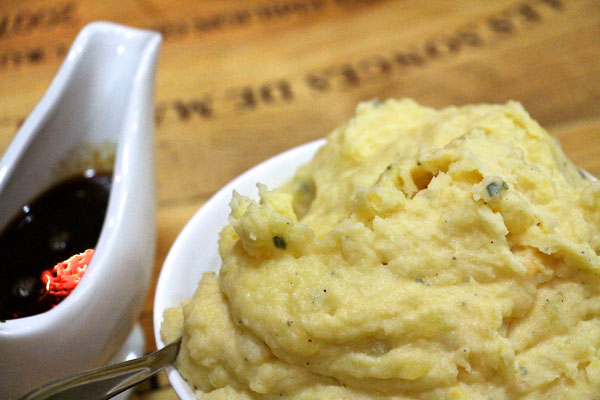 Next up, grilled asparagus with lemon and butter – simple, yet effortlessly delicious.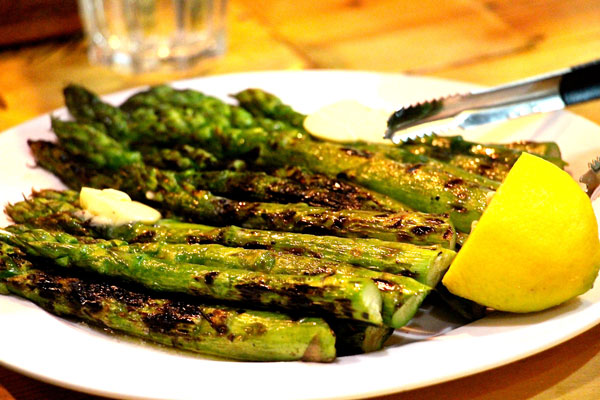 All the dishes were served family style.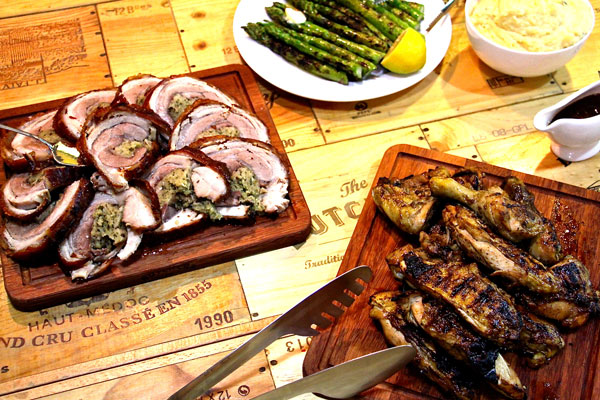 Home-style BBQ chicken with bourbon and maple glaze – the charred skin was dynamite!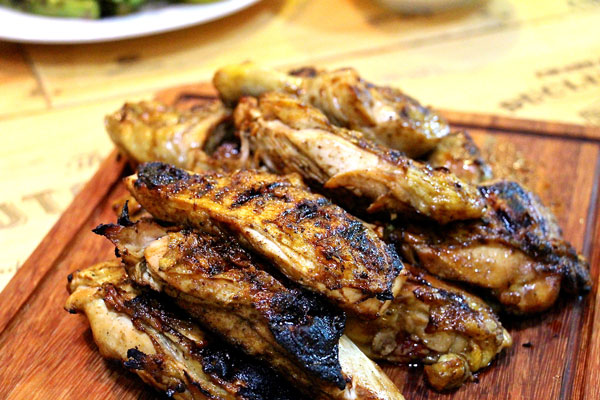 Nothing comes between a Chinese girl and her pork belly!  My favourite dish of the night – slow-cooked stuffed pork belly with crackling and spiced apple jus.  The meat was succulent and infused with the aromas of apples and herbs from the bread stuffing.  The golden crackling was out-of-this-world good!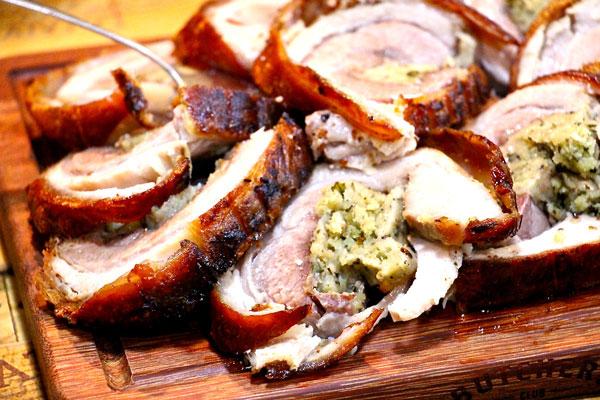 Rustic beer bread to mop up all the beautiful meat juices.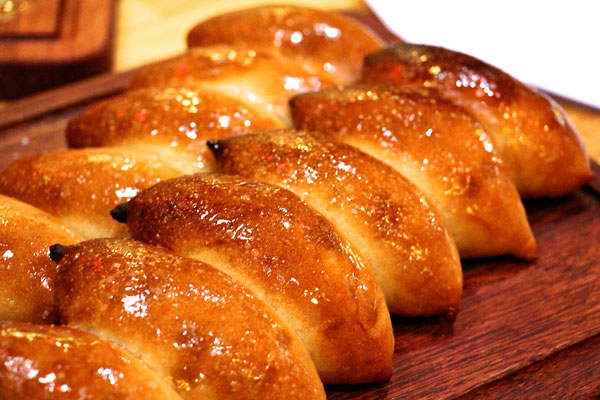 The 24-hour roasted lamb shoulder with mint anchovy pesto was fork tender.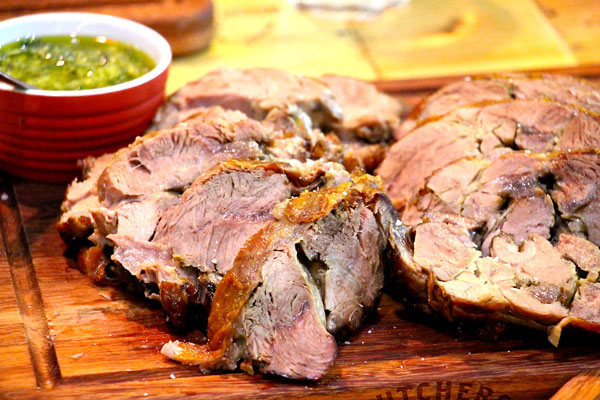 Last but not least, classic carrot cake with rosemary honey and cream cheese frosting.  All you need to know is – cream cheese.  Enough said!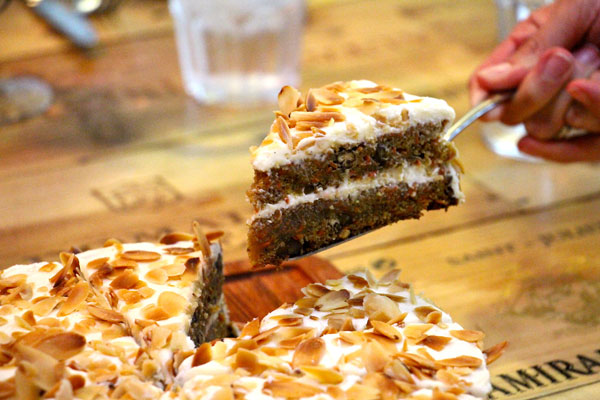 (Below)  My colleague and I, happily showing off our deboned shoulders of lamb.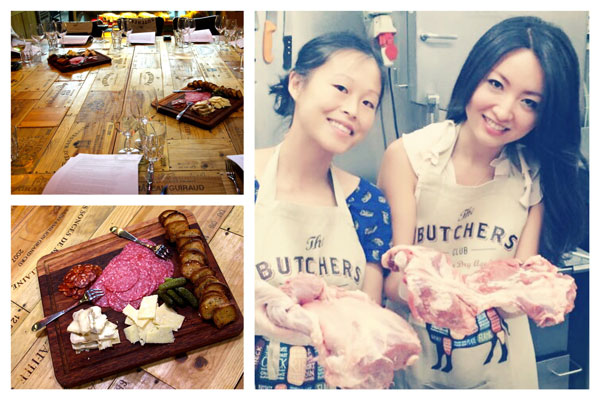 Verdict:  A definite must for any intrepid Foodie worth his salt.  This very informative class goes through all the key steps in animal butchery, and teaches diners to respect and appreciate every piece of an animal.   Even for someone like myself, who is relatively comfortable in the kitchen, this was an eye-opening experience.  Where else in Hong Kong do you get to take apart an entire lamb?  Plus, the rewarding feast at the end definitely takes meat appreciation to a whole new level!
Nose-to-Tail Butchery Classes happen on the second Thursday of each month, and are priced at HKD$1300 per person.  This may sound pricy, but it does include free-flow wine and beers, a hearty meal, and guests get to bring home the chicken they butchered.
For booking details, contact either steve@butchersclub.com.hk or store@butchersclub.com.hk.  The Butchers Club may also accommodate specially arranged classes upon request.   
Butchers Club Headquarters
13C Sun Yin Industrial Centre
9 Tin Wan Close, Tin Wan
Aberdeen, Hong Kong 
Sites We Adore