Restaurant Review – Dining at a True Italian American Table at Carbone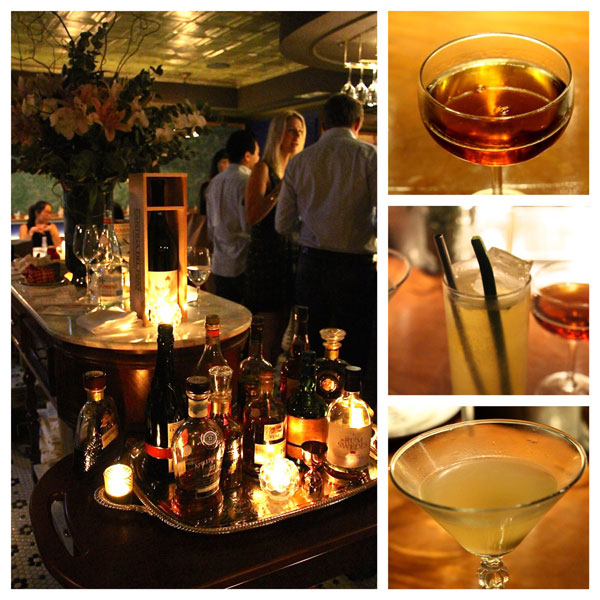 For a girl who hasn't yet taken a bite out of the Big Apple, I've sure been inundated with plenty of New Yorker stereotypes.  There's the posh, moneyed Upper East Side, which always seems to evoke in my mind images of (a lot of) pale wall panelling, hipster Tribeca, pin-striped suits and starched shirts Wall Street, and bustling ChinaTown and Little Italy.  There's the world of Carrie Bradshaw, and the Sopranos.  So, with the recent arrival of Carbone in Hong Kong, I just had to visit and get a slice of the Italian American pie.
A few weeks back, we went on a double date with friends to this cozy, elegant yet unpretentious establishment, decked out in rich velvety reds and dark wood, to get a glimpse of what great Italian American cuisine must have been like back in mid-20th century New York.  There's no hipster, gluten-free, dairy-free, "I only eat vegan air" kind of menu here – fuhgeddaboudit, this is in-your-face, unapologetic, REAL food!  So if you don't like it, you can go cry into your organic hemp blanket.
The Carbone name is well-known in New York, and the Hong Kong collaboration is between Mario Carbone and Syed Asim Hussain's Black Sheep Restaurants group.  Upon walking into the venue, we were immediately taken with the centre table piled with crystal tumblers of liquor, jars of walnuts and flowing bowls of fruits.  A classic, dark wood bar lines one side, concealing the dining room behind.  Red and black tiled flooring jazzed up the space, without being overly showy.
Our table of four sat down to welcome platters of cold cuts and buttery garlic bread – a generous start to the evening.  We plucked savoury rich slices of salami from the vibrant ceramic plate while we perused the mouth-watering menu.  The servers, dressed either in white gold-buttoned uniforms, or plum dinner jackets, were knowledgeable about the menu, and helped us narrow down our choices.  In love with all things beautiful, I was particularly enamoured with the ornate, mosaic-like charger plates.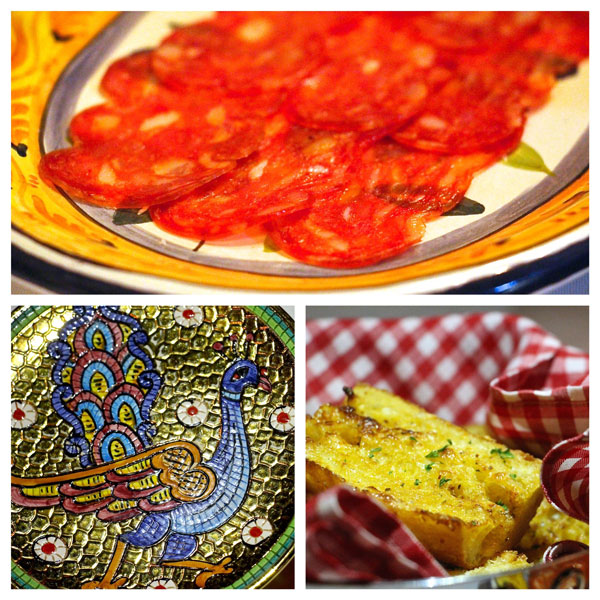 To start, we ordered a bottle of red and the classic Caesar alla ZZ ($168), prepared a la minute table side by a server tossing together the fresh ricotta egg sauce with crisp baby romaines and crunchy, herbed croutons.  This is Caesar salad done, the old school way.  It was garlicky, creamy, with just the right amount of sauce and crumbed cheese coating each leaf for it to be enjoyable but not overbearing.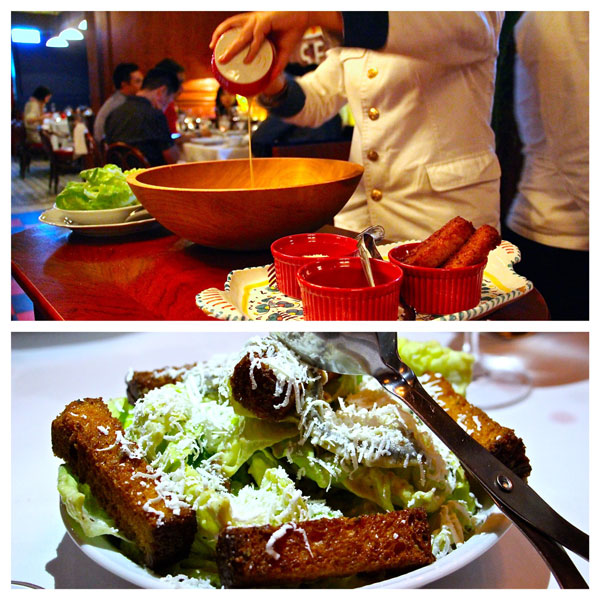 We couldn't go to an Italian restaurant without trying the pasta, and we decided to combine 2 orders of spicy vodka rigatoni ($198) to share.   Mama Mia, was this good!  The pasta was perfectly al dente, and the Calabrian chilis helped balance the creamy sauce.  A tangy hint of tomato added more dimension to the sauce – really, I could have eaten the whole plate by myself!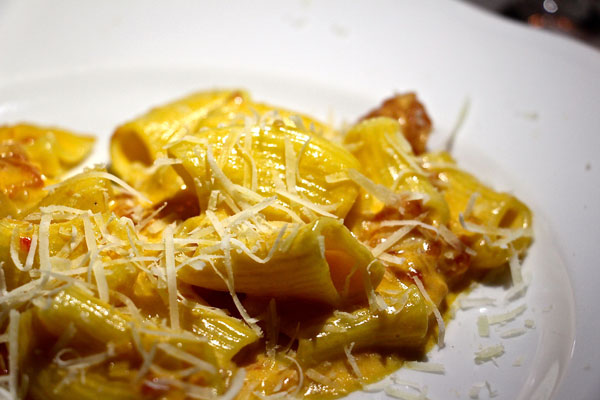 We couldn't order pasta and pass out on the meatballs!  The aptly named Mario's Meatballs ($168), were possibly the best meatballs I've had thus far, anywhere.  The hearty orbs had the perfect texture and consistency – not too tough, or too sloppy.  It was just right, with flavourful meat infused with sweet tangy tomato sauce.  This is a classic, no frills dish, done superbly well.  The meatballs combined with the rigatoni – bellissima!
The dishes are meant to be shared, family-style, and for good reason.  Because they are ginormous!  These are definitely "American portions".  We ordered the house-recommended pork chop with roast peppers ($398), a seared Iberico pork topped with vinegar peppers and braised onions.  The flavours were robust, thanks to the vibrant peppers, although the meat wasn't as tender as I'd hoped.  It was definitely filling, and we worked hard at making a dent in it.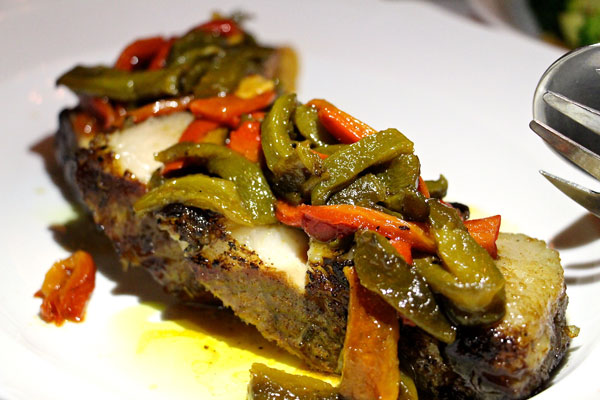 Veal Parmesan ($548) is a classic Italian dish, and we had to try it.  At $548, it was pricy for a thin hammered out piece of veal chop, baked with melted mozzarella and tomato.  It was a bit dry for my liking, although I did like the flavours.  It was just not worth the price tag.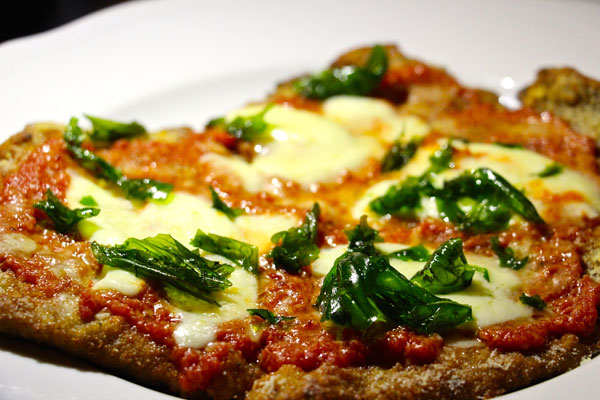 We also ordered sides of potatoes Louie ($88) and broccoli ($88) to share.  The Yukon Gold potatoes were fried in duck fat and garlic, and was a delicious heart attack.  The broccoli had a generous dose of spice, which was a pleasant surprise.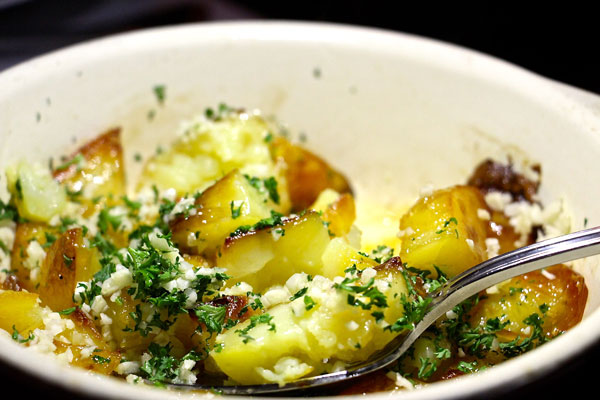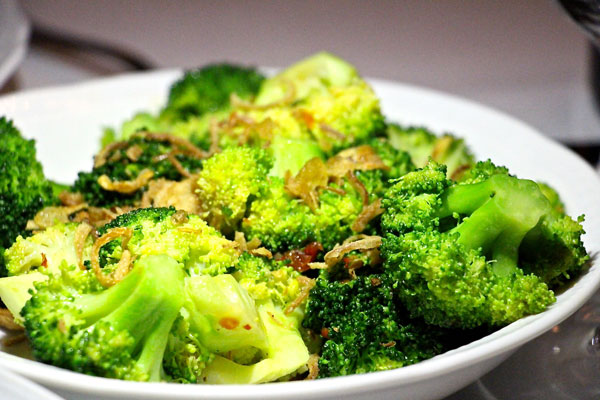 Our orders for mains took almost an hour to arrive, which meant we didn't get a chance to have dessert since the restaurant needed our table back.  Alas, I could only snap a photo of the dessert cart.  We were rushed at the end to finish our meal quickly, which was poor management, but I'll allow it this time as part of the teething problems of any new restaurant.  Our server, did, however, offer us to finish our meal at the bar, and pay for free cocktails for our inconvenience.  It wasn't the ideal solution, but it was much better than most customer services in Hong Kong.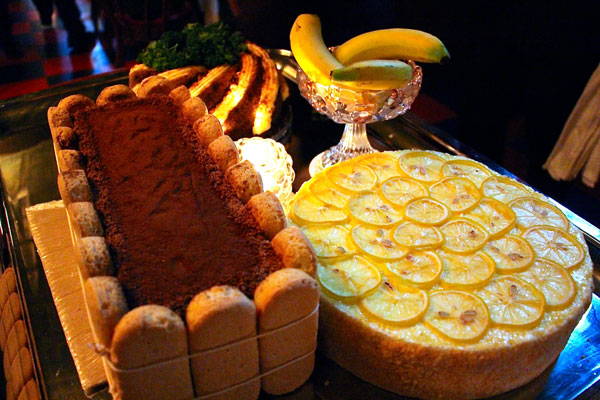 Verdict:  Badabing badaboom.  Despite the long delay on our mains and the rushed last gulps of food due to the restaurant's flawed order management system, we still loved our experience at Carbone.  Oh yes, there was also the mix up with the hostesses cancelling our reservation despite us calling to reconfirm the day before!  This is a recent opening, so there's bound to be teething issues, but we are quite confident that Carbone will soon iron out these kinks.  We loved the ambiance, the food, and the classic old tunes on the sound system.  Carbone is where I'd go when I get a hankering for the Golden Years of America.  Our advice – stick to the pasta and meatballs, and you'll have a swell time.  Our final bill came out to be over HK$4000 for 4 people, including 2 bottles of wine, so it's definitely not a cheap date, although a very enjoyable nonetheless.  We'll be back.
Carbone
LKF Tower
33 Wyndham Street
Hong Kong
Tel:  +852 2593 2593
Sites We Adore