Afterthoughts – Magnifico Catalunya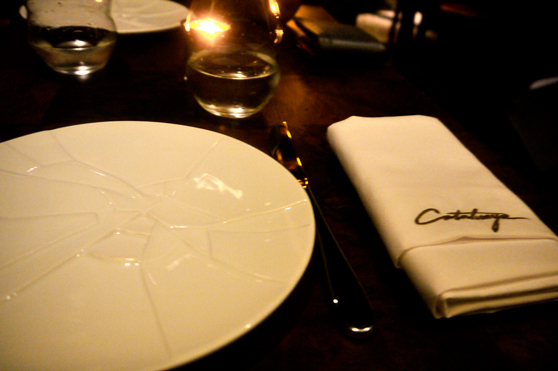 As fashionistas would anticipate the upcoming season's fashion week, or the September issue of Vogue, my heart flutters wildly when anticipating dining for the first time at a much-revered restaurant.  This overwhelming sense of anticipation (tinged with a slight shadow of fear of disappointment) reminds me of the thrill of first dates, when the judgements and assessments made in those formative few hours decide whether there will be a "next time" for the two of you.  These were precisely my thoughts last Saturday upon stepping into the hot new-kid-on-the-block – Catalunya.
Never one to leave things to chance, I made my booking a month and a half  in advance.  I've heard plenty of praises about this  Spanish restaurant, and had to experience it for myself.  Most of the hype seems to revolve around the dynamic duo – Chef Alain Devahive Tolosa and General Manager Pol Pelrello.  Both elBulli veterans (and by this, I mean more than a decade for each spent in the mythical establishment and not stages), the visionaries strive to bring authentic, yet contemporary, Spanish cuisine to Asia with the premier of two restaurants in Hong Kong and Singapore.
Catalunya is heavily influenced by a melting pot of flavours, spanning from neighbouring France to the Mediterranean coastline, absorbing a potpourri of cooking traditions from the Romans to the Arabs.   This is certainly a sexy mix, and the contrasting decor palette of deep reds and moody blacks further accentuated the allure factor.
We began the evening with a bottle of white as well as a bottle of red, both Spanish, of course.  Amongst our intimate party of four was a Spanish friend who is very passionate about cuisine.  She scanned the menu and gave her seal of approval before ordering amazing-sounding dishes in her eloquent native tongue.
We started our meal with a teaser dish of Cantabrian anchovies marinated in fragrant olive oil.  Each fat anchovy fillet resonated a nutty savouriness – superb.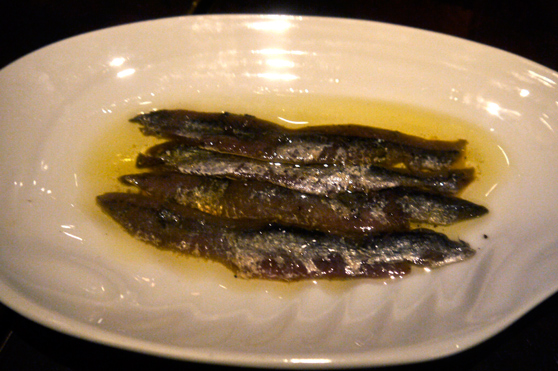 To balance the glossy richness of the anchovies, we ordered the very traditional cod "Esqueixada", a cold dish of shredded cod accompanied by tomatoes, wafer thin shavings of red onions, olives and a drippling of pil-pil sauce.  Apparently, every grandma in Spain has their own favourite recipe on this dish.  Catalunya's rendition, however, underwhelmed us and left us with plenty of tiny fish bones on our tongues.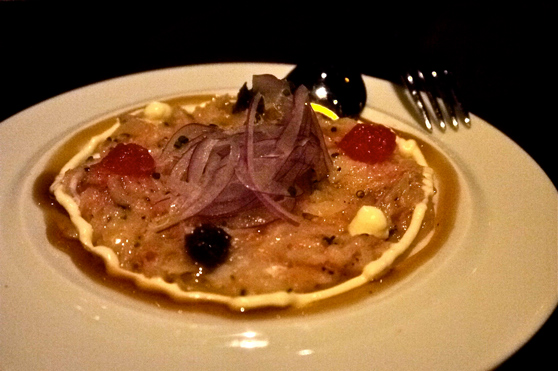 The colourfully named "Truffle Bikini" redeemed what the Cod Esqueixada lost.  This intoxicating little sandwich of Iberian ham, melted mozzarella and black truffles was named after the cafe bar of a popular ballroom in Barcelona in the early 20th century.  The cheese was gooey, the ham well seasoned and, well, there's just no worthy words to describe the perfume of a truffle.  The little sandwich pieces were beautifully crisp and golden on the outside.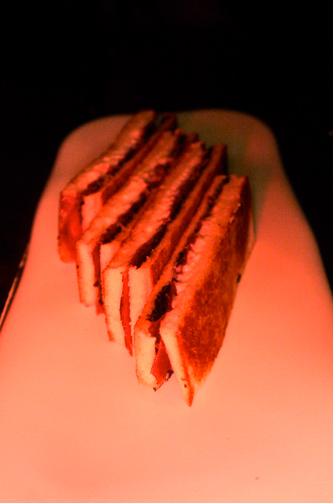 Next up, the calamares "Andalusian style" with lemon mayonnaise.  This dish did not command much admiration.  The batter was on the thick side and the seasoning was rather bland.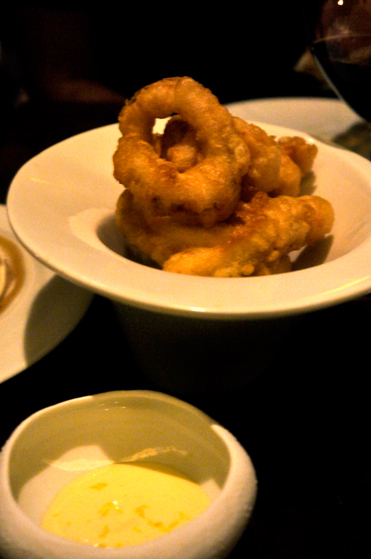 By this time, we felt that we've tasted some highs as well as some plateaus.  The next tapas, Bombas from "Barceloneta" firmly planted our opinions back in the "adoration" section.  The golden fried "bombas" were originally created at a famous local bar in Barcelona called Cova Fumada.  Each pork and beef meatball is covered in potato puree, then rolled in bread crumbs and deep fried to a golden orb.  Topped off with a spicy Brava sauce and garlic allioli, each crunchy yet gooey hot morsel was a sensory delight.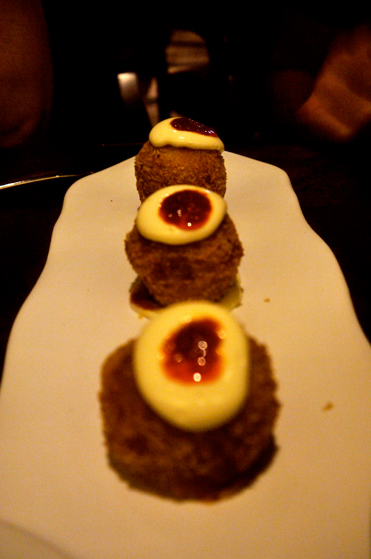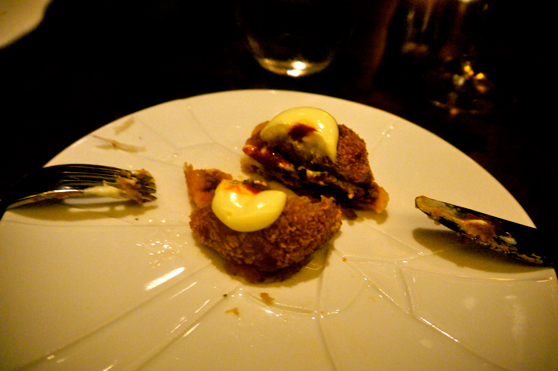 Our final tapa of the evening – Gambas Al Ajillo.  This dish features the prized red prawns, a much sought after delicacy in Spain.  These ruby jewels came seated in a hot bath of cream.  Each shrimp was peeled with the head attached.  Any foodie worth her salt would know that the most flavourful part of a shrimp is in the red oily fat inside the head, and these beautiful red treasures were brimming with this umami-filled juice.  The intoxicating red shrimp oil brought me back to an unforgettable meal in Rome, where, in a tiny secluded restaurant nestled into an alley near Piazza Navona I had the best pasta tossed in rich shrimp head fat.  Bellissimo!  I love how certain flavours can evoke memories of my travels.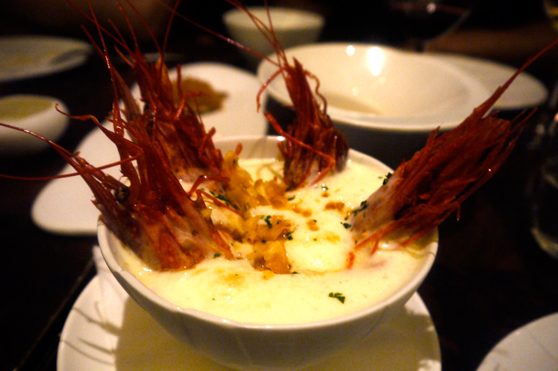 After feverishly devouring 5 tapas, we moved on to the mains.  Being from Northern China, I started my love affair with pork ever since I grew enough teeth to chew, so we naturally had to get the Cochinillo Segovia crispy piglet.  Each serving of the dish came in the form of half a piglet, and is meant to be shared amongst 4 guests.  When our piglet came to the table on a bed of fragrant rosemary and thyme, I was excited and a bit sad.  Excited because I knew it'd taste amazing, but sad because the piglet was so tiny and reminded me of the little pig in Babe, or Charlotte's Web.  I guess he didn't make it to the sequel…
The piglet was so crispy on the outside, and tender inside, that the server was able to use the edge of a plate to cut through the flesh.  It was a great way to present the piglet, as well as showcase a bit of Catalan food tradition.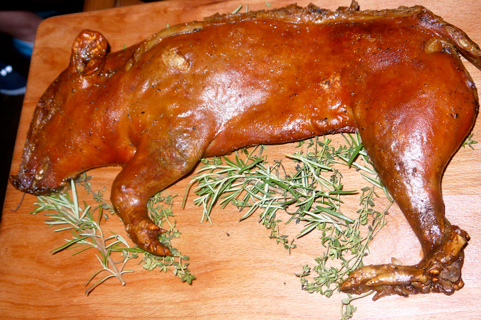 So tender you can cut it with the edge of a plate.
The piglet came with a small pitcher of glossy, almost gelatinous gravy.  However, we preferred seasoning the tender meat with flakes of sea salt instead, as to maintain the crispiness of the skin.
We paired the delicious piggy with a comforting yet luxurious pot of lobster rice.  The short-grained rice was not quite paella, nor risotto, but 100% delicious.  Each kernel was coated in the briny, umami-rich flavours one would associate with superb seafood.  The lobster was beautifully cooked – tender, juicy and incredibly sweet.
After being so happily satiated on savoury selections, we decided to end the evening on a sweet note by sampling two of Catalunya's desserts:  cheese flan and "Torrija".  The cheese flan was smooth and creamy, with a slight hint of savouriness.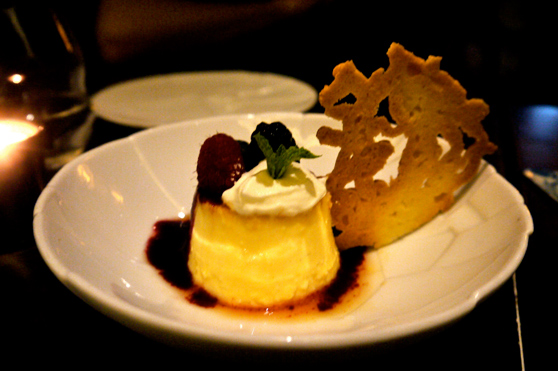 The "Torrija" was an interesting study in contrast.  The dish consisted of two parts – bread and ice cream.  The bread portion was a delicious block of brioche soaked in vanilla milk for over 12 hours, then pan fried to golden perfection.  It was accompanied by a scoop of "smoked" ice cream.  We were huge fans of the brioche but none of us loved the smoked ice cream.  The flavour was too overpowering, and took away from the delicateness of the brioche.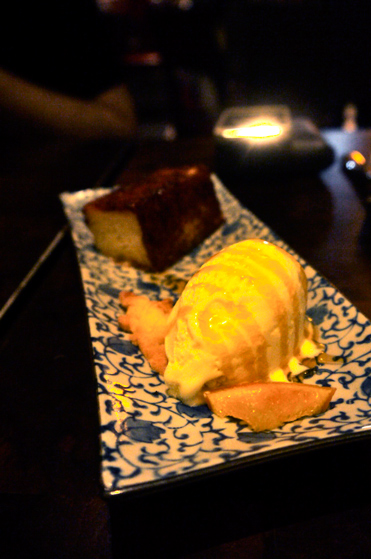 Verdict:  Good things come to those who wait, and Catalunya was definitely worth the month-long wait list.  We all agreed that this is the best Spanish we've had in a very long time, and I dare to say that it's the best Spanish restaurant I've been to thus far. I actually declined an invitation to the final dinner at elBulli, so I guess I'll always wonder how any Spanish restaurant would stack up against "the legend".  Given the elBulli pedigree of the chef and management, I was pleasantly surprised to find the menu to be quite "down-to-earth" rather than heavily focused on molecular gastronomy.  Something about all that foam and flavoured air always feels disconcerting to me.
The quality of ingredients at Catalunya were superb, the service was attentive and the ambiance lively yet intimate.  We loved that the restaurant is set in relatively quiet Morrison Hill rather than predictable locations in Central or Soho.  Will I be back?  A most definite "sí".
Catalunya
G/F, Guardian House, Morrison Hill
Hong Kong Island
Tel:  2866 7900
Sites We Adore