Afterthoughts – An Evening of Thai Street Food at Chachawan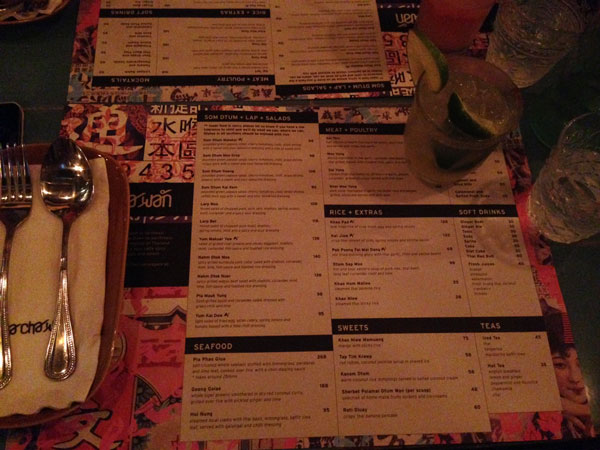 I have a soft spot for Thai street food, most probably because Phuket was the first vacation destination I've been to in South East Asia when I was fresh out of university, working my first job in Hong Kong, and somehow managed to scrap together enough money to visit Thailand for the first time on a shoe-string budget.  All I could really afford at the time was local street food, and I fell in love with its simplistic heartiness.  Even now, after numerous, and much more luxurious, trips back to Thailand with villa stays and yacht trips, I still savour the memories that a good street-side banana pancake can bring back of more humble beginnings.
Which brings me to the topic of this post – my recent dining escapade at Chachawan.  This newish restaurant, located in trendy Soho / Sheung Wan, feels like something you would find in the bustling streets of Bangkok – down-to-earth dining yet buzzing with a particular brand of hip earthiness.  The decor is hippy, spiritual and trendy, all rolled into one.  The bar up front beckons diners in to sit and sip, while an open kitchen energizes the back of the restaurant.  A narrow seating area ensues between the two force fields, with an additional dining alcove upstairs.  Seating arrangements are cozy, simulating the feel of a bustling food market.  We perched on steel stools and settled in with cool glasses of pomegranate and pomelo coolers and lemongrass caipirinhas.
The menu, written on paper placemats, focuses predominately North Eastern Thai.  We immediately bombarded our friendly server with a plethora of menu selections.  The service was quick and tidy, and within 10 minutes we were happily munching away.
First up, Pla Mauk Yung, a starter of flash-grilled squid tossed in a coriander salad, dressed with fiery green chilli and zingy lime.  The squid was beautifully seared, tender and sweet, and the chilli made my mouth tingle.  We ordered the "less spicy" option and I can't imagine how I can ever eat the "original spicy" version.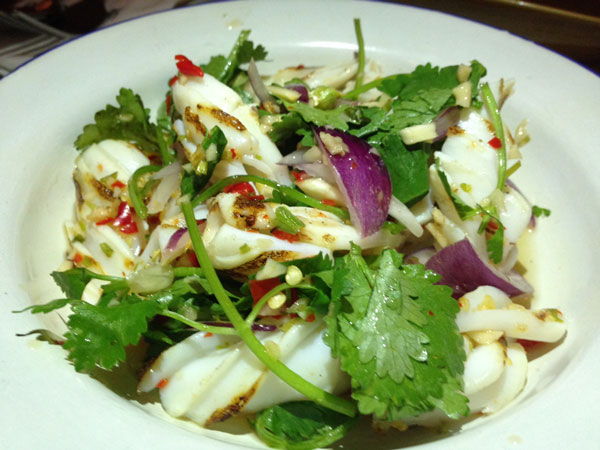 Next up, the Nahm Dtok Nuer, a spicy grilled wagyu beef salad tossed with shallots, coriander, mint, lime, fish sauce and toasted rice dressing.  I am not a fan of coriander (actually, I detest the strong smell) but this flavour combo, paired with the robust beef and refreshing mint, really worked.  I especially enjoyed the toasted rice dressing, which added delightful bits of crunch and toasted flavour to the beef.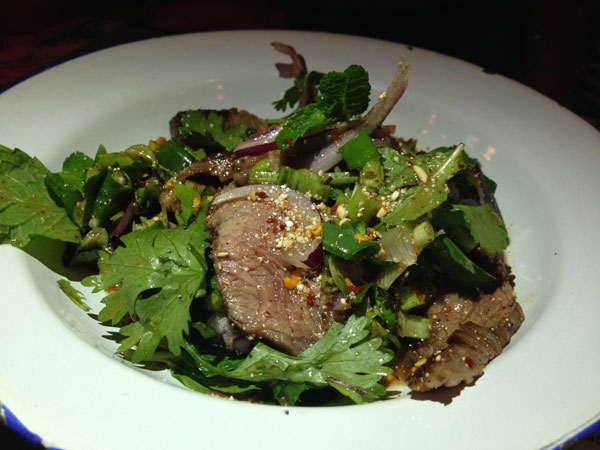 Another fantastic dish, and one I've had many times on street corners in Thailand – the Gai Yung, tender fillets of chicken thigh marinated for 24 hours in garlic, pepper and coriander before grilled to crispy perfection on the stick.  The skin was beautifully caramelised and the flesh remained juicy within.  The accompanying jhim jeaw sauce added tanginess and a touch of spicy exhilaration.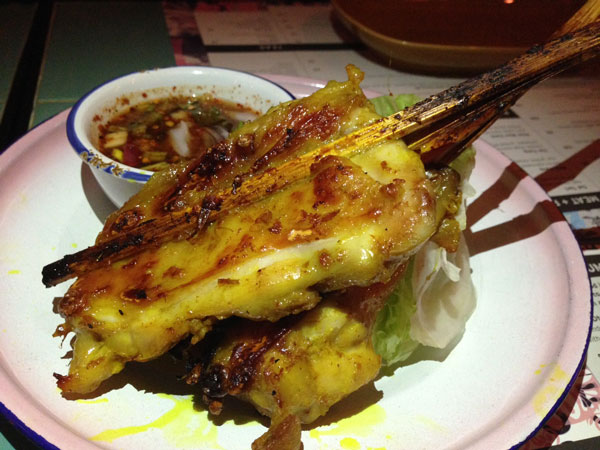 I can't live without my pork, and the Khor Moo Yung was another hit at our table.  Thin slices of succulent flash-grilled pork collar, marinated in garlic, coriander root, pepper and served with jhim jeaw sauce.  Each tender, smokey slice was melt-in-your-mouth perfection, and I loved eating it alongside the crisp, refreshing crunch of the accompanying iceberg lettuce wedges.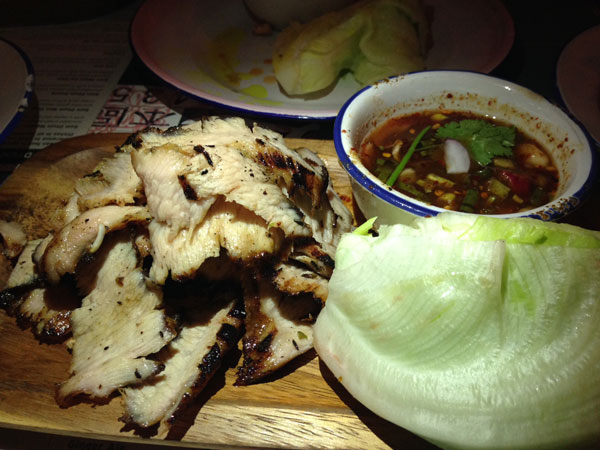 Morning glory is one of those quintessential vegetables I must have when eating at a Thai restaurant.  Chachawan's Pak Poong Fai Mai Dang , stir fried morning glory with Thai garlic, chilli and yellow beans, was a delicious reminder that vegetables can also taste good.  Whole cloves of Thai garlic, turned sticky and sweet through the cooking process, were hidden treats tucked amongst the stir-fried leaves.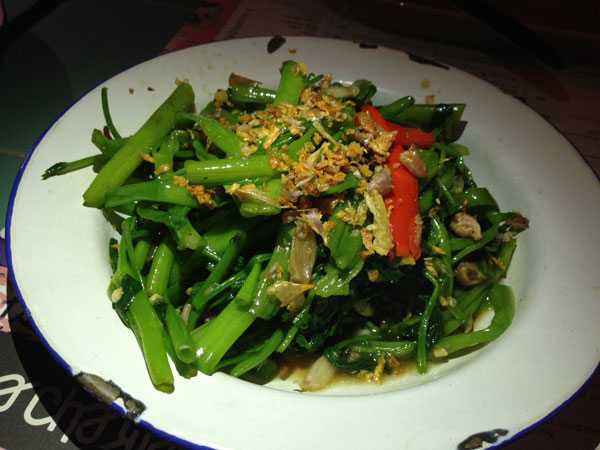 One of the stars of the evening, and a dish that made us wonder if we've over ordered for our group of four, was the Pla Phao Glua.  The salt-crusted whole sea bass needed a head start of 25 minutes to cook, and came to the table beautifully golden from the open fire grill, impaled with lemongrass, pandanas and lime leaves.  Served alongside a chilli dipping sauce, the fish brimmed with simple, rustic goodness, with pillowy soft flesh embellished with a hint of salt.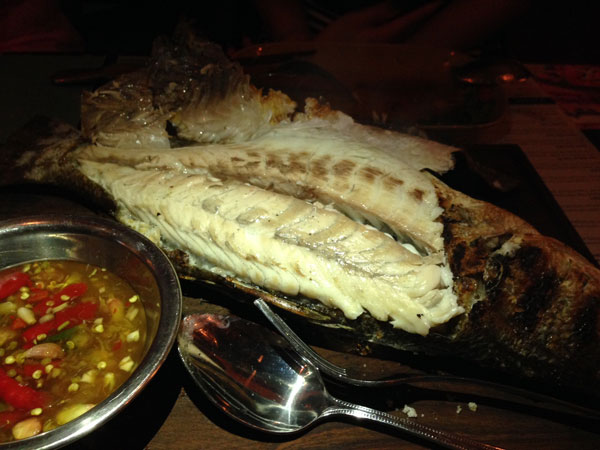 We couldn't resist the wok fried Khao Pad rice with crab meat, egg and spring onions.  The carbi-licious combo was light, fluffy and packed with sweet delicate crab meat.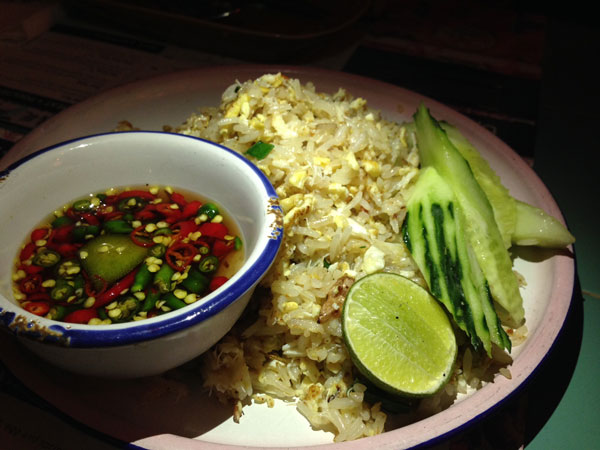 We finished off the meal with the Goong Golae, two feisty-looking giant tiger prawns smothered in dry red coconut curry, and grilled over fire with pickled ginger and lime.  The meat was tender and sweet, and each prawn came with a generous amount of umami-filled head fat, which is always a welcome sight to any foodie.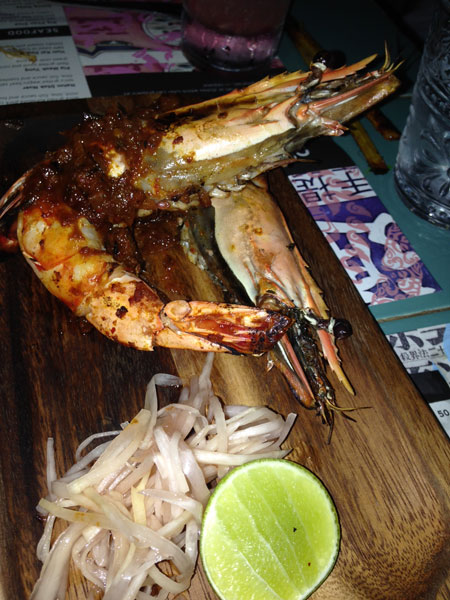 We stayed on the ground floor of the restaurant, and loved the earthy hipness of the decor.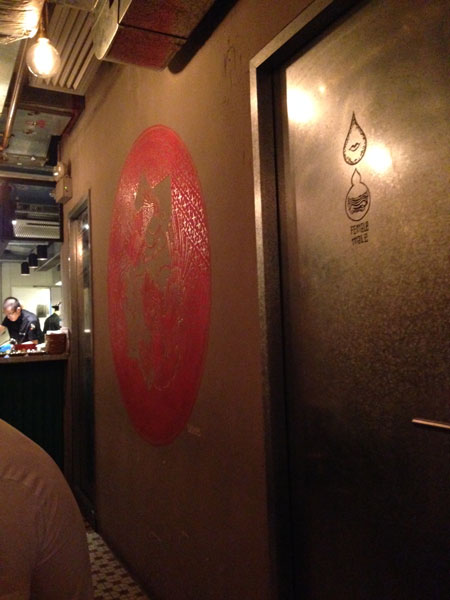 Since we were too full to order dessert, we were served a palate cleanser of refreshing watermelon wedges and spicy salt / sugar seasoning.  I originally thought the seasoning was red sugar, so coated my entire watermelon wedge in it before getting the surprise that the red dusting is actually full of chilli pepper!  After the initial shock, I found it a delicious contrast between salty, spicy and sweet elements.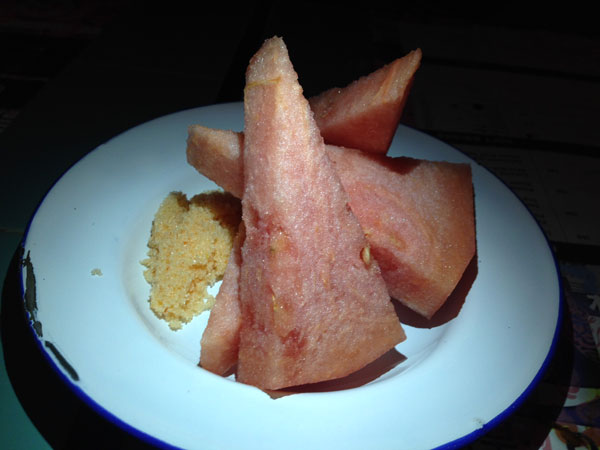 Verdict:  Yes!  Definitely worth a revisit in my book!  I love the hip yet relaxed vibe of the place, and the food was fantastic.  You can never go wrong with simple flavours and Chachawan really knows how to run with a good thing.  I immensely enjoyed every item we ordered, and would definitely be back for more.  And at around HK$1600 for four people, it's not expensive for the quality of food and location.  The only downside is that, like its sister restaurant 22 Ships, there is a no reservations rule, so whether you get a spot here is always a question mark.  We arrived at 6:30pm on a Sunday night and had no problems getting a table, but when we left at 8pm there was a line outside of eager hungry diners.  So, perhaps, early bird gets the worm?
Chachawan
206 Hollywood Rd, Sheung Wan
2549 0020 (but don't bother calling)
Sites We Adore