Afterthoughts – Tucking into French Classics at Cocotte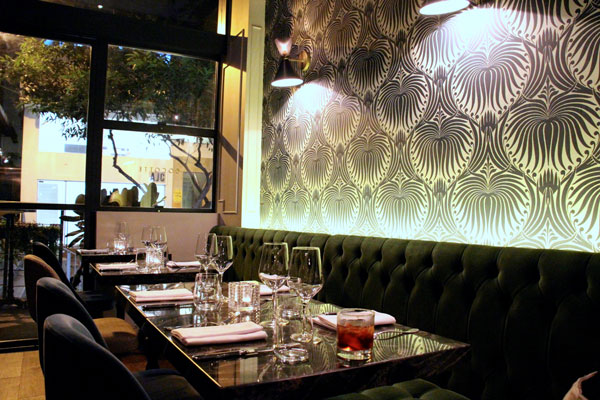 With the rapid migration of the French to Hong Kong, a whole slew of restaurants and bars have sprung up to bring a taste of "home" to these new transplants.  It's become easier each day to find a place to swirl that glass of Burgundy while slathering dollops of terrine on crusty slices of good French bread.
Now, enter Cocotte, a pretty little restaurant that manages to pull off being both cozy and refined at the same time.  Sitting pretty on the staircase off of Hollywood leading down to boutiquey Gough Street, Cocotte is slotted beside another French institution – La Cabane.  Cocotte, as informed by my Frenchie hubby, literally means "casserole" in French, and conjures up all these fuzzy images of my collection of Le Creuset.
Just last week, we were invited to taste the menu on behalf of my magazine, Foodie.  Created by French brothers Jonathan and Brice Moldovan, whose passion for cuisine and hospitality steams from when they were kids working in their family's rustic restaurant, Cocotte is a cozy little restaurant with plenty of charm.  Whimsical wallpaper, plush seating and Art Deco lines add sophistication to the space while the friendly, down-to-earth service sweeps away any pretension.  Led by Chef de Cuisine Patrick Dang, the menu focuses on seasonal ingredients with a modern twist on classic French favourites.
Since it was a long day at work, we started the evening with a round of libations.  I couldn't resist a strong Negroni, a mighty concoction of gin, vermouth and bitters.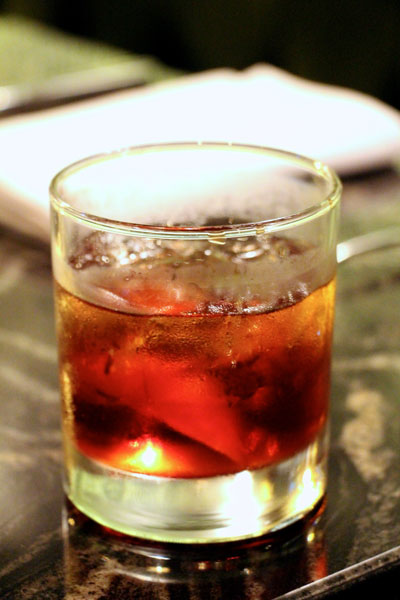 We decided to share an array of appetisers to maximise our coverage of the menu.  First up, was the foie gras royale (HK$168) plated alongside smoked duck ham, rhubarb, raspberries and pistachio.  It seems like smoked duck ham and foie gras are a common pairing these days, as I recently tasted a similar combo at Armani Aqua.  I liked the husky smokiness of the duck ham against the velvety silkiness of the foie gras, and the acidity from the raspberries cut through the richness while the pistachios added another layer of texture.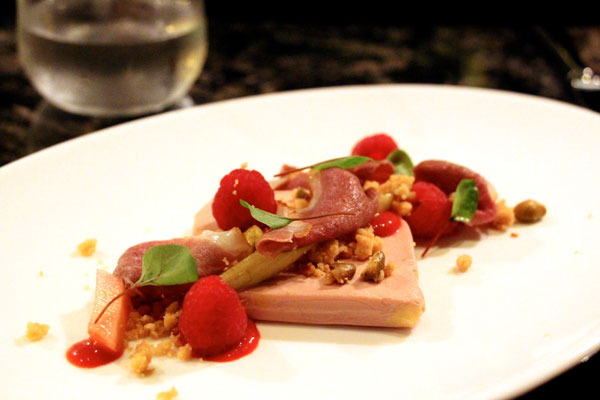 In my opinion, few seafood can rival the succulence of a well-prepared scallop.  The diver scallops (HK$198) with caramelised sunchoke, morel mushrooms, pea coulis and truff le were seared perfectly with just the right amount of bounce left in each scallop.  I loved the nuttiness of the morels in this dish, but failed to find the "caramelised sunchoke" (Jerusalem artichoke) mentioned in the menu.  I was looking forward to eating this root, which tastes like a cross between an artichoke and potato.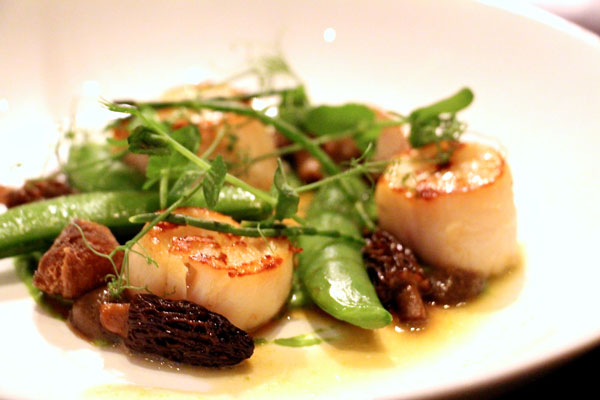 A more refined spin on the classic tuna nicoise, Cocotte's version uses lightly seared tuna toro to add that extra bit of decadence.  The tuna nicoise (HK$188) comes with buttery pink slices of toro nestled in a bed of greens and tomato.  The menu also mentioned quail egg, but I couldn't find this in the dish.  Perhaps this was used as part of the dressing instead?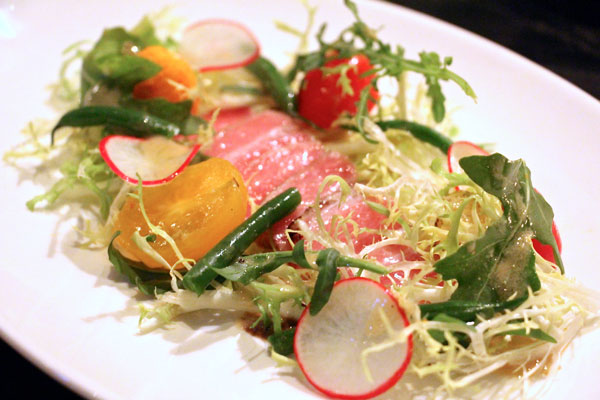 No French menu is complete without langoustine, and the Cocotte version serves langoustine (HK$238) with a light fennel salad dressed with avocado and lemon confit vinaigrette.   This dish was light and summery, and I was thankful that the langoustine were taken out of their shells to avoid any mess.  The little critters were succulent and sweet, and the lemon confit really accentuated the delicate seafood.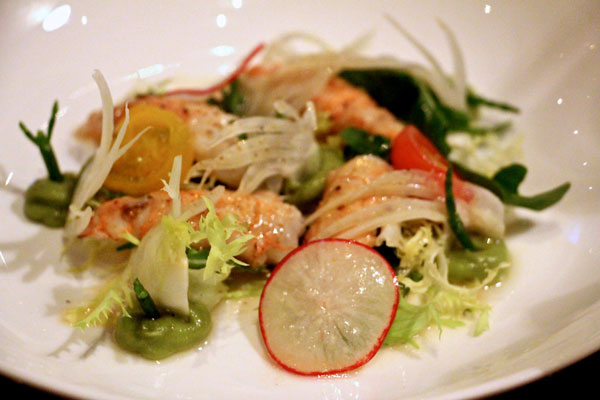 The steak tartare ($168/228) came in two sizes and we opted for the larger option to share.  The truffled egg yolk, when mixed with the sweet, melty beef, was heavenly on toasted sourdough.  The roquette salad made for a good palate cleanser.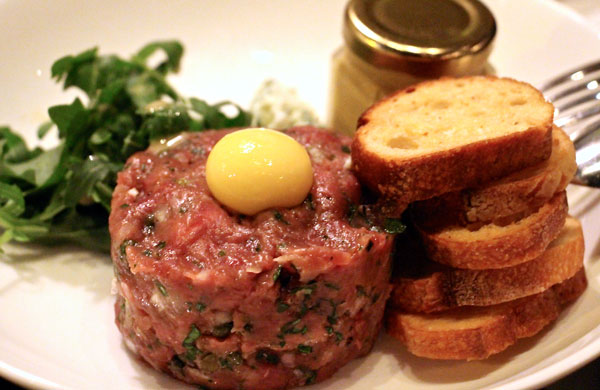 The Parisienne gnocchi (HK$188) with crab, chilli-tomato shellfish emulsion and english peas was lighter than what I expected.  The shellfish sauce worked well to bring out the gnocchi, which Chef Patrick makes fresh daily.  However, this really is a sharing dish, as it might feel overwhelming to have to finish this dish by just one person.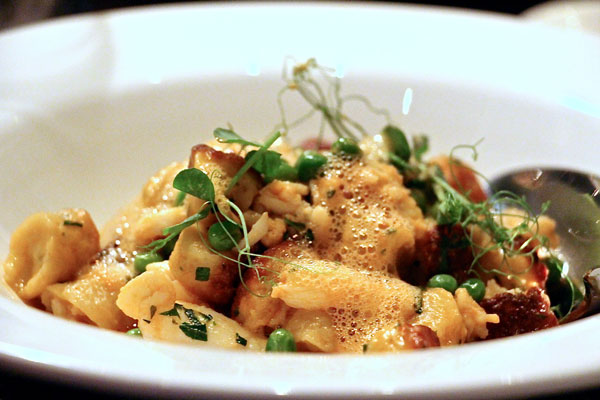 Aside from the usual suspects, Cocotte also offer mains designed to share between 2 people.  We decided on the "La Pintade" grade A guinea fowl (HK$888), cooked two ways.  The little bird, raised in Brittany, was divided into two components, with the breast section roasted and served over a bed of sautéed peas and romaine.  The sweet, crunchy bed of vegetables reminded me of home-cooked meals at the French in-laws.  The guinea fowl, however, fell short of expectation.  The skin was beautifully blistered and golden, but the meat was dry and exceedingly salty.  It felt as if the meat was left too long in a salt brine, and instead of making the flesh more succulent, the brine only infused the bird with excessive salt.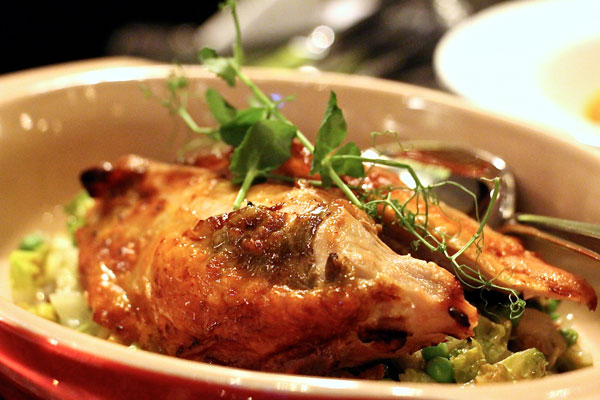 We also ordered a selection of sides, including the potato puree ($68) with mascarpone, caramelised garlic and chives.  The creamy mascarpone made this side dish very addictive.  It's hard not to love carbs mixed with fat…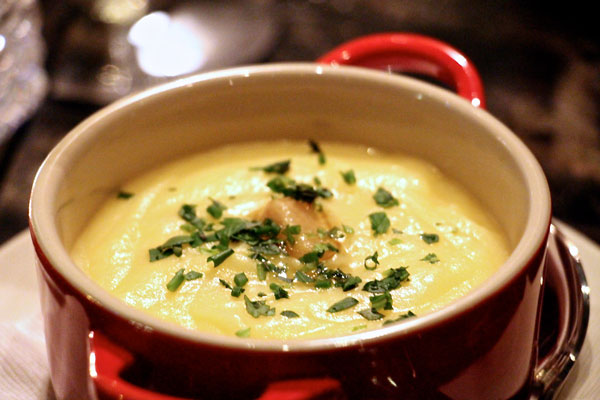 The pan-seared whole dover sole meuniere (HK$788) with a lemon, caper and parsley dressing shared a commonality with the guinea fowl – it was exceedingly salty.  The fish was well cooked, but the oily caper sauce was extremely salty, and I'm a person that loves her salt!  Dover sole meuniere is one of the Mister's favourite things to order, and we've had this on a few occasions at Caprice, where the fish arrives with much fanfare and gets de-boned table side.  If I recall correctly, this sole fish dish at Caprice, a 3 Michelin-starred institution, was around the same price (if not cheaper) than the Cocotte version, and flawlessly prepared.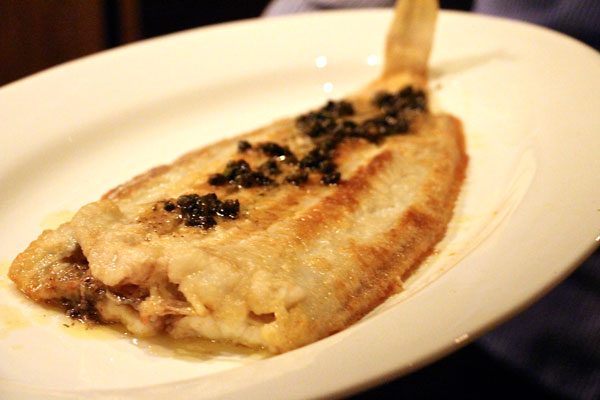 We also ordered the spinach gratin (HK$68) with roquefort and a layer of herbed breadcrumbs as a side.  Usually, I associate gratin with oozy creaminess, but the spinach was densely packed and lacked that satisfying silkiness.  It tasted like a stiff, spinach "cake".  The roquefort made the dish exceedingly salty instead of giving it a creamy finish.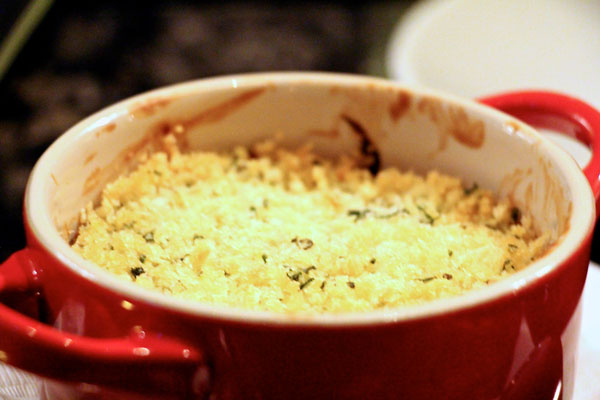 The haricots verts salad with fresh fennel, olives and tomato (HK$68) was a bit over-dressed with oil for my liking.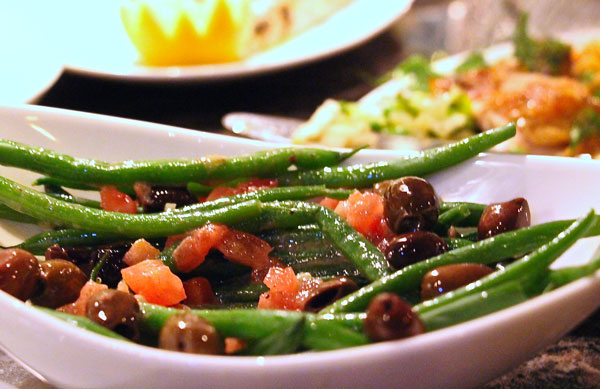 The risotto de bourgogne (HK$188) with escargots, smoked bacon, comte and garlic espuma (it's a fancy word for foam), was quite delicious.  Comte is one of my favourite cheeses, and worked well with the smokey bacon.  The risotto had the right amount of bite to each kernel.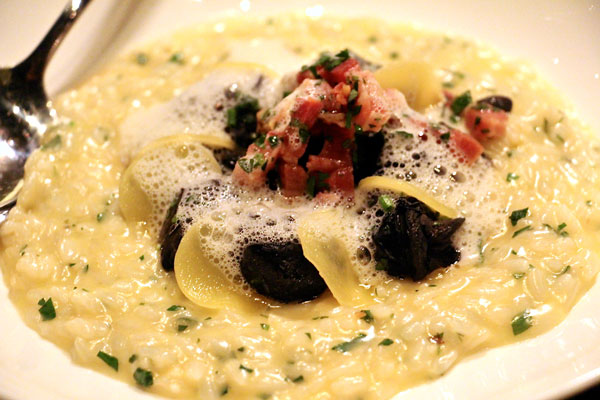 We capped off our mains with the second half of the guinea fowl, cooked, this time, a la  fricassée and plated on top of a truffled spaghetti dotted with morels.   Fricassée dates back to medieval times of French cookery, and in layman terms, describes when meat is cut up into pieces and simmered in (usually) a white sauce.  I was looking forward to the dark meat, as it tends to be juicer and more flavourful than breast meat.  Alas, I was disappointed by this little hen.  Aesthetically, the dish is very beautiful, but taste-wise, it didn't make the cut.  Parts of the meat were dry and rubbery, and felt almost "air-dried".  It was hard to cut through certain portions of the leg, and chew the rubbery meat.  I think the dish might have spent too long in the oven being kept warm.  The spaghetti was fragrant with the morels and truffle, but overcooked with no al dente bite.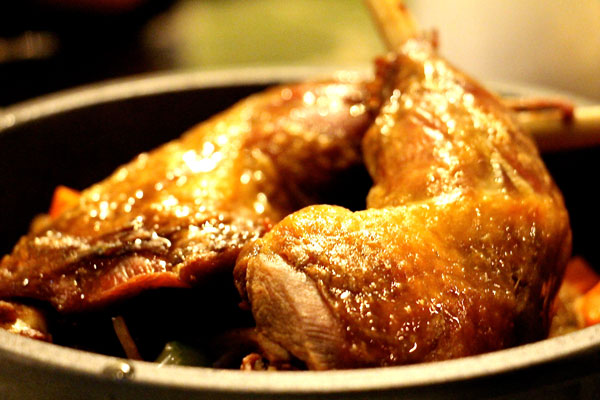 Finally, we came to the desserts.  The grand cru chocolate (HK$128) dressed in orange, olive oil jelly and pistachio was a feast for the eyes as well as for the palate.  The rich chocolate was velvety smooth on the tongue and paired beautifully with the citrus acidity of the orange.  However, at $128, it was pretty pricey for four tiny morsels.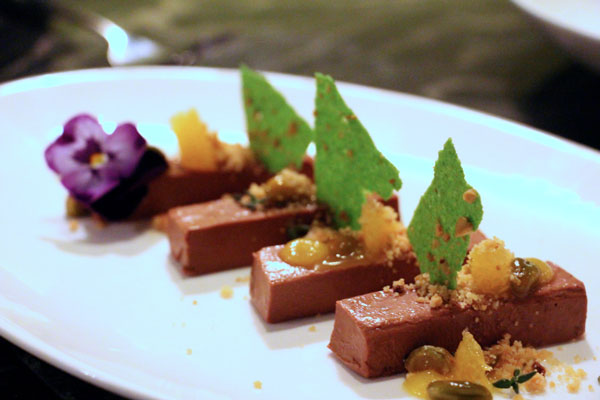 The Valhorna chocolate (HK$108) topped with creme fraiche and accompanied by raspberry coulis was a bit too dense and dry for my taste.  Every time I'm in France, I hoard boxes of Valhorna in my suitcase, so, given the use of this deep, rich dark chocolate, I would have expected a more robust flavour instead of a rather uninspiring "brownie".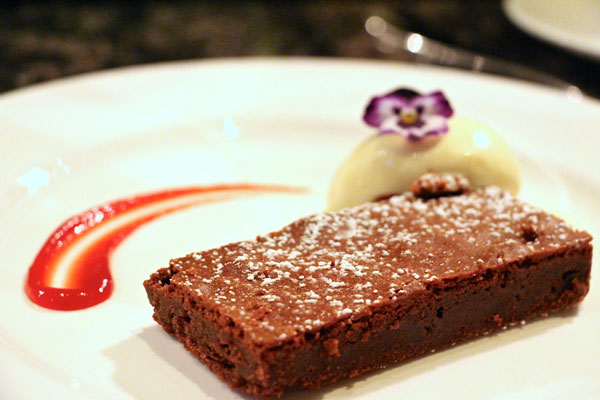 The candied apple (HK$108) with vanilla creme anglaise and almond financier was almost too pretty to eat.  The contrast between the creamy vanilla, the soft yielding apple and the crumbly financier gave the dessert delicious dimension.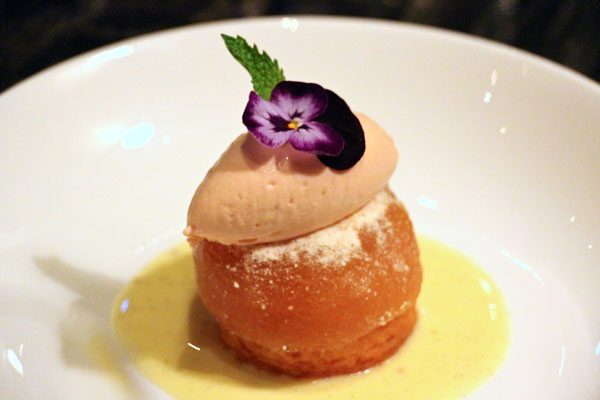 Last, but not least, was the first season berries (HK$118) drizzled in 80 year old balsamic, and adorned with lavender meringue and yogurt sorbet.  The dessert was a beautiful bouquet of summer colours, and I especially loved the intoxicating perfume of the lavender meringue against the subtle tartiness of the yogurt sorbet.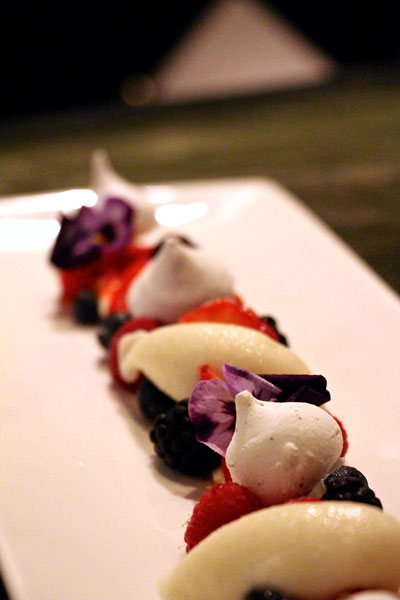 Verdict:  In one word, expensive.  It's unfair to judge any restaurant at its infancy, but there were definitely some major misses during our meal.  Several dishes were overcooked, or overly salted.  The quality of the dishes did not justify the price.  If I were paying this price, I rather pay a few hundred more and dine at Caprice, where it's guaranteed to be spectacular.  Cocotte is a little restaurant with big dreams, and I only hope that its substance matches its ambitions.  We will have to wait and see how Cocotte lives up to the expectations its price commands.
Cocotte
9 Shin Hing Street
Central, Hong Kong
Tel:  +852 2568 8857
Sites We Adore