Restaurant Review – The BEST Noodles at Dandan Soulfood from Sichuan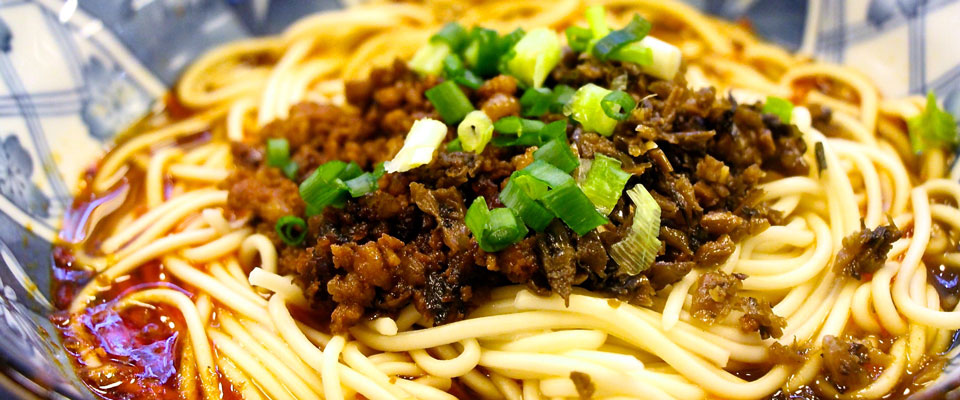 Mouth on Fire!  Living in South China has its perks, but I sure miss the diverse flavours of regional Chinese cuisine.  Hong Kongers are generally timid towards spice, and the Chinese cuisine on offer here mainly veer towards the Cantonese and Shanghainese culinary traditions.  Heck, even my hometown of Vancouver has more diverse Chinese food than Hong Kong!  This is why I jumped with joy when Dandan Soul Food from Sichuan recently opened in Sheung Wan.  A true Beijinger, I appreciate robust, hearty flavours, and a good kick of spice.  Additionally, I feel a close affinity to Sichuan, as our family has business affiliations there, and also owns a home in Chengdu.  Whenever I'm in Chengdu, I gorge myself silly on dishes piled high with fiery chili pepper and numbing peppercorn.  In fact, I've trained my taste buds to withstand Sichuan's notorious "authentic spiciness" level, so I can appreciate the scalding thrill of chilis like a local.  It is, however, also important to note that some of Sichuan's most iconic dishes, such as the double-cooked pork (回锅肉), are not spicy at all even despite Sichuan's culinary reputation.  
Jerome Plassat and his Sichuanese wife are the dynamic duo behind DanDan Soul Food from Sichuan.  Down-to-earth Jerome runs front of house while his wife whips up seriously authentic Sichuan dishes in the open kitchen.  The menu is extensive, and full of nostalgic regional favourites, such as tofu skins and of course, dan dan noodles.  Awash in lively bold colours, this is a quick-serve restaurant, but with plenty of warm hospitality and clean, comfortable seating to make guests linger and savour each strand of noodles.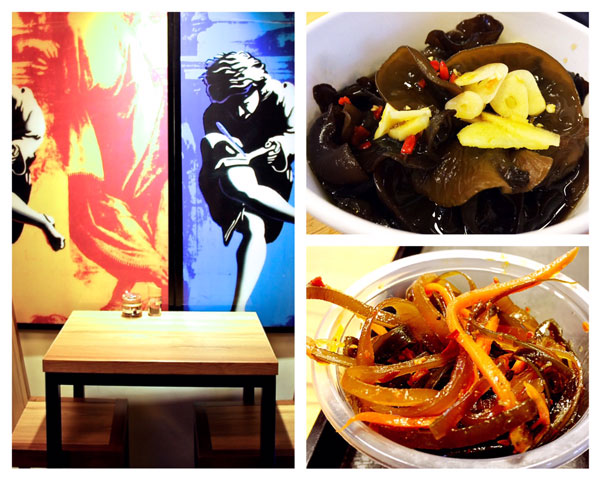 The "dandan" in Sichuan's famous noodles originated from the bamboo poles traditional noodle vendors used to carry their baskets of goods.   The Chinese word for the poles is "担" and this delicious noodle quickly took on the name of "担担面" or dandan noodles.  Traditionally, dandan noodles are made in a spicy broth of preserved vegetables, mustard stems, chili oil, Sichuan peppercorn, minced pork and scallions.  So, for our first order, we had to go with the classic dandan pulled noodles ($55).  First of all, let's talk about the noodles!  The chewy, slightly starchy consistency of these round, medium-thick noodles are the best Chinese noodles I've had thus far in Hong Kong!  The noodles brimmed with wheat-grain aromas, and each strand was like a sponge in soaking up the luscious sauces for a mouthful of euphoria.    The classic dandan noodle was definitely authentic, although I have a personal bias towards the creamier sesame / peanut sauce variety.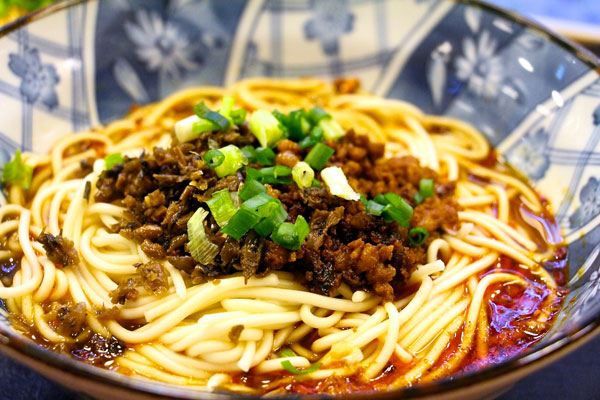 A fan of numbing, flowery Sichuan peppercorn, we were excited about the Chongqing-style numbing-hot pulled noodles ($50).  The noodles came with a slightly tangy broth, and plenty of vegetables.  We loved the texture of the chewy noodles against the crunch of the vegetables, but wished the broth was more "peppery".  We wanted to feel our lips tingle, but finished our bowl with only a mild prickle.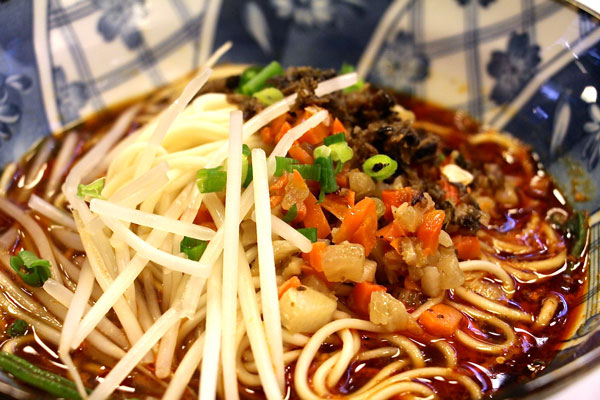 The rightly named "pocketfuls of bliss" a.k.a. dumplings ($50), lived up to their name.  Flatter, and shaped rather like a perogi instead of the plumper Beijing and Shandong varieties, each order came with 8 juicy morsels.  We ordered a half-and-half order split between the chive and zucchini pork dumplings to get a good sampling of what's on offer.  Both types of fillings were delicious, and I loved the slight chew in the dumpling skins which added even more flavour to the succulent filling.  I am usually a zucchini pork dumpling fan, and make this regularly at home, but I actually preferred the chive variety more at DanDan Soul Food. The garlicky flavour was subtle and just right to balance out the richness of the pork.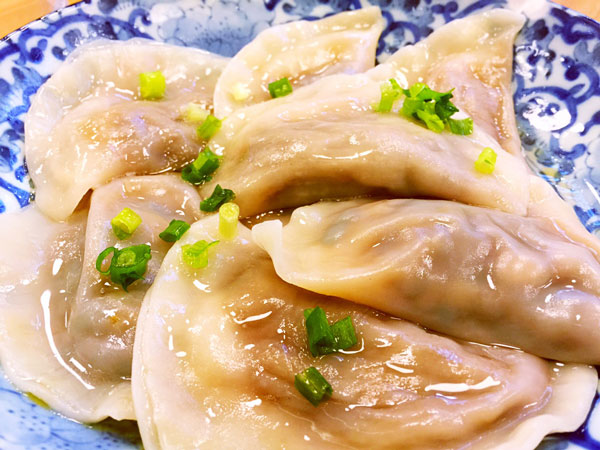 The tender beef stew pulled noodles ($70) was packed full of flavour.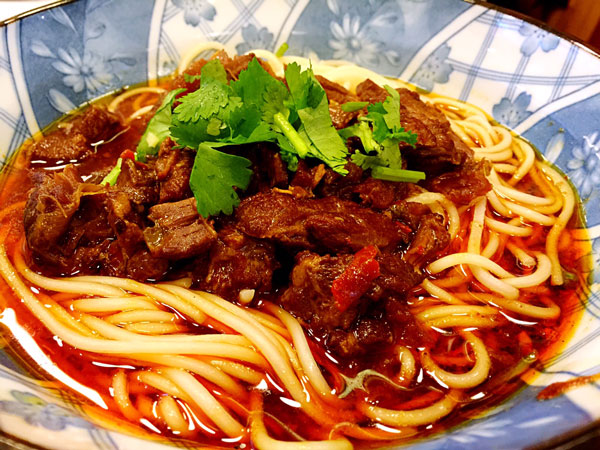 The tofu slices ($30) with homemade chili oil and creamy peanut sauce was out-of-this-world good.  The sauce was a perfect balance between sweet and savoury notes, with fragrant pops of toasted sesame and garlicky scallions in between.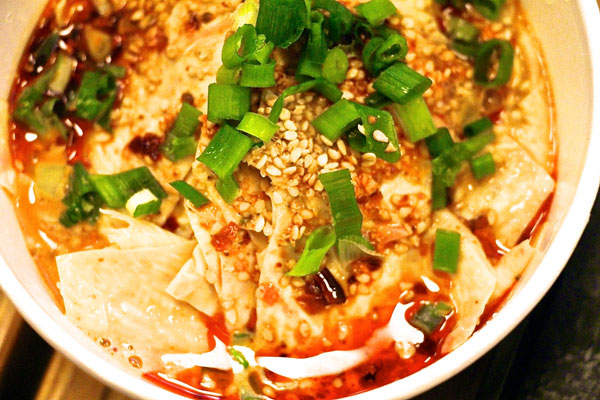 And finally, we capped our visit off with the Chengdu-style dandan pulled noodles ($55), a dry noodle tossed in spicy peanut sauce with heaps of minced pork, pickled vegetables, and crunchy peanuts.  This bowl of noodles, literally, made us groan with satisfaction.  Everything about the noodles was spot on – the consistency of the noodle texture, the creamy spicy sauce, and the crunch of the vegetables and peanuts.  We loved every strand of this dish, and almost licked the bowl clean.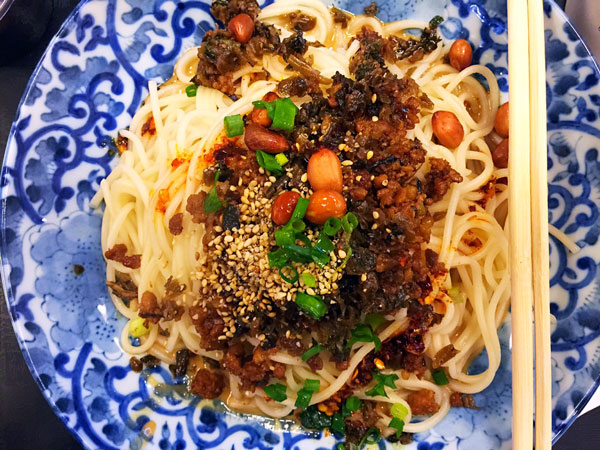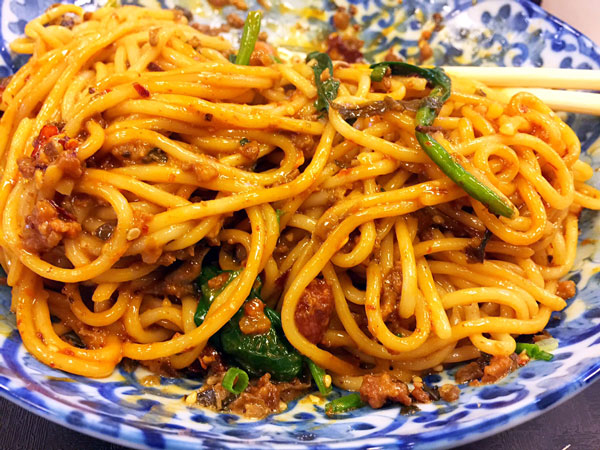 There is also the Sichuan ban mian pulled noodles ($50), which has a similar flavour profile to the Chengdu-style, but a bit more savoury with no peanut sauce,  for those with a nut allergy.
Verdict:  WINNER!!!!!!!  You gotta eat here!  Flavourful, hearty and deliciously authentic, I dare say that this is the BEST Sichuan dandan noodle I've had in Hong Kong, and can rival those I've tasted in Chengdu.  For those with shy palates, the restaurant offers a variety of spiciness levels, so you can baby step your way to authentic spiciness!  I am also a big fan of the sides, which include favourites such as spicy pigs ears, shredded kelp and crunchy wood fungus that are popular on menus throughout the Mainland, but sadly overlooked in Hong Kong.  Folks, I just found my new favourite lunch spot, blissfully a 5-minutes walk from the office!
Dandan Soul Food from Sichuan
81 Queen's Road, Grand Millennium Plaza
Sheung Wan, Hong Kong
Opening Hours:  Mon-Fri 10:30am – 9:30pm, Sat-Sun 11:30am – 9:3opm
Sites We Adore