Afterthoughts – "Guilt-free" Indian Decadence at Dining at Home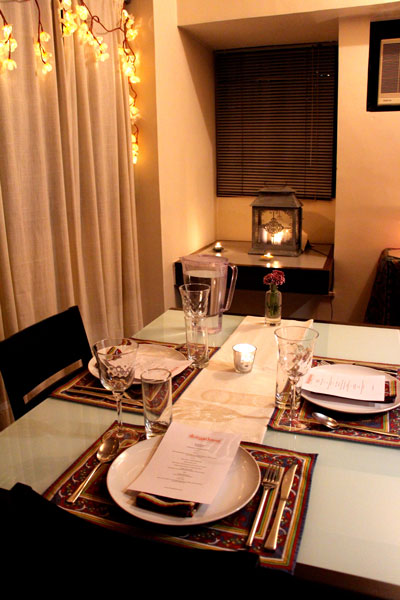 A warm welcome:  I love the rich flavours of Indian cuisine, the intoxicating spices always paint a romanticised picture of majestic temples and bejeweled maharajas, tucked in between mystic jungle teeming with elephants and tigers. Although irresistibly delicious, every time after indulging in a meal, I'm left feeling slightly guilty about the decadent creams and ghee used. After feasting on Indian cuisine for 11 straight days during a trip through Rajasthan, I refrained from rich curries and paneers for the good part of 3 years!  So when our Foodie Magazine team was invited to taste the new private kitchen Dining at Home, I was excited yet a bit unsure about the impact on my waistline. (Please note, this was a media invitation dinner) 
Stepping into the cozy venue at Dining at Home, literally, felt like being invited into the home of a good friend.  We were greeted at the door with refreshing flutes of prosecco by our lovely, and very gracious host, Puja. Bubbly always makes for a good start to any evening.
We were ushered into an intimate sitting area, much like a living room, to enjoy our libations and a few nibbles. Then, sliding doors parted to reveal a cozy dining room washed in the warm glow of candles. The menu at Dining at Home centers around the Sindhi tradition, which stems from the Indus Valley in Pakistan but is popular throughout India. Puja's family is Sindhi, and she celebrates her heritage with family favourites she's learned from her mother's kitchen.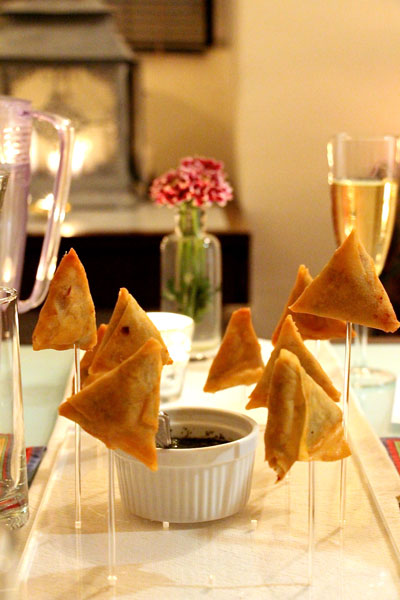 The spice trail:  Our meal began with cumin infused potato and pea samosas, each suspended on tiny clear pillars that resemble a little delicious forest. The mini samosas were light and delicate, and paired beautifully with the flavourful mint, coriander and tamarind chutney.  Main courses are served family style, furthering the comfortable, homey ambience.  We drooled over the Sindhi chicken curry, packed with juicy, fork tender morsels of spice-infused meat.  Although the curry oozed bold flavours, it was guilt-free and devoid of excessive fat and creams.  In fact, the only fat in the dish comes from the natural fats of the chicken. The yellow rice simmered with mustard seeds, curry leaves and turmeric played the perfect accompaniment to the spiced curry.  The garbanzo masala with red onions came blanketed in a crunchy layer of sev, a crispy noodle made from chickpea flour and seasoned with turmeric and cayenne.   The sukhi macho, made from local catch of the day marinated in a blend of secret spices and dusted in sesame was the pièce de résistance of the evening.  The fish was beautifully flakey and infused with the heavy spice mix, and although a tad on the salty side, paired well with the freshly rolled roti.
(Below) Basmati rice – I especially loved the "pop" of the tiny mustard seed kernels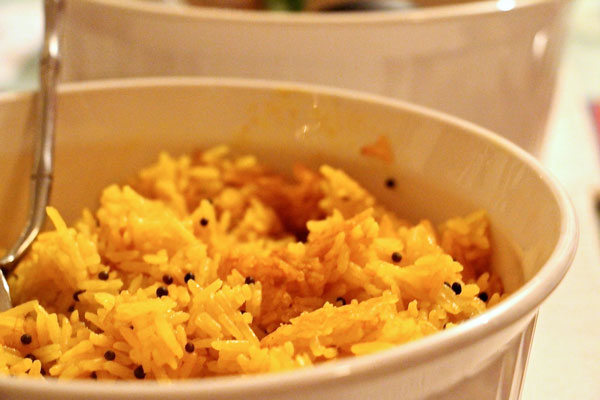 (Below) The sukhi macho fish – blanketed in intoxicated spices.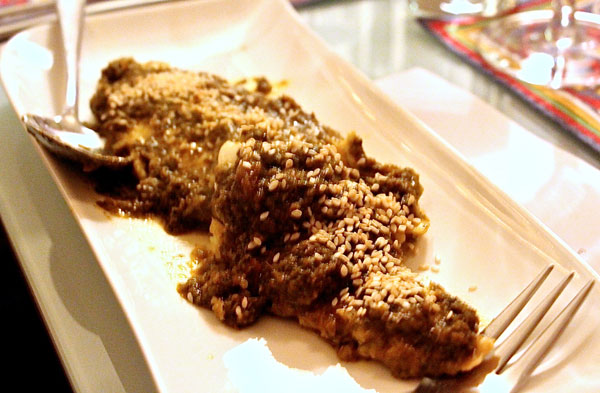 Garbanzo Masala with crispy chickpea noodles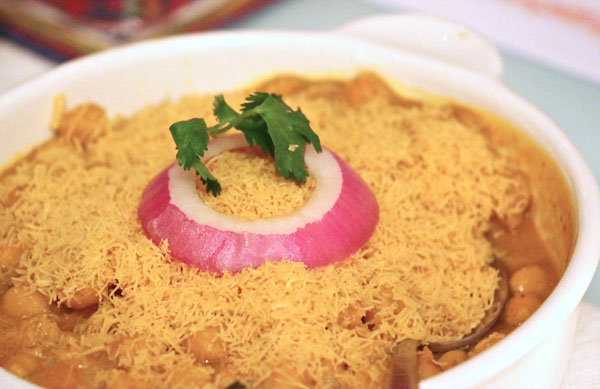 "Skinny" chicken curry – blissfully guilt-free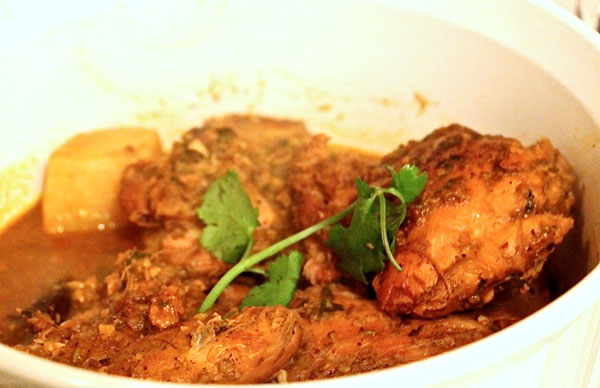 And some roti to mop up all that curry with…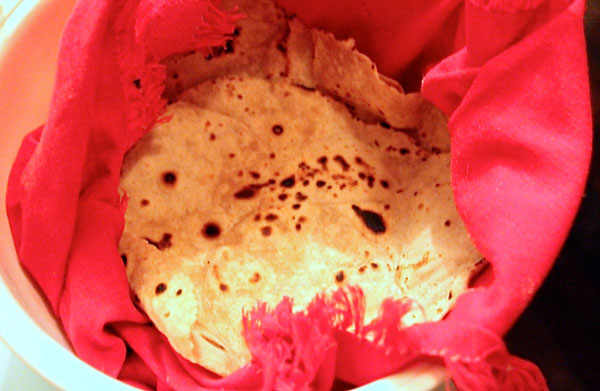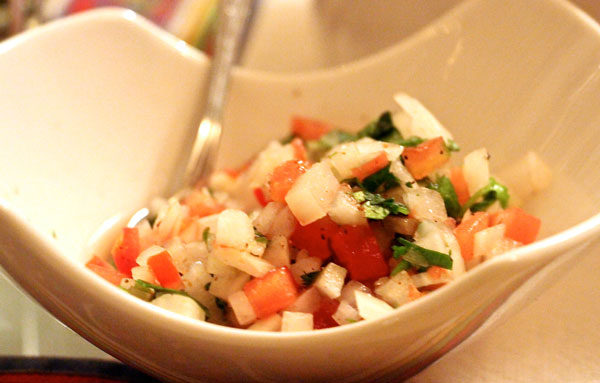 Sweet Endings:  We wrapped up our meal with, not one, but two desserts. The warm shredded carrot halwa was sugary and, perhaps, not suited to everyone's taste, but the saffron infused almond coconut milk kulfi was pure vegan bliss.  The kulfi was so creamy that we felt as if we were eating ice cream.  Definitely a great way to finish of a surprisingly light Indian feast.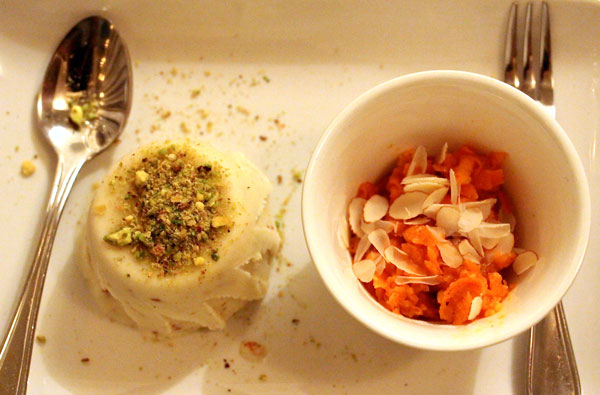 Verdict:  At $390 per person with free corkage, this little private kitchen is definitely a steal given the high quality of food.  The jovial, "living room" atmosphere makes us feel like we were dining in a good friend's home.  Puja's passion for quality ingredients and healthy cooking really shines through in the dishes, and really breaks through the common perception that Indian food is laden with heavy creams and ghee.  We will definitely be back for some more guilt-free indulgences.
Dining at Home, check out www.diningathome.biz for more details.  
Sites We Adore