Afterthoughts – "Americanised" South East Asian Cuisine at Fatty Crab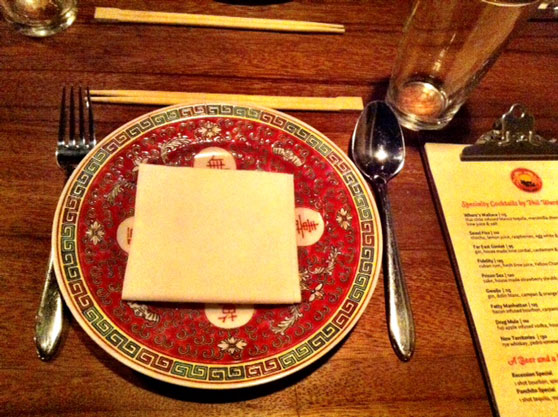 Fatty Crab – the name alone conjures up tantalising images of big, juicy crustaceans draped in glossy sauce.  Needless to say, I was more than a little excited about sampling the New Kid on O'Bailey Street.  And since I'm also a reality cooking show junkie, I had to check out the restaurant chain that Chaz Brown, competitor chef in Season 1 of Around the World in 80 Plates, chefs at.   Hence, on a dark and stormy night a few weeks ago, a few girlfriends and I decided to brave the "no reservation" rule and tackle the queue at Fatty Crab.
At the time of our visit, the restaurant was so new that it didn't even have any signage outside, so our only indicator that "this was the place" was the massive waiting crowd crushed like sardines inside the entrance bar.  After waiting patiently for close to 50 minutes, we were ushered past the crowded bar, the raw station, and into the main dining room.  The decor theme could be termed "grundge chic" accentuated by rusty green-tinged walls and  graffiti tags, while at the same time still running a decidedly "designer" undercurrent.  Tables and chairs are simple and functional – all giving impressions that this meal could get "down and dirty".
Naturally, on a Girls' Night Out, we had to start with a round of libations.  I am a sucker for quirky drink names, and Fatty Crab's were definitely entertaining, to say the least.  I've heard a lot of mentions about their Hong Kong signature drink, Where's Wallace, named after the only Cantonese speaker of the crew, so I had to try it.  A concoction of Thai chili infused blanco tequila, manzinilla sherry, fresh celery juice and lime juice, rimmed with salt, I have to admit, the name sounded more enticing than the actual taste.  It was way too salty for my liking.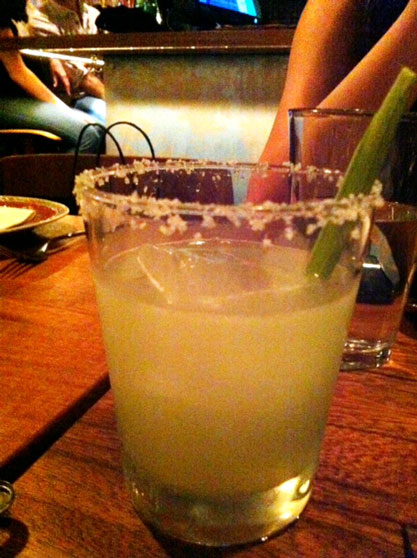 A friend had the "Gweilo", a mixture of gin, dolin blanc, campari and orange bitters.  It was much more palatable than my Where's Wallace, and I'm also a fan of the single, large ball of ice which efficiently chills without overly diluting the drink.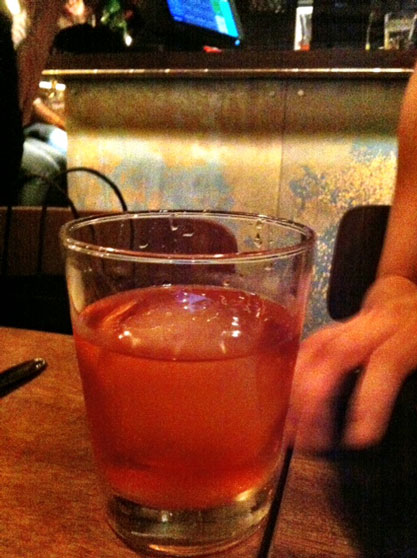 The little darling of the evening (in the drinks category) goes to Prison Sex.  This enticing little number, filled with sake, house-made strawberry shrubb, cava and lemon juice, was as pretty as a girly boy convict, so I'm guessing this is how it got its name.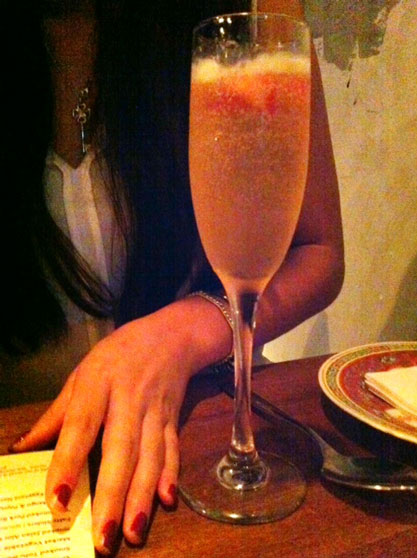 The staff were very knowledgable and enthusiastic about their menu, and suggested we try a couple of dishes from each of the three categories:  Raw, Skinny, and Fatty.  We were not in the mood for anything raw, so opted to start the meal with a stack of smoked tofu Banh Mi tea sandwiches.  The mushy, somewhat bland sandwiches lacked the vibrant punch of the true Vietnamese version and the smokiness I was hoping for from the smoked tofu was barely audible.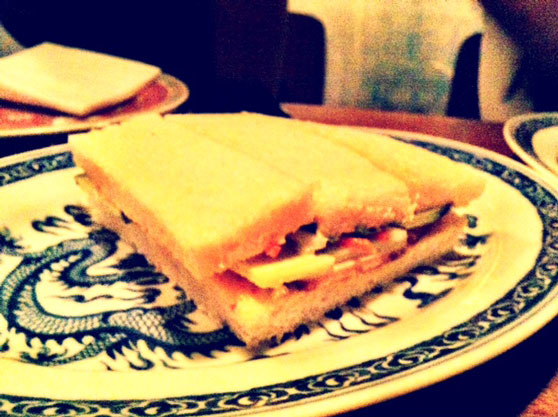 I love my pork, and had to try the pulled pork shoulder sliders.  Smothered in bbq sauce, aioli and pickled, tangy daikon, this dish was a redeemer for the previous tea sandwich.  However, was it truly revolutionising?  I somehow feel that I've tasted similar versions on numerous occasions.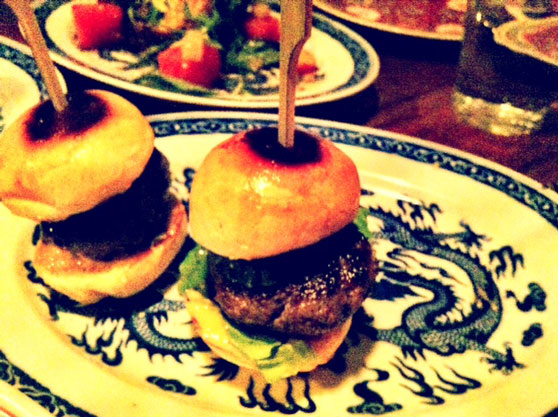 Next up, the much talked about watermelon pickle and crispy pork belly, crowned with fresh herbs and scallions.  The server told us that this is their most popular dish in their New York restaurant, and I can see why.  The tangy yet iridescently sweet pickled watermelon plays a refreshing contrast to the rich, decadent pork belly.  This dish was the true star of the evening.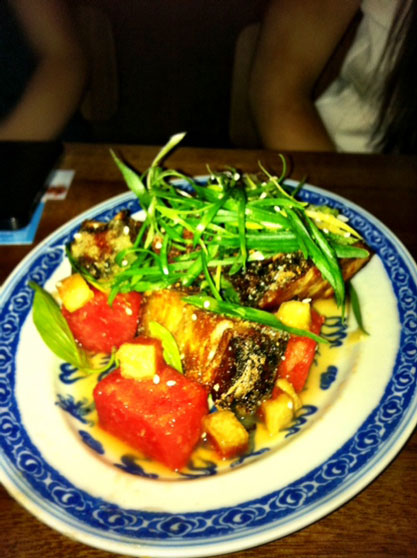 Following our dish of scrumptiously crispy yet tender pork belly, we come to the clam.  Steamed in green chili sauce alongside fresh crab meat and fresh green peppercorns, this dish sounded good but felt like predictable South East Asia cuisine. The flavours were good but nothing to dream about.  It was also a bit awkward to eat, as most of the clam meat fell into the curry sauce and we had to take turns dredging our spoons along the bottom to fish out morsels.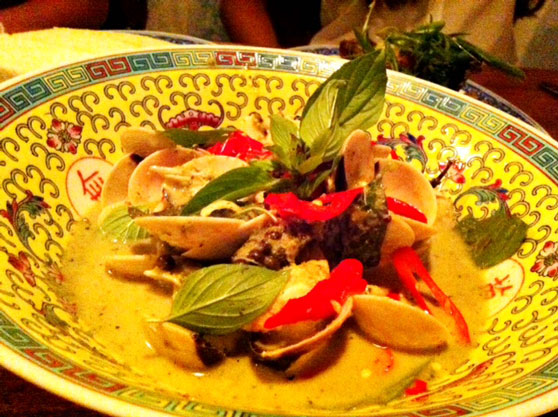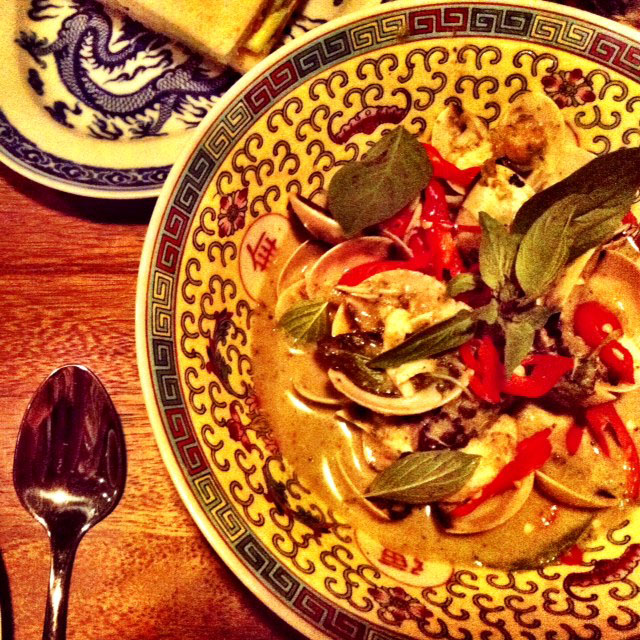 Our final dish was a starch – char kway teow.  The rice noodles were stir-fried with Chinese sausage, samba, squid, shrimp, and crowned with a fried egg.  Whereas there was nothing offending about the dish, there was also nothing remarkable about it.  I feel I've eaten equally delicious versions in common Singaporean hawker stalls.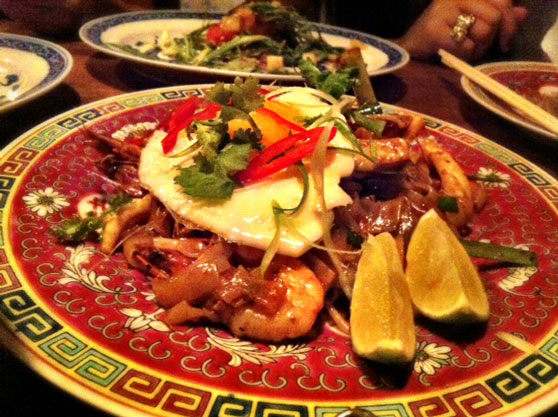 Verdict:  Was Fatty Crab everything I anticipated?  Fat chance.  This formula of quasi South East Asian food might have worked in the States, where diners might still equate the red sauce in pad thai with ketchup.  But since we live in Hong Kong, in the cradle of South East Asia, I would think diners here are more savvy to authentic Asian flavours.  It felt vaguely like bringing sweet and sour pork to China and calling it Chinese food.  I don't mean to be harsh, and maybe this formula of "westernized Asian cuisine" could work in Asia (exhibit A:  Chilli Fagara), but it all feels a bit overly contrived for an old schooler like me.  Mind you, the service and energy of the staff were amazing, and I felt more than welcomed in the place (mind you, our group was not the easiest to deal with) and the staff were more than accommodating.  I originally wanted to try the signature chilli crab, but then heard the table next to us (who were wrist deep in the chilli sauce) confess that "the taste was not worth the trouble".  So would I be back?  Maybe – not for the food but for a drink or two at the fun, high-energy bar.
Fatty Crab
11 Old Bailey St
Hong Kong Island
Tel:  2521 2033 (no reservation so don't bother calling)
Sites We Adore