Afterthoughts – Comfort Eating at Fish & Meat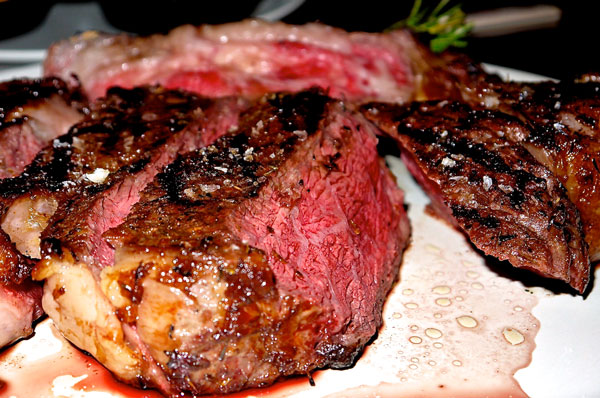 I must admit, I've been aching to go to Fish & Meat ever since attending their fabulous opening party a couple of weeks ago.  Taking over from the old Sal Curiso venue, Fish & Meat reinvented the space into a cozy, Scandinavian-isque haven, where clean architectural lines blend effortlessly with rustic charm.  Modern Scandinavian farm decor embellish the space, and blooms of wild flowers add a dash of intimate whimsy to the large venue.  I love the frankness of the restaurant name "Fish & Meat", so guests know exactly what to expect.  I have to admit, I probably wouldn't have been as excited if the name was "Vegetables & Fruits"!
Last week, a few bloggers and I sat down at the kind invitation of the Maximal Concept team to sample some of their most favourited dishes.
We started our feast with a round of cocktails.  The Maximal Concept group, who are also responsible for the creative ideas behind Brickhouse and Blue Butcher, have a reputation of coming up with out-of-the-box cocktails.  I love their bacon-infused vodka at Blue Butcher, and their pisco sour at Brickhouse.  Naturally, I had to try the most unique drink on their menu, and couldn't resist the delicious sounding Farm House Jam (HKD$110) - a concoction of Ice Fox vodka, prosecco and home mad blueberry thyme jam.  The drink arrived in a rustic mason jar glass, topped with fresh thyme and a spoonful of extra blueberry jam.  it was almost too pretty to drink!  I loved how balanced the cocktail was – not overly strong or sugary, and the prosecco gave the overall composition a light, airy lift.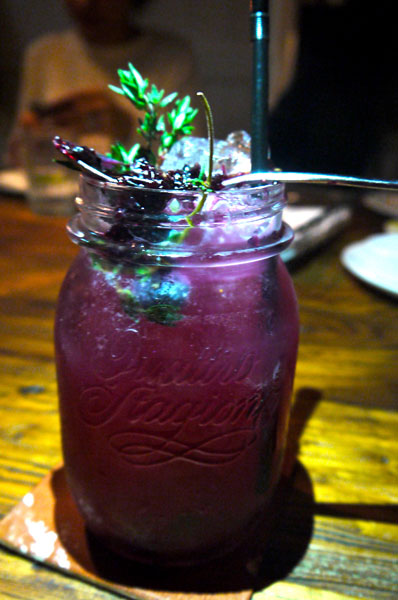 Another fellow blogger ordered the Bottled Negroni (HKD$160), made up of Gordon gin, campari, and Antica Formula.  It looked really refreshing with wedges of citrus.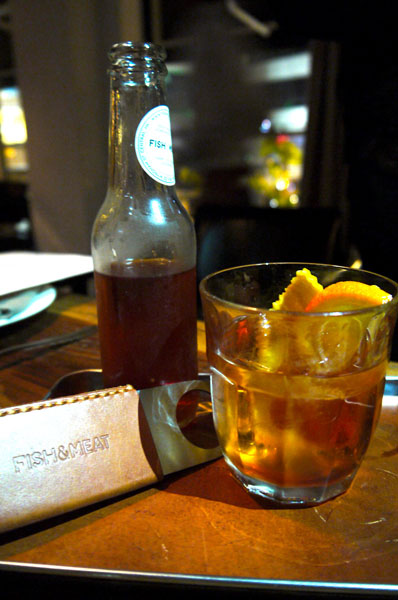 Breaking bread together – fresh bread from Eric Kayser, accompanied by pesto butter, cracked pepper, salt and chilli.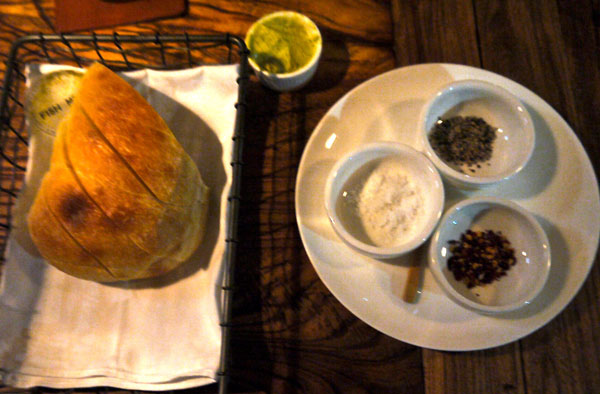 As a starter to whet our appetites, grilled sea urchin bruschetta with lardo di colonnata and rosemary (HKD$120).  This dish is a must for sea food lovers.  The golden uni was incredibly velvety and fresh.  However, I felt that the bold flavours of the salty lardo overwhelmed the delicate sweetness of the uni, which is best exemplified (in my opinion) when eaten raw.  But at $120 for fresh Hokkadio sea urchins, this is an amazing find.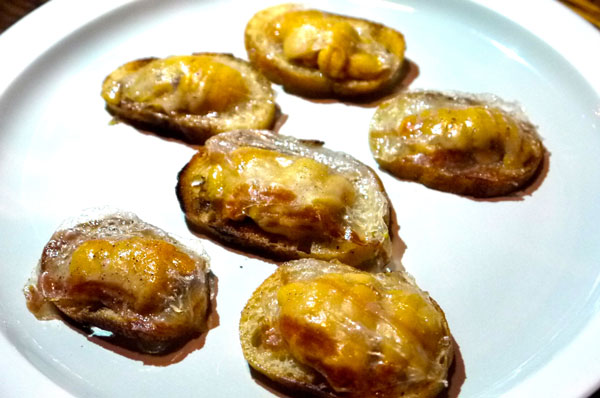 Being a true carnivore, I salivated over these delicious little roasted bone marrow crostini (HKD$115), perfumed with lemon zest, garlic and parsley.  The marrow was melt-in-the-mouth delicious, and so decadently rich.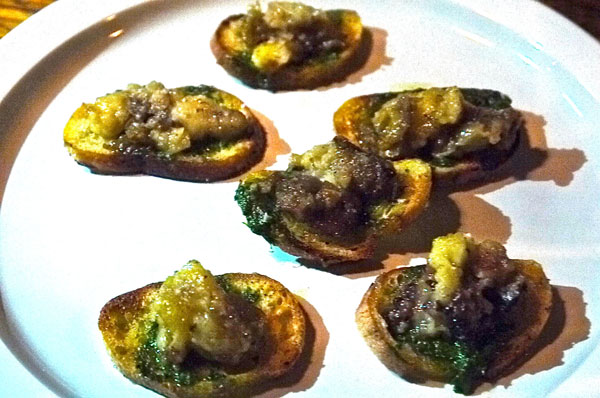 The pan-fried baby Spanish octopus with white bean puree (HKD$120) was chewy, and packed with briny flavour.  I loved the crispy caramelised bits around the edge of the tentacles.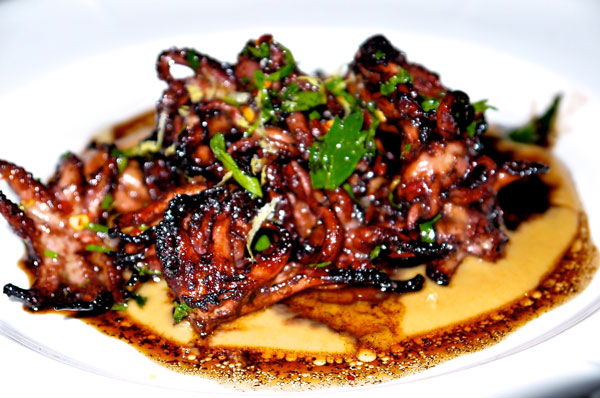 Fish & Meat makes their pasta from scratch every morning, so we had to try the tagliatelle with a chicken and truffle sauce (HKD$120), crowned with a golden wafer of crispy chicken skin.  The noodles had an interesting texture – not al dente and not overly soft, and the strong black truffle aroma enveloped each forkful of this creamy pasta.  The fried chicken skin was light and airy, yet delicious in the way that only fried food can be.  Because it was so thin, it also felt very "guilt-free".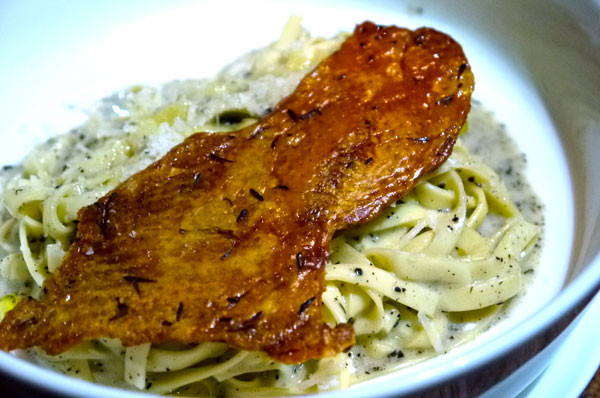 Now, on to the mains!  The roasted French turbot (HKD$290) came nestled in a bed of carrot puree, browned in smoked prawn butter, and ornamented with little brown shrimp.  The flesh was tender, with a delicate golden crust.  My favourite, thought, were the little shrimps, which popped with briny goodness with each bite.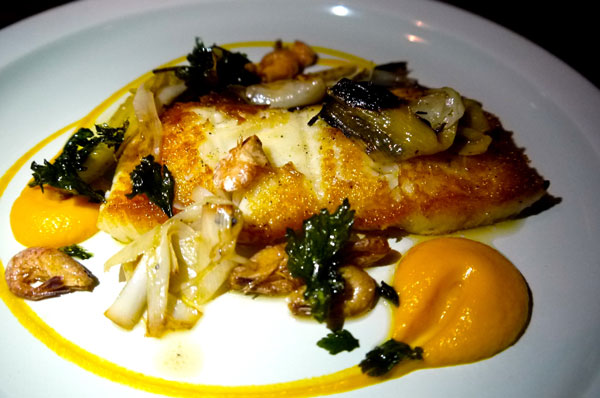 A caste iron pan full of rustic Tuscan potatoes (HKD$70).  I really enjoyed these potatoes, as each wedge was fully infused with the aromas of garlic, rosemary and well seasoned with salt.  I've had rustic potatoes in  many places, and very often I'm disappointed at the lack of seasoning.  I'm happy that this clearly wasn't the case at Fish & Meat.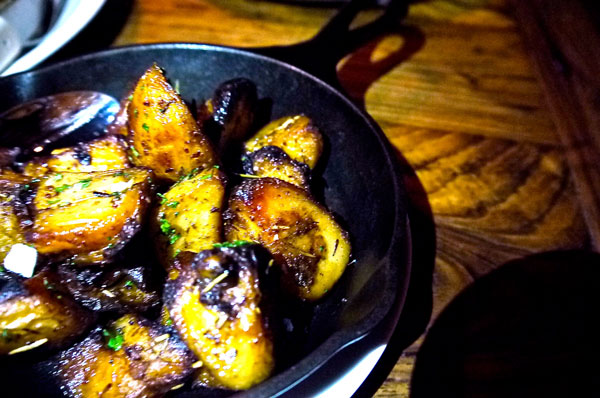 A beast of a meal – an entire French free range yellow chicken braised "Diavola" style (HKD$450), accompanied by caramelised onions.  I had a chunk of the breast meat, and although it was very tender, found it a tad bland.  However, my fellow bloggers who tasted the dark thigh meat really enjoyed it, and reported that the flavours penetrated well into the chicken.  I guess I'll just have to go back for a leg piece next time!  The soft caramelised onions was sweet like candy.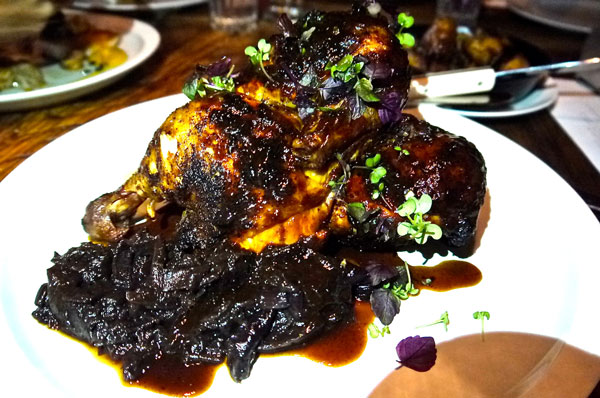 Sweet corn polenta (HKD$60) was dangerously addictive.  The creamy polenta was punctuated with pops of sweet corn kernels, and the savoury sharpness of shaved parmesan.  I could have had the entire plate to myself, easily!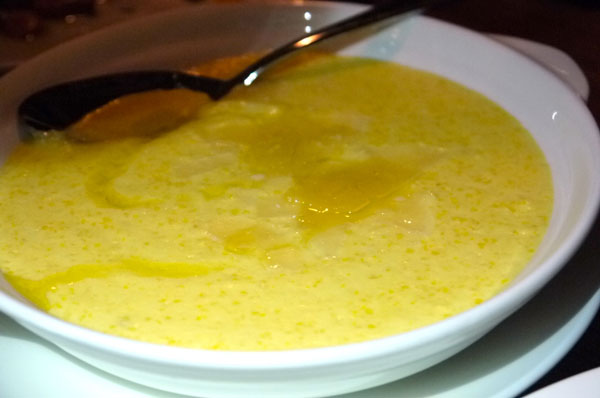 The pièce de résistance  of the evening – whole roasted Italian sea bass (HKD$690) with romesco sauce.  I am a huge fan of grilled fish, as I feel the simplicity of the dish really showcases the freshness of the key ingredient.   This grilled sea bass was sublime, with moist and astonishingly tender morsels of flesh wrapped in a light crispy skin.  I was in love with this dish.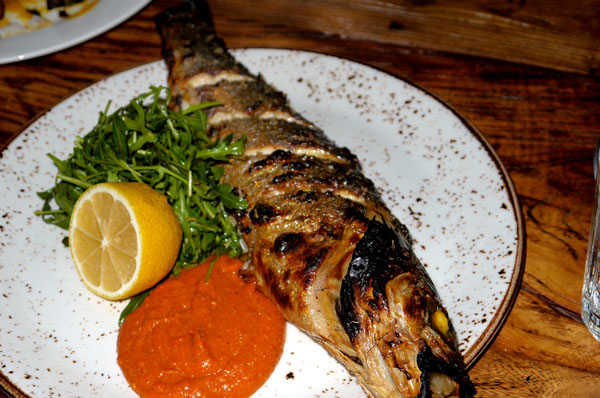 Since we've already had fish, we come to the "meat" portion of the program.  And what glorious meat it was!  The hefty 32oz Australian Kobe prime beef rib  (HKD$1280) was perfectly seared to a blushing rose, and mouth-wateringly succulent.  Fine marbling ran consistently throughout the entire piece, and even the rib ends (which are usually quite dry) were juicy and full of flavour.  The beef came with an assortment of sauces, including a delicious salsa verde.  One small note though – I wish the beef had more of a salty, seared crust, as we found the dish lacking slightly in the savouriness department.  However, the accompanying sauces did give the meat the savoury boost it needed.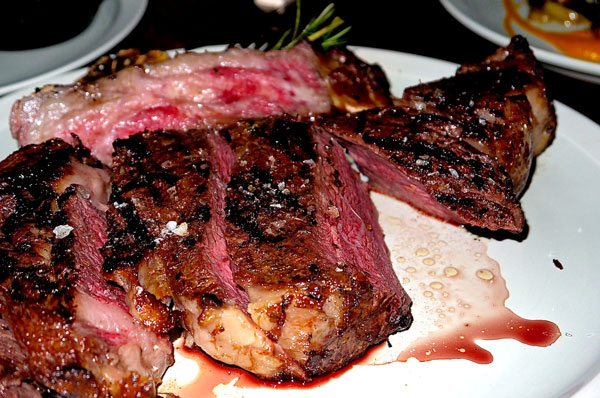 I had to get another shot of the sexy marbling.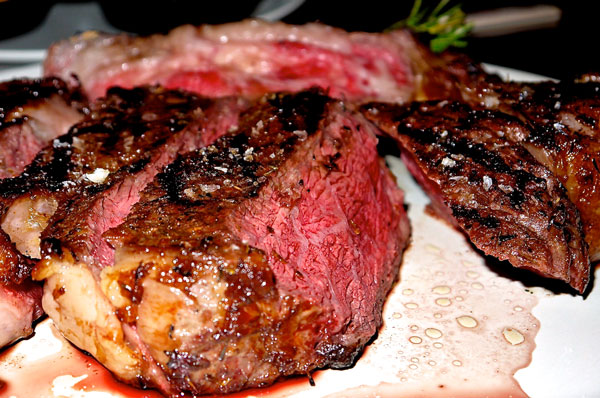 Right before dessert, we sampled a refreshing bottle of prized champagne, from an exquisite yet low-key producer.  The champagne served as an invigorating palate cleanser following our decadent meal.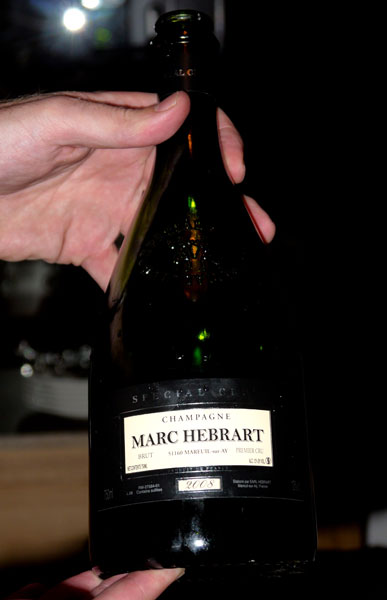 The whipped mascarpone "cheesecake" (HKD$80) with raspberry sorbet and shortbread crumble was unlike any cheesecake I've tasted so far.  The mascarpone was whipped into a fluffy cloud, and dissipated like air in the mouth.  This was a surprisingly "light" dessert.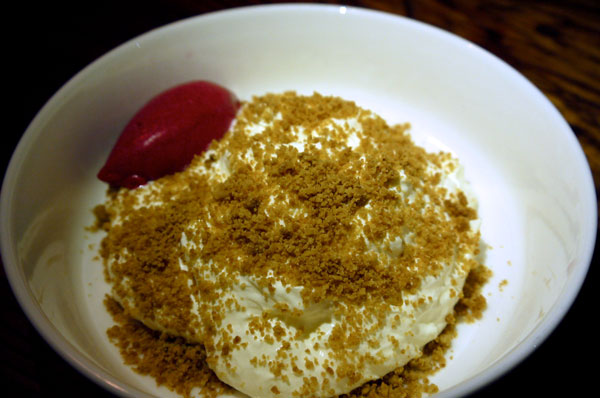 And to cap of our evening feast, the dark chocolate fondant (HKD$90) with salted caramel and homamade Tahitian vanilla ice cream.  I've had plenty of chocolate fondants at other establishments, and even make this from time to time in my own kitchen.  On many occasions, I find fondants to be overly "floury" and overwhelmingly dense.  The Fish & Meat version, however, was sinfully velvety and seductively oozy.  I especially enjoyed the dusting of sea salt on top, as the salt further enhanced the murky depth of the chocolate.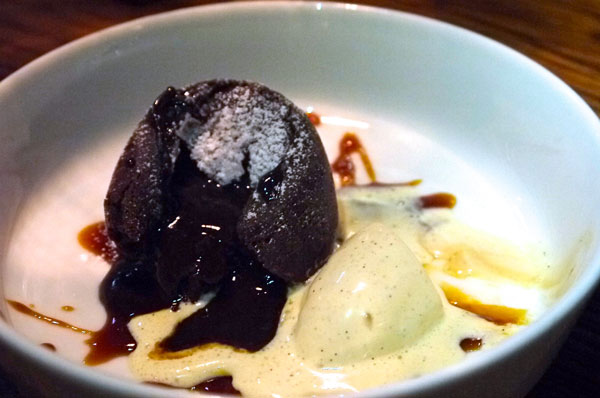 Verdict:  Fish & Meat is another win for a restaurant group I've grown accustomed to associating good food and drinks with.  I love the farm-to-table, informal dining concept.  Although casual, with a focus on sharing plates, Fish & Meat makes no sacrifices in quality and style.  Each dish was beautifully presented and well executed.  This would definitely be one of my top picks as an ideal venue to share a cozy meal amongst friends, especially during these winter months.  I'm looking forward to a revisit to sample their famous soft duck egg ravioli in ricotta cream!  Fish & Meat, a big win in the taste bud category!
Fish & Meat
32 Wyndham Street
LKF, Central
Hong Kong
Tel:  +852 2565 6788
Sites We Adore