Culinary Wizardry & Gilded Opulence at Gaddi's Hong Kong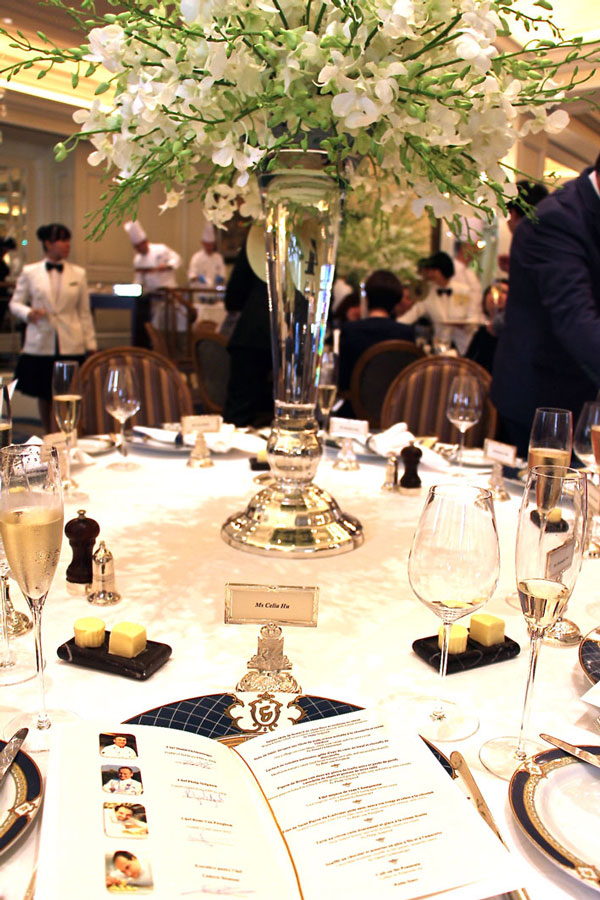 Some things, like Chanel No. 5, are simply – timeless.  The same goes with Hong Kong classics like Gaddi's, which has tantalised palates for more than 60 years.  Gaddi's is Hong Kong's first French fine dining restaurant, and has stood the test of time even as Hong Kong hurls through our new millennium at ever-increasing speed.  Despite the accelerating cadences of new openings, of which many, are "hipster" joints, Gaddi's marches steadily onwards to its own, unique drumbeat.  It's a place celebrating a past era, a time of gilded opulence, of meticulously polished silver, and of white gloved service.
I recently revisited Gaddi's on their Alumni Weekend (media invitation), where past and current chefs hosted a spellbinding dining experience of culinary wizardry.  It was truly a nostalgic meal, as previous head chefs returned to the Gaddi's kitchen to cook up their past star dishes.
Our meal commenced with samplings of appetisers from past and current master chefs of Gaddi's.  Each appetiser was served in classic live stations dotting the dining room, and gave us a chance to interact with the chefs.
Starting with something light, I went for the heirloom tomato salad with beef heart tomato juice jelly and mozzarella Chantilly from the health-consious Chef Remi Van Peteghem's station.  Chef Van Peteghem is Gaddi's current chef, and one of his passions is in healthy, light cooking.  His ethos was certainly reflected in the light and refreshing tomato dish, bursting with summer sunshine.
(Below) Chef Remi Van Peteghem - Gaddi's Chef since 2012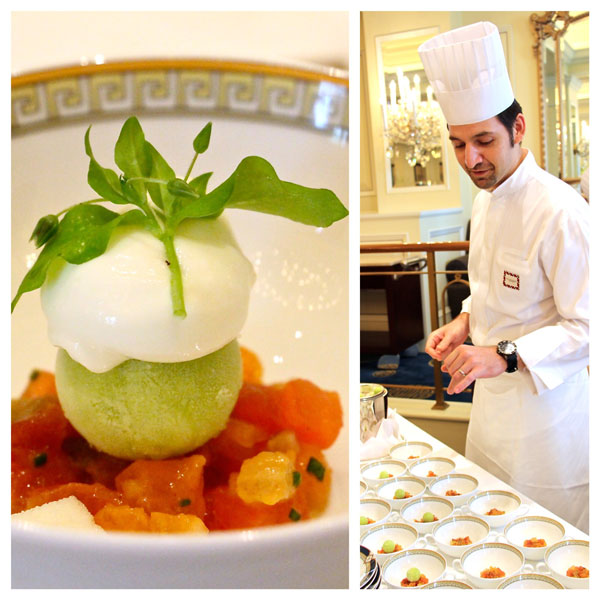 (Below)  Chef Philip Sedgwick - Gaddi's Chef from 1999 – 2004
Chef Sedgwick's warm lobster salad on a coarse cauliflower mousse with lemon croutons oozed with umami flavours.  The lobster was bouncy and sweet, and paired beautifully with the coarse texture of the cauliflower puree.  The zesty lemon croutons gave the dish that extra bit of crunch and pop.
(Below) Chef Daniel Lichtensteiger - Gaddi's Chef from 1990 – 1994
Chef Lichtensteiger's appetiser of bouncy sea scallops on corn blinis, chive sour cream and Oscietra caviar was heavenly.  The sweetness from the fresh scallops were further enhanced by the pops of sweet corn in the blinis, and the briny caviar and crisp pancetta played delicious contrast.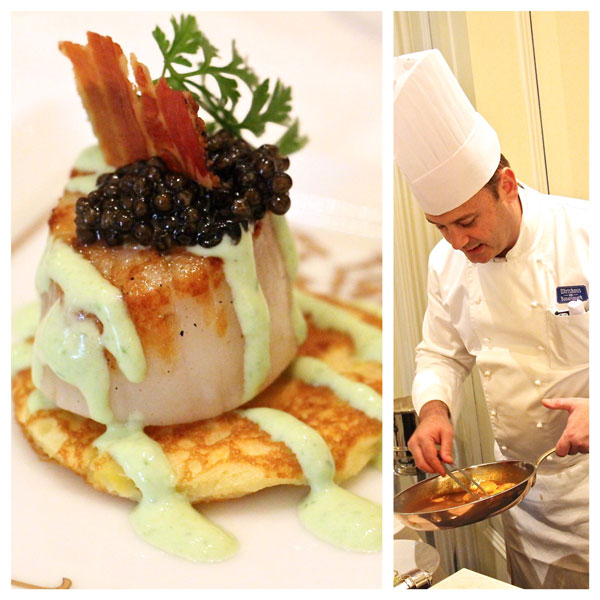 The first main course was a succulent, blushing pink fillet of Bresse pigeon, baked in a black truffle pesto and parsley puree, alongside a cep and ratte plato cassero.  This was a creation of Chef Philip Sedgwick.  The pigeon was perfectly cooked, fork tender, and its robust game bird flavours melted beautifully with the pungent truffle sauce.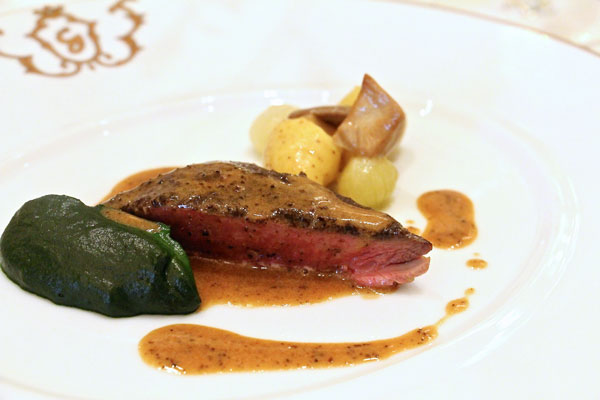 Chef Daniel Lichtensteiger's veal mignon with a morel and champagne cream sauce was also perfectly seared to a blushing pink.  The subtle veal worked well with the woody morel.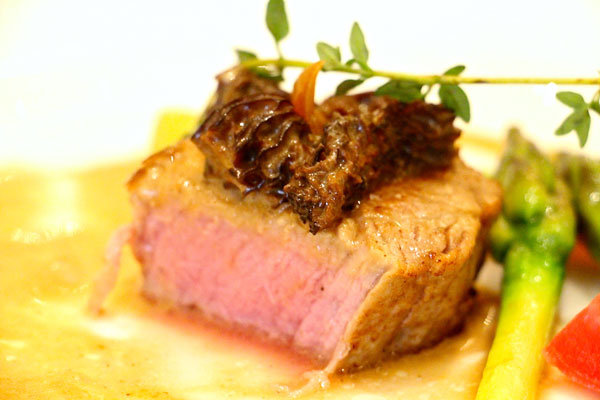 Current Gaddi's Chef Remi Van Peteghem created a delicate Guilvinec John Dory fillet with red wine sauce, celeriac and chive foam.  I particularly loved the contrast between the full-bodied broth to the lightness of the fresh seafood.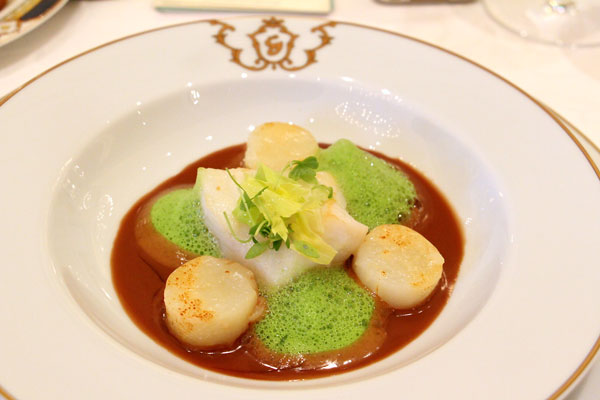 Chef Philip Sedgwick's slow-baked lemon tart with double cream ice cream made for a refreshing, if not, decadent, palate cleanser.  The double cream ice cream was so rich, that it barely melted on the plate, and tasted sinfully indulgent.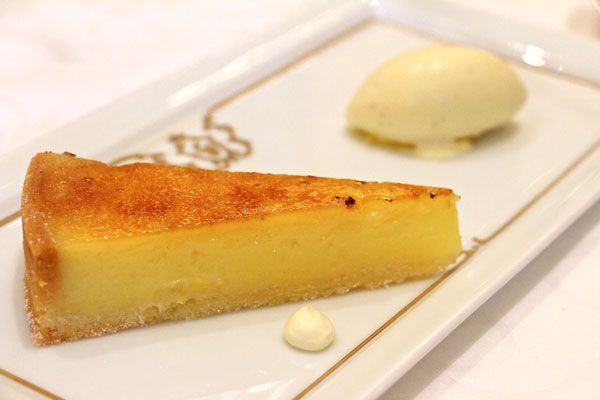 And finally, to cap off the gilded lunch – Chef Daniel Lichtensteiger's chocolate-hazelnut souffle in filo pastry and amaretto sauce.  This was pure culinary mastery - delicate halos of filo wrapped around a warm, gooey, yet light chocolate soufflé.  The pulled candied hazelnut was strikingly beautiful.  This was definitely a dessert show-stopper.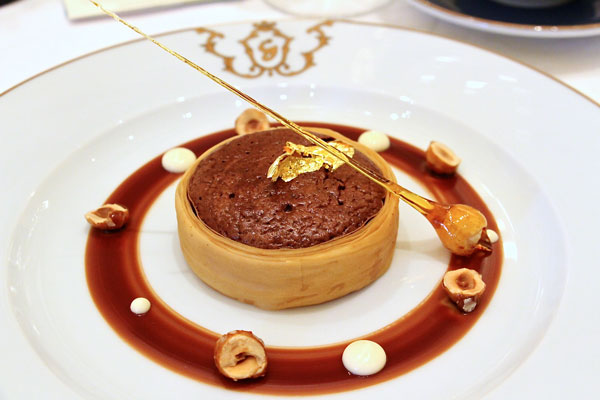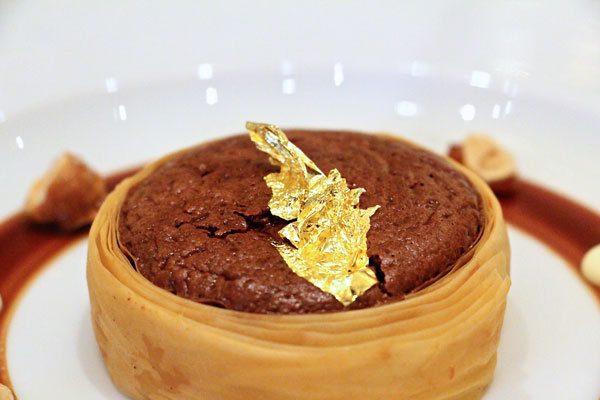 Although Gaddi's past chefs have moved on to pursue their individual passions in other parts of the world, I consider myself lucky to have tasted the star dishes that once graced the menu.  Gaddi's legend continues under the trusty guidance of Chef Remi Van Peteghem and Executive Pasty Chef Ludovic Douteau.  A true Hong Kong gem.
Gaddi's, 1/F, The Peninsula Hotel, 19-21 Salisbury Road, TST, 2696 6763
Opening Hours:  Lunch – 12noon to 2:30pm, Dinner – 7pm – 10:30pm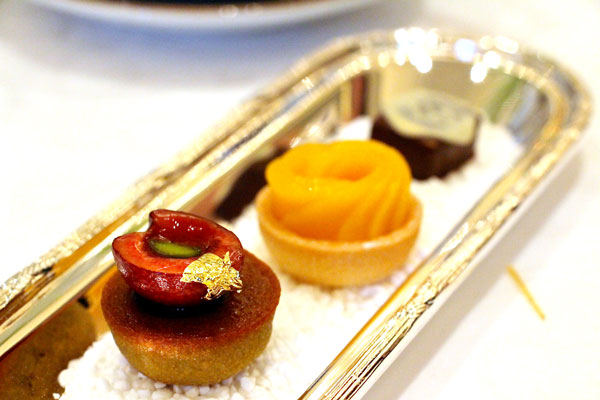 Sites We Adore