Afterthoughts – Satirical Clichés at Ho Lee Fook
"HoLeeFook, that's good!" That was our comment as we bit into lusciously juicy slices of roast wagyu short ribs during a recent dinner at the latest quirky brainchild of Black Sheep Restaurants, the cheekily named Ho Lee Fook. Other than sharing a phonetic similarity to another rather "colourful" phrase, the name 口利福 actually means "fortune in your mouth", which is decidedly more auspicious, and fitting for a Chinese restaurant. Behind the mah-jong tiled open kitchen, Chef Jowett Yu carefully plates his twist on Chinese cuisine, some of which, such as the "mostly cabbage" pork dumplings, originates from a great personal story. Taiwanese, yet also a fellow Vancouverite, Jowett spent much of his youth in Canada before making the move Down Under to Sydney in 2005, where he worked in a string of hip eateries the likes of Mr. Wong and Ms. G's Asian, before succumbing to the seduction of our Fragrant Harbour. Together with G.O.D founder Douglas Young, Black Sheep Restaurants has transformed the basement space on Lower Elgin into a restaurant that pay plenty of homage to Hong Kong. Fan-­shaped red napkins adorn each place setting, reminding us of the classic Chinatown restaurants circa 1980s, while vibrant Hong Kong street scene installations by Jonathan Jay Lee decorate the walls.
We started our evening with a round of cocktails, including The Tea, Gimlet, and Sour.  Our favourite was the refreshingly light lemongrass gimlet, perfect for a HK summer cool down.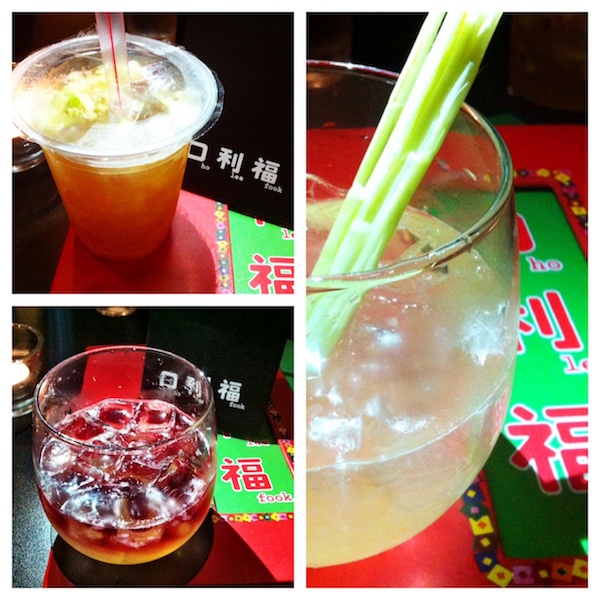 As huge fans of homemade dumplings, we started our meal with the whimsically named Mom's "mostly cabbage, a little bit of pork" dumplings dipped in sacha soy dressing (HK$88). Apart from mince meat, cubes of tender pork loin gave each dumpling a more substantial bite and texture.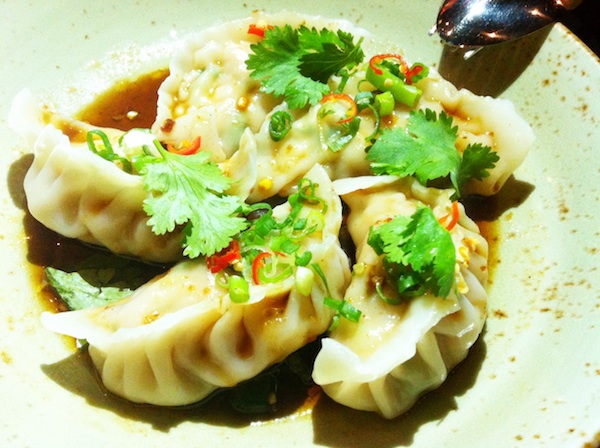 The Hokkaido raw scallops (HK$148) came interwoven amidst a web of pickled enoki mushrooms, snow peas, and ruby red ikura. We particularly adored the sweet silkiness of the scallops against the vinegary slipperiness of the enoki.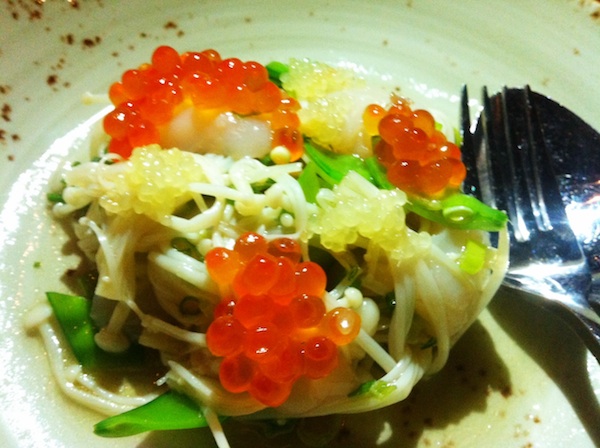 Chef Jowett loves purusing the daily markets for fresh inspirations, and we were treated to an off­-menu dish of cobalt blue mackerel with a dressing of ginger scallions (HK$198), much like those served alongside Chinese poached chicken. Well, lucky us, as the perfectly seared fish was incredibly delicate and devoid of the oily pungency one usually associates with mackerel.
You can't really have a Chinese meal without pork belly, and the grilled pork belly with red cabbage salad and roasted chili almond salsa (HK$128) definitely appeased our cravings. The pork belly was first slow­-cooked a la sous vide, then grilled. However, the skin, which makes a key part of any pork belly experience, was absent, and we lamented the loss of this collagen treat.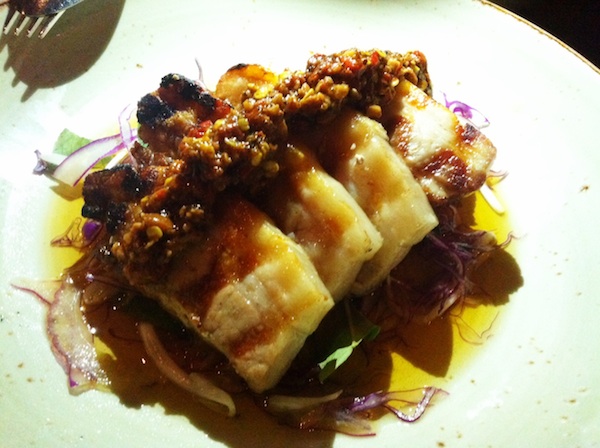 However, our quibbles were pacified by the roast Wagyu short ribs glazed in soy, topped with garlicky green shallot kimchi with a fiery smear of jalapeno puree (HK$388). Unlike short ribs in most other restaurants, Ho Lee Fook's rendition has more of a plump, juicy chew, and we loved the slight crackle of sugary glaze on top. The beefy goodness is accentuated by the jalapeno puree, which starts off innocently enough, and escalates into spicy torture that feels so bad, yet, so good.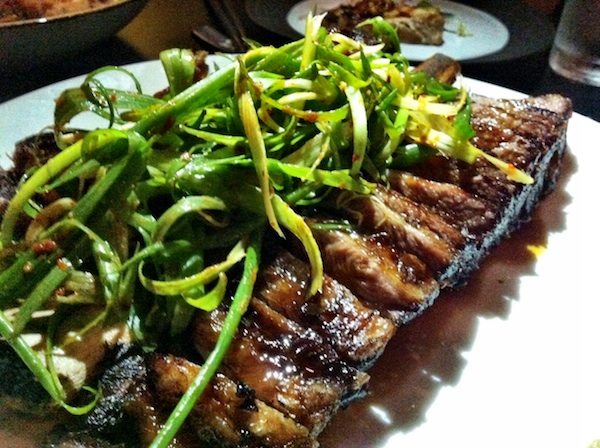 The fried cauliflower and brussels sprouts with maple bacon chili jam (HK$88) had plenty of hearty crunch, and added to the spicy factor.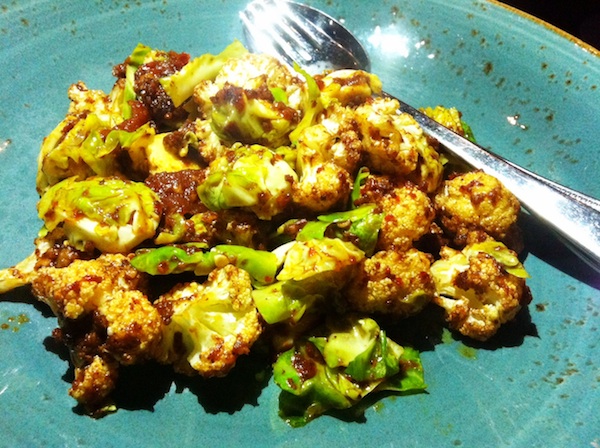 We extinguished the fire in our mouths by gulping spoonfuls of fried rice with summer peas, pickled mustard and salted chili (HK$88).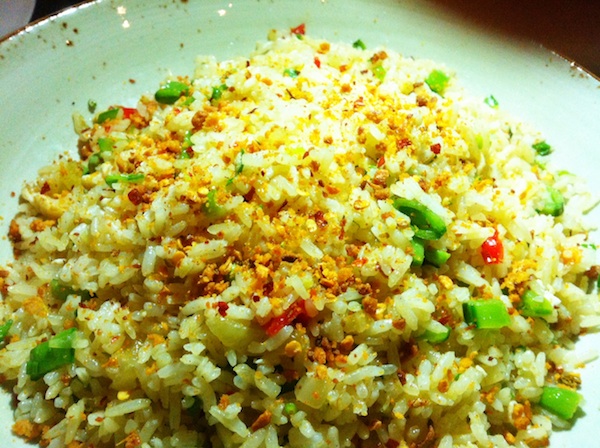 We capped off our evening with a trio of sweet treats, ranging from a passion fruit sorbet with lime and coconut marshmallow, pomelo and roasted rice ($78) to a matcha spong cake with chocolate ganache ($78) and finally to a Granny smith apple granite with Calpis sorbet and mocha ($78). I must admit, the desserts pale in comparison to the delectable, savoury selections – some of the flavour combos were just plain odd.  I would advise on skipping these all together.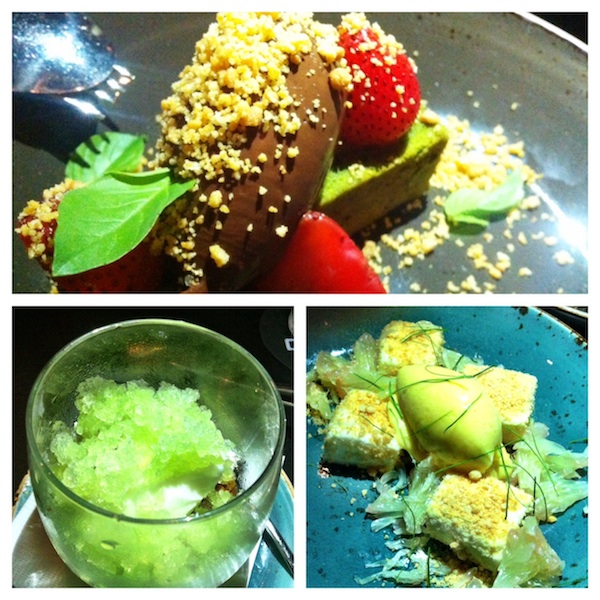 Verdict: A fun spin on some classic Chinese favourites, with a touch of satirical cliché. We also thought the menu, ending in mostly "auspicious" 8 digits, was fairly reasonable considering the quality of food and location.
Ho Lee Fook
1-5 Elgin St, Central
2810 0860
Reservation for 5 or more, Open Tuesdays – Sundays from 6pm til late
Sites We Adore