The SuperHero of Vegetables – Crunchy Kale Chips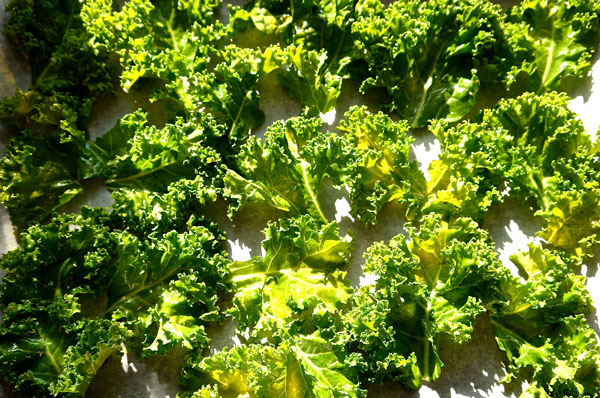 We Vancouverites are often perceived as Lululemon-wearing, ultra healthy, organic-worshipping granola types who are constantly looking for the next health fad at the nearest Whole Foods or Trader Joe's.  Now, I don't completely dispute this stereotype, since Vancouver, with our great outdoors and bountiful natural produces, is really a city that inspires healthy living.  Walking into a farmers' market in the city is a tantalising experience, and will entice even the most novice of cooks.  On my yearly trips back home to this beautiful city, I always discover a new food or way of cooking that I can bring back with me to Hong Kong, so I have little reminders of Vancouver with me throughout the year.
About two years ago, I discovered the magical vegetable called kale in my best friend's kitchen.  Upon first glance, this robust, leafy vegetable looks almost prehistoric with its massive, sturdy leaves and hearty stalks.  I can almost picture a dinosaur munching on one of these.  In fact, during my travels through California last year, I encountered the gigantic dinosaur kale at the Santa Cruz farmers' market.  Kale comes in several varieties, ranging from curly, to ornamental, to dinosaur.  I've only been able to find curly kale in Hong Kong so far, since Hong Kongers don't seem to be fans of this nutritious superfood.  I even wrote to Homegrown Foods asking them to grow some – and they just ignored me!  Thankfully, you can some times find kale in Great Food Hall or Olivier's, so keep an eye out!
Kale is the superhero of vegetables, and its super powers of antioxidant vitamins C, A, and K, plus its trusty sidekicks of minerals such as copper, potassium, iron, manganese and phosphorus help combat evil villains like cancer and cholesterol.  One cup of chopped kale comes to a total of only 33 calories but makes up 9% of the daily value of calcium, 206% of vitamin A, 134% of vitamin C and a jaw-dropping 684% of vitamin K.  Plus, this nutrition superstar is extremely versatile, and tastes delicious either raw or cooked.  What is there NOT to love?
I recently made crispy kale chips as a healthy snack food.  The crunchy, flavourful leaves, jazzed up with a dash of olive oil and five peppercorn salt, are so addictive that you won't realise that it's also good for you.  I hope you enjoy this recipe as much as we do!
Prep time:  25 minutes
Cook time:  20 minutes
What you'll need:
a bundle of curly or dinosaur kale
1 tbls olive oil
five peppercorn salt (or any spiced salt) for sprinkling
First of all, pre-heat your oven to 150 degrees celsius.
Wash and dry the kale with paper towels.  You want to make sure the leaves are very dry before baking, or else they won't crisp up.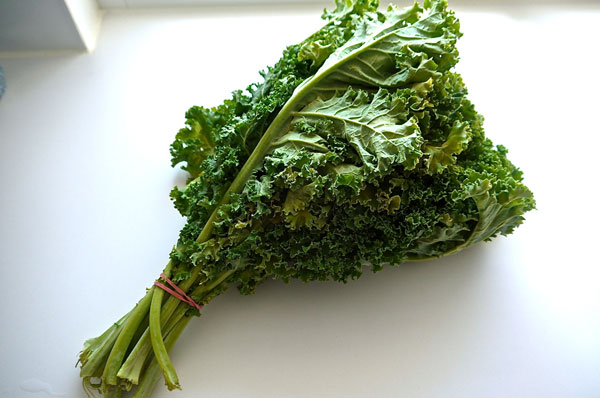 I love the heartiness of this vegetable, which makes them an excellent conduit for flavours when baking or stewing.  This huge bundle almost reminds me of a little broom!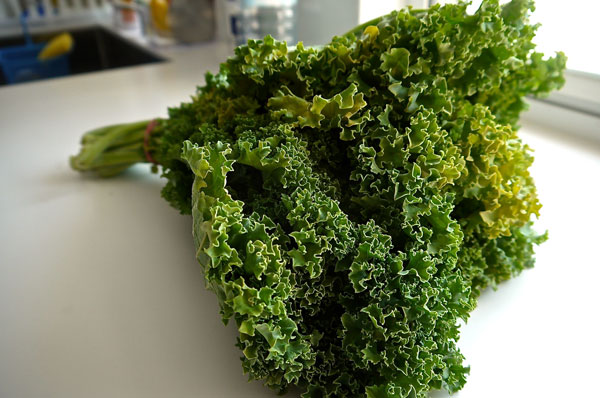 (Below), a robust stalk from a curly leaf kale.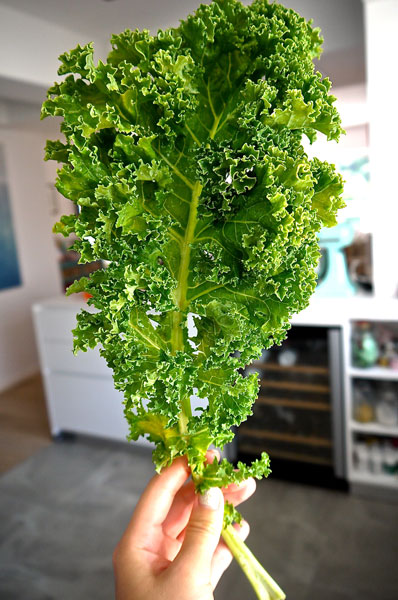 After washing and drying the leaves, pull (or cut) the leafy green parts off the stems.  Discard the stalks since they are too tough to eat.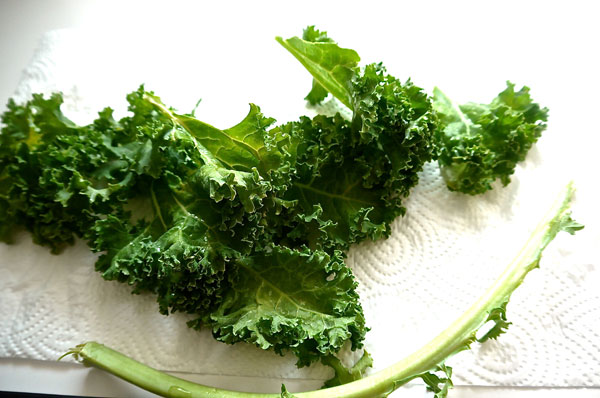 My lovely sister-in-law from Nantes, France, air-mailed a delicious care package of goodies to us recently.  In it, she packed a trio of salts, and I had to use the five peppercorn salt for this dish.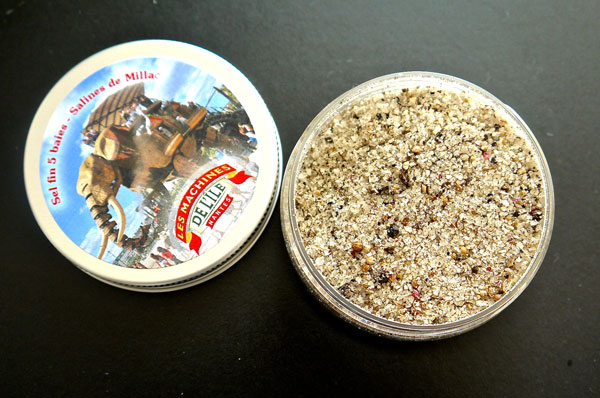 In a large bowl, toss the kale leaves with a drizzling of olive oil and a sprinkling of salt.  The five peppercorn salt really enhances the earthiness of the leaves.  But you can use any kind of salt with a bit of spices.  Other combinations that really work are paprika, and cumin!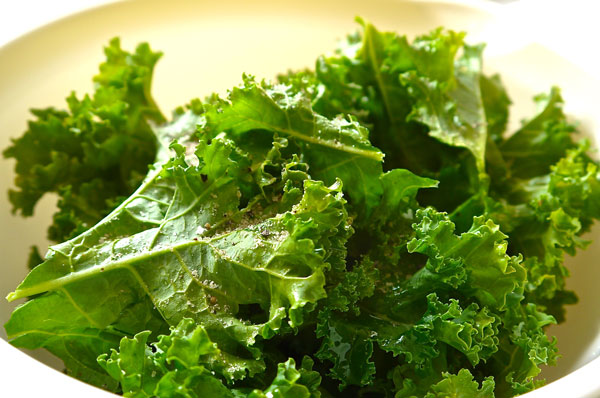 Once the leaves are coated and seasoned, spread them out on a baking sheet.  I like to use non-stick baking paper to line my baking trays.  You might have to split the leaves into batches if you don't have enough space to bake them all at once.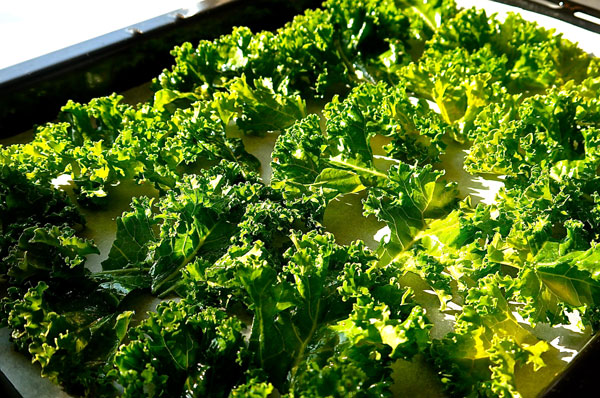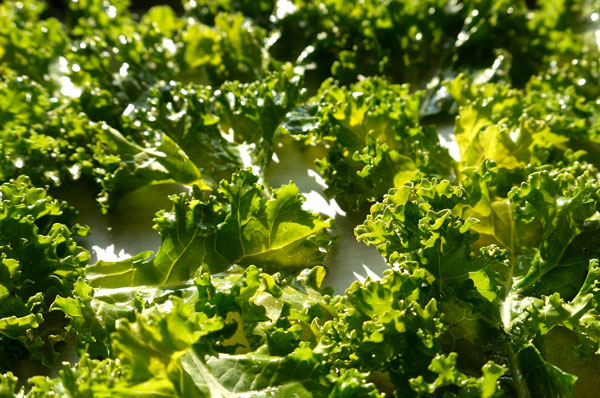 Pop them in the pre-heated oven, and wait for 20 minutes.  You want the leaves to start taking on a wilted look, without being burned.  Every oven is different so make sure to check from time-to-time so that you don't overcook them!
(Below) This is the look you are going for before setting them to cool.
Once the kale chips have cooled, you can store them in an airtight container, but chances are these addictive crunchy leaves probably won't last long from greedy snackers!
Bon Appetit!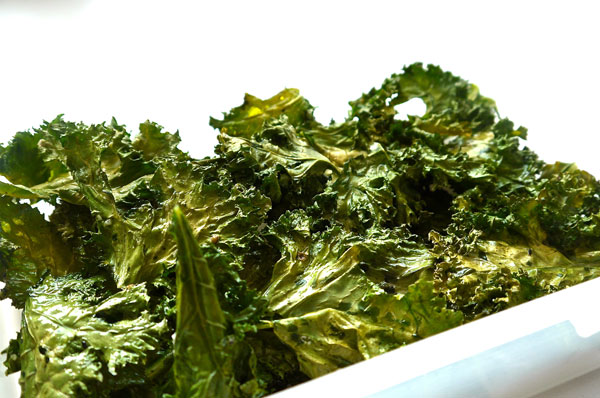 Sites We Adore