How to Make – Kimchi Fried Rice with Fatty Beef & Egg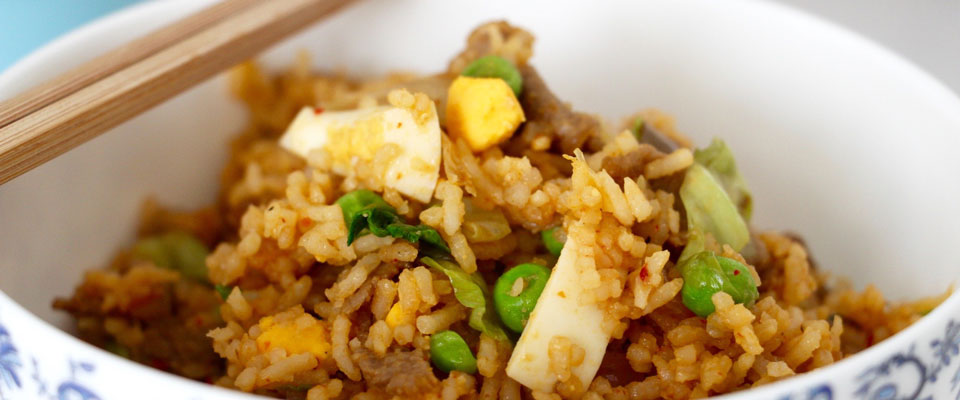 This simple fried rice recipe is inspired by my friend Mina Park, who is the mastermind behind the very successful (and delicious) pop-up concept Sook. I first met Mina during a kimchi making workshop at Plantation a couple of years back, when my little blog was still at its infancy. I still remember happily cradling home my little jars of radish and cabbage kimchi, and dreaming up recipes to use my precious ration on. Since then, I've become Editor-at-Large for Foodie Magazine, and was privileged to feature Mina's recipes in our upcoming July's print edition (so please stay tuned to our magazine!).
Now, long story short, this simple kimchi fried rice recipe has all the quintessential flavours I love in Korean cuisine, and is addictively moorish. Plus, it has all the major food groups (carbs, protein, vegetables) packed into one scrumptious bowl!
What you'll need (feeds 2 very greedy hippos):
5 cups of cooked rice (chilled)
100g of thinly sliced raw beef
Korean beef (kalbi) marinade
1 cup of kimchi, chopped
1 onion, chopped
1 tbls spicy garlic sauce
3 hard-boiled eggs
a few handfuls of shredded lettuce or cabbage
salt to taste
frozen peas (optional)
Prep Time:  5 minutes
Cook Time:  10 minutes
For any stir fried rice, it's essential to use chilled cooked rice. This way, the grains won't stick together during the cooking process. I prefer fluffier varieties such as basmati or jasmine rice for this recipe. I like to drizzle some oil over the cold rice and coat each kernel before pouring it into the pan.
(Below) My little jar of kimchi that I made from scratch, and unlike store-bought kimchi, this jar has absolutely no preservatives.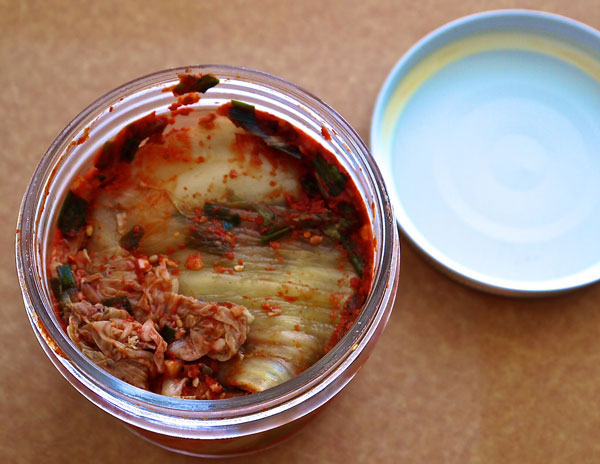 Chop the kimichi into little 1 cm dices.  I adore my incredibly sharp Wusthof Santoku knife for this task.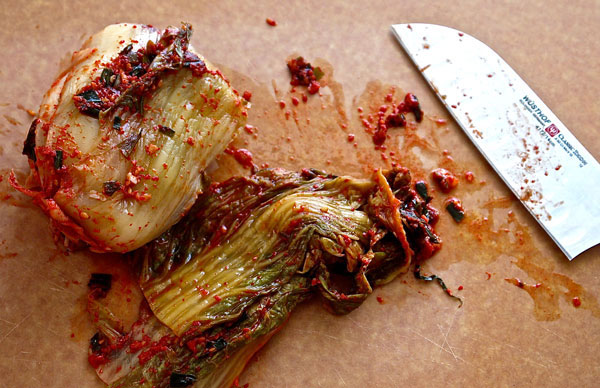 Next, snip the fatty beef slices into similar sized pieces.  Dice up the onions and boiled eggs. Cut the lettuce (or cabbage) into shreds.
Saute onions for a couple of minutes with a bit of oil, then add the diced kimchi.
In a separate pan, stir-fry the beef with a bit of garlicky sweet Korean kalbi (short rib) marinade. If you don't have this sauce on hand, substitute with a tablespoon of light soy sauce and a teaspoon of sugar.
Add the cooled rice, cooked beef, boiled eggs and green peas to the pan of onions and kimchi. Stir well. Dilute the spicy garlic sauce with a couple spoonfuls of water.  This spiced liquid will come in handy when you want to add a bit of moisture  and flavour to the rice. Or, if you prefer, substitute with the liquid from the kimchi jar.
Check for seasoning – if needed, add a bit more salt.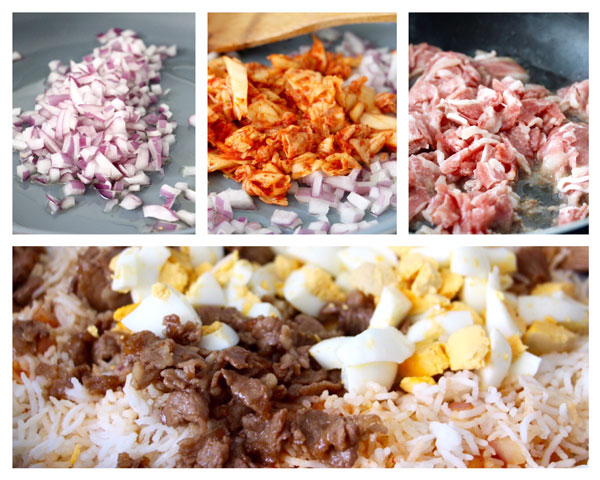 Add in the lettuce (or cabbage) at the very end, and gently stir it into the rice. You just want to wilt the leaves, so it should take no more than 1-2 minutes of additional cooking time.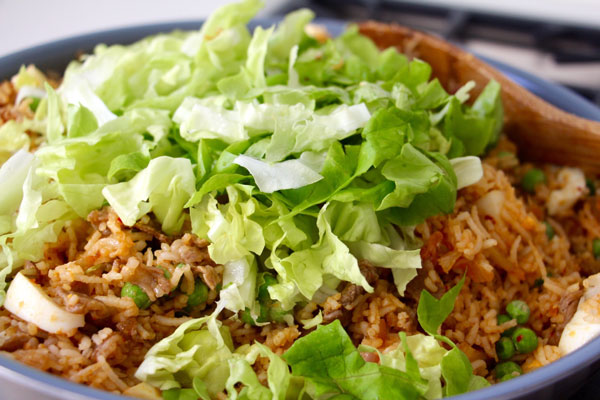 Plate and serve! Sometimes, I sprinkle toasted sesame seeds on top, but this is all based on personal preference.
Bon Appetit!  Enjoy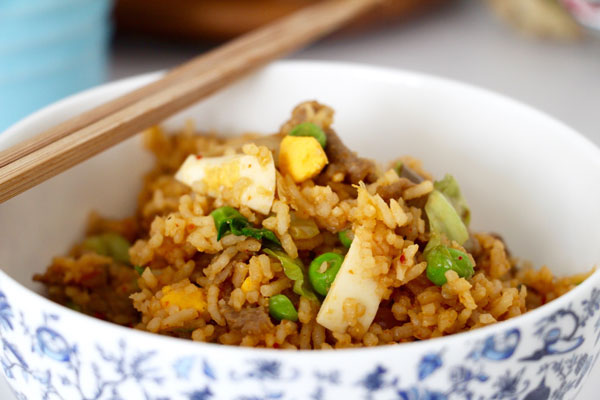 Sites We Adore