Afterthoughts – Wolfing down Entrecôte at La Vache Steakhouse
One of my father-in-law's favourite things to eat is entrecôte – the French equivalent to a big juicy steak.  Hearing the word "entrecôte" always reminds me of long, drawn-out lunches on summery days along the Seine in Paris, where my very French father-in-law would tell outrageous jokes between sips of Bordeaux.   So one can imagine my excitement when I heard about La Vache, a newly opened restaurant that specialises in one thing, and one thing only – the entrecôte.  I'm a true meat and potatoes kind of girl, so the pairing of simple steaks with crispy French fries sounded like a straight-forward way to bliss!  Bien sûr, I had to give it a try! 

Thanks to the recent stampede of French expats to Hong Kong, plenty of French eateries and bars have sprung up across town.  La Vache, which literally means The Cow en francaise, aims to capitalise on this new immigration trend.  Prizing myself as a foodie who visits France at least twice a year for the food (and the in-laws), I planned a girls' night gathering to see how La Vache stacks up to the real deal.
Well, let's just say that the menu might be straight forward, but the booking system certainly is not.  La Vache do not take reservations for parties under 5, so I made a booking a week in advance in anticipation of this rule.  The day of our dinner, two of our friends couldn't get away from the office, so we were left with only 3 girls.  We all arrived but were told that we had to wait for a table again, since we did not meet the 5 minimum booking requirement.  Ok, fine, annoying, but fair enough.  So we stood by the bar, and watched empty tables for 4 just sitting there.  When we inquired on whether we can occupy these tables for a quick meal, we were treated to condescending replies of "you are positively sure you can eat within an hour?" accompanied by the server rolling her eyes at us.  By this point, I was close to throwing in the towel (or napkin, more appropriately) at the whole fiasco, but we were all so hungry.  We pledged that we will eat quickly, and were reluctantly allowed to sit at one of the several empty tables.
(Below) Our tablescape,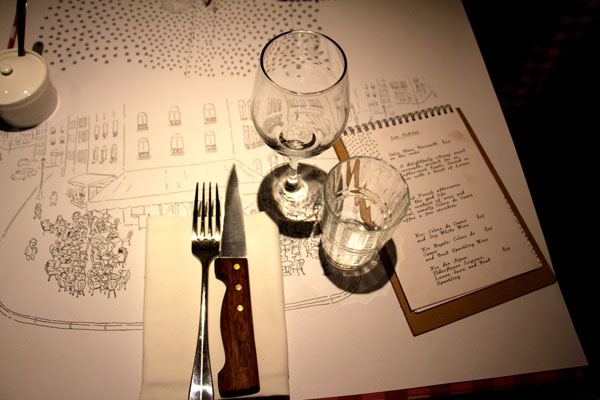 The decor of the restaurant itself is quite charming, with little whimsical touches that reminded me of tiny bistros in Paris.  I especially loved the cartooned paper table coverings, which reminded me of one of my favourite childhood animated characters – Madeline.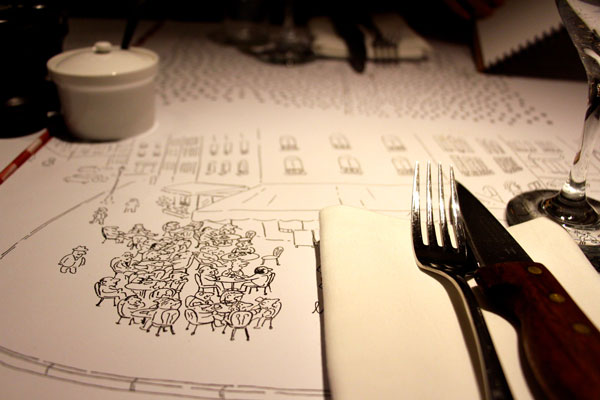 There is really no "menu", unless you can call the sprawled print on the place mats a menu.  There is only one option available – salad, entrecôte and frites, for a tidy sum of $258 per person.  We quickly waved down a server to place our orders for medium rare steaks.  After all, time is of the essence here, since we only had an hour to eat.
Of course, no French meal is complete without bread, and we took our liberties in smearing fat dollops of creamy butter on fresh, crusty baguette.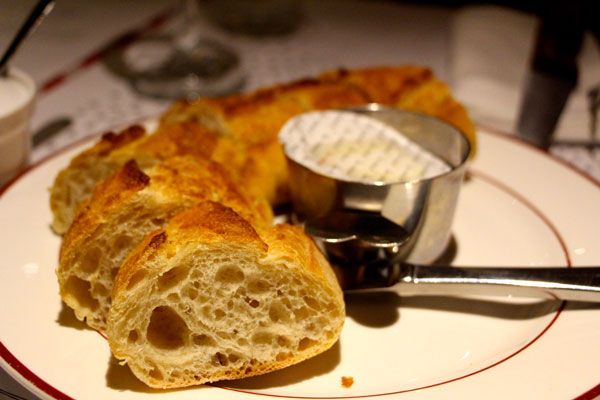 Our simple green salads arrived in no time, and we quickly polished off our plates.  Although simple, the salad made for a light, refreshing start to the meal.
We had to wait for more than half an hour for our steaks, which made us nervous since we only had an hour in total to eat.  Our anxiety was further heightened by an obnoxious server, who would, periodically, rudely interrupt our conversation and tap on her watch to remind us of our impending seating deadline.  It's such a pity, because I think La Vache could have been a fun experience if only the staff weren't so appalling.
After almost 45 minutes of waiting, our steaks finally arrived!  A silver platter was set up table side, and a votive candle positioned underneath to keep our steaks warml.  I thought this was a nice touch, a bit cliched, but nevertheless, thoughtful.  However, I would have preferred to cut my own steak, instead of having it pre-cut by the kitchen.  Somehow, having pre-cut steak makes me feel like a pre-schooler, and also drains out the juiciness of the meat.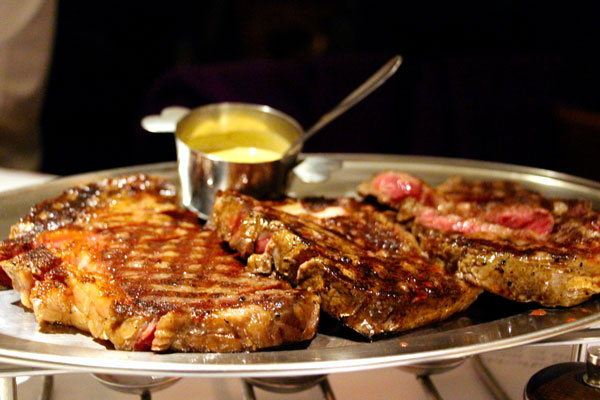 The steaks were fair, but nothing close to spectacular.  The quality of meat was rather on the grisly side, and the flavour of the meat was compromised by the excessive use of butter.  Butter and I are good friends, but when I'm eating a steak, I'd prefer to taste the meat rather than only the butter.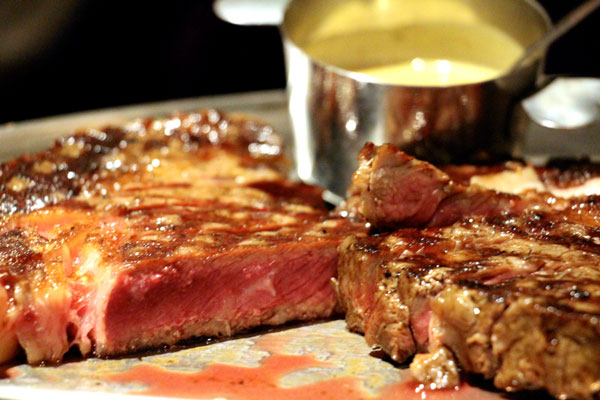 Golden heaps of frites were scooped onto our plates.  Our first batch of fries were lukewarm, but the second batch was sizzling hot and crispy.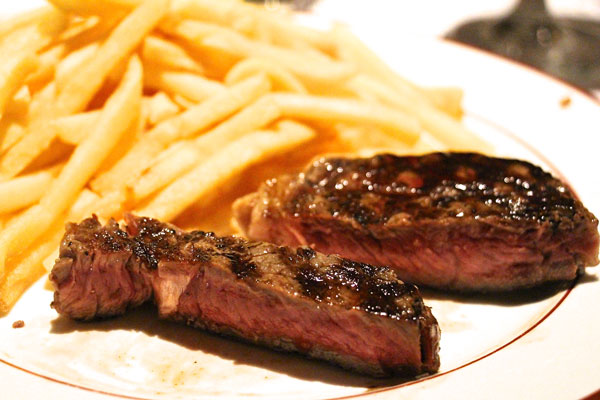 Alas, we would have loved to stay for dessert, and sample the temptations on the movable dessert station.  However, we were made aware (repeatedly) that we must vacate the table within an hour, so we tossed back our red wine and scarfed down our dinner exactly within the time limit.
And upon our departure, we looked back to see 5 empty tables dotted around the restaurant, perhaps waiting for guests who will never arrive.  I must say, La Vache has one of the most inefficient table planners I've ever encountered, and I hope that this can be equated to growing pains rather than the standard.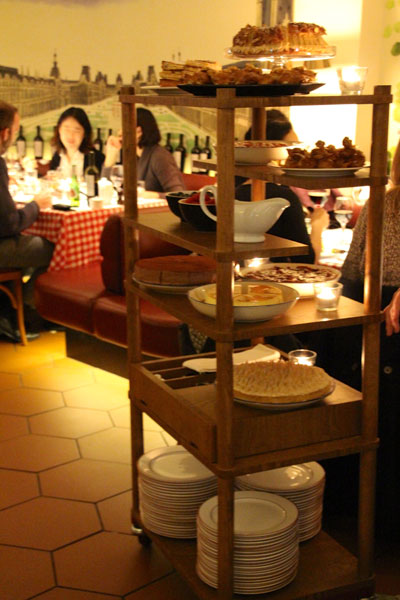 Verdict:  I would not be hurrying back.  The food was fair but not mind-blowing.  At the end of the day, if I'm craving a good steak, I would walk to nearby Tango, which always guarantees a fantastic meal and wonderful service.    La Vache feels very much like "dressed up fast food", with a staff that seems unable to comprehend the meaning of "service".  It's the type of rough service one would normally equate to "cha chaan teng", or local tea houses, although I dare say I've gotten better services at cha chaan tengs.  A big part of Hong Kong dining is about hype, but I would caution any restaurants that rely on hype to remember that there will be a day when the novelty wears off, and what will keep you in business is a loyal clientele that loves your food and service.
La Vache
G/F 48 Peel Street
Soho, Hong Kong
2880 0248
Sites We Adore