Afterthoughts – Devouring Pork Belly Chinese Hamburgers at Little Bao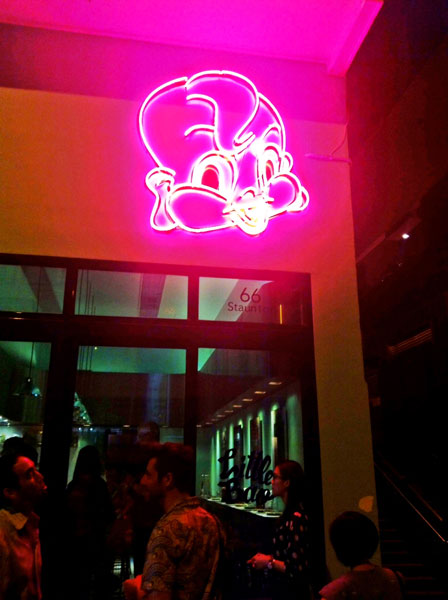 If you've ever fantasized about what a Chinese hamburger might taste like, then Little Bao has a tasty treat for you!  The brand spanky new Little Bao opened its doors only a couple of weeks ago in trendy Soho, just a stone-throw away from other hipster joints the likes of Yardbird.  The tiny restaurant seats about 16 lucky diners at a time, and all action revolves around the open kitchen that centres the narrow space.  Guests perch on high stools around the bar counter to get ring-side views of Chef May Chow in full action.  May is dynamic, young, and smiles shyly as she explains her menu and concept to guests.  Having honed her skills in the kitchens of Bo Innovation and TBLS, she opened Little Bao following the success of her food booth at Island East Market last year.
Bao, or "mantao", is a fluffy steamed Chinese bun, and is often served alongside fatty pieces of meat.  In Northern China, bao outranks rice as the chief source of carbohydrates in any meal.  My grandparents are obsessed with bao and have at least a few a day!  In Taiwan, this type of Chinese hamburger has become a popular street food, so the concept is nothing new.  However, Chow manages to "hipstersize" this humble street snack into a cool tapas-style dining concept.  The baos are the cornerstones of the menu, but the menu is also filled with tempting small plates perfect for sharing.
This past Thursday, a friend and I arrived early at 7pm to beat the crowd and sample what has made Little Bao take on an almost cult-like following.  This is one of those places that don't take reservations, and all parties have to be present before being seated.
Tablescape.  Ready to Rock-n-Roll!  I love the mascot of Little Bao.  Reminds me of the Kewpie plastic doll of my childhood.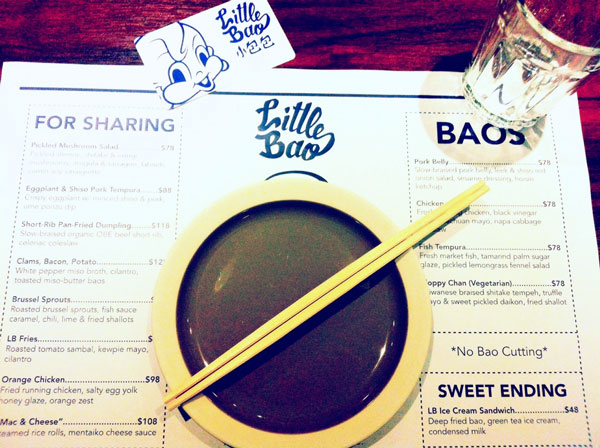 (Below)  Chef May putting the finishing touches on some baos.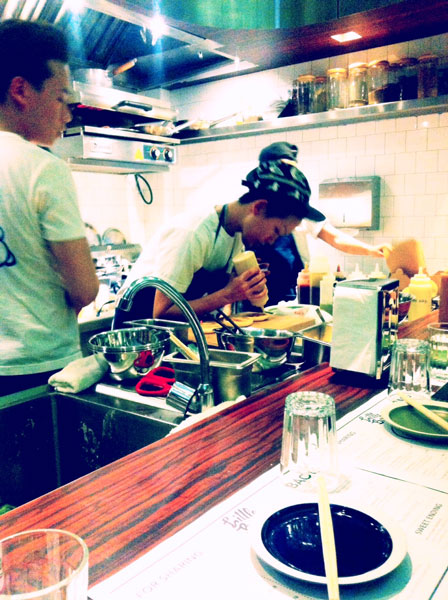 Libations, dahling!  We started the evening with fruity glasses of Kool-aid Fizz ($68), a concoction of lychee, pomegranate and vodka.  It was refreshing yet strong enough to hit the spot.  If only they served this back in the school cafeteria.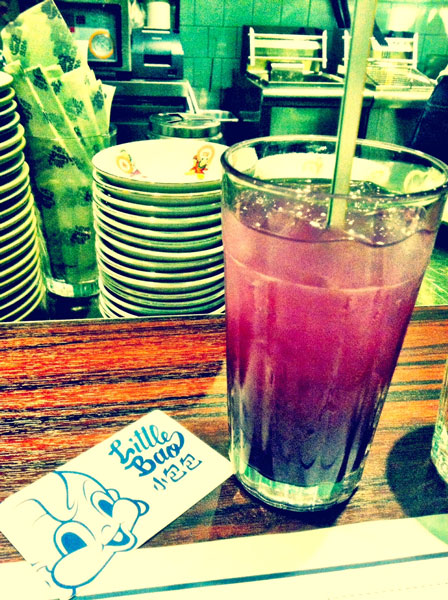 Some like it hot – the "hawt" sauce and classic diner napkin holders.  Reminds me of greasy spoon diners in America.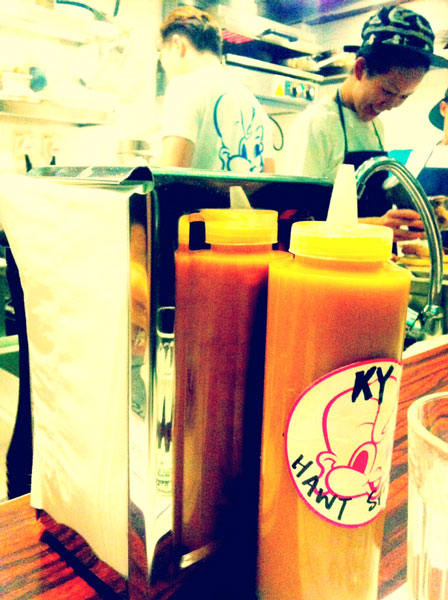 We started the meal with freshly fried batches of eggplant and shiso pork tempura ($88).  Dipped in a ume ponzu sauce, these little babies were highly addictive.  The eggplant was tender, the fresh zingy shiso perfectly complimented the rich minced pork, and the tempura batter was just thick enough to give that satisfying "crunch".  The ume ponzu sauce's refreshing acidity perfectly balanced the greasiness of the dish.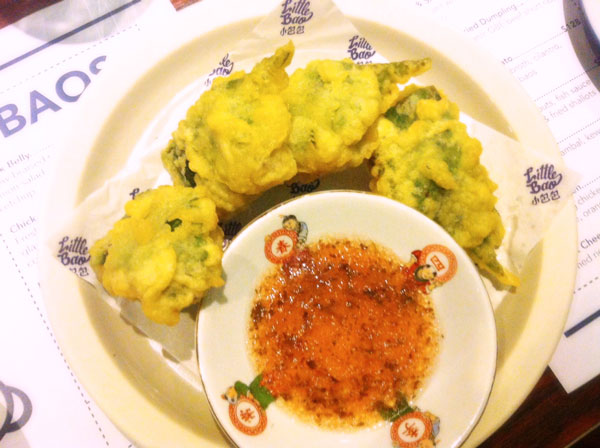 We decided on the yellowtail salad ($128) as a palate cleanser.  I'm normally not a fan of cilantro, but the pungent leaves somehow worked for this dish.  Firm pieces of yellowtail are topped with an abundance of cilantro, then crowned with thin ribbons of daikon, green onion and ruby pearls of pomegranate.  This was a very clean, well executed dish with a delicate balance of flavours.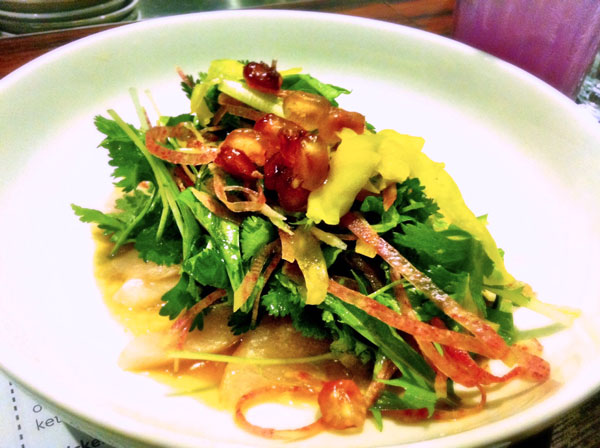 Now, bring on the fatties!  I am a fan of duck egg yolks, the grainy fermented texture is a delicious way to inject some umami into a dish.  Hence, we had to order the orange chicken ($98).  Golden pieces of fried chicken thigh are coated in an extra golden dusting of salty egg yolk before being slathered with honey glaze and orange zest.  The delicious ying and yang of salty and sweet, punctuated by zesty citrus and garlicky green onion, made this dish memorable for us.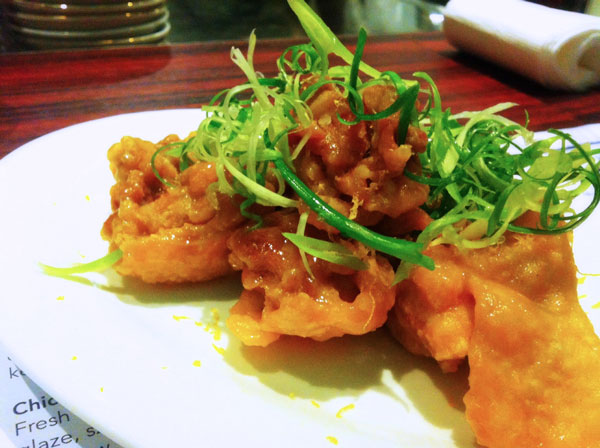 Now the money shot – the baos!  Each bun is first steamed the traditional Chinese way before grilled like a burger bun.  "Bao cutting" is strictly frowned upon (in fact, it's written on their menu!), as cutting will make the bao fall apart.  And these bad boys were stacked!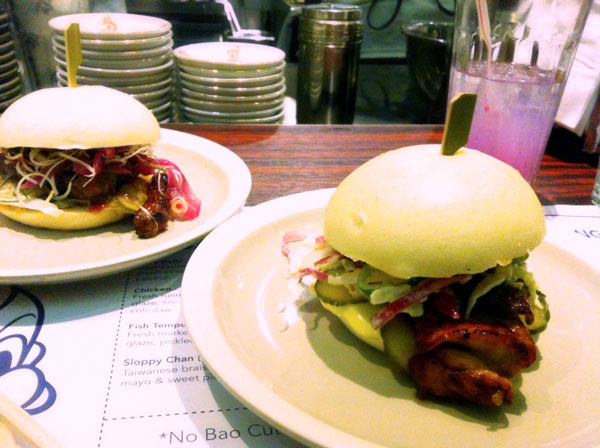 The chicken bao ($78) – seared chicken thigh glazed in black vinegar, topped with Sichuan mayo and napa cabbage coleslaw.  The unique numbing effect of the flowery Sichuan pepper gives this bao a je ne sais quoi edge.
The pork bao ($78) – slow-braised pork belly, topped with leek, shiso, red onion salad, drizzled with sesame dressing and hoisin ketchup.  What struck me at first bite was the nuttiness of the sesame dressing, which really tied together the fattiness of the luscious pork belly and the sharpness of the shiso and pickled onion.  Scrumptious little buns!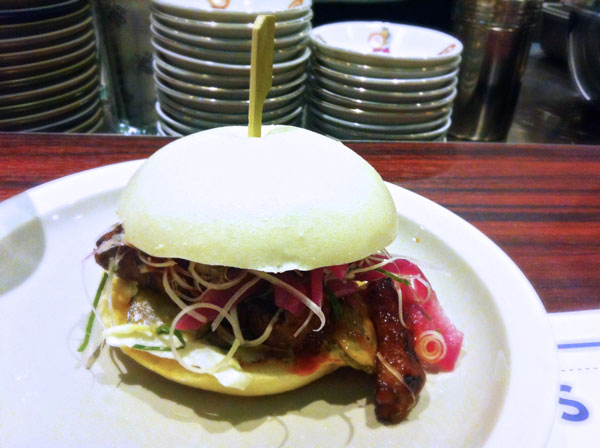 We couldn't resist the LB fries ($68), tossed in a sticky sweet mirin glaze and strewn with cilantro and green onions, served alongside kewpie mayo and roasted tomato sambal.  The sweet mirin glaze complimented the crispy potatoes perfectly, and was so flavourful I didn't even have to dip into any of the accompanying sauces.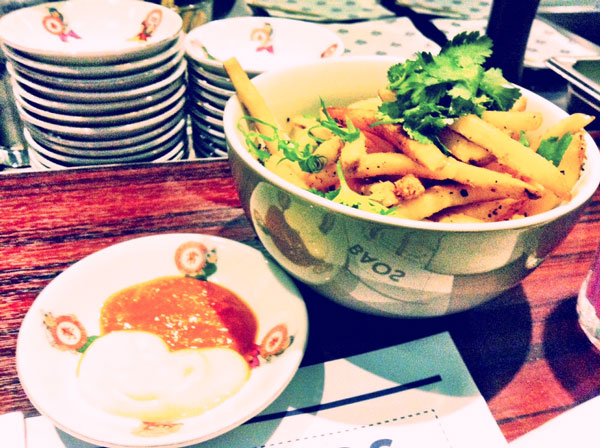 After our carb-fest with the fries, we felt too guilty to go for more deep-fried goodies.  Instead, we stared longingly at the LB ice cream sandwich ($48) being prepared in front of us.  Each little bun is fried to a golden crispy, anchored with a thick patty of green tea ice cream, then Jackson Pollock-ed in condensed milk.  I'm definitely saving room next time to finish with these little babies!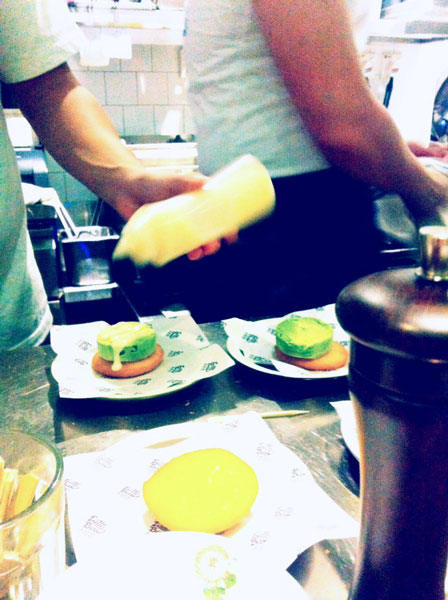 Verdict:  I guess from my use of superlatives, you might have already guessed my inclinations toward this place.  I really love the creative energy behind Little Bao, and how Chef May "superfies" simple, common Asian ingredients into something unique and brandable.  These little baos hit all the grades for a super satisfying meal – carbs, juicy meats, and refreshing condiments.  Little Bao is all about straight-forward, uncomplicated, good eating, but with a few quirky twists.  The addition of little plates make this a cool hangout spot, and the drinks are not bad either!  I will definitely be back to sweep up more of these tasty little buns!
Little Bao
66 Stauton Street
Soho, Hong Kong Island
Tel:  +852 2194 0202
Sites We Adore