Afterthoughts – Suckling Piggy at Mayta Peruvian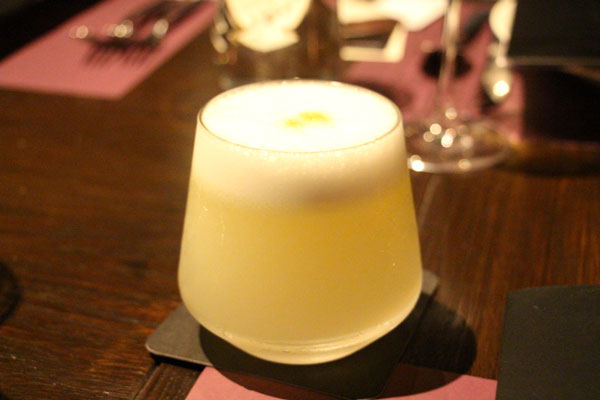 Peruvian cuisine is heavily influenced by the sharing of culinary traditions from a blend of Spanish, Japanese and Chinese heritages, so it's no surprise that the best way to enjoy Peruvian cuisine is also through the sharing of family-style dining. We recently sat down with internationally-acclaimed Chef Jaime Pesaque, a proud Peruvian passionate about sharing his country's vibrant cuisine, to taste his newest menu creations at Mayta.
Designed by Anita Lopez with flourishes of vibrant colour and graphic patterns, the 84-seater restaurant brings a touch of Peru to the heart of Lan Kwai Fong.
The aptly named Pisco Bar serves up a mean Pisco Sour ($68), crowned with a fluffy cloud of egg white.  We commenced our dinner with this citrusy cocktail, although it was a bit too overly sweet for my taste.  I much prefer to eat my calories, instead of drinking them.
Our meal began with an assortment of small plates, and ranged from light and zesty clasico ceviche composed with cubes of succulent sea bass marinated in traditional leche de tigre, to more indulgent selections such as the beef anticuchos ($118) and golden fried empanadas ($98).
(Below) The solterito salad ($68) - a healthy mix of quinoa, home cured salmon, fava beans, avocado cream and miso dressing.  Although filled with everything that's good for you, I found the dish a bit overwhelmed by the intense aroma of sesame oil.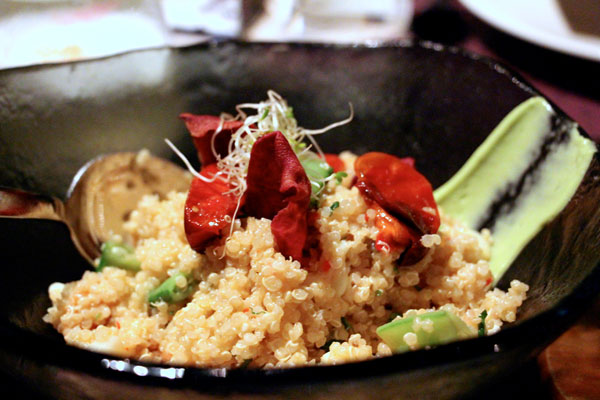 The empanadas ($98) were filled with coriander and mozzarella, and served with a chimichurri sauce.  They were less flavourful compared to the ones we made in our recent TV Show – The Amazing Food Challenge, where we made these tasty treats with longensa sausage, shredded green papaya and oozy egg.
The beef anticuchos ($118), served over a bed of confit potatoes and topped with choclo and huancaina sauce, were succulent and bursting with flavour (thanks to the panca chili marinade).
The arroz con pato ($178) was total comfort food.  The duck leg confit was so tender it broke apart at a tap of the fork and melted into the beer cilantro rice.
The lomo salt ado complete ($188) was the dark horse of the night.  A curious mix of stir-fried beef, tomatoes, soy sauce, roasted bananas, and french fries, all capped with an oozy sunny-side up egg, the dish was the crowd favourite.  It had all the essential elements of a good hangover cure.
Another shot of the lomo – I loved how the gooey egg yolk blended with the crispy fries into one irresistible combo.
The carapulcra ($178) was my favourite of the evening.  I'm a sucker for pork, and the crispy suckling pig leg crowning the Andean potato stew was incredibly juicy.
We capped off our evening with the arroz con leche mazamorrero ($68), a rice pudding with purple corn porridge, cinnamon, seasonal fruits tartare and yogurt foam.  I'm not a big fan of rice pudding, so I found it difficult to appreciate the contrast between the creamy rice and the tart yogurt.
Verdict:  With delicious Peruvian specialities that also encompass tantalizing elements of other regional cuisine, Mayta is definitely a worthy culinary journey.  A perfect little spot for some social dining before heading into the LKF to paint the town red.
Mayta
3/F, Grand Progress Building
15-16 Lan Kwai Fong, Central
Hong Kong
Tel:  +852 2790 0928
Sites We Adore