Afterthoughts – Winter Warm-up at Megan's Kitchen Hotpot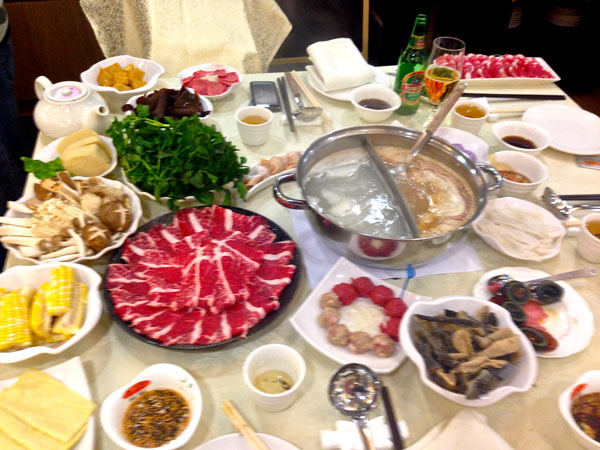 Hong Kong's cold, wet "winter" heralds the arrival of hotpot season.  For any one who've spent a few days in this semi-tropical region during the January to February months, they can attest to how eerily cold it can get here.  Me, being a true Northern girl born in Beijing and raised in the chilly tundra that is Canada, never thought I'd need a puffy jacket in Hong Kong…until I lived through my first winter here.  It's not the fact that the actual temperatures are unbearable, it's more that the humid, wet climate somehow sinks the cold right through to your bones.  Since most homes here are ill-equipped for the short "winter", indoor heating is more of a rarity than norm.  Hence, a bubbling cauldron filled with savoury goodies is often what keeps Hong Kongers warm during the winter months.  (In fact, the first thing I requested when renovating our new apartment was to install duo air-conditioner and heaters throughout, so our home is always warm and toasty during these humid cold winters!)
On one such cold winter's night not so long ago, a few friends and I decided to visit one of our favourite hotpot joints on the Island (Hong Kong Island, that is).  Megan's Kitchen has always hit the spot for me, with a good range of high-quality ingredients, and creative soup bases.  And in true Hong Kong fashion, the air-con was cranked up to sub-zero temperatures, which made no sense since A) it was freakin' cold outside already B) the prime reason most people go for hotpot in the winter is to warm up.  Nevertheless, we were excited to dig into our hotpot feast.
The meal began with gooey centred thousand year old eggs accompanied by zingy slices of pickled ginger to whet our appetites.  To foreigners' eyes, these peculiar dark globes might seem unappetising, but it's one of those acquired tastes that can instantly convert your tastebuds.  Each raw duck egg is "cooked" for several months through a chemical process achieved by swaddling the shells in a mixture of clay, ash, salt, quicklime and rice hulls.  The result is an alkaline jelly-like egg that has a flavour profile all to its own.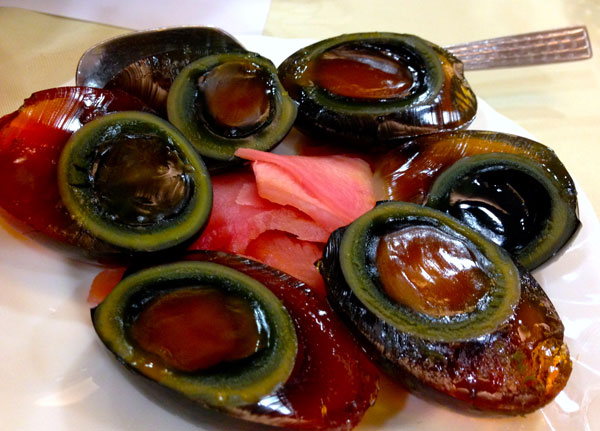 We couldn't just decide on one soup base, so opted for the split section pot so we can enjoy two distinct flavours.  On the left, we have a mellow lotus scallop ham and melon soup base, and on the right, we have the fiery tom yum "cappuccino" soup.  The tom yum is by far my favourite soup base at Megan's Kitchen, because of its unique spicy and slightly sour taste, and the signature frothy "cappuccino-link" foam on top.  I've never seen this creative soup base in any other hotpot restaurant, and is a must try in my view.  You can always balance out the intense flavours with a more placid soup base (like what we did) for variety and contrast.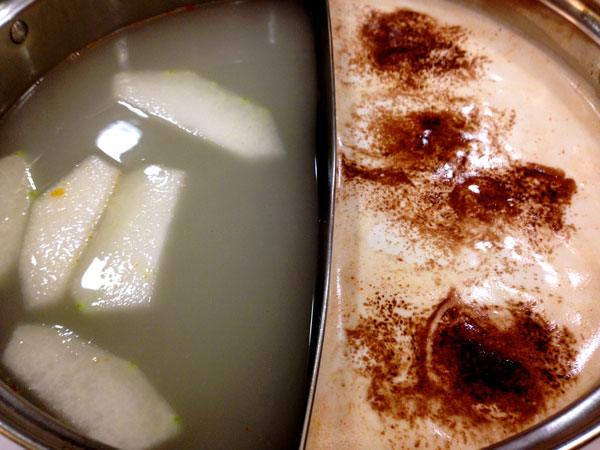 While our cauldron of delicious broth bubbles, we come to the dipping sauces.  Megan's Kitchen is modelled after the "southern Chinese" tradition, so the dipping sauces tend to be more satay / XO sauce based, and on the sweeter side as compared to the northern Chinese preference.  I will soon be writing about another hotpot experience, but in the Northern Chinese tradition – so stay tuned!
I love my dipping sauce loaded with sweet satay, minced garlic and fried garlic chips!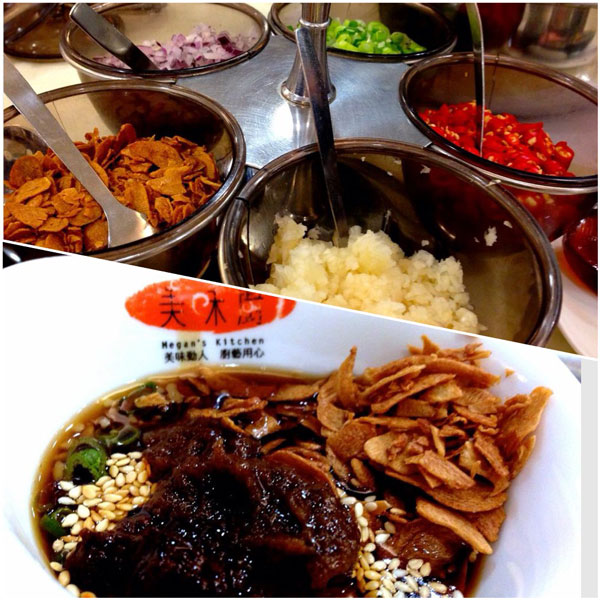 Now comes the fun part!  Choosing the goodies to simmer in our bubbling cauldron.
(From left clockwise)  Assortment of mushrooms, fried fish skin, bean curd skin, sweet corn, mystery veggie, bamboo pith.  When I first encountered fried fish skin in Hong Kong, I thought it looked extremely revolting, like the skin sheddings from some giant snake!  However, I was convinced of its virtues upon first bite.  Best eaten when quickly dipped into soup or broth, these crunchy morsels tastes way better than chips!
Bamboo piths are also one of my favourites, and chalked full of healthful properties, one of which being an effective anti-inflammatory agent.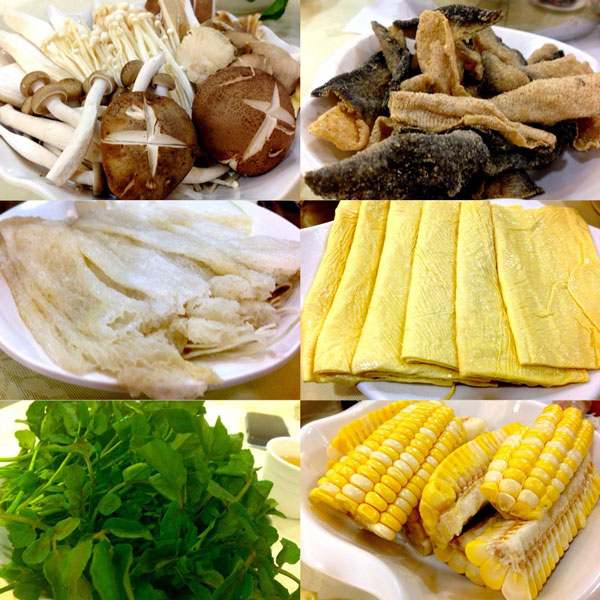 (From left clockwise)  Frozen tofu, kimichi dumplings, taro cuttlefish balls, and wood fungus.  Frozen tofu is always perfect in hotpot, as the tiny holes in the spongy tofu soaks up plenty of soup base for a flavour-filled bite.  We were fighting over the kimichi pork dumplings – they were that good!  The crunchy kimichi was just enough to give a mild spicy kick to the comforting dumplings.  The purple taro cuttlefish balls were unique looking, but fell short in taste.  Provided that our group consisted mostly of Northerners, we were all not huge fans of cuttlefish or fish balls.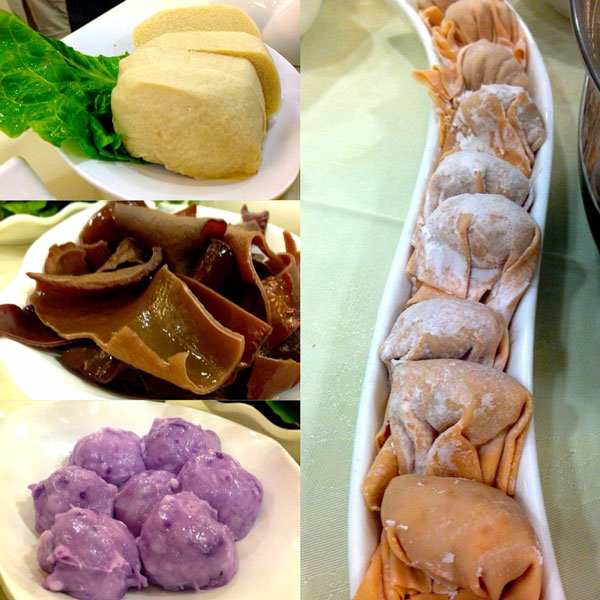 (From left clockwise)  Pork knuckle balls & beef balls filled with cheese, ox tongue, fish tofu, lamb.
The pork knuckle balls sounded interesting on paper, but were too chewy for our tastes.  The balls of beef were much more pleasing, especially since each had a gooey heart of melted cheese.  They were a bit dangerous to eat though, since the hot cheese some times squirted out unexpectedly, so do eat with caution!  The ox tongue was beautifully marbled and tender, and the fish tofu was savoury and bouncy.  I'm not a fan of lamb, but my friends seemed to enjoy it.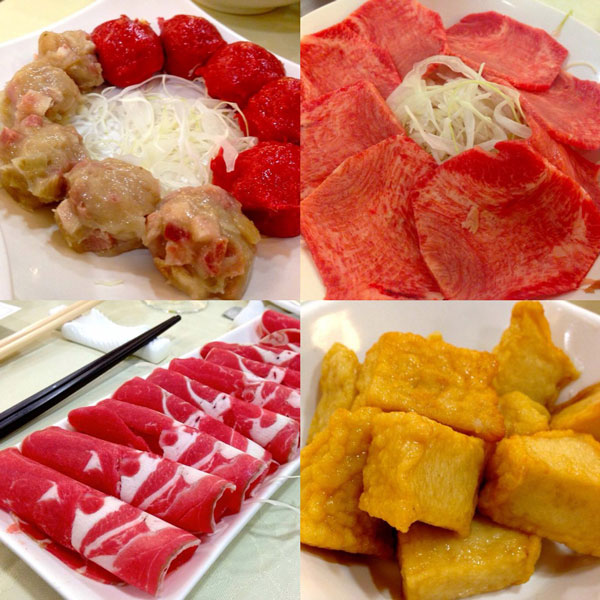 In my view, it's not hotpot unless there is beef!  We got the regular US fatty beef, thinly sliced with balanced marbling.  It was buttery smooth on the palate.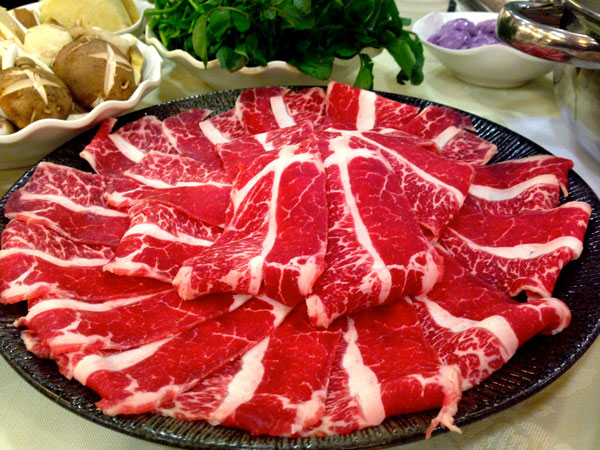 After almost 2 hours of stuffing ourselves silly, we come to dessert.  The baked golden tapioca pudding was creamy and yielding, but the egg white double milk custard with brûlée top tasted as if it was set using corn starch.  I was not a fan and discarded most of my dessert pot.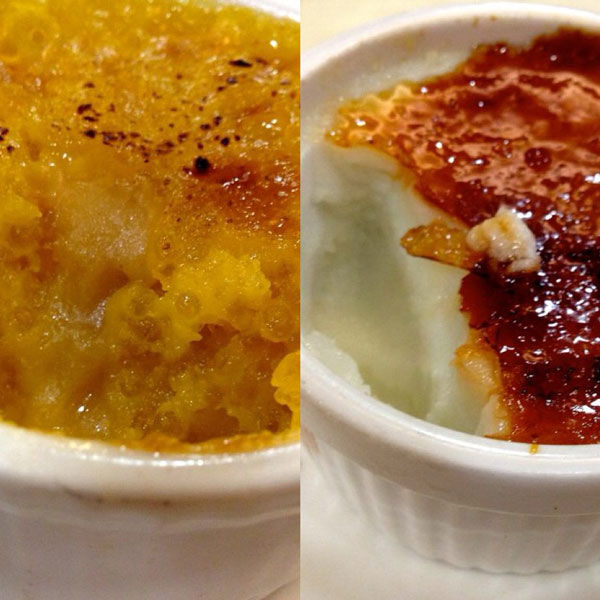 Verdict:  Definitely a high-quality and consistent hotpot venue with unique soup bases and a good selection of ingredients.  There are two floors – a public dining room and a private boxed seating area.  I've dined at both options, and would say the private dining rooms are best for large groups or family gatherings.  Prices are on the steeper end, with an average spend of around HKD$500-600 per person.
Megan's Kitchen
5/F, Lucky Centre, 165-171 Wan Chai Road
Hong Kong Island
Tel:  2866 8305
Sites We Adore