How to Make – Creamy, Gooey Mentaiko 明太子 Pasta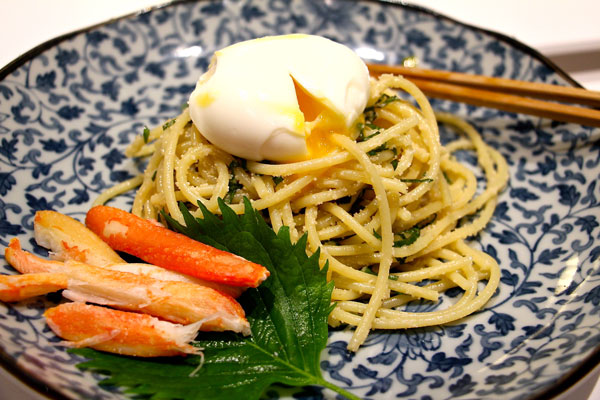 My first encounter with mentaiko (明太子) happened during a lunch at Zuma, when I took one bite of the gooey, creamy udon slathered with these salty little fish eggs and was convinced that this was possibly the most delicious udon in the world.  Since then, mentaiko pasta has become a staple in our household, because of its bold flavours and, because, it's incredibly easy to make.
Although extremely popular in Japan, the origin of mentaiko can be traced back to Korea.  Following the Russo-Japanese war, this delicacy was brought to Japan and quickly became a favourite amongst the locals.  Mentaiko are salted fish roes, usually from either pollock or cod, and often come lightly spiced with Japanese chilli.  These delicate, briny eggs pair extremely well with carbs, and are often served smeared over bread, rice or noodles.
I like to combine finely shredded strands of refreshingly sharp shiso leaves within my mentaiko sauce to give the rather creamy, indulgent sauce a bit of a lift.  I also prefer to use olive oil, with just a touch of butter, to keep the meal a rather health-conscious one.  Gooey eggs are mixed in to give the pasta a silky dimension.
(Below) – My kind of shopping!  Me, happily browsing the seafood section of the Sapporo airport in Japan.  On a recent snowboarding trip to Hokkaido, we picked up loads of seafood on the way back to Hong Kong, and of course, mentaiko was on the top of my shopping list!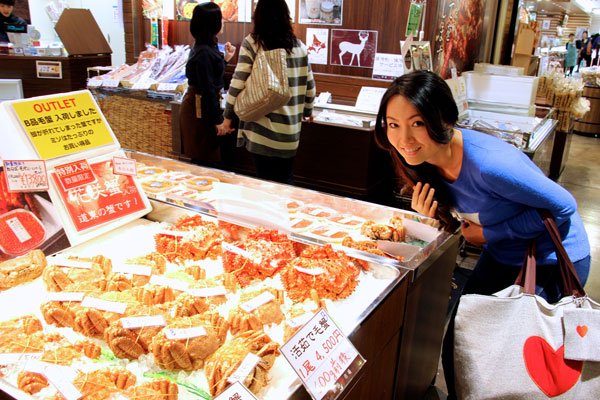 What you'll need (feeds 2 lucky ones):
1 sac of mentaiko
8 shiso leaves
2 eggs
2 tbls of olive oil
1/2 tbls butter
1/2 tbls cream (optional)
1/2 tsp salt
crab legs (optional)
spaghetti, or udon
Cook Time:  10 minutes
Prep Time:  5 minutes
Firstly, boil some well-salted water for the pasta.
Squeeze the fish roe out of the mentaiko sac.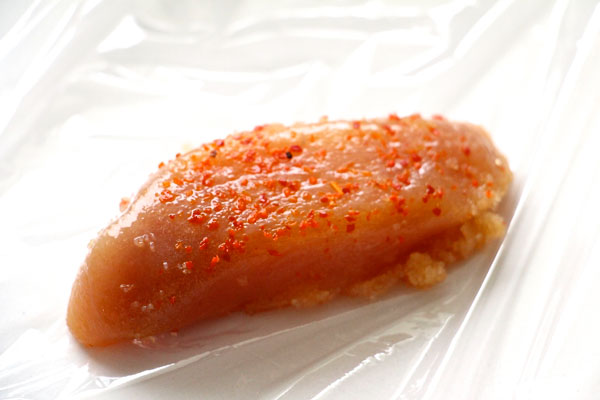 Wash and finely slice the shiso leaves.   I like to bruise the leaves with the back of my knife to release even more fragrant shiso aroma.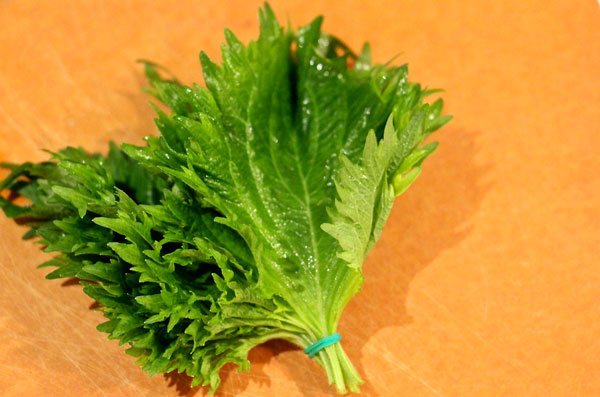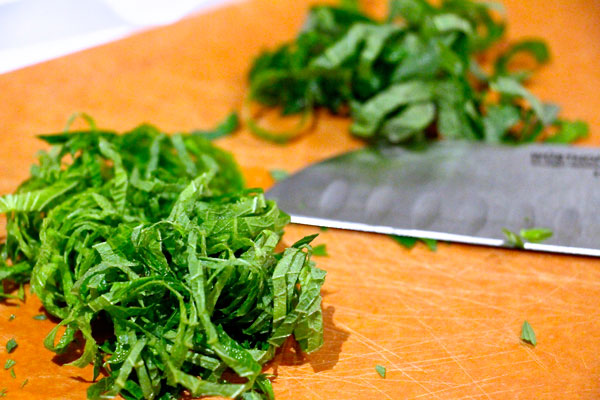 Mix together the olive oil, butter, mentaiko, salt and cream.  If you prefer to include eggs in this dish, then either boil some eggs or make onsen eggs (you can find my recipe here).  The key, really, is to make eggs that still have a gooey yolk, so the luscious golden centre can cascade and coat each strand of the pasta.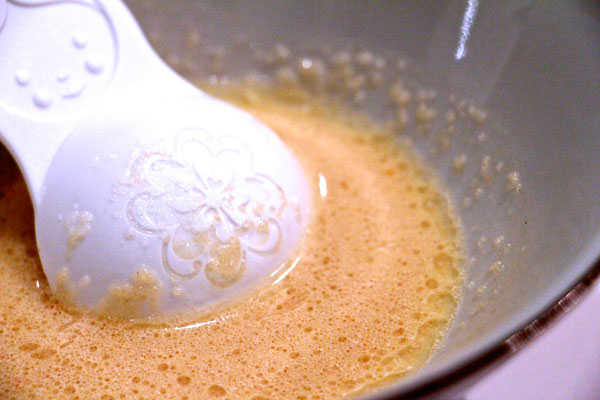 Boil the pasta to package instructions.  I recently discovered the robust flavours of Pasta Mancini, an artisanal pasta from Italy.  I actually had the pleasure of meeting the pasta maker, Massimo, and tasted the pasta as crafted by Chef Bombana at Michelin-3 starred Otto e Mezzo.   The texture of Mancini pasta is best experienced when cooked to a very al dente, so each chew draws out the robust flavours of the ancient grains used to craft these amazing pastas.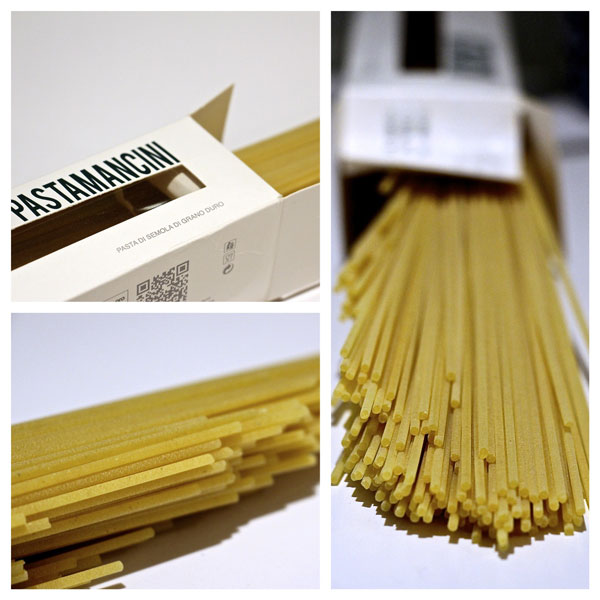 Once the pasta is ready, toss in the mentaiko sauce and shiso leaves, and crown with a gooey, runny egg.  I also included sweet, succulent crab legs in this dish, but this is totally optional to the recipe.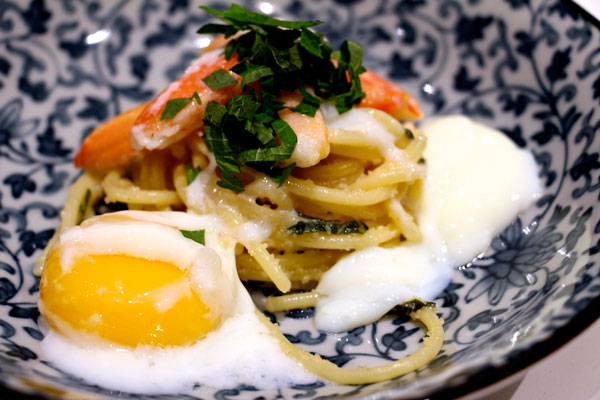 Bon Appetit!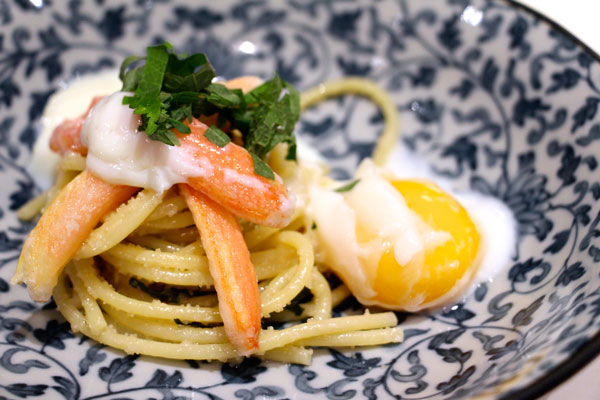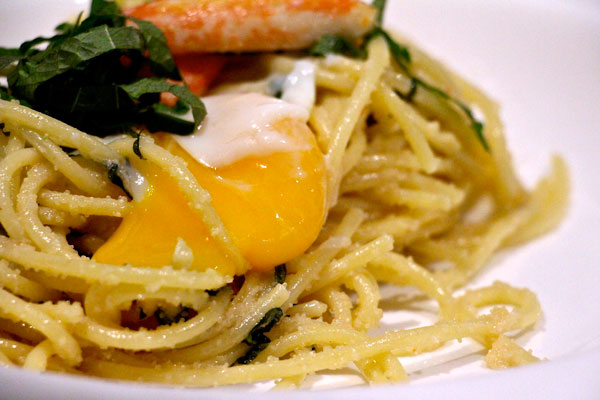 Sites We Adore