Afterthoughts – Feasting on Iberico Charshiu at Mott 32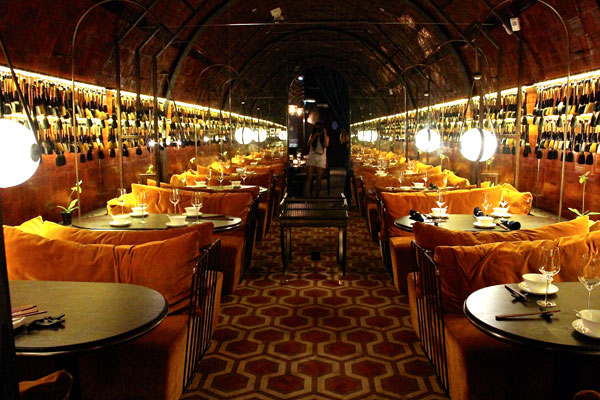 Maximal Concepts knows how to throw a good party.  Amidst great fanfare, Mott 32 officially swung open its doors a couple of weeks back, in an atmosphere so charged with excitement it almost felt combustible.  Following the grand opening, our Foodie Magazine team gathered for a, comparatively, more subdued dinner to taste this new golden child of Chinese cuisine.
Descending into the basement venue lined with glittering sheets of mirrors under Standard Chartered Bank felt like walking through a vortex, where Great Gatsby-isque art deco flair meets mysterious Chinese opium den, all lacquered with a layer of New York industrial chic.  The transformation happened under the steady guidance of acclaimed designer Joyce Wang, although the industrial hipster ambiance has Maximal Concept written all over it.  I was particularly enamoured with the Beijing duck hanging cage, since it reminded me of all my favourite restaurants in my hometown of Beijing.  A variety of dining areas created unique, intimate kiosks, tailored to accommodate quiet tete-a-tete meals as well as jovial group gatherings.  Charm resonates through the small details, such as a whimsical painting of Dr. Sun Yat-sen and the "lucky" coins embedded in the flooring for extra good feng shiu.  There's even a private dining room lined with grey bricks, that brought me back to those ancient hutong walkways of Beijing.
Named after the first Chinese convenience store on Mott Street in New York City, Mott's cuisine concept revolves around the key culinary regions of China – Canton, Beijing, Shanghai and Sichuan.  Under the helm of Executive Chef Fung, who's most recent successes include commanding the Michelin 2-starred kitchen at Dynasty restaurant in the Renaissance Hotel, Mott aims to enhance traditional Chinese cuisine with innovative flavour pairings and the finest ingredients.
We began our evening with, of course, a round of libations.  (Clockwise) – Hanami (whiskey, gin, umeshu, yuzu, shiso, ginger beer & chrysanthemum) at HKD$130, On Leong Tea (rum, osmanthus and oolong tea, passion fruit & guava) at HKD$110, Anna Wong (tangerine peel infused gin, osmanthus honey, lemon & egg white) at HKD$110, Hong Kong Ice Tea (tequila, lillet blanc, black current & jasmine tea) at HKD$120.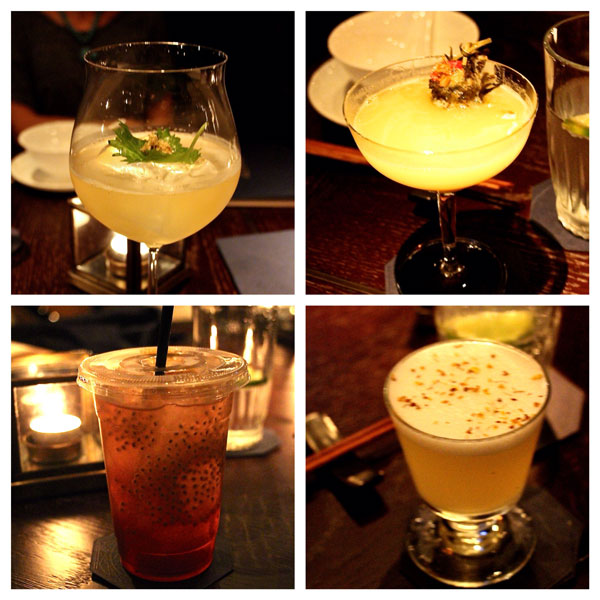 My favourite was the elegant Hanami, a refreshing mix chilled by a single hand-chiseled cube of ice with a fragrant shiso leave perched on top.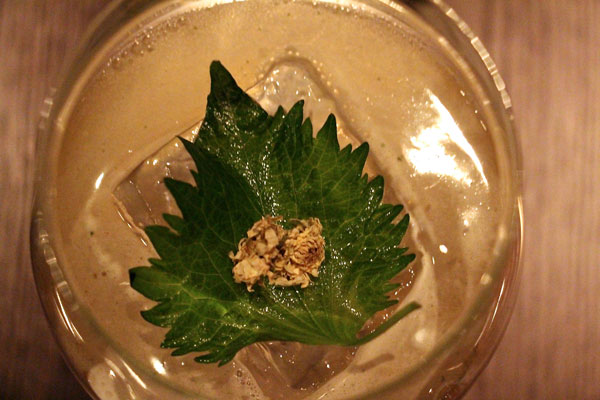 First to arrive at our table was the South Australian Lobster "Har Gow" infused with Yunnan ham (HKD$110 / each).  This play on the classic shrimp dumpling (or har gow) used the more decadent lobster instead, and its texture was crunchy and sweet, a perfect contrast to the briny savouriness of the preserved ham.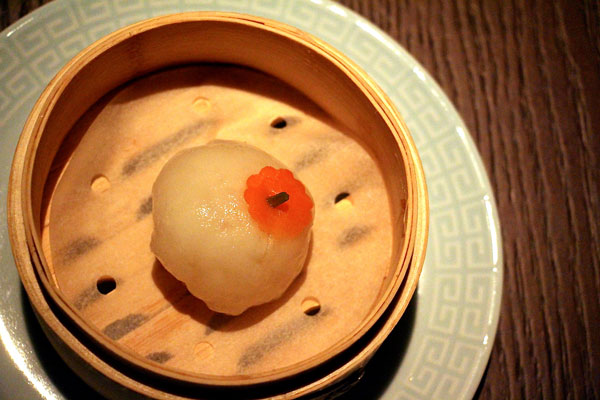 Next, came the siu mai, a classic dim sum dish.  But, this is no ordinary dim sum, as the Kurobuta pork sui mai filled with soft quail egg and crowned with black truffle (HKD$60) was smooth and buttery, yet not exceedingly greasy.  The real surprise, however, lies within the egg.  Despite being steamed, the golden heart of the quail egg remains velvety and oozy, the result of meticulous timing and precision.  The quail eggs are first softly boiled, then delicately peeled under cold water to stop the cooking process.  Each soft quail egg is then gently wrapped in the pork and steamed to perfection.  Of course, the truffles also helped, although they were less pronounced than I expected.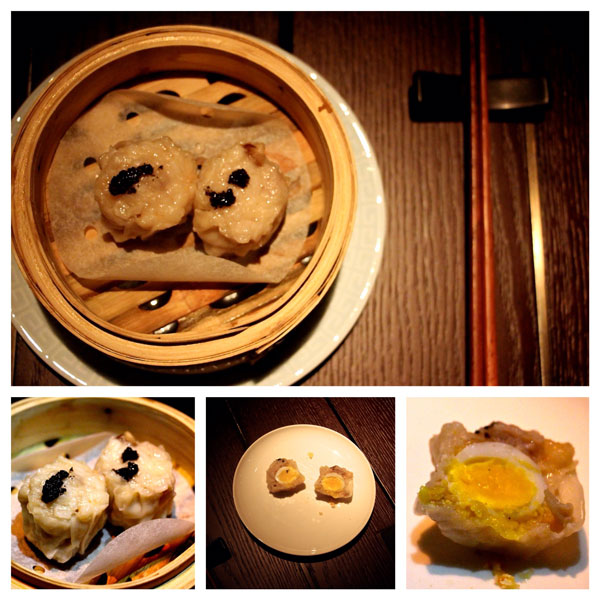 The crispy sugar coated BBQ pork bun (HKD$45) uses Spanish teruel pork, and is light and delicate, and dreamily fluffy.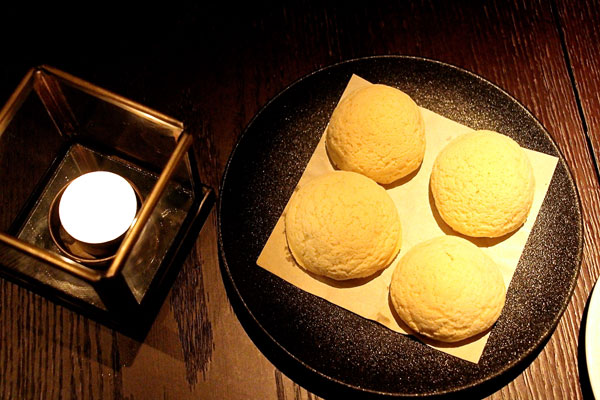 (Below) Aged black vinegar sweet and sour pork (HKD$180).  I'm not a huge fan of sweet and sour pork, but I guess this is Mott's way of paying homage to Americanised Chinese food.  I did like the cubes of fresh dragon fruit as a refreshing addition to the sticky sweet meat.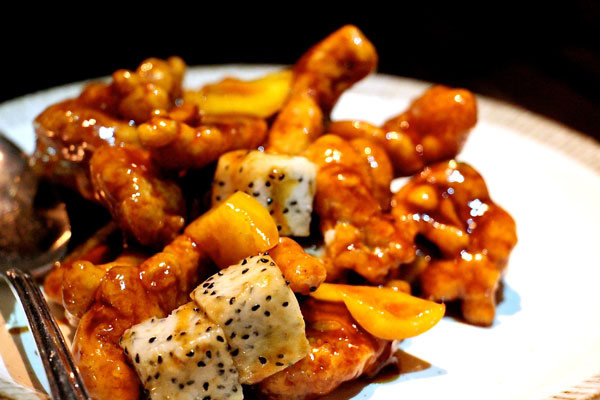 Now we're talking!  12 hour slow cooked sticky pork belly (HKD$190).  Based on Malcolm's family recipe, this tender, yielding piece of finely layered pork reminded me of dong po pork in Shanghai.  You put slow braised pork belly in front of a Northern Chinese girl any day, and you're guaranteed gratitude!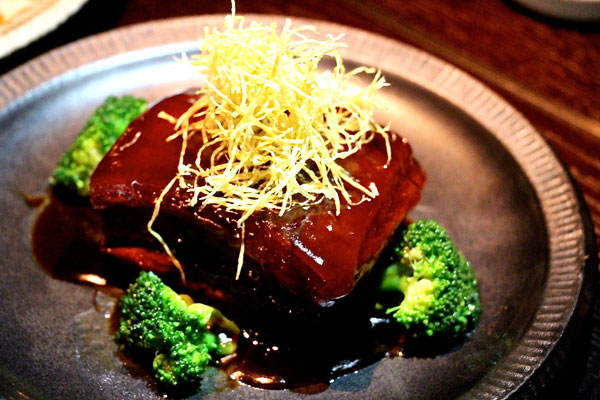 Everyone has been talking about the char siu.  To be honest, I had this during the grand opening and wasn't "wow'd" by it.  However, this time around, I had the advantage of quietly savouring the meat without being jostled by a ravenous crowd, and I could actually appreciate the intricate flavours of the dish.  You can really taste the quality and dedication to details behind Mott's BBQ prime Iberico pork glazed in Yellow Mountain honey (HKD$295).  This classic Hong Kong BBQ favourite was incredibly tender and juicy, and encrusted in a perfectly caramelised coat.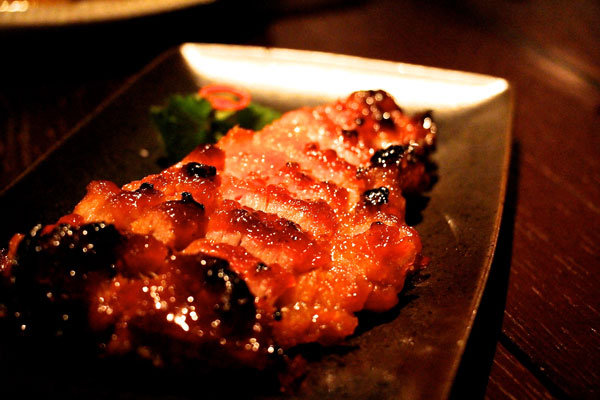 Claypots always makes me think of cozy meals, and Mott's black cod and potato clay pot (HKD$220) has comfort written all over it.  Each buttery piece of black cod is encased in a golden batter that soaks up all that luscious flavouring from the chilli and garlic.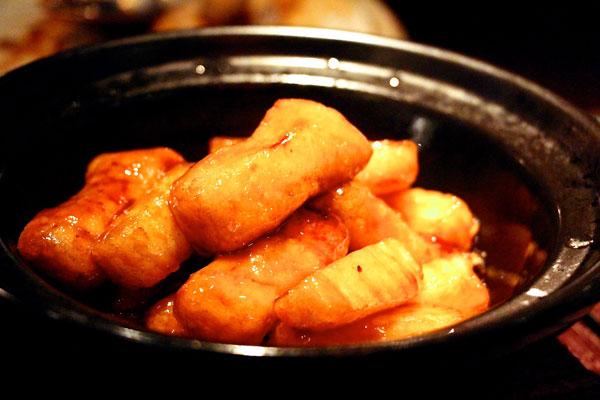 Pork belly fried rice with preserved vegetables and egg (HKD$160).  This dish was quite standard, although I adored the sweet crunchiness of the preserved turnip.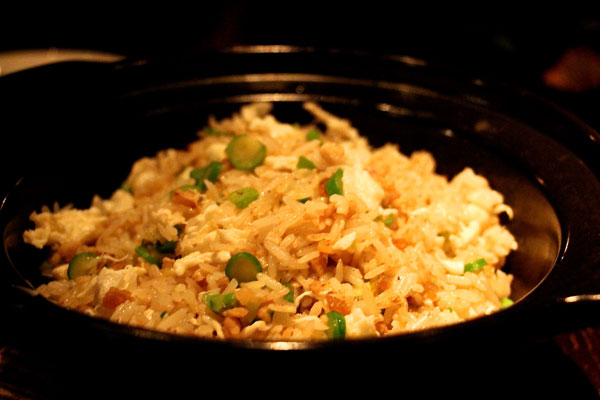 Sauteed asparagus with water chestnut and gingko nuts (HKD$160).  This dish is all about texture, with the perfectly wok-fired asparagus and water chestnuts.  I am also a sucker for gingko nuts – hey, it helps with my memory!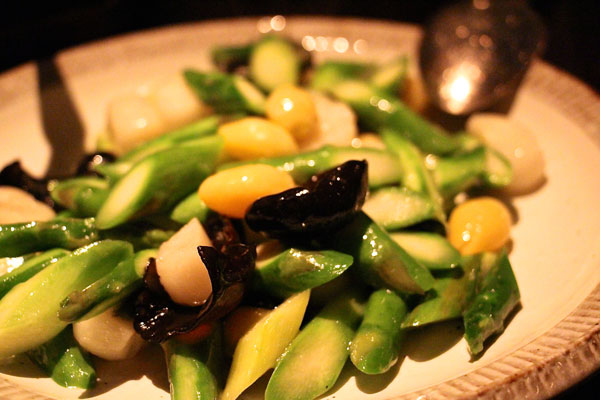 On to the desserts!  We were handed these green tea coated chocolate mousse (HKD$60) on opening night by Chef Edgar Sanuy Barahona, and we had a repeat performance on this tasting.  The chocolate centre was gooey and "oh so decadent", although I couldn't really taste much of the green tea essence.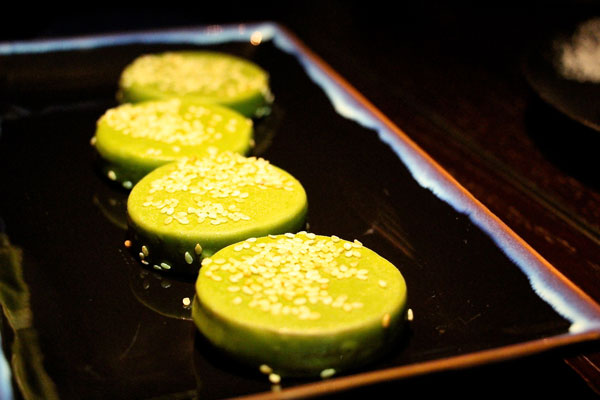 My favourite dessert of the evening was the jasmine tea infused creme brûlée (HKD$80).  The light fragrance of the tea beautifully complimented the subtle custard.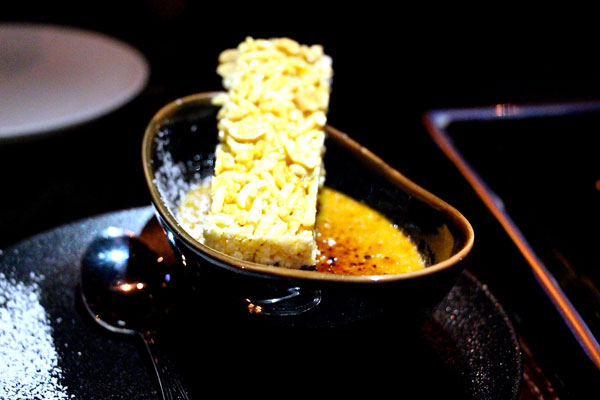 Verdict:  All in all, a fantastic restaurant for those looking for Chinese fine dining without the gaudy crystal chandeliers and red and gold signages to the tune of something like "Prosperous Dragon Phoenix Leaping over Wisdom Lake".  Mott is nouveau Chinese fine dining, with none of the stuffiness.  The ingredients are top notch, and you can tell a lot of research went into the menu.  However, I feel that there are many more traditional Chinese restaurants that offer just as delicious food, at the same quality but for a lesser price.  It's just a different style in ambiance.  I've had the Beijing duck during the opening night, and was not exceedingly enamoured by it, but I will definitely be back on a less busy night to give this another try.  The suckling piglet (also tasted during opening night) was some of the best of its kind.  Mott 32 is definitely a unique, upscale experience, and I can see it doing very well with the well-heeled banker crowd of Central Hong Kong.  After all, Hong Kong is one of the few places today that can still stare wealth, unflinchingly, straight in the eye.
Mott 32
Basement of Standard Chartered Building
4-4a Des Voeux Road, Central
Hong Kong
Tel:  +852 2886 8688
Sites We Adore