Restaurant Review – The Best of Kyoto Kaiseki at Michelin-3 Starred Nakamura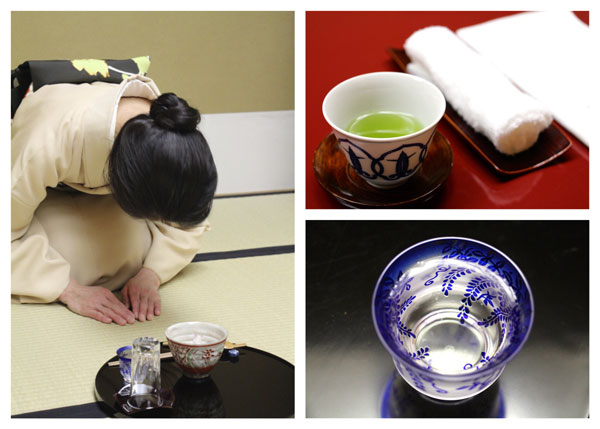 Kyoto, the former capital of Japan, is the birthplace of kaiseki ryori, a type of aristocratic multi-course meal woven around the subtle flavours of local and seasonal ingredients.  Each course is a piece of edible artwork, and employs cooking techniques that amplify the true essence of each ingredient.  With seven Michelin-3 starred restaurants in the city, we chose Nakamura for our premier Kyoto kaiseki experience.  Walking into the elegant establishment felt like being transported back in time.  With only 4 private tatami rooms, each with a view of the Japanese garden, Nakamura has been in business for 200 years.  A former caterer to the emperor, the Nakamura family is now at their 6th generation of chefs, with Chef Motokazu and his wife maintaining the same extraordinary standards that have resonated with the brand over the centuries.
Upon arrival at the small yet elegant wooden house, a short walk away from our stay at the Ritz Carlton, we took off our shoes in a little Japanese garden before entering the tatami-mat lined establishment behind our shuffling kimono-clad hostess. Each private room has a view of the garden, and is washed in natural hues and glimmers of lacquered wood.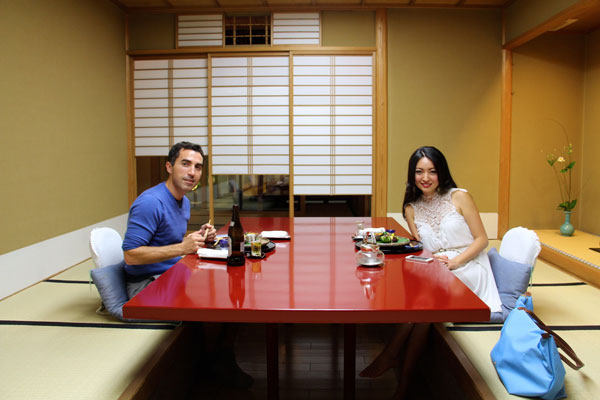 Our highly-anticipated meal began with the graceful bow from our hostess, who turned out to be the owner and wife of Chef Motokazu. It was a great privilege and honour to be served by her, and to hear her meticulous introductions to each dish and the history behind the house. Luckily, the Hubby spoke enough Japanese to translate all of it!
The lush green landscape surrounding Kyoto are known for producing some of the finest green teas in the world, so naturally, our meal commenced with delicate cups of Tenka-ichi, the most premium gyokuro tea offered by centuries-old tea house Ippodo. This shade-cultivated tea is unlike any others we've tasted, with almost a savoury edge that bathed the tongue in rich umami aromas. It almost felt like a savoury broth rather than tea, and packed full-impact flavours.
After cleansing our palate with this most interesting tea, we retoxed with sips of cold beer and sake before arriving at our first course of silky tofu capped in yuzu jelly and shiso flowers. The delicate dish was almost too pretty to eat! The creamy tofu was provided textural contrast with thin slivers of radish, and the sweetness of the kani (crab) and eel added to the delicate balance. The zing of yuzu and shiso further added dimensions.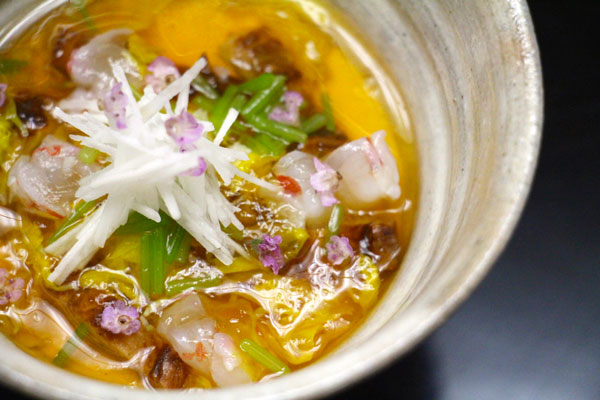 Next, we were served cozy bowls of the revered shiromiso zoni, prepared without broth to accentuate the aromas of the white miso. Nakamura is famous for its shiromiso zoni, which takes plenty of patience and skill to prepare. The toothsome mochi in the middle brimmed with robust toasted rice aromas, and the overall creaminess of the dish was balanced by a slight sharp undertone of karashi (Japanese mustard).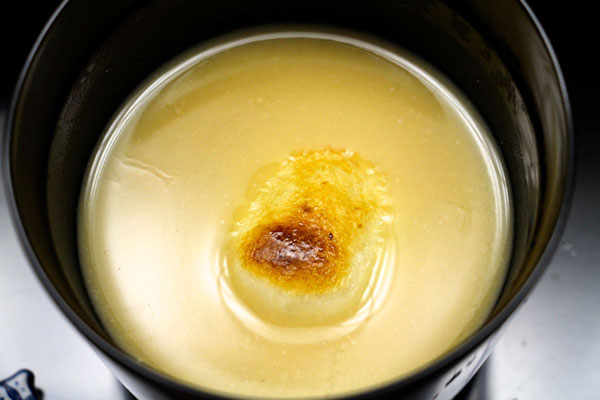 After our hot broth of white miso, our palate was cooled by a plate of sashimi. On a bed of crushed ice, nestled a selection of maguro, sea bream, and pike hamo (conger pike eel), accented with soft shreds of myoga (茗荷) ginger, kaisou seaweed and shiso flowers. All the sashimi were incredibly fresh and clean on the palate, but I must pay special attention to the hamo.
A prized fish in Kyoto, the hamo is an extremely strong yet ugly fish, that makes a journey of several days packed live in saltwater-filled baskets from the Awaji island. The fish is also extremely bony, with the bones distributed in such a way that removal is impossible. So, enter the knife skills of celebrated Japanese chefs. Instead of removing the bones, chefs actually cut the bones to such fine texture that it blends in with the flesh. A good Japanese chef will slice through the bones and flesh without breaking the skin of the fish, with each slice averaging around 1mm in width! Now, that's some fancy knife work!
Our sashimi trio was served with both soy sauce and vinegar, and it was suggested that we dip the sea bream in vinegar rather than soy. I found the acidity of the vinegar brought out the sweetness of the fish.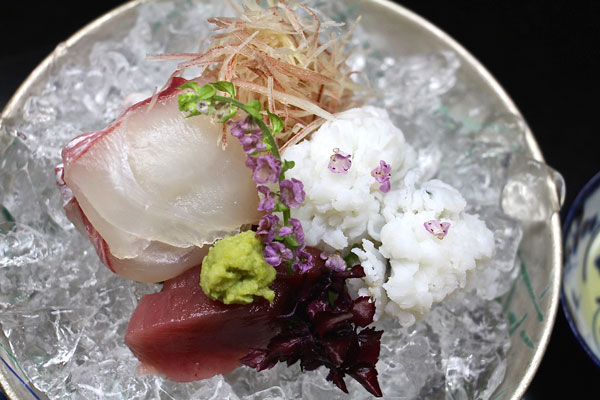 A baked salt dome arrived next, unveiling a treasure trove of tender abalone, uni, and scallop, all wrapped in wakame (sea kelp). This dish was full of umami notes. I've never had steamed uni before, and the texture and flavour reminded me of crab roe. The abalone was cooked beautifully, but as I'm not a lover of this shellfish, I couldn't fully appreciate this dish.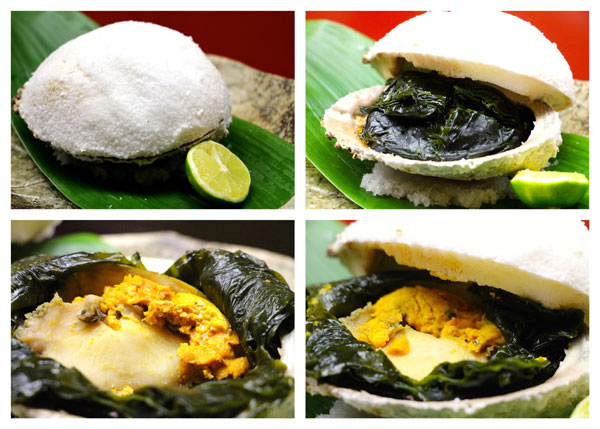 An eclectic display of culinary mastery arrived next. The intricate platter was full of tasty morsels, ranging from ebi (shrimp) rolled in tamago (egg), toasted gingko, ikura (salmon roe), taro, aburi barracuda, creamy yuba in ginger juice, matsutake mushroom, a skewer of finely sliced cucumber and marinated tofu, mushroom and vegetables simmered in bonito broth, and a chestnut simmered in vanilla and honey. One of my absolute favourite has to be the fish filled with tiny fish eggs, slow-braised in a sweet soy dashi and topped with floral Sichuan peppercorns.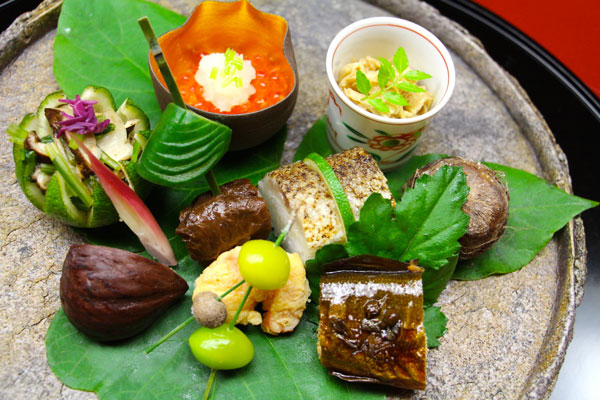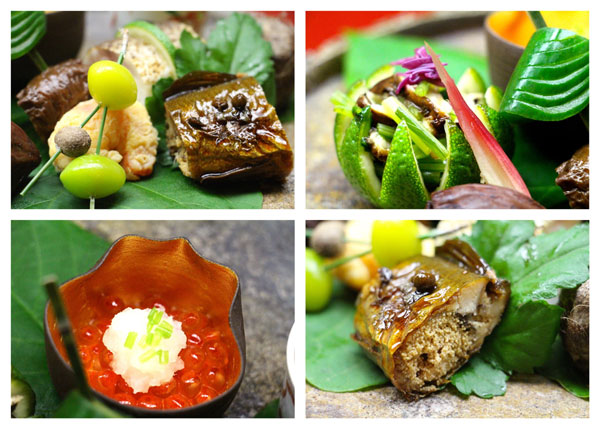 To warm our palate, we were served a bowl of maitake and donko shiitake (superior shiitake) broth layered with thin rolls of creamy, buttery yuba (beancurd) and hamo tempura. The golden hamo tempura was coated in rice meal powder rather than tempura powder, which gave it a grainy texture and maintained crispiness despited being submerged in the broth. The smokey mushroom broth was balanced with mellow citrus notes from the cooked yuzu peels.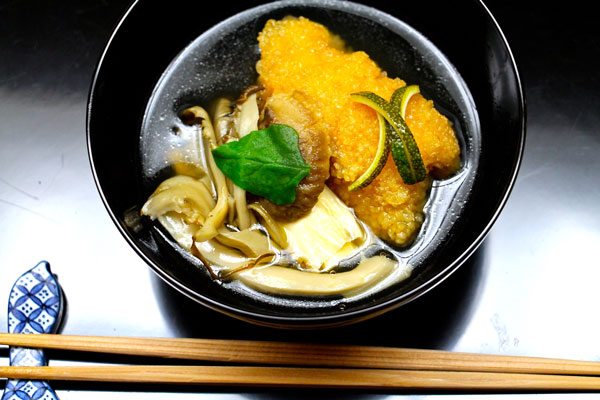 Another highly prized fish graced our table. A beautiful fillet of rosy-skined Amadai fish (tilefish), highly coveted for its meaty rich flesh, arrived simmered in a clear broth with a touch of sweet mirin. There was plenty of rich collagen under the skin, although the skin itself was very tough.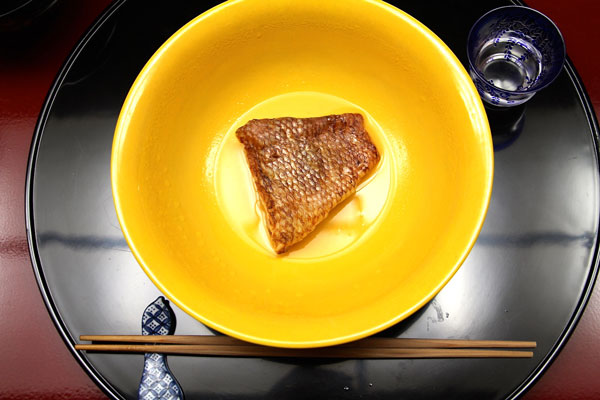 And then, we found out that the skin of the fish is to be reserved to scent the broth afterwards! A rich dashi seasoned with only kombu and not a touch of salt was poured into our fish-skin bowl from an antique pure silver kettle. The broth was lightly savoury, and super umami. The rich fat from the fish skin melted into the broth.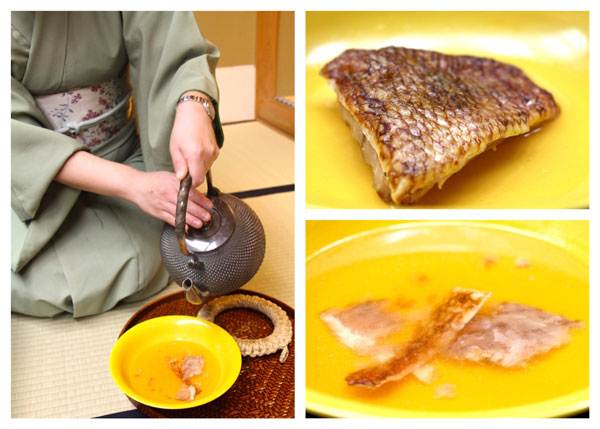 For carbs, we were served a cold dish of hiyamugi noodles in dashi broth, topped with a fillet of finely sliced hamo eel and a dot of red ume (plum). This was a refreshing way to cap off our savoury selections, and left the palate feeling refreshed and clean.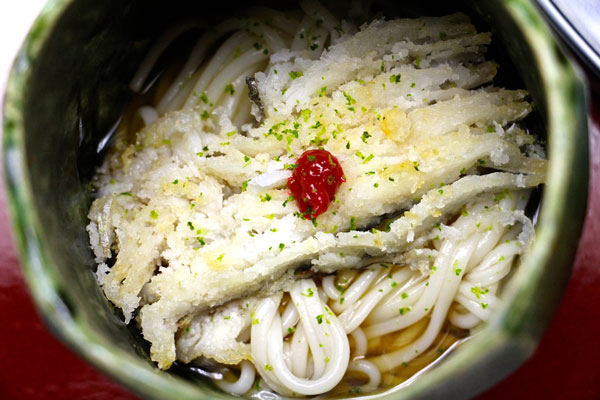 Our dessert arrived in the form of homemade fig ice cream, topped with nashi pear, grape, yellow peach, and glazed with white wine jelly. The fruits were out-of-this-world good.  There's something simply magical about Japanese fruit. It's as if each piece of fruit had its flavours magnified a hundred times. The pione grape was sweet and reminded me of dessert wine. The fig ice cream tied everything together with a sweet finish.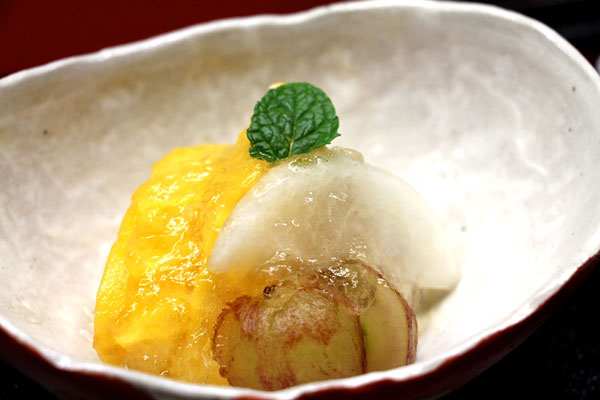 Verdict: There are few life-changing meals in my books, and Nakamura definitely counts as one. Our evening was a whirlwind of delicate, seasonal plates, so beautifully presented, that we can only compare them to art.  Autumn is the season for matsutake mushroom, and feathery light eel, and both were highlights during our meal.   Our dinner concluded with the sincere bows of Chef Motokazu and his wife, who escorted us all the way to the gates and stood there waiting until we turned the street corner.  We heard from Mrs. Motokazu that their son, who is 18 years old, is currently apprenticing under his father, and will inject new inspirations to the renowned brand once he takes over the reins. We are looking forward to trying the menu by the 7th generation of Nakamura chefs in the future! Nakamura – a Kyoto treasure.
Nakamura 
Oike-sagaru, Tominokoji, Nakagyo-ku, Kyoto
Tel: 075 221 5511
Kaiseki menu only (no a la carte), approx 61,000Yen for 2, or HKD$5000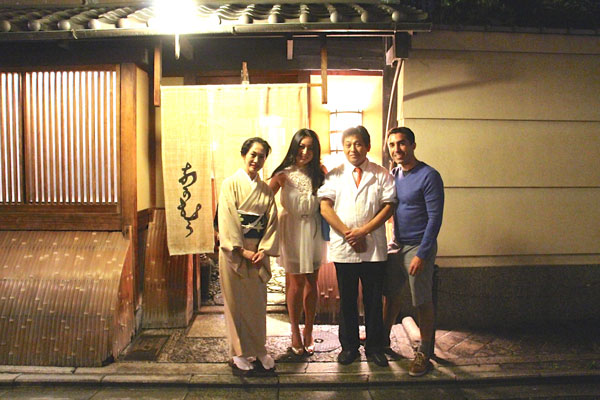 Sites We Adore