Afterthoughts – Scarfing down Meatballs & Pizza at NOM
Nom nom nom – that's usually the way we describe a great eating experience in text-o-sphere, or accompanying tantalizing food porn on Instagram and Facebook.  But in the case of NOM, it's actually an acronym for "Not Only Meatballs", a cheeky diner in trendy Lower Elgin Street of Soho, above ramen joint Torimen and new Chinese hipster joint Ho Lee Fok.  Moving into the upstairs space  formerly known as Enomod, NOM is a casual little dinner that strives to offer "cheap and cheerful" comfort food to diners.  The brainchild of ex-international rugby player Ricky Cheuk and Chef Fabrizio, who's most recently stint includes Goccia, NOM focuses on a simple, time-tested menu full of the classics that make up a heaving Italian American table.  The overall restaurant concept reminded me, in particular, of a Melbourne-based shop I visited this past winter, called The Meatballs Wine & Bar, a casual yet trendy little diner with meatballs as their star headliner.
The decor remains relatively intact from the previous tenant, but dispels some of the ghost of the former Enomod with an updated, more cheerful facade.  We love the giant lightbulb "NOM" sign across the doorway.
For a restaurant named "Not Only Meatballs", they do have a staggeringly long list devoted to these succulent spheres.  There were four of us at dinner, so we decided to each order an enticing selection of meatballs.  The orders came in batches of 3, so we paid extra to each get a tasty meatball to ourselves.  Hence, please note that the prices below are for 3, and do not reflect the extra charge for the additional meatballs.
(Below, clockwise from left):  Lamb meatballs with tomato olive sauce and goat cheese (HK$85), slow-cooked suckling pig meatballs with celeriac puree and coriander (HK$95), beef meatballs with Neapolitan ragout, paccheri pasta and ricotta (HK$78), and king crab meatballs with zucchini fries and coffee mayo (HK$98).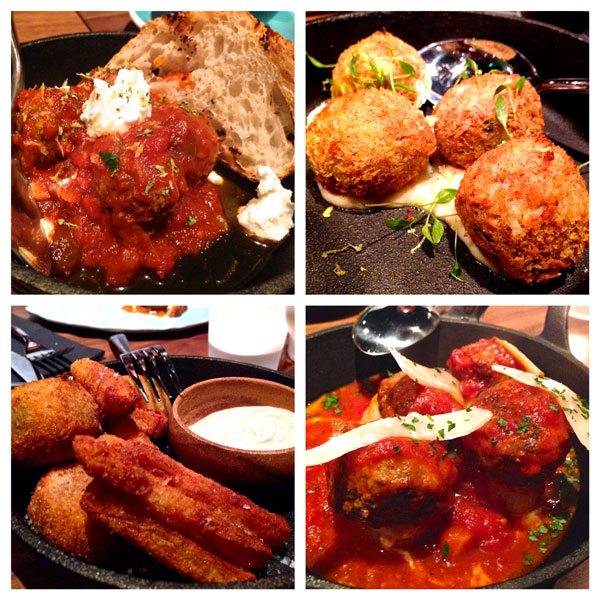 Out of the four, our favourites were the lamb and beef meatballs.  The robustness of these meats worked deliciously well with the hearty, rich sauces and creamy cheeses.  The slow-cooked suckling pig meatball sounded mouth-watering on paper, but in actuality, was a let-down as it lacked both the sticky tenderness and the crisp crunchiness of the skin one normally associates with roasted young piggies. The king crab was equally anti-climatic, as the fried outer layer masked the sweetness of the crab and turned the meatball into a not-very-memorable greasy crab cake.  We did, however, enjoy the accompanying crunchy zucchini fries, enveloped in a delightful golden crust, although the coffee mayo wasn't as pronounced as we'd hoped.
The black ink tagliatelle with baby squid, sea urchin and hazelnut (HK$198), sounded promising on the menu, but also underwhelmed us.  I usually love the sweet creaminess of uni over pasta, but the uni in the black ink tagliatelle failed to make a pronounced impact.  Instead of a uni-based sauce, the dish used a tomato-based sauce that overwhelmed the delicate flavourings of the few urchins that were present.  Some parts of the pasta were stuck together, resulting in inconsistencies in texture.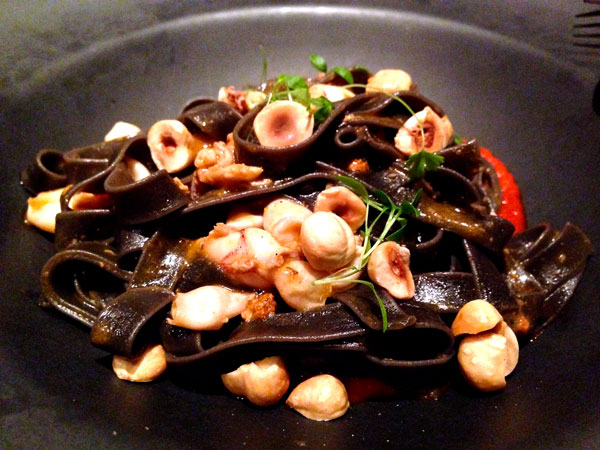 The stars of the evening were really the pizzas.  All of NOM's pizza dough are homemade, and use fine Molino Mariani flour from a small family mill in the Marche region.  All the tomatoes and mozzarella are imported from the Campania region.
First to arrive was the simple, predictable, yet irresistibly delicious margherita DOP (HK$128) topped with classic Italian ingredients like tomato, buffalo mozzarella and fresh basil.  Simple flavours, uncomplicated, yet timeless.  We especially love the rustic, crunchy crust, bursting with yeasty goodness.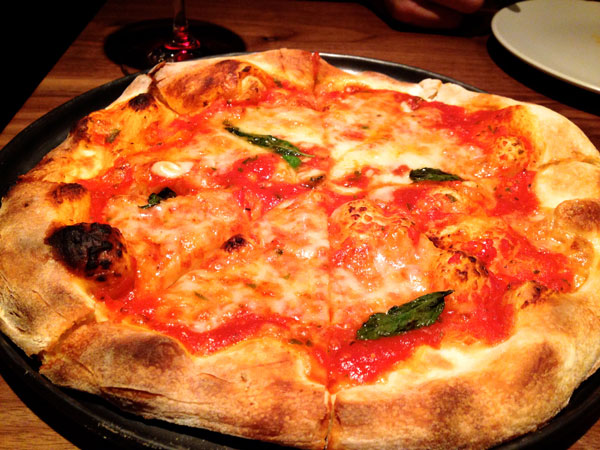 Next on our list was the highly anticipated mushroom & black truffle pizza (HK$218) layered with wild mushrooms, fennel sausages, taleggio cheese, buffalo mozzarella and (of course) shavings of black truffles.  Considering how much shaved truffle was on this pizza, it was surprisingly bland and devoid of any intoxicating aromas.  I've cooked with fresh Perigord black truffles before, and each slice was perfumed with that signature musky scent, so I was surprised to find that the slices on this pizza has no flavours at all.  In fact, the flavour that held this pizza together came from the cheese and fennel sausages!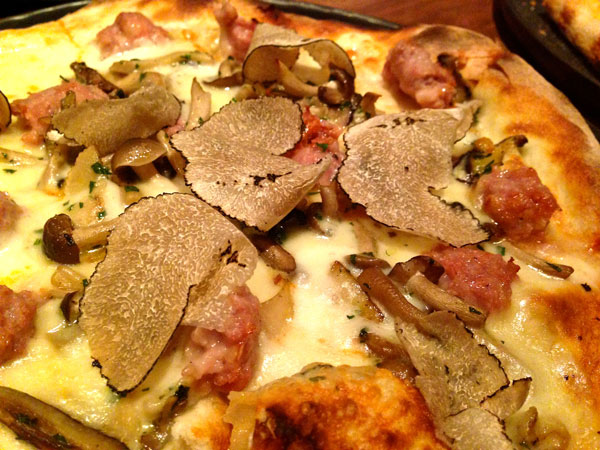 After a dismal experience with the truffled mushroom pizza, the redeemer came in the form of the NOM pizza with tomato sauce, Pecorino cheese, beef meatballs and buffalo mozzarella (HK$158).  This, was what pizza dreams are made of.  Thin, crunchy crust slathered with hearty tomato sauce, and adorned with hefty pieces of cheese and succulent meatballs.  The meatballs were a tad on the rare side, and rather pinkish in the middle, but we wolfed it down like the pizza beasts we are.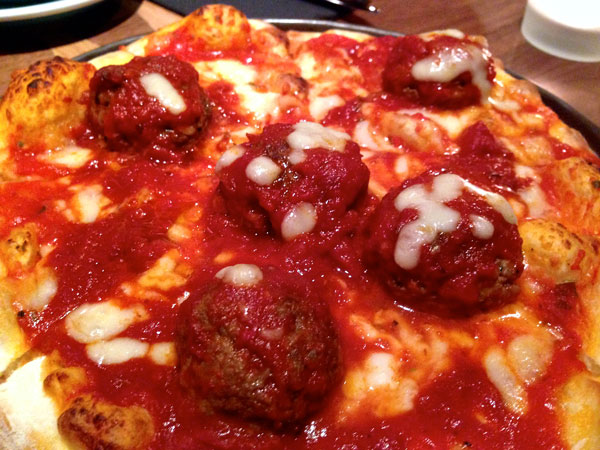 Verdict:  Hearty and uncomplicated, NOM is a refreshing departure from the over-saturated fine dining scene in Hong Kong, and a perfect venue for those days when you just want to kick back with a group of close friends, and not have to guess what "essence" is infused into that espuma.  Sure, there were some misses, but stick to the classics, and you'll do just fine.
NOM
1-5 Elgin Street, Soho
Hong Kong
Tel:  +852 2540 7988
Sites We Adore