Afterthoughts – "Nourishing Gastronomy" at NUR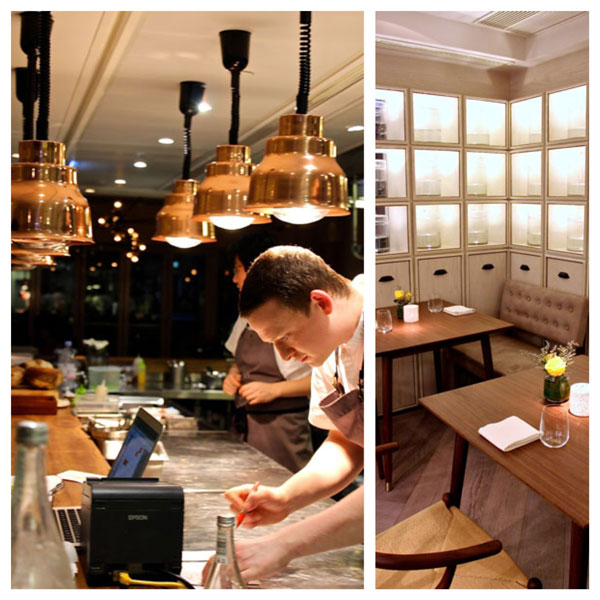 Once in a while, a restaurant comes along that can only be described as, a "game changer".  NUR, is one of those restaurants for me.  Being an editor for a food magazine is possibly one of the dreamiest jobs I can imagine, yet the countless decadent media tastings does take its toll (oh, First World problems, I know).  Our palates often get so overwhelmed with luxurious dishes that we crave to taste food, again, in its purest, most unadulterated, form.
NUR, which is the first syllable of Head Chef Nurdin Topham's name, and coincidentally means "Light" in Arabic, is one of those restaurants that aims to transform our perception of food.  Based on the concept of "nourishing gastronomy", NUR goes a step beyond the hot industry standard terms of "local and socially responsible" to distill the true essence of prized ingredients in its most pristine form.  Under the helm of Chef Nurdin Topham, who hails from a coveted pedigree of such fine establishments such as Le Manoir aux Quat 'Saisons (which I will visit at the end of this month!) and The Nordic Food Lab, NUR focuses on cooking techniques that highlight the high quality of each ingredient while preserving its nutritional value.  A certified nutritional therapist, Chef Nurdin not only cooks up food that tastes delicious, but that is also good for you.  You get some pretty crazy stories of Chef Nurdin and his staff foraging for mushrooms in New Territories!
I loved the calm, clean lines of the interior, and the open kitchen layout.  The restaurant seats 30 and, on the night of our visit, we were seated in the intimate private section nestled behind the wine cellar.
(Below) Our cozy tablescape.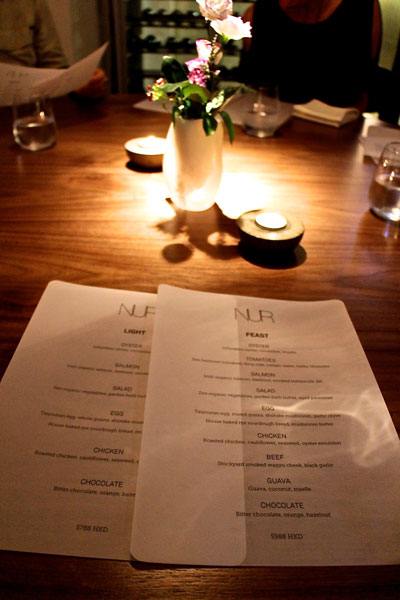 NUR offers two options:  either a 9 course "Light" tasting menu (HKD$788 / person), or a more indulgent 12-course "Feast" menu (HKD$988/person).  We wanted to behave so surrendered to the "Light" menu.
First up, was a selection of intricate canapés.  The beetroot "taco" piped with beetroot chutney and watercress emulsion was a delicious contrast between crispy and creamy textures.  The indulgent sweetness of the slow-cooked, dehydrated carrot made for irresistible finger food, especially when dipped in home cultured cream seasoned with fennel and cumin.  The cylinders of pickled Nasi pear and cucumber in jasmine kombucha was given a Hong Kong spin with roselle, and was cool and refreshing.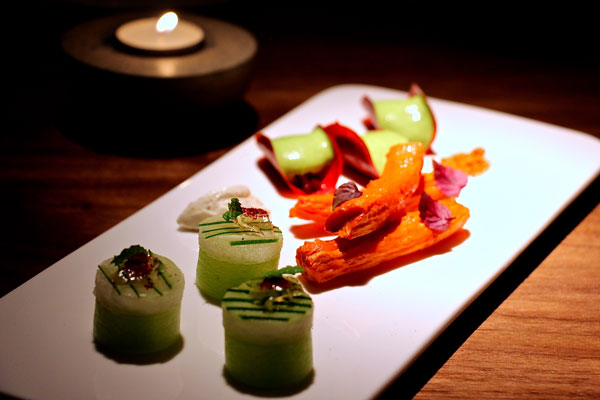 The shot of jasmine kombucha was intoxicatingly fragrant and restorative, and made for the perfect palate cleanser.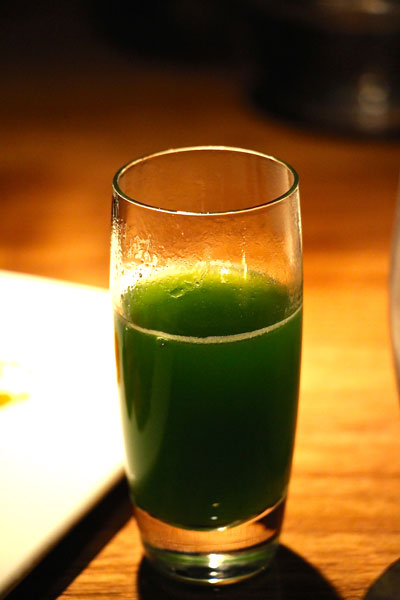 Next on the menu was the Gillardeau oyster from Western France, gently warmed in its own juices and served with a light cucumber and wasabi foam, cucumber pearls and pickled wakame.   The oyster was plump and irresistibly juicy, and almost too pretty to eat.  The cucumber pearls added refreshing pops in contrast to the creaminess of the oyster.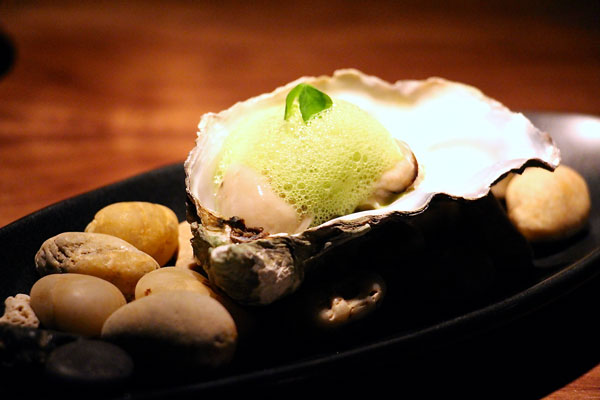 As a Canadian, I have a natural soft spot for salmon.  The organic Irish salmon with beetroot, smoked whey and dill was first cured with dill and lemon zest before being lightly poached to an almost smoked salmon consistency.  The local organic beetroot was slowly baked then lightly pickles to give it that sugary yet slightly tart taste.  The salmon was creamily yielding, and the slight tartness of the beetroot worked beautifully to balance with the richness of the fish.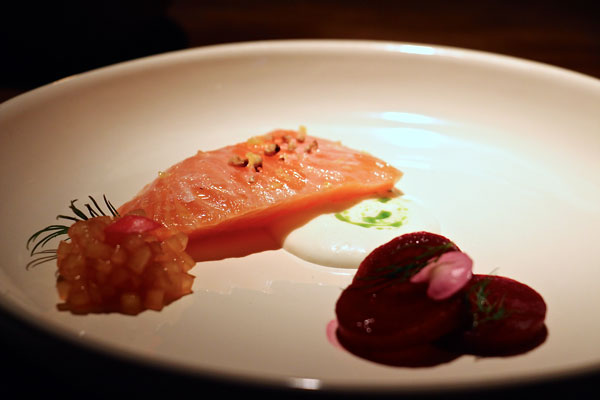 Talk about an extensive shopping list!  The NUR salad on that night was made up for 25 ingredients, although on certain nights the ingredient list can go up to 45!  Again, the salad is composed of all seasonal selections, and our salad consisted of organic lettuce, lightly poached zucchini, and edible flowers, just to name a few.  Tossed in a herb butter dressing and adorned with mineralised flakes of Parmesan and toasted sourdough, it truly is a popurri of flavours stimulatingly enough to capture even the most ADD-challenged diner.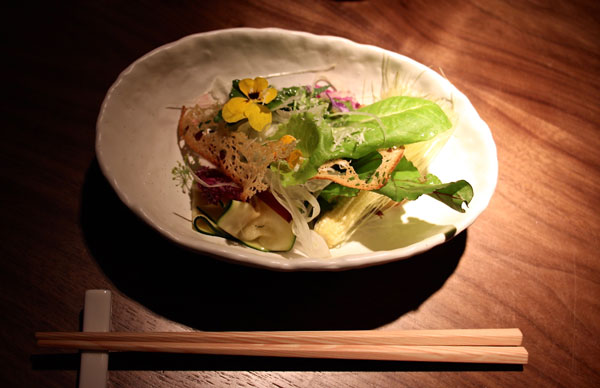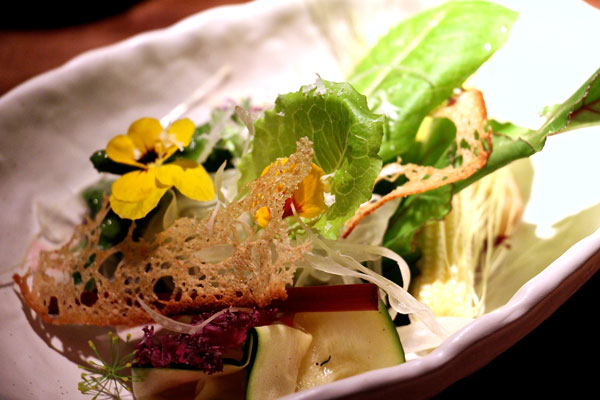 The Taiyouran slow-poached egg with mixed grain mushroom porridge, roasted Shiitake mushrooms, garlic chive emulsion and cured egg yolk made for guilt free comfort eating.  The velvety egg yolk cascading into the textured grains made us weak at the knees.  The garlic chive emulsion helped punctuate the creaminess but was in no way intrusive or overpowering.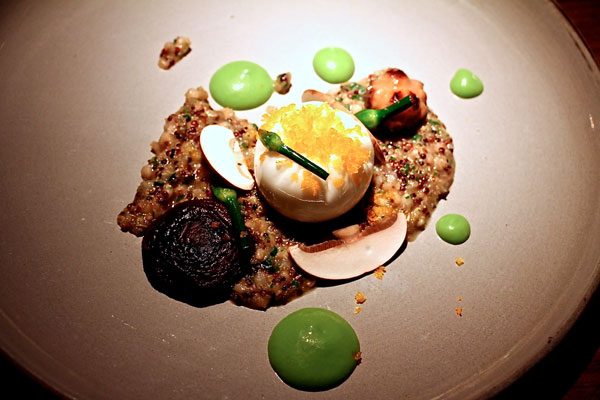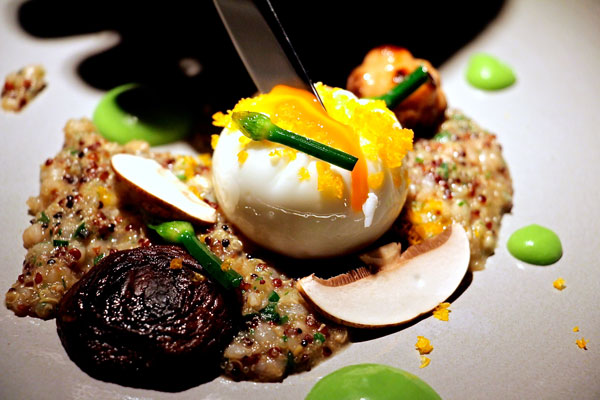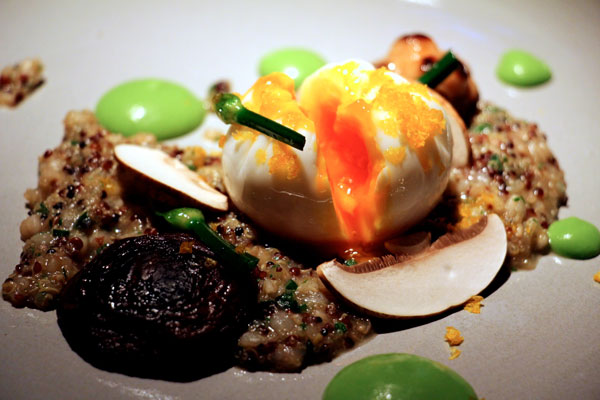 The roasted organic chicken with caramelised cauliflowers was first brined, then slow poached and roasted before arriving at our table with nori and konbu "ketchup".     The presentation was creative, with the dark thigh meat wrapped around a medallion of white breast meat encircled in nori.  The "two-textured" chicken was moist with a golden crust.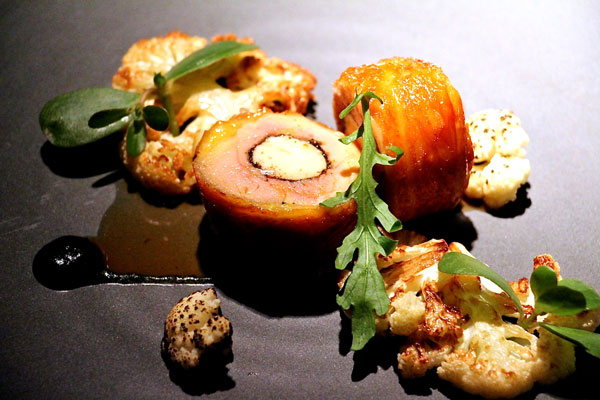 And finally, we come to a dessert of bitter chocolate and orange sorbet with chocolate crumble, hazelnut Dacquoise and orange puree.  The only chocolate I eat is dark chocolate, so this worked perfectly as the finale to a delicious yet, surprising, light meal.  And of course, chocolate and orange are a marriage made in dessert heaven.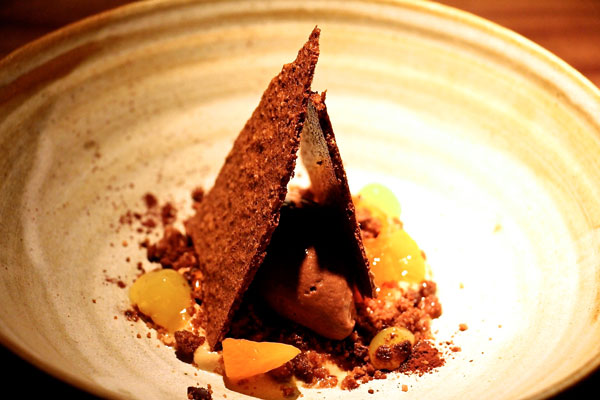 Verdict:  Once in a while, I come across a restaurant that makes me pause, and really reconsider my view on "gastronomy".  Well, NUR is definitely that restaurant for me.  Chefs are purveyors of fine taste, although sometimes nutrition is compromised in exchange for embellished flavour.  NUR serves to remind us that good taste stems from quality ingredients in its most natural state, and uses non-intrusive techniques to highlight these flavours while at the same time preserving the nutritional value.  Unlike many of my gluttonous feasts, I walked away from 9-course tasting menu wonderfully refreshed and happily satiated, and most importantly, blissfully guilt-free
NUR
3/F, 1 Lyndhurst Terrace
Central, Hong Kong
Tel: 2871 9993
Sites We Adore