Afterthoughts – Old Street Kobiteh, A Quick-Serve with Heart and Soul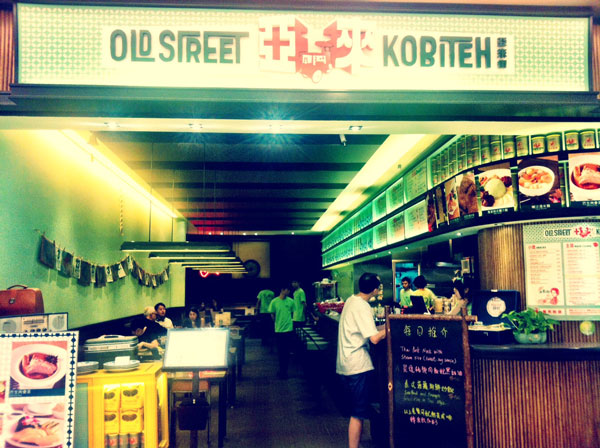 I'm always up for an adventure in the name of food, so when my good friend Jonny Bui suggested checking out his concept restaurant in Popcorn shopping mall in the midst of Hong Kong's Tseung Kwan O district, I happily hoped onto the MTR into unknown territory.  "Unknown", because , after living in Hong Kong for more than 7 years, I still find myself playing tourist and awed by little discoveries all across town.  That's really part of the magic of living on this little island, everything seems so small and reachable but yet, at the same time, there's always something new to discover in the crooks and crannies.
Popcorn mall, though, turned out to be like many other malls in Hong Kong, filled with the usual predictable brands, except one – Old Street Kobiteh.  I've never seen this restaurant anywhere else before, since it's a relatively new enterprise by the restaurant group Pak Loh, renowned for their take on Chiu Chow fine dining.  The easy-going, almost "neighbourhood" feel of Old Street stands in sharp contrast to the calculated finesse of the Pak Loh brand, and is a test kitchen for the restaurant group to launch into the casual dining space.  This project is essentially the new baby of Jonny Bui, who recently took over the family business and channels his youthful energy into diversifying the Pak Loh brand to more fast-moving consumer markets.  But enough about strategy, let's talk about the food!
Well……ok, let's first talk about the ambiance.  Designed by architect Nelson Chow, Old Street evokes memories of the Malaysian coffee shops, or "kopitiams", of yesteryears.  Neon signs and street lamp-like lighting give the restaurant a charming night market feel, and classic retro posters and signage brings diners back to the bustling Malaysian food lanes of the 1950s and '60s.  Kopitiams were and are still popular throughout South East Asia, where favourites such as beef redang and roti are served side-by-side, and where all the local ethnicities can find a taste of home.  To further accentuate the communal atmosphere, a 11-metre dining table dominate the length of the restaurant, so diners can tuck into their favourite comfort foods together.  Colourful mosaic tiles are fashioned into tabletops to further enhance the Malaysian streets cape ambiance.
The menu is no-nonense and straight-forward, all the key elements of a satisfying, no-fuss afterwork meal.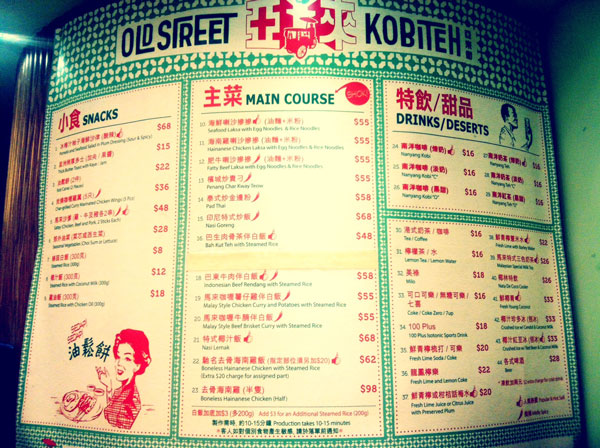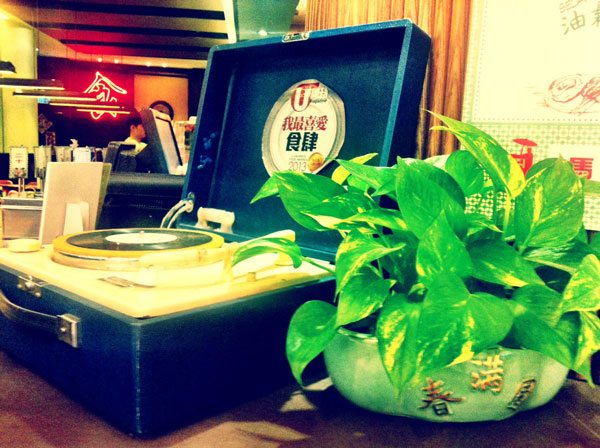 Our tablescape.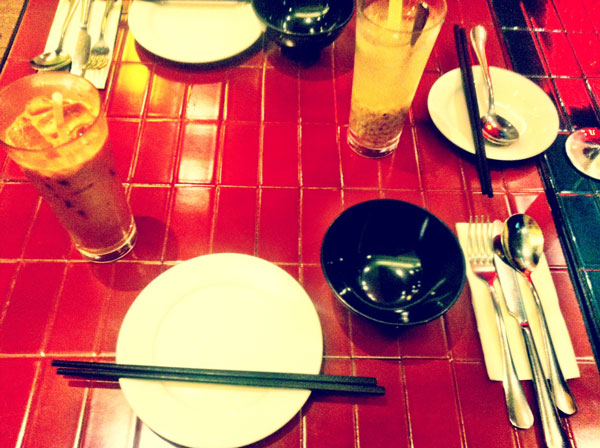 Ever since first chugging barley water to extinguish the fire left by chilli crab in Singapore's notorious red light Geylang district, I've become obsessed with the delicious beverage.  I love grains in drinks (I know that sounds a bit weird) but I'm a sucker for roasted grain Japanese teas and barley water.  There's just something so comforting about sipping these velvety smooth drinks, and I was glad to find this at Old Street.  I love chewing on the slippery, yet bouncy barley kernels at the bottom of the drink.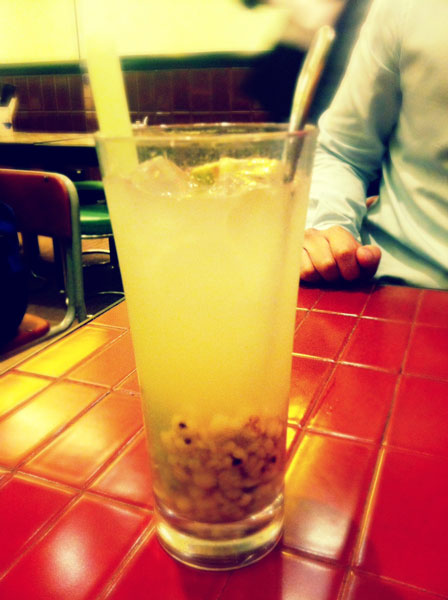 I also couldn't resist the luxurious silkiness of a cup of well-made milk tea, and this glass really hit the spot.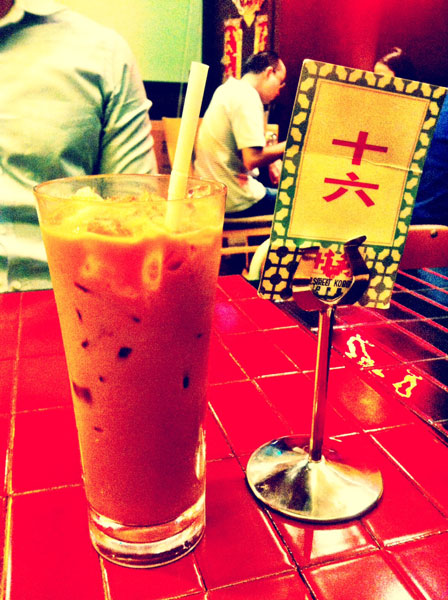 After making sure I had enough beverages on hand to combat the spicy dishes up ahead, I eagerly dug into the Penang char kway teow.  I've devoured many of these carb monsters in Singaporean hawker stalls, and this one is definitely a good rendition of the classic South East Asian favourite.  Comfortingly addictive rice noodles are flash stir-fried with chives, seafood and bean sprouts in a sticky sweet sauce, it truly is a dish hard to resist.  I was especially pleased that Old Street was able to recreate the smokey caramelisation that only comes from cooking in a wok at high temperatures.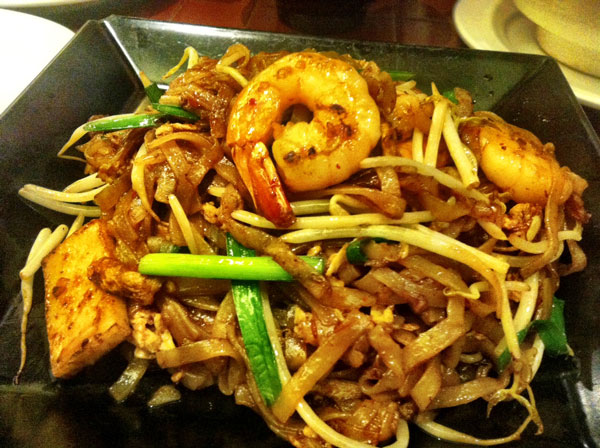 Next up, the bah kut teh with steamed rice, served with a side of crispy dough sticks.  I really loved the inky savouriness of the soup, and the tofu puffs really soaked up the flavour.  However, I wished there were more ribs, since they were so deliciously tender and fell off the bone.  Our dish only had two pieces, which was fine for us since we ordered a lot of other dishes, but I wouldn't have been appeased with this dish alone if that was all I'm having for dinner.
Slow-cooking meat is always a testament to the chef's skills and patience, and this beef redang was just perfect.  Each chunky morsel was melt-in-your-mouth tender and infused with the colourful vibrancy of spices and herbs.  Jonny told me that their head chef makes the spice paste fresh every morning from scratch, and that's what gives the dish its unique aromatic touch.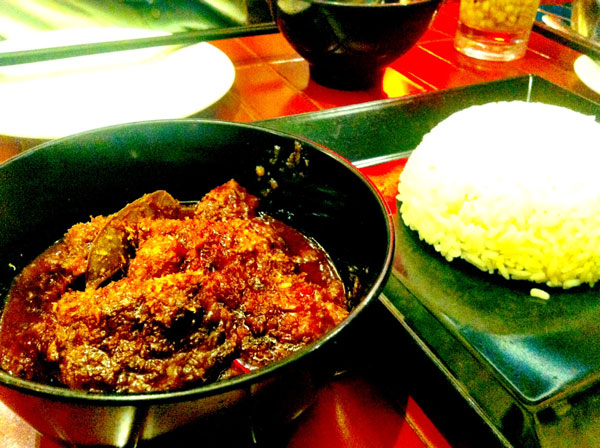 The accompanying bowl of steamed rice worked well with the beef redang, but I couldn't resist mopping up the delicious juices with handfuls of flaky roti.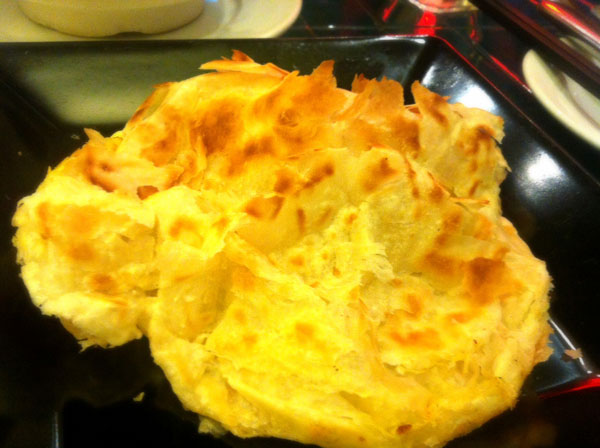 Our last dish of the evening was the Hainanese chicken laksa with egg noodles and rice noodles.  It came in a giant bowl brimming with creamy, coconutty soup and tender chicken, but by this point I was pretty sedated with food, since it was just the two of us eating.  I did sample a few strands of noodles and again, similar to the beef redang, found the flavour base to be powerful and authentic.  Unlike other casual South East Asian restaurants such as Toastbox or Asian Twist, Old Street uses no pre-made pastes or powders to synthesise flavours.  Everything is made from scratch in their on-site kitchen.  This, to me, really shows dedication to quality and authenticity.  I also loved the contrasting texture between the chewier egg noodle and the soft rice noodles.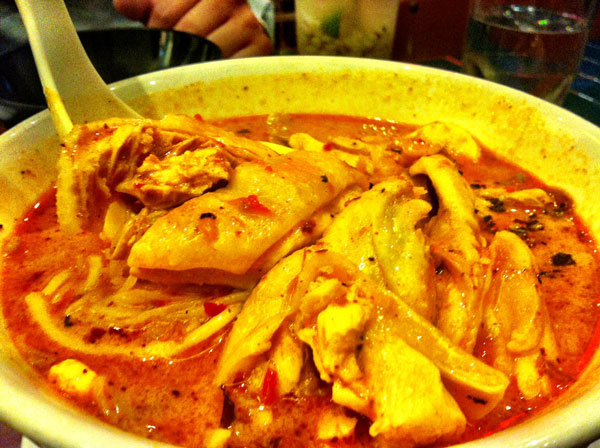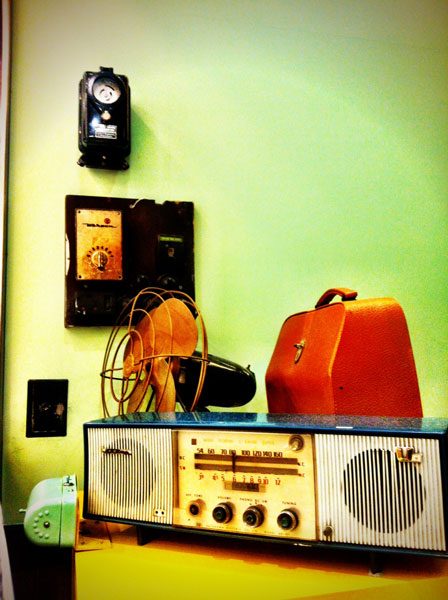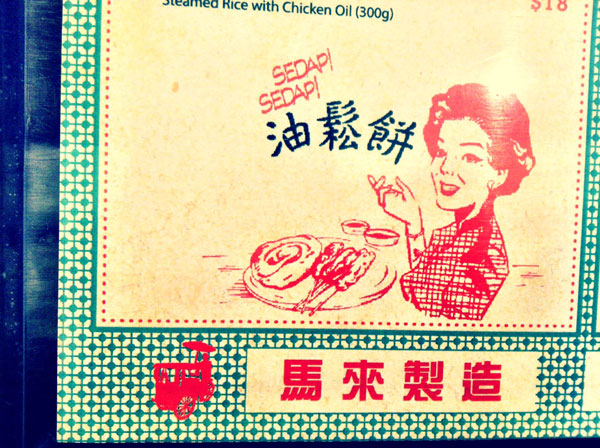 Verdict:   I would visit this restaurant again if it was more centrally located.  I can see something like this doing very well in high density areas like Causeway Bay.  The atmosphere was fun and quirky, and the food was excellent, although slightly pricier than the typical casual diner.  This is a stylised quick-serve restaurant that brings a lot of heart to the table.  I am definitely looking forward to seeing more of this brand around town!
Old Street Kobiteh
Shop G09, Popcorn Mall
Tseung Kwan O, Hong Kong
Sites We Adore