Impressions of Our Wedding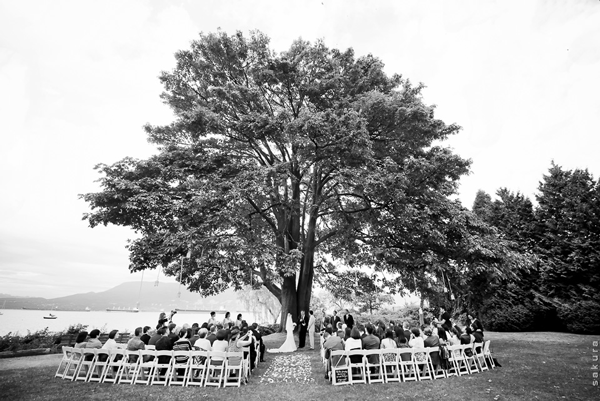 This year has been a whirlwind of fairytale weddings for us, as we said "I do" in three different countries, on three different continents.  Being part of an international couple means having family and friends all across the globe, and we wanted to include everyone in our celebrations.  Hence, we started our trio of weddings in my beautiful hometown of Vancouver.  It was very important for me to say "I do" for the first time in the city I hold most dear to my heart, and in the presence of my closest family and friends.  Vancouver in August is spectacular, and we wanted to celebrate the natural beauty of Canada with a beach-side wedding surrounded by lush greenery.  We pledged our vows under the solid canopy of an old oak tree, and feasted in a luxurious garden tent on the same property in beautiful Brock House.  It was an intimate, sincere and extremely personal ceremony, and we feel so blessed to have shared it with our small group of 80 guests.
The inspiration behind our Vancouver wedding revolves around the effortless elegance of Southern France, and I selected a breezy colour palette of rich gold, pale blue and light blush to highlight the magic of this part of the world.  We couldn't have done this (especially with planning from across the globe in Hong Kong) without the help of our dedicated Vancouver-based wedding planner Erin Bishop of Filosophi, who was truly a reassuring presence through some chaotic moments.  Our fabulous decorator, Cailyn Bays of Delovely Creative , translated our vision perfectly into reality, and our lovely (and very fun!) dynamic photographers Leslie and Mark of Sakura Photography were there to capture it all on film.
Below, are a few glimpses into our Big Day in Vancouver.  Following this wedding, I also had my fairy tale princess fantasy realised in our second wedding in a French chateau in Le Mans, and an auspicious Peking duck feast in Beijing.
Getting ready – earrings from Swarovski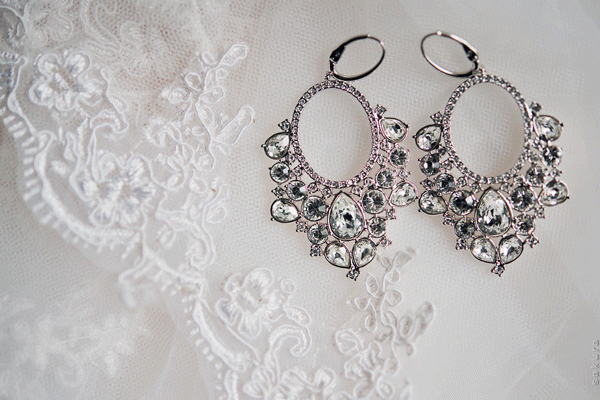 Personalised clothe hanger for my wedding dress.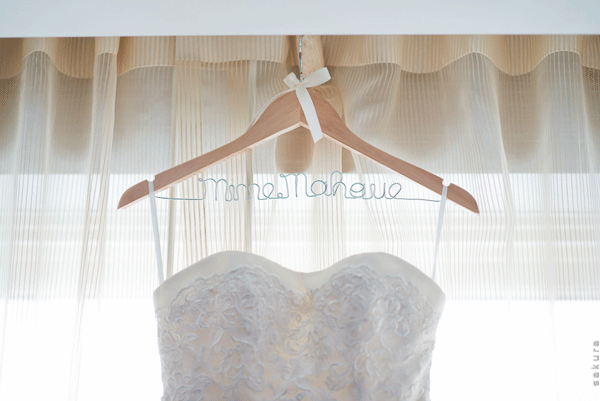 My wedding dress from Spanish design house, Pronovias.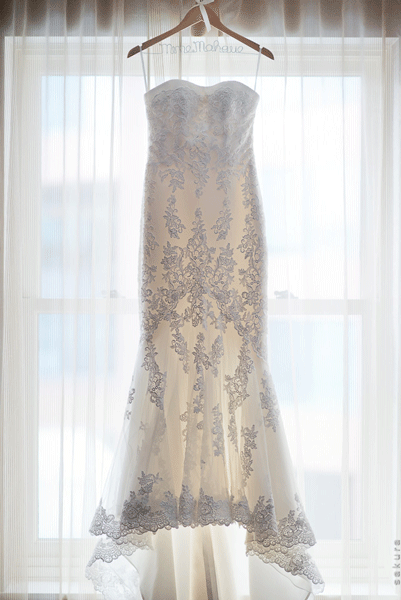 Bridesmaids gifts – delicate pearl bracelets from Love Coco.  The talented Caroline Cheung designed these pretty bracelets for us, and I especially love my little Eiffel Tower bracelet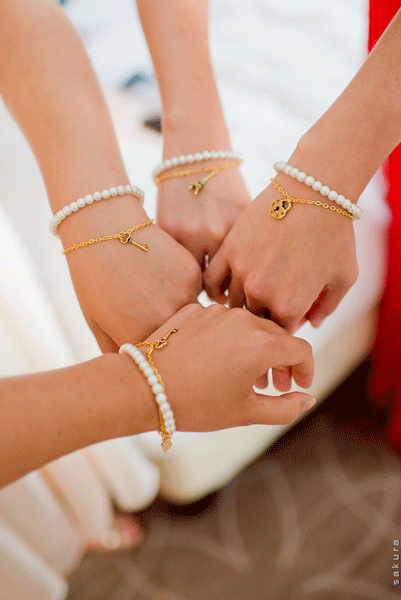 The boys got personalised Swiss Army knives, for when they need to open that bottle of wine but can't find a corkscrew!
Seeing my husband for the first time in my Chinese qipao.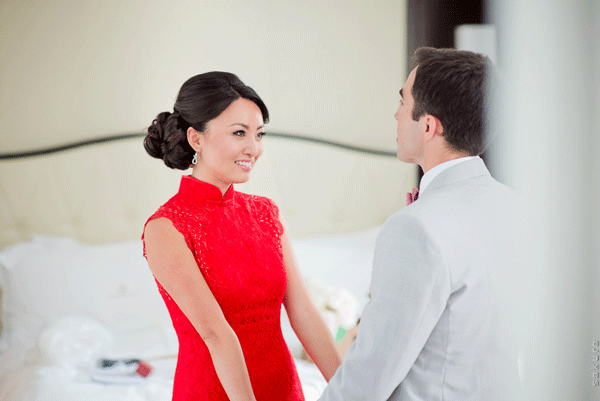 Chinese tea ceremony at Hotel Georgia.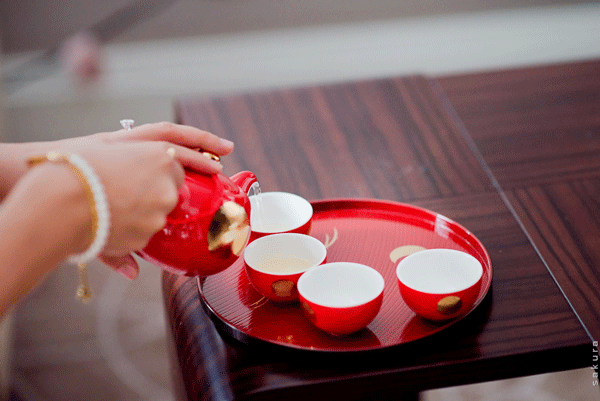 Garden signs pointing to our ceremony location.  We wanted to keep the theme light, fun and full of refined rustic charm.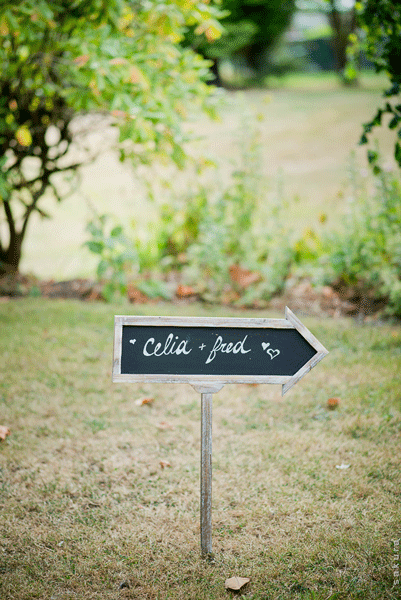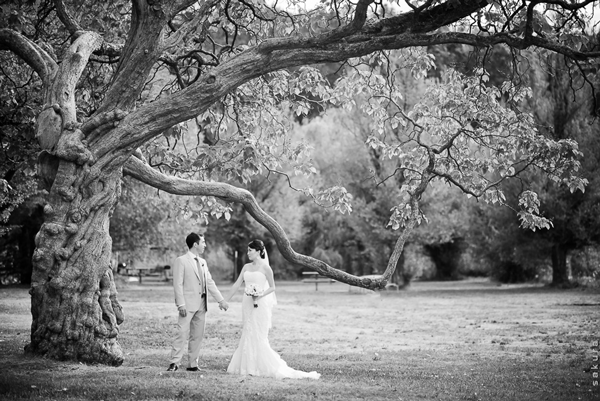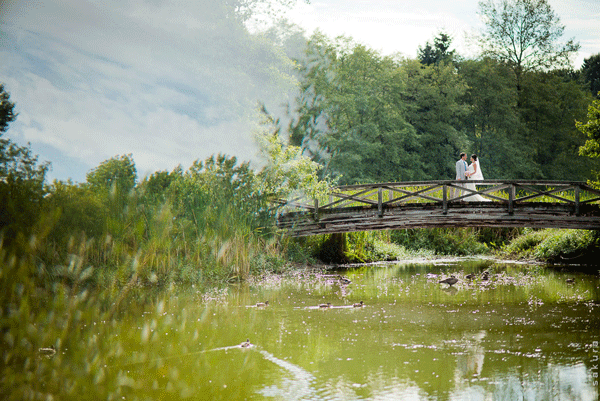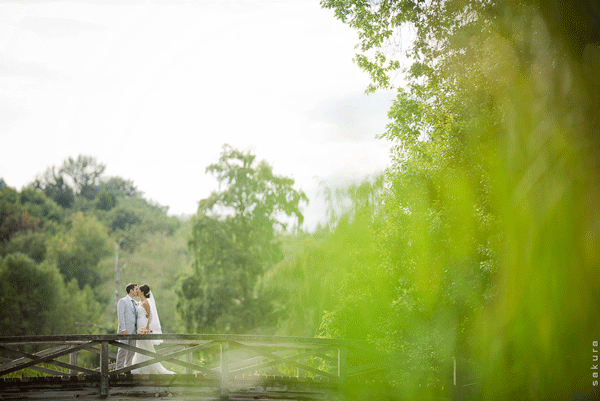 My bouquet of beautiful garden roses.  I wanted big, vibrant balls of flowers, and my favourite peonies were not in season.  But these garden roses more than made up for the peonies' absence.  Golden petals accented these blushing beauties and perfectly mirrored our theme palette.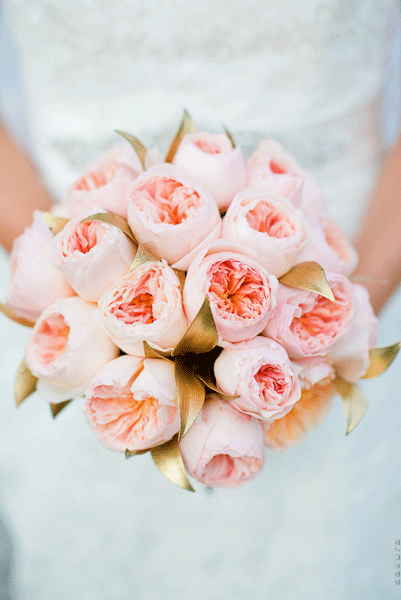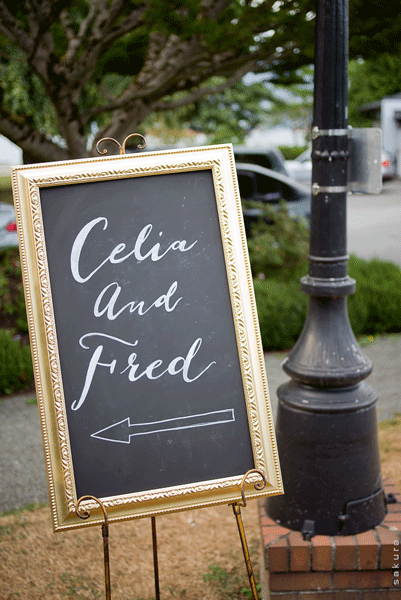 Our ceremony – under a big oak tree, surrounded by nature.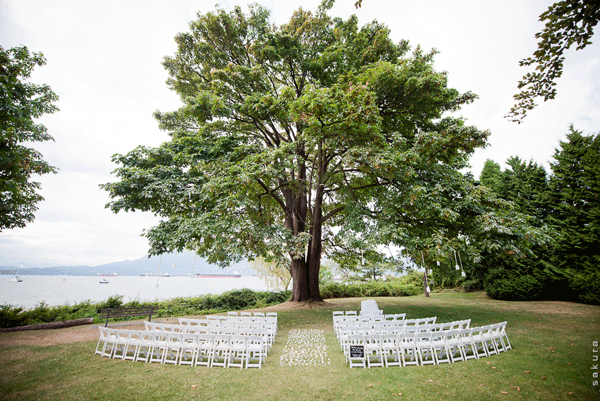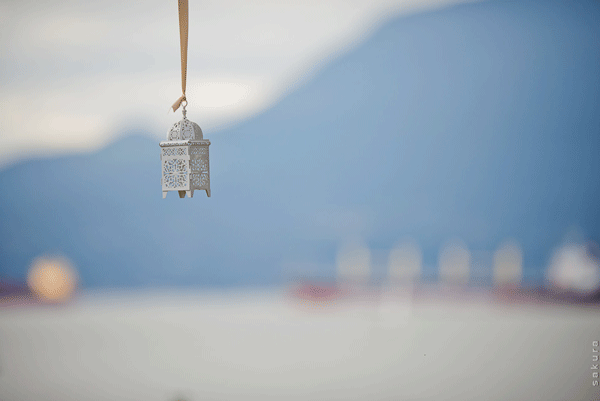 Seating chart and guest book – I printed out photos of our parents on their wedding days.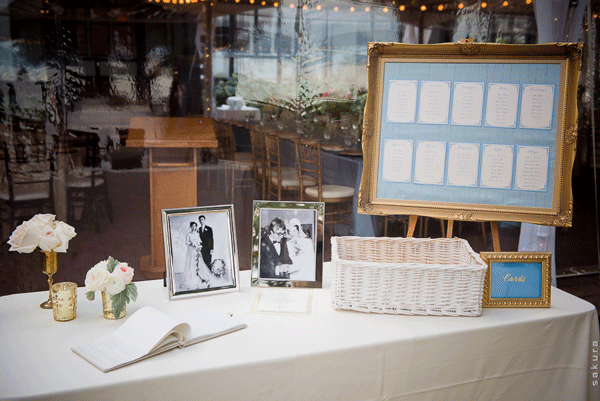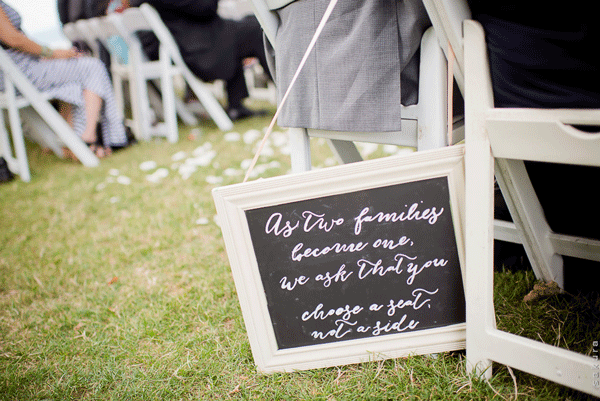 There's always an occasion for champagne!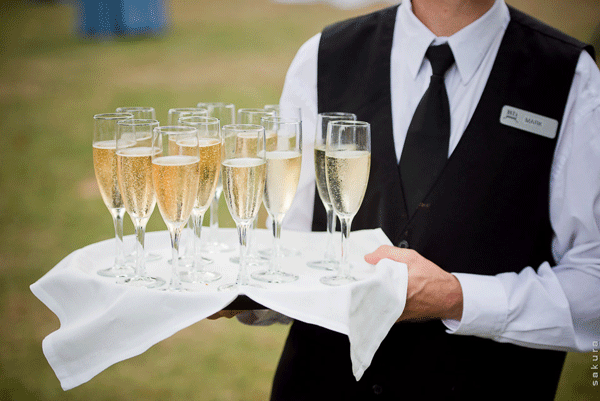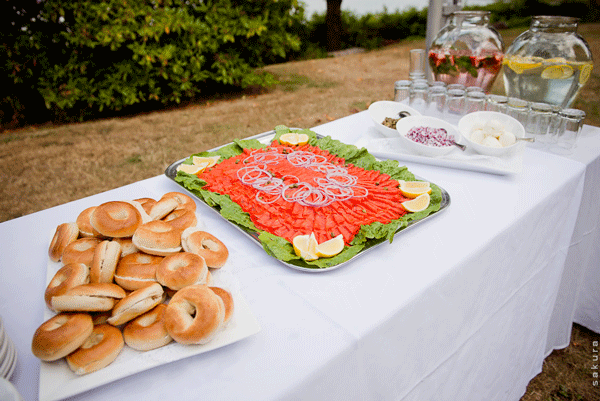 British Columbia smoked salmon.  I was so busy talking to our guests I barely had a chance to try any of the hors d'oeuvres during cocktails (it's so unusual for me not to be stuffing my face).  But I was told by friends that the salmon was the best they've ever had, from anywhere around the world!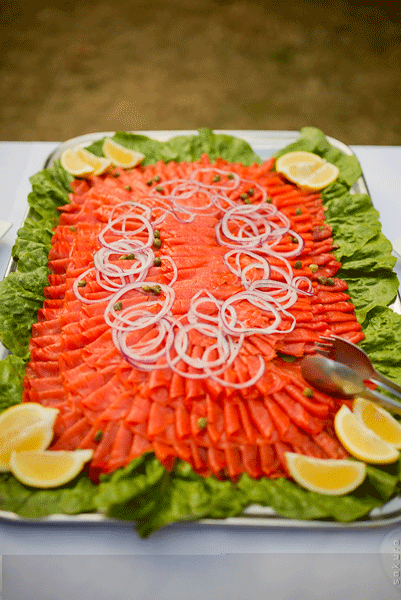 We selected 6 kinds of hors d'oeuvres for cocktail hour:  chicken & basil phyllo, mini crab cakes, risotto balls, scallop wrapped with bacon, mini caramelised onion and gruyere quiche, and tomato & goat cheese brushetta.  Our open bar featured heavily on French wines and champagne, with a few British Columbia and New Zealand labels mixed in.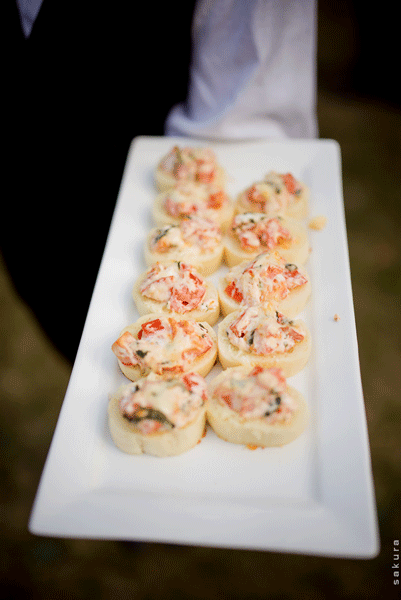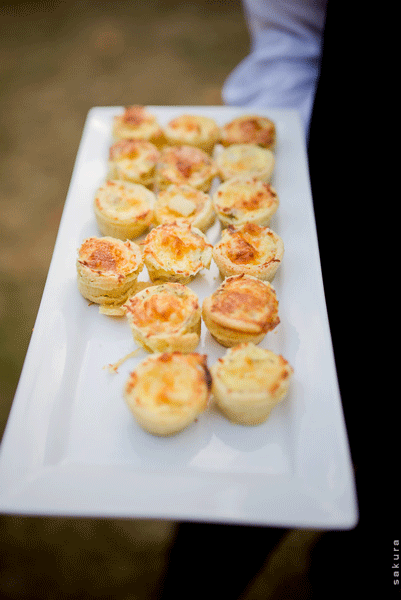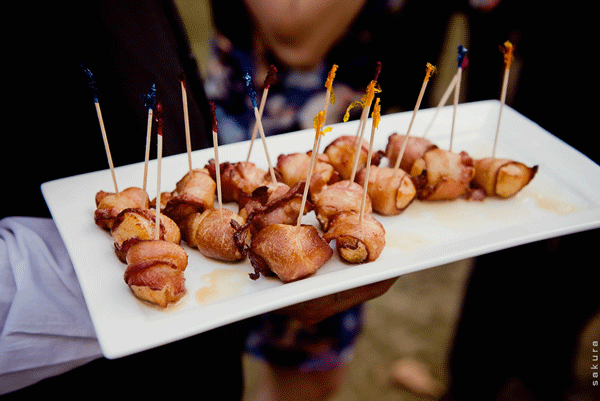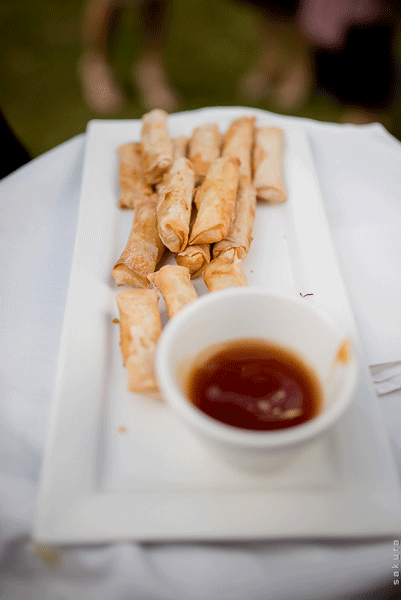 Our garden tent reception.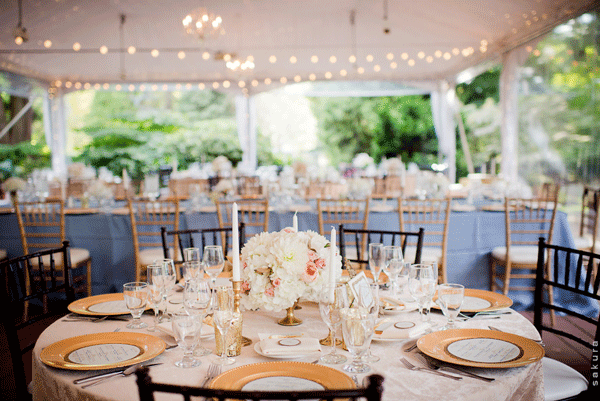 We situated the head table at the centre of the space, surrounded on both sides by circular guest tables.  The head table was covered in a blue damask cloth to reflect our colour theme.  Gold chaser plates added refinement to the table setting.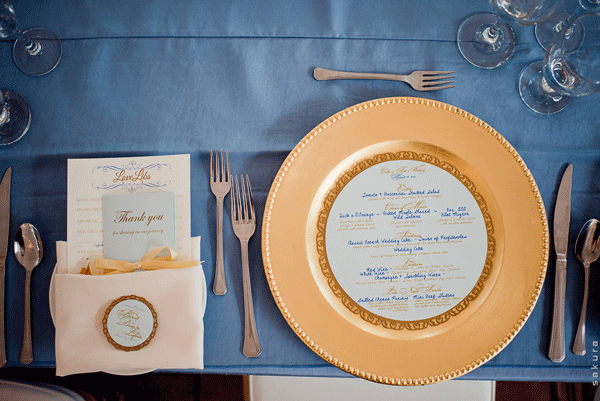 My good friend, Amari Yu, of Making Memories with Scrapbooking, made these fun "love libs" for guests to fill in at the tables.  She also created all the amazing stationary for our wedding.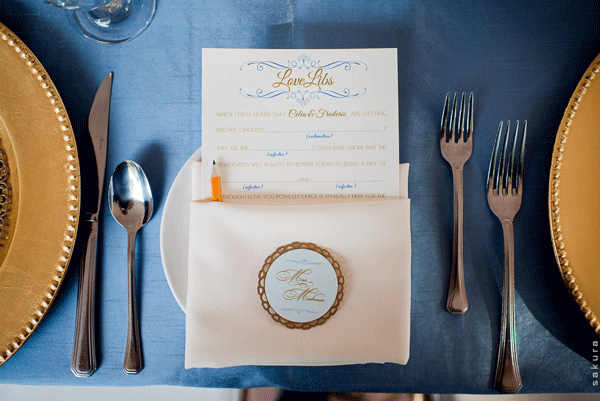 We named each table after a city we love.  Paris, was obviously, an easy choice for us.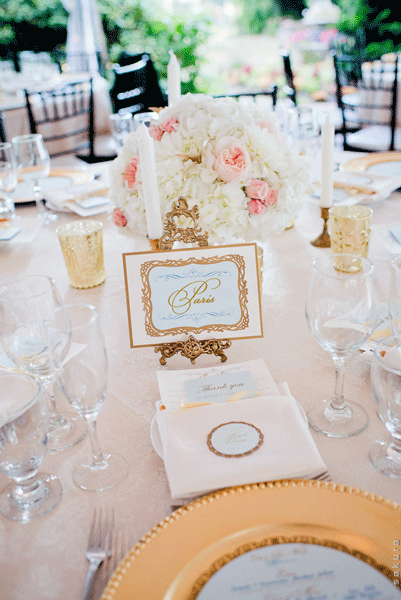 We used antique gold pieces as highlights.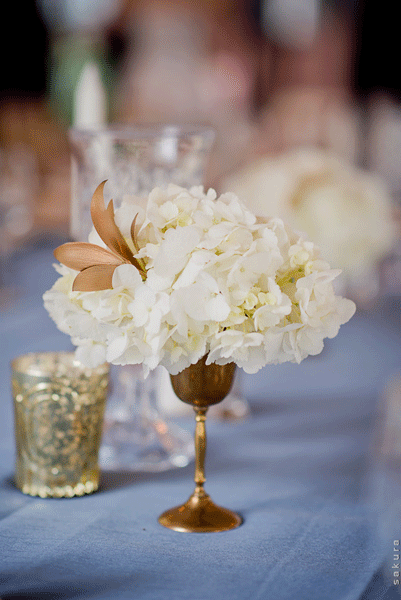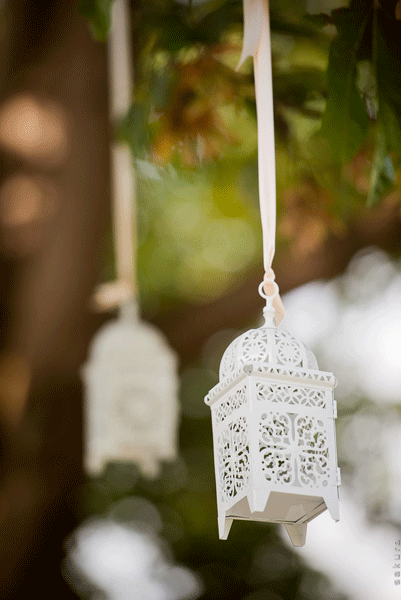 We are a couple that loves to travel together, and so we put together a personalised "LUXE" guide for guest favours.  The guide highlights 5 of our favourite destinations (Beijing, Tokyo, Bali, Paris and Napa) and has suggestions on where to stay, play and eat.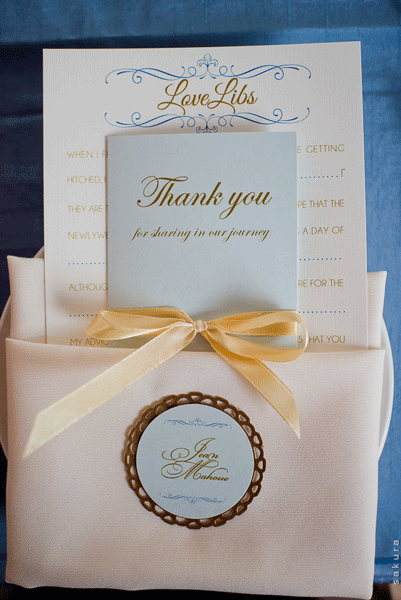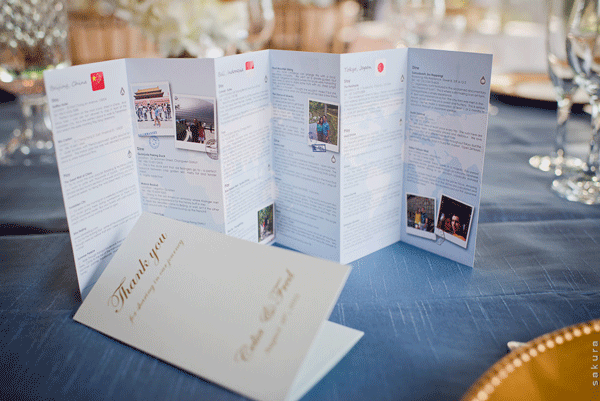 I wanted a breezy, yet blooming table arrangement, and Delovely Creatives did a wonderful job putting together these beautiful centrepieces of dahlia, roses and hydrangeas.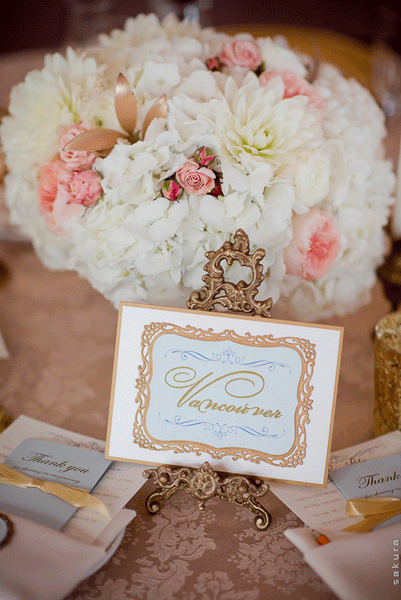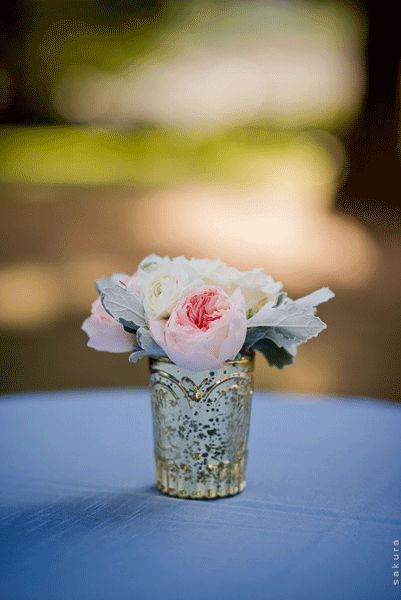 Our wedding cake was AMAZING.  We still get compliments on it from our guests!  I am not a fan of heavy, overly sweet cakes, and I absolutely hate fondant.  So I searched the city for the best Chinese baker, since they make the lightest, most delicious cakes in my opinion.  This cake had pillowy layers of light vanilla sponge, layered with ripe slices of succulent mango and fragrant strawberries.  The best part was the fluffy, smooth whipped cream icing – absolute perfection!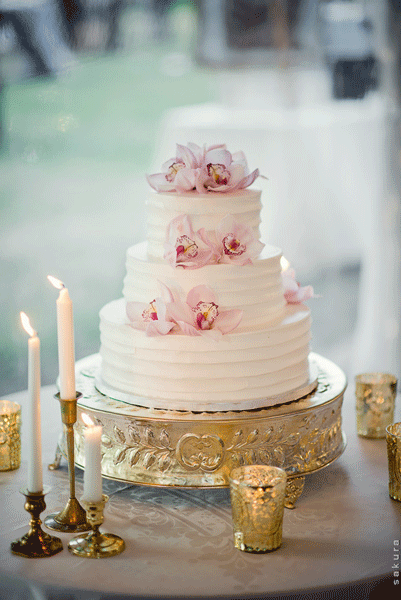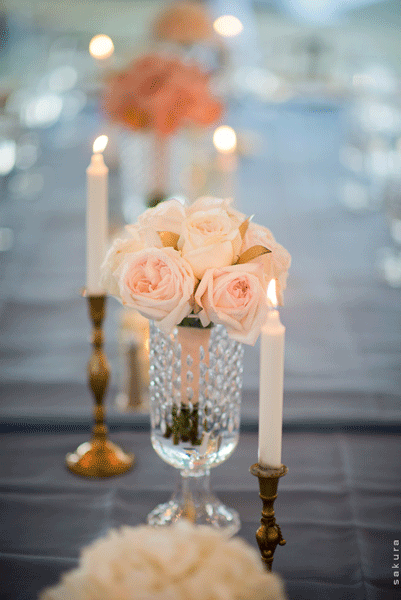 Of course, we had to name our head table "Hong Kong", since it's the city where we met and fell in love, and currently reside.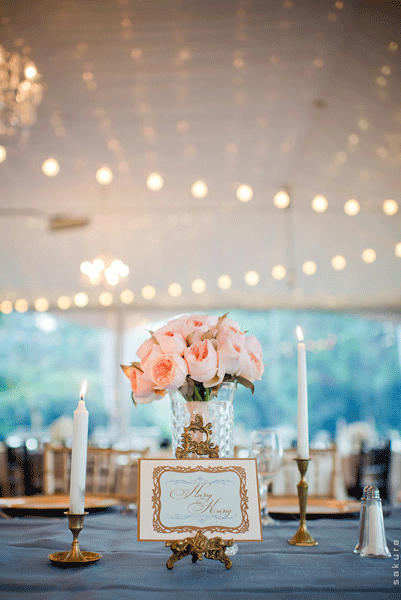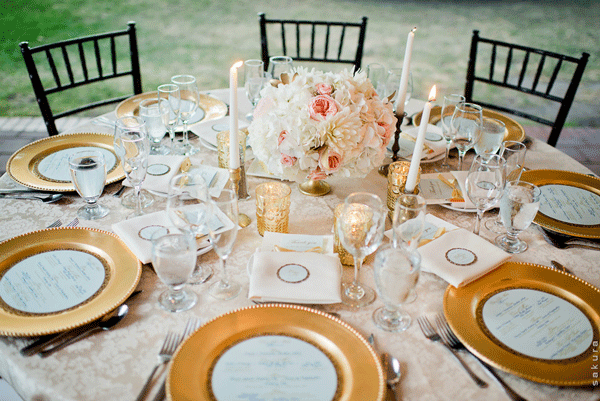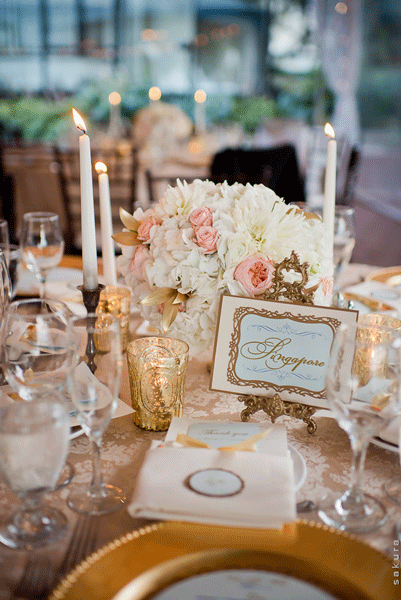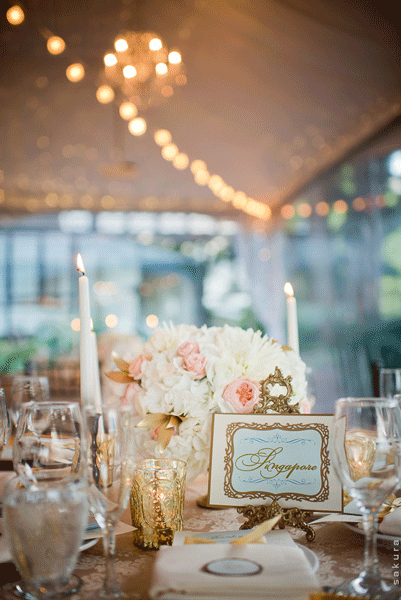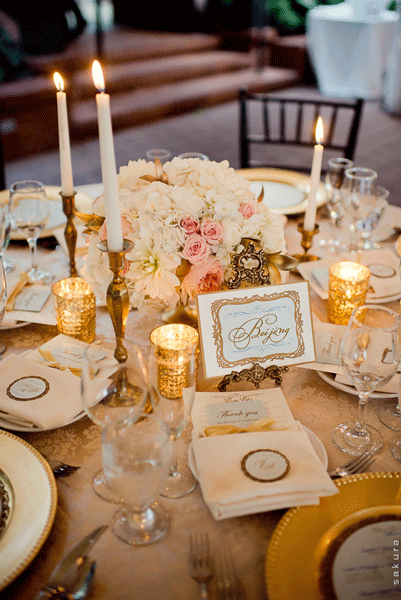 My husband honoured the French tradition of sabering a bottle of champagne to mark the beginning of our reception, and we kept the cork from that memorable bottle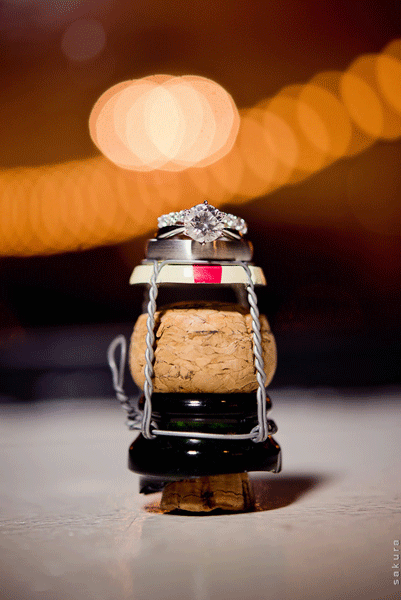 Our dinner plates.  We did a taste test a few days beforehand at Brock House, and made alterations to some of these dishes.
First up, tomato and bocconicini stacked salad, drizzled with aged sweet balsamic.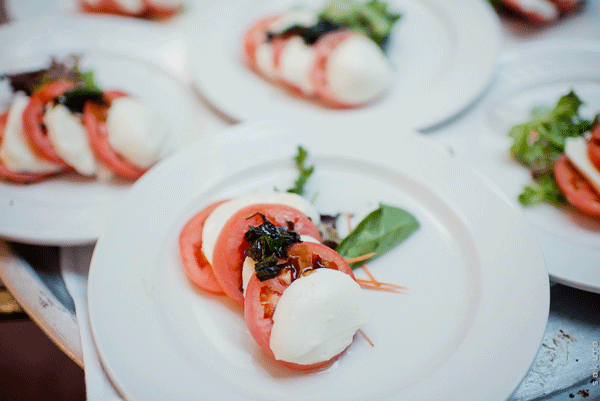 A choice of mains:  filet mignon, duck a l'orange, and baked maple glazed salmon.
The filet mignon was my favourite, and happily satisfied the meativore in me.  Brock House is known for their steaks, and I recommended most of my meat-lover guests to this option.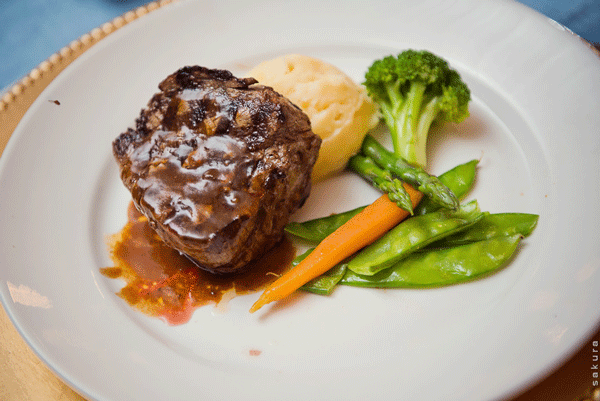 You can't be in Canada without having some of our outstanding salmon!  Especially when it's glazed with maple syrup – you can't get more Canadian than this!
Duck a l'orange – juicy robust meat perfectly paired with the sweet tartness of oranges.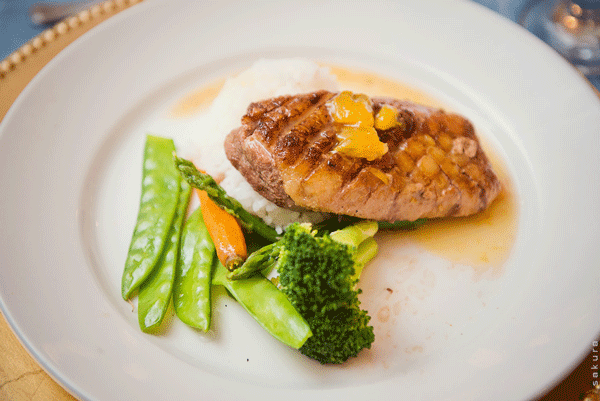 And of course, a cheese platter for the French!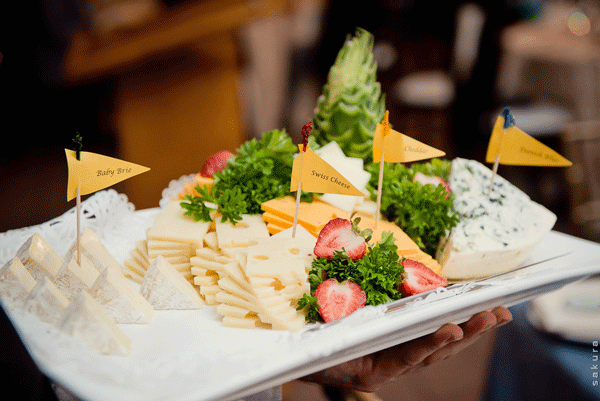 Our wedding cake.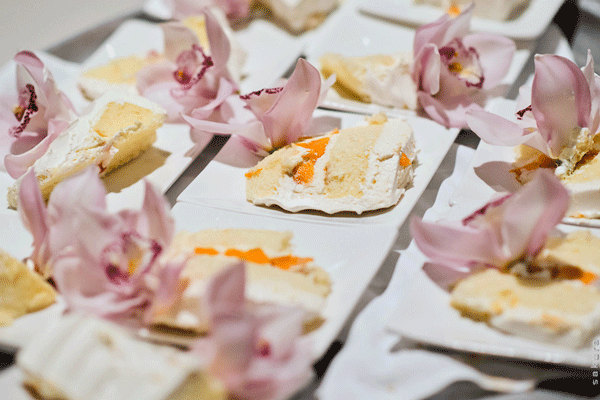 Since I married a Frenchman, we had to have the classic French wedding cake of profiteroles represented as well!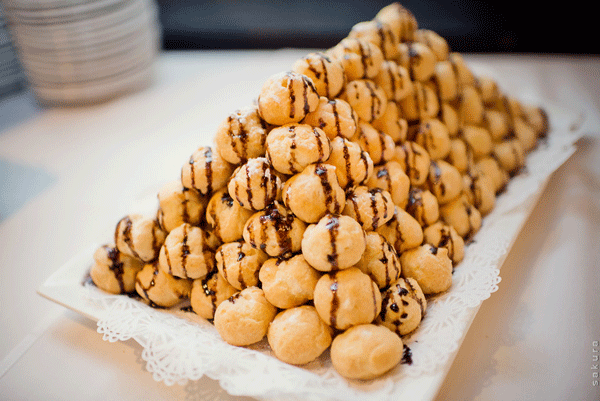 The rest of the night was filled with happy tears, plenty of laughter and candid moments.  We also had a late night snack bar of grilled cheese, mini beef sliders and crispy yam fries.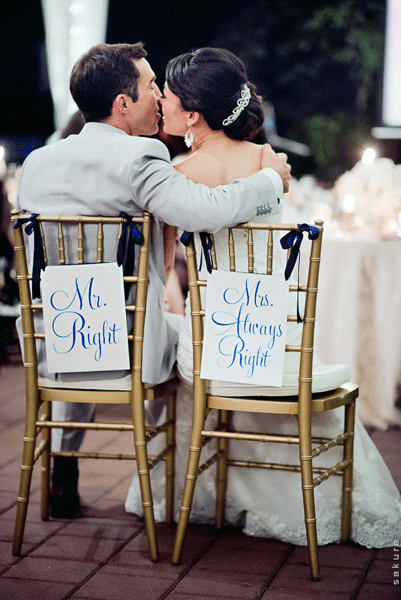 To be continued…
Sites We Adore