How to Make – Rustic Ratatouille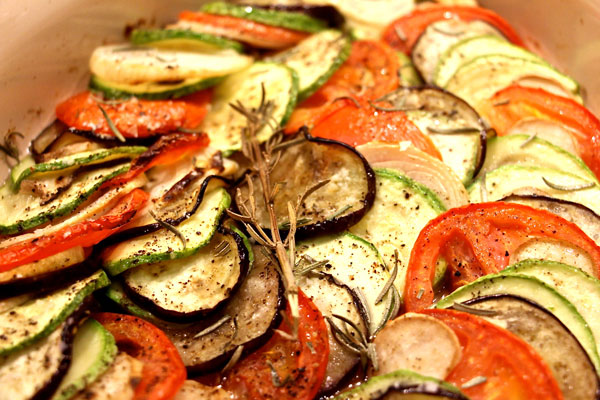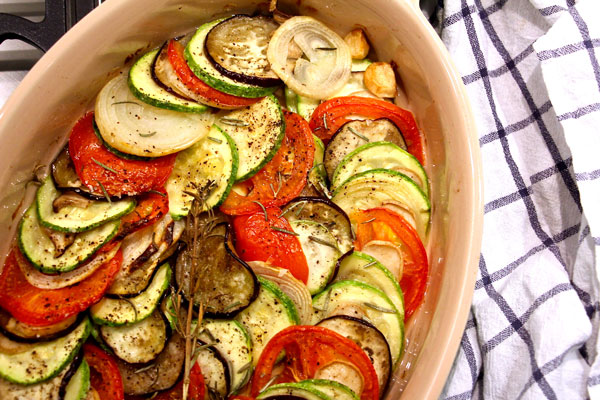 The Disney movie, Ratatouille, has always been one of my favourites.  I've, somehow, always identified with the whimsical story about a little mouse with the most fantastic noise, who dreams of cooking in a restaurant kitchen.  Ok, I admit, I love the energy and precision of the professional kitchen, but I'm also pragmatic, and know I wouldn't "cut the mustard" when it comes to being a professional chef.  I simply wouldn't have enough dedication to withstand the long hours and backbreaking work.
Hence, I like to play chef in my own little kitchen, and come up with simple, easy-to-follow recipes for all my lovely readers.  I've previously made a more "rustic" ratatouille, and you can find the recipe here.  However, this most recent ratatouille recipe is inspired by a) the movie b) a similar dish I had on my latest trip to Paris.  Tender, juicy slices of vegetables tossed in aromatic thyme are lined up and baked to perfection, with generous drizzles of aromatic olive oil – I hope you enjoy this recipe as much as we do!  It's a great lean Monday recipe to start the week, or a nutritious side to accompany a main protein dish.  It's also great as leftovers, and a delicious (and health-conscious!) way to transform an ordinary sandwich into gastronomic magnificence.
Bon Appetit!
What you'll need:
1 long eggplant
1 onion
2 tomatoes
1 zucchini
1 red pepper (optional)
1 sprig of rosemary
a bundle of fresh thyme
2 tbls of olive oil
salt & pepper (to taste)
Prep Time:  20 minutes
Cook Time:  30-40 minutes
Pre-heat oven to 200 degrees celsius.
Wash & cut the vegetables into 0.5cm thick slices. (I just LOVE all the vibrant colours of the vegetables – it's like a bouquet of healthy natural vitamins, the way nature intended)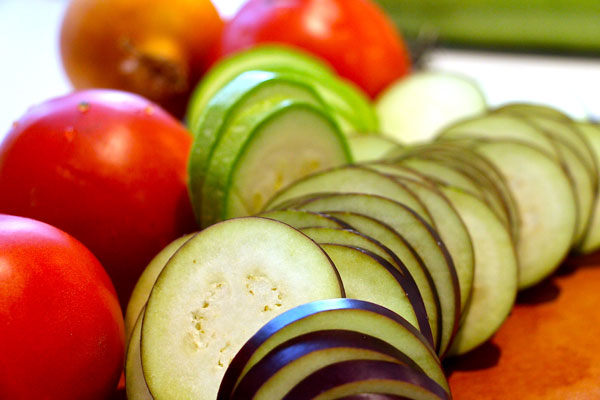 Toss the zucchinis and eggplants with some olive oil and season with salt and pepper.
Now, it's just a layering job!  Alternate between slices of the various vegetables, and arrange in an overlapping swirl of colours.  Drizzle with more olive oil over the entire arrangement and sprinkle with a bit more salt and pepper.  Perfume the batch with fresh herbs.
Slide into pre-heated oven, and bake for 30-40 minutes, until vegetables are tender and start to take on a golden sheen.
Bon Appetit!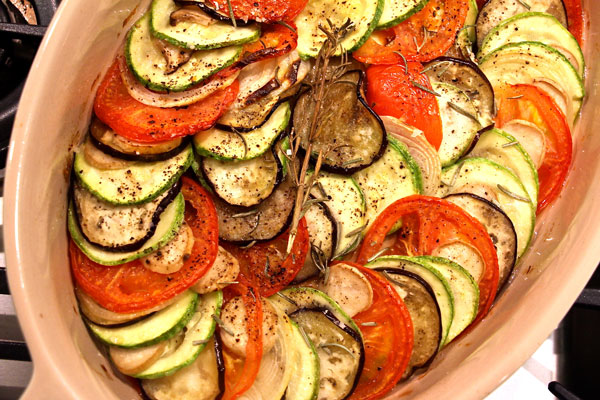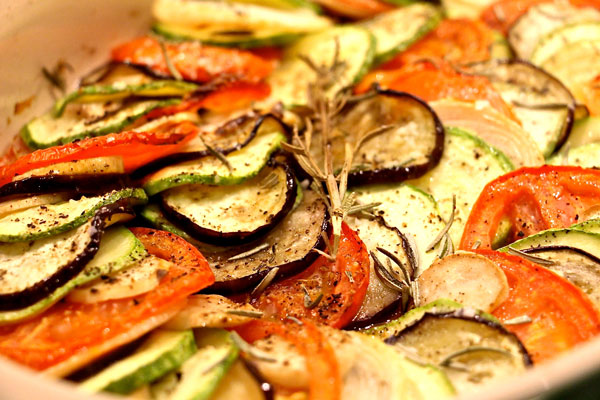 Sites We Adore