Afterthoughts – Feasting on Flower Crab & Trigger Fish at Ronin
How does one appeal to Hong Kong's very well-heeled and very well-travelled diners, who've pretty much "seen it all"?  Well, by the secret formula as follows:
1 part mysterious location – check
1 part phenomenal service – check
1 part quality ingredients & imaginative menu – check
Ronin, the second trendy endeavour by Canadian restaurant gurus Lindsay Jang and Matt Abergel, following the runaway success of "too cool for school" Yardbird, has been on my list of Must-trys for a while. After numerous attempts at unsuccessful bookings, I finally set my alarm at 12 o'clock midnight 7 days before my reservation date to wake up and tackle the online email-only booking system.   A little tingle of anticipation went through me as I clicked the send button on my online reservation request exactly 2 minutes past midnight, when the bookings for the following Saturday opened up, to guarantee a coveted spot at the Ronin table. Finally – a chance to see what the hype is about!
Getting the spot was one thing, finding the spot was another. Tucked into the neglected curve between Homeless' The Basement restaurant and BBQ joint 85South, Ronin sits quietly behind a muted gray, unmarked door like a mystical rabbit hole. Slide open the door, and a sleek bar of neutral wood, rimmed by buttery soft leather chairs, and encased in wall-to-wall shelves of whiskey is revealed.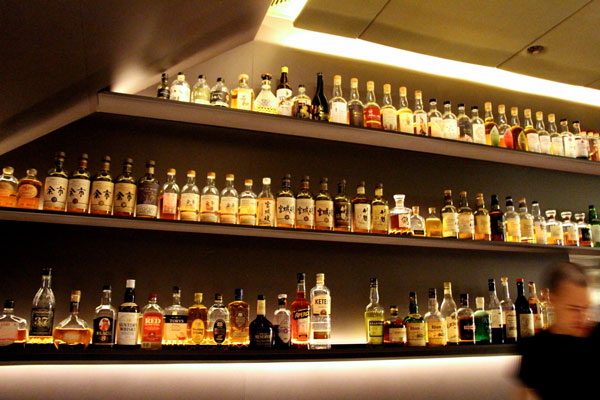 The sexy bar serves only Japanese whiskey, and Ronin probably boasts the largest of such collections in Hong Kong.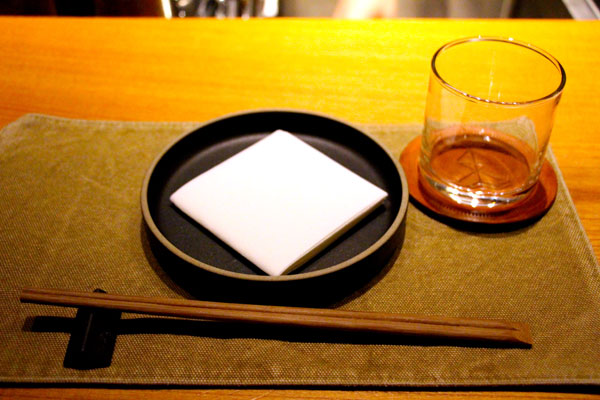 The luxurious amber libations are slowly poured over perfectly chiseled balls of ice, as these globes are the perfect compromise between maximised chilling and minimised melting, ensuring a perfectly cool yet undiluted drink.
We kicked off our little tete-a-tete dinner with highballs, a mixture of whiskey and various concoctions.  I adored my glass of yuzu-scented whiskey, which was both refreshing, and mighty strong.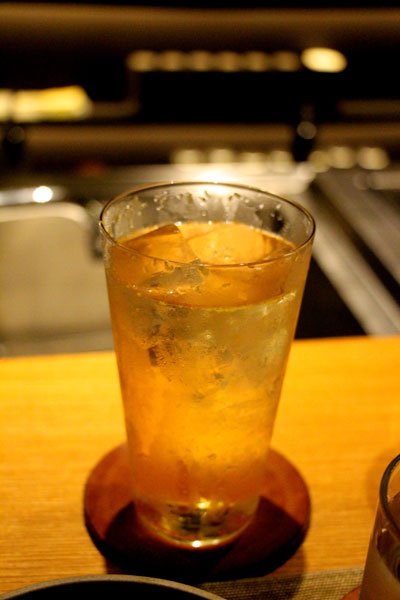 Complimentary charred morsels of juicy grapes accompanied our highballs.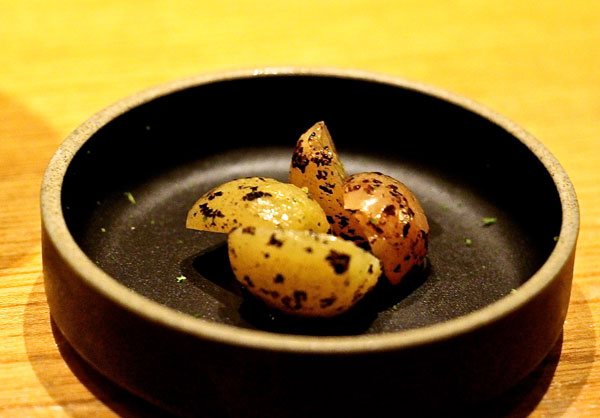 We are huge sashimi fanatics – in fact, we travel to Tokyo at least once a year just to have some quality fish, so it was no surprise that we decide to order sashimi despite Ronin's reputation as an izakaya.  The saba mackerel sashimi (left) came separated by slices of persimmon.  The sweet firmness of the fruit heightened the sweetness of the equally firm fish, although the Mister is rather a traditionalist and preferred straight-up sashimi.  The shima aji (right) was clean and refreshing, and rivalled in quality to some of the ones I've tasted in the finest Tokyo sushiyakis.  Shima aji is one of my favourite types of fish for sashimi, due to its silky sweet flesh.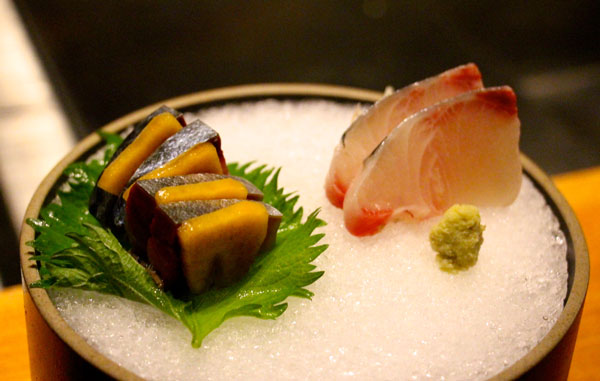 Next, we were greeted by an upside-down crab.  The flower crab crowned with golden uni was deliciously beautiful, and made indulging in crab meat effortlessly enjoyable.  I love it when someone else has done all the work for me, teasing out the sweet morsels of crab meat.  The creamy sweet uni was a perfect compliment to the delicate crab meat, and almost tasted like crab fat when eaten together, although much more effervescent.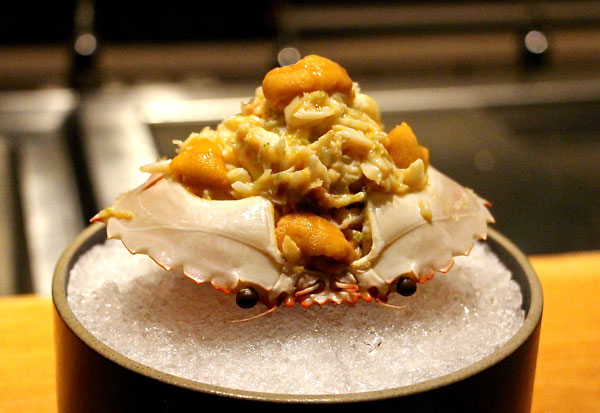 On the recommendation of the friendly, knowledgable staff, we kept an open-mind and ordered the geoduck sashimi salad with toasted rice.  I've had geoduck on numerous occasions (after all, I am from Vancouver, and these weird-looking bivalves are a local staple) but I've never acquired a love for it.  I've had geoduck sashimi-style, deep fried, sautéed and in soups – it's just not something I find excitingly palatable.  The  geoduck sashimi at Ronin had all the qualities of what good geoduck should be – slightly crunching, sweet, with a bit of a chew.  I did enjoy it, but mostly because of the accompanying sauce and salad leaves.  I was especially fond of the crunchy, toasted and intoxicatingly fragrant rice.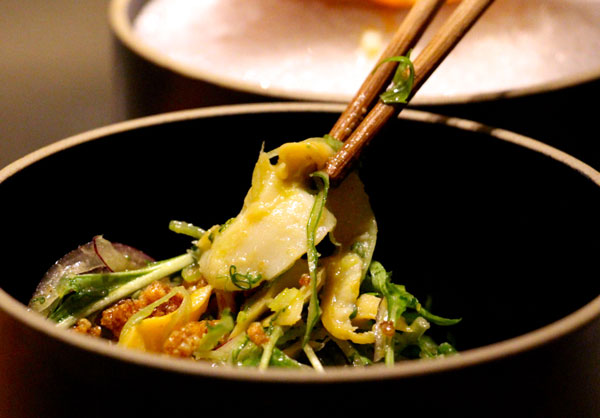 We are not big on whiskey, although having a glass of the golden elixir along with a good Cuban at Peter, the bar perched on top of the Peninsula Hotel in Tokyo, has become our ritual upon ever visit to the city.  Hence, we decided to switch to the Yardbird sake to accompany the rest of our meal.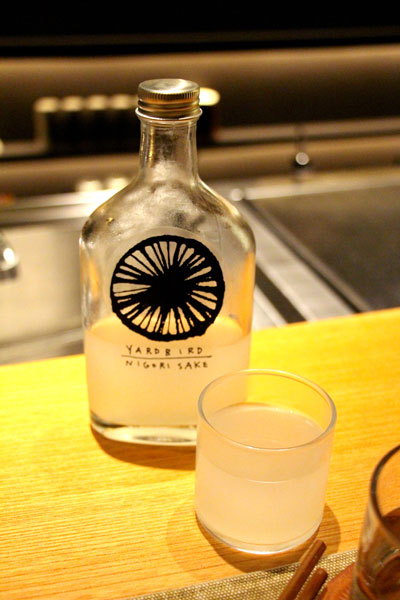 Horse mackerel with ume and shiso.   This dish was one of the highlights of our meal.  The mackerel was so tender and smooth, it melted in the mouth, and the shiso took on a cumin-like quality when paired with the lightly grilled fish.  The whole composition reminded me, somehow, of the smokey earthiness of lamb kebabs.  Absolutely stellar!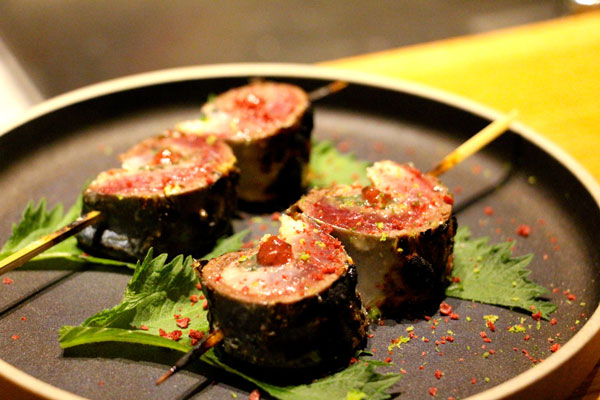 When I saw "triggerfish" on the menu, I knew I had to order it, as a revenge.  Yes, triggerfish and I are not friends!  During a diving trip to Palau, I had an underwater episode with a ginormous triggerfish more than half my size.  This fish was hanging out beneath a giant reef fan, and I decided to swim a little closer to check him out.  What happened next was that the triggerfish almost bit off my finger (they have a mighty parrot-like beak), if not for the quick action of our dive master, who blocked the attack.  So yes, since that day, I've always held a bit of contempt for these little beasts.
The triggerfish with honey, shichimi and crunchy chestnuts made revenge taste so sweet.  The sticky, honeyed white fish was succulent, and the pop of the shichimi spice added dimension to the taste profile.  The crunchy chestnut chips were highly addictive.  Revenge is best served cold, but in this case, hot!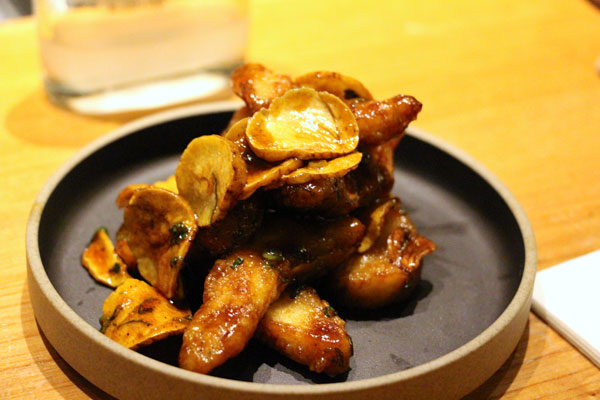 Taking on another suggestion from the staff, we decided on the fried quail with sansho and orange.  I usually don't like eating small game birds, because I'm lazy and there's just too many little bones.  But the quail was broken down into manageable pieces, and extremely tender, making it no hardship to wolf down the juicy meat.  The skin was lightly battered and relatively crisp, although nowhere near the proximity of "crunchy".  The sansho spice gave the fried meat a tangy finish, and the orange zest helped cut through the greasiness.  The Mister was a bit apprehensive about eating the middle parts, which were on the rare side.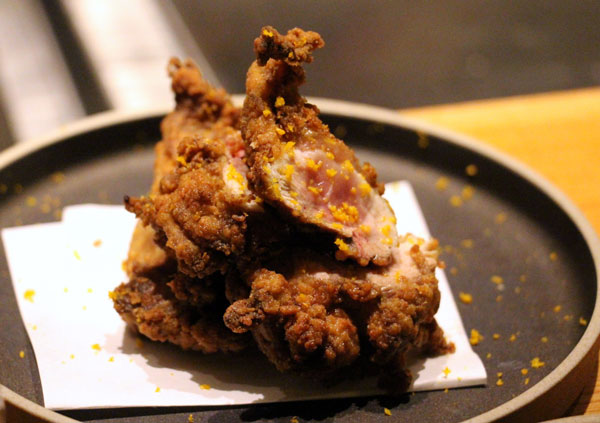 It was a cold winter's day (translation: I had to wear my Uggs), so we settled on some comfort food.   The gooey, creamy mentaiko udon, garnished with fine slivers of shiso, was like a warm hug on a cold day.  I first tasted this dish in Zuma, and fell in love with the briny creaminess of the mentaiko.  It's the perfect sauce to envelope udon in.  I make this dish regularly at home, although it's sometimes hard to find good mentaiko in stores.  Ronin's rendition was perfect, and I almost licked the bowl clean.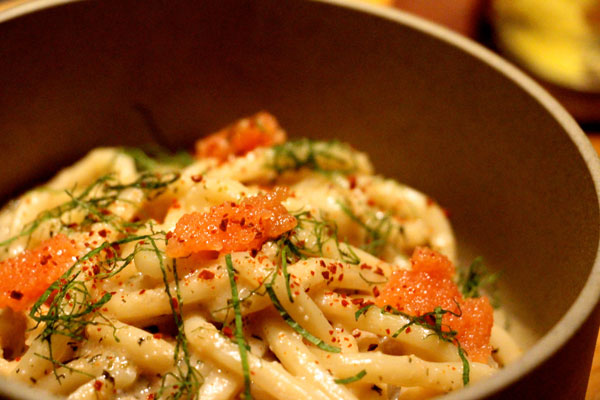 There is no dessert menu in Ronin – it's just straight up alky all the way!  So we cleansed our palate with sips of strong coffee-infused whiskey.  The deep, musky aromas of the coffee blended beautifully with the warmth of the whiskey.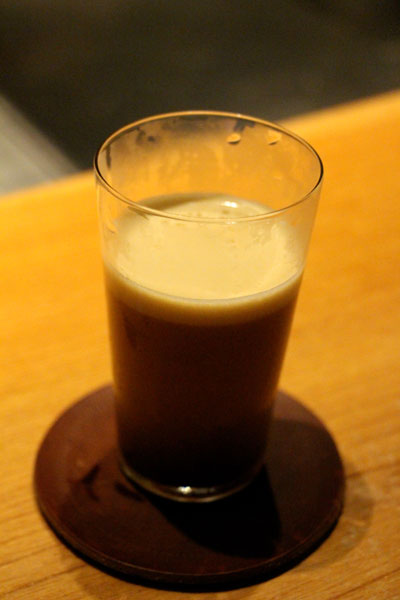 Verdict:  Need I say more?  Dining at Ronin is definitely a treat.  The prices here are not cheap – around HKD$2000 for two people, but it is my belief that quality seafood should never be a bargain.  The service here is incredible, with highly trained, friendly servers with deep knowledge of the entire menu.  Ronin encapsulates what I love about Canadian dining – sophisticated yet incredibly approachable, top ingredients and phenomenal service.  If not for the online booking system, I would make Ronin a regular staple.  I guess I'll just have to be organised enough to book my next visit soon!
Ronin
8 On Wo Lane,
Sheung Wan, Hong Kong Island
Tel:  2547 5263 (but don't bother calling) 
Email instead:  seats@roninhk.com
Sites We Adore