Press Preview – Celebrity Chefs & Delicious Bites at SAVOUR Hong Kong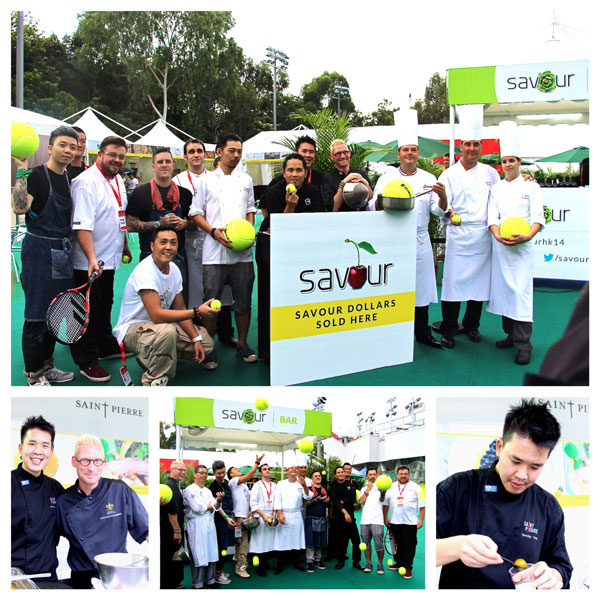 Hong Kong Foodies rejoice!  After 3 years of highly successful, sold-out events in Singapore, one of Asia's premier food festivals, SAVOUR, is coming to town.  I first heard about SAVOUR from my chef friend, Tim Ong, who has been involved with the Singaporean food festival ever since its inception.  So, when I heard that they were coming to Hong Kong in conjunction with the HK Tennis Open, I knew I had to score a meeting with the organisers, and see how our Foodie Magazine can get involved in helping to promote the event!  I'm so happy to say that our Foodie Magazine is now the media partner for SAVOUR Hong Kong - part of our goal in bringing the latest, most delicious food news to our readers.
SAVOUR Hong Kong launched its premier gastronomic fair in Hong Kong this September 9th to 14th, with a panel of 12 delicious restaurants from home and abroad to entice diners.  Our Foodie Magazine raffled off 100 free tickets to the event, and the giveaway was swiped clean in less than 17 minutes online!
The smorgasbord of restaurants offering small bites at wallet-friendly prices include:
Bistro du Vin, Blue Butcher, Bo Innovation – 3 Michelin, Brickhouse, Chicha, Le Port Parfume, MIC Kitchen – 1 Michelin, St. George at Hullett House, Souvla, Nicholini's at Conrad, Paul Bocuse's L'Auberge du Pont de Collonges (from France) – 3 Michelin, Saint Pierre (from Singapore)
At least 40 signature dishes will be showcased from these highly acclaimed restaurants, with prices starting at only HK$40!
Highlights include:
(Below)  Wagyu & Bone Marrow Sliders by Blue Butcher ($80) – the gooey, velvety bone marrow really stole the show!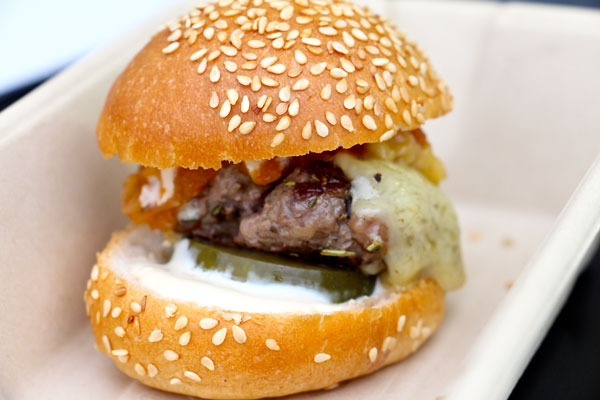 Ceviche by Chicha ($60) – we didn't get to try this, since sister restaurant Souvla is starting the event, with Chicha's menu coming in during the weekend.  I did enjoy Chef Michael's simple, yet satisfying, olive / homemade tzatziki flatbread combo.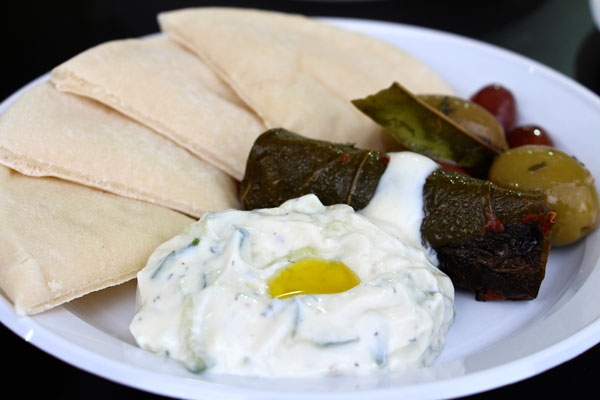 (Below) Xiao Long Baos by Bo Innovation ($80 for 2) – these were unique, but I wouldn't say mind-blowingly good.  There was plenty of porky flavours, but I miss the texture and soupiness from a regular xiao long bao.  I would opt for an original xiao long bao any day over these fancy "molecular gastro" hybrids.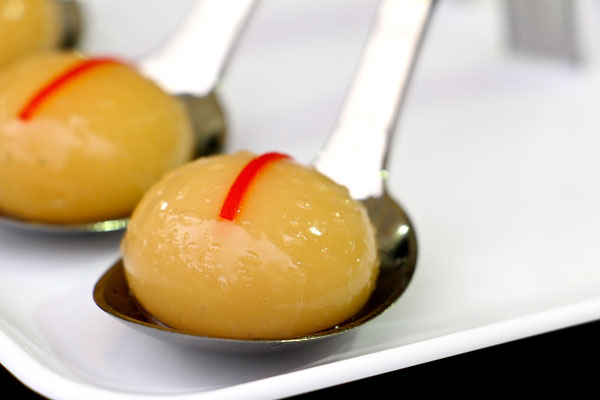 (Below) Saffron Tagliatelle by Nicholini's ($100) – this was a thing of beauty, both visually stimulating and palate pleasing.  The fresh egg pasta held up the lobster tomato sauce, brimming with umami goodness.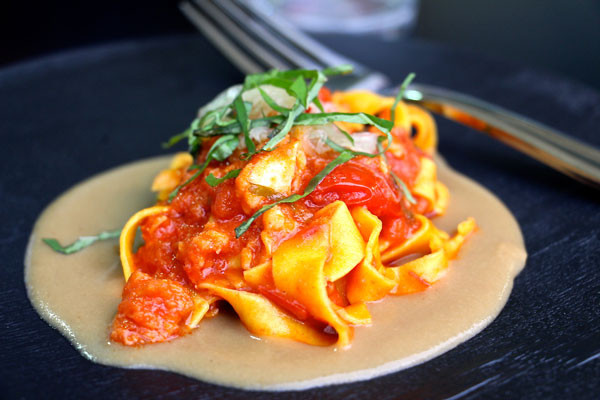 Another offer from Nicholini's at the Conrad - proscuitto over melons, dusted in truffled bread crumbs.  With classic combos, you don't have to mess around too much, and Nicholini's did a great job by just slightly embellishing with crunchy bread crumbs.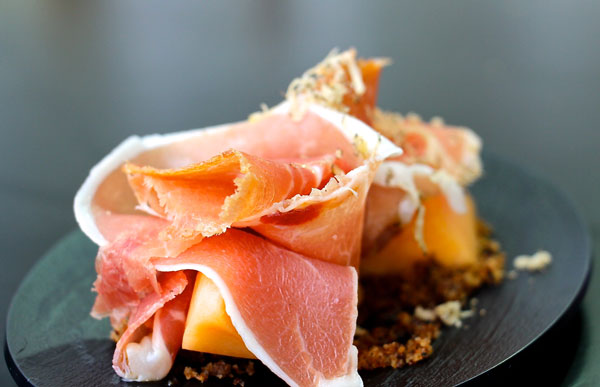 (Below) Apple Tiramisu by L'Auberge du Pont de Collonges – look, this was good, but I would have expected a lot more from a 3-Michelin name, especially since they came all the way from France to showcase their brand.  I would have excepted at least an additional savoury dish, than just the apple "tiramisu", which tasted like an average apple crumble at best.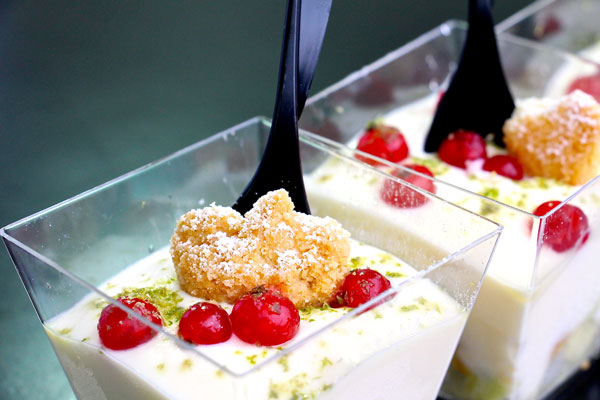 Clams by Le Port Parfume ($80)
We didn't get the clams during the press preview, but we did get these golden, fluffy madeleines from Le Port Parfume – one of my favourite casual French bistros in Hong Kong.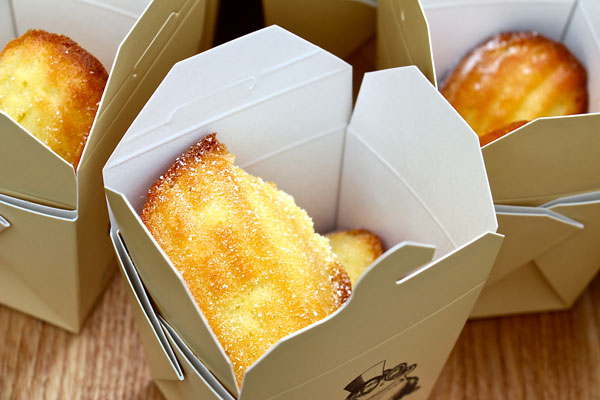 BBQ Brisket Tacos by Brickhouse ($40) – heck yes!   The bad boys of Maximal Concept hit the spot with this crowd pleaser.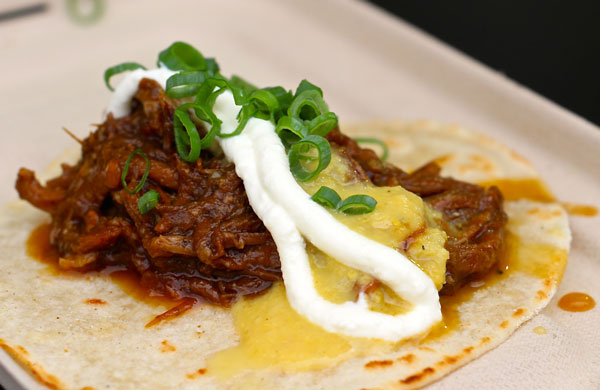 Lobster by St. George ($100) – nope, didn't get any lobsters at the press preview (boohoo!) but we did sample their banana banoffee dessert.  I have no sweet tooth, but this one was surprisingly light, and I would definitely pick this choice over the apple tiramisu at L'Auberge du Pont de Collonges.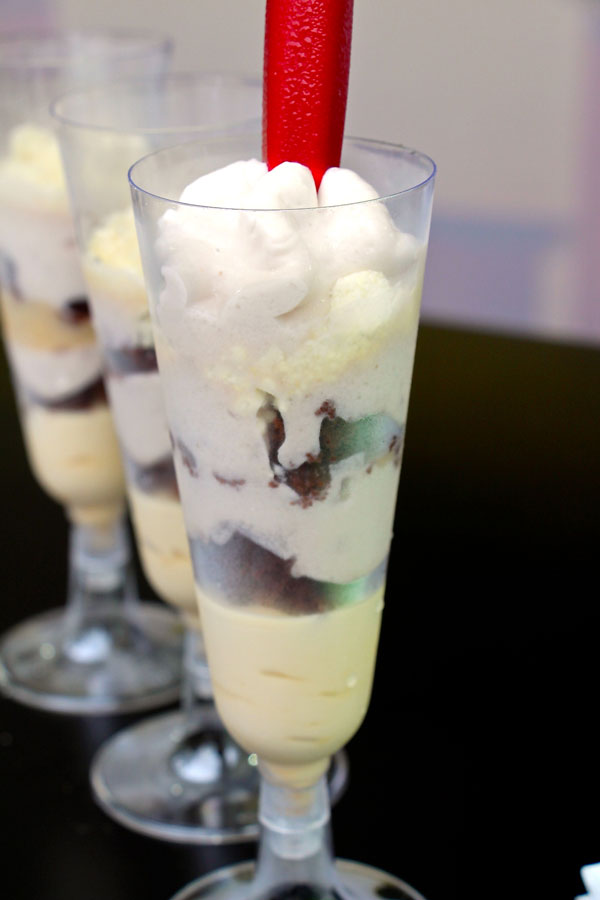 I don't like playing favourites, but during our press tastings yesterday, the dish that captured my heart has got to be the slow-cooked egg yolk from SG-based Saint Pierre by Chef Emmanuel Stroobant.  With almost a gel-like consistency, soaked in sweet soy and mirin, then nestled in a hollandaise and champagne foam and topped with a big dollop of caviar, this small bite packs in plenty of flavour and textures.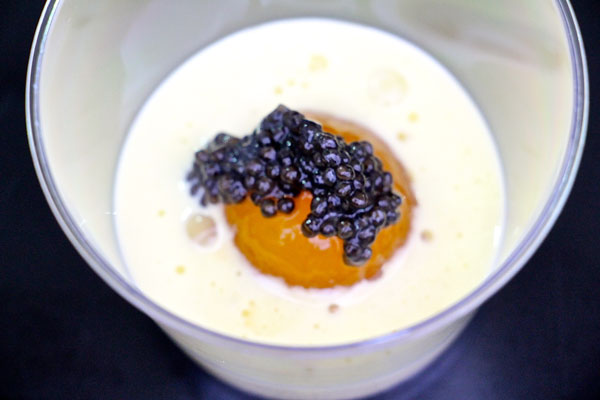 Where there is food, there must be wine.  Watson's Wine will be hosting a variety of wine tasting sessions at SAVOUR, so get your tickets at the door!  To all our lucky 100 Foodie members who swiped up our free tickets giveaway in less than 17 minutes – happy feasting!
Entrance Fee:  HK$150 (Including $100 worth of SAVOUR dollars for purchasing food and drinks onsite).  Free entry to all those holding a Hong Kong Tennis Open ticket.
Venue:  Victoria Park Tennis Stadium Causeway Road, CWB
Opening Hours:  Sep 9 – 12noon – 4pm, 5pm-10pm, Sep 10-11 – 5pm – 10pm, Sep 12 – 2pm – 4pm, 5pm – 10pm, Sep 13 – 11:30am – 4pm, 5pm-10pm, Sep 14 – 11:30am – 4pm, 5pm – 9pm
Sites We Adore