Restaurant Review – Omakase at Michelin-3 Star Sushi Shikon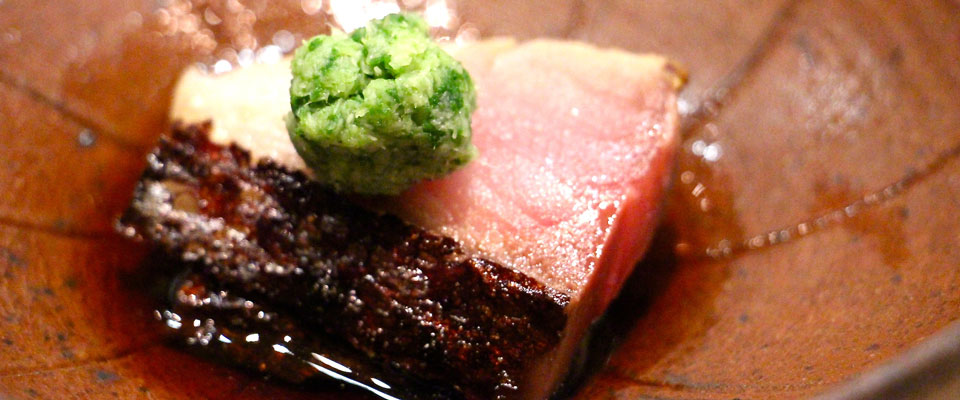 My initiation to sushi happened during a school project in Grade 6, when we were asked to choose a country and write a menu detailing the local cuisine. I, randomly, chose Japan, and then embarked on my first sushi journey with my parents at a local Japanese restaurant in Vancouver. It was a rather comical experience, as we could barely understand all the exotic-sounding names on the menu, and the meal resulted in a hotchpotch of dishes ordered via our jumble of incoherent translations and sign language. Since then, my knowledge of the Japanese culinary world has (thankfully) expanded beyond the California rolls and salmon skin rolls of Americana sushi, and graduated to refined omakase feasts at some of the most revered establishments in the Land of the Rising Sun. I've had some unforgettable experiences in Tokyo and Kyoto, dining at restaurants that have stood the test of time for hundreds of years, built on knowledge passed down from chefs over generations within the same family.
So, when I heard the illuminating reviews from friends about Sushi Shikon, I knew I had to tick this one off my list, especially as it's in home territory on our little island of Hong Kong. Sushi Shikon, originally named Sushi Yoshitake after its main branch in Tokyo's Ginza district and rebranded to its present namesake in 2013, is set in the unassuming Mercer Hotel in bustling Sheung Wan. The tiny 8 seater restaurant is awash in natural pale wood tones, and is dominated by a massive sushi counter made from one solid piece of beautiful wood. Head Chef Kakinuma, who was the former sous chef at the Tokyo branch, oversees the Hong Kong restaurant. Having worked in Atlanta, Georgia and New York for several years, Chef Kaki gives non-Japanese speakers something often missed at other Japanese restaurants – the opportunity to converse in depth about the ingredients and menu as he is fluent in English.
As we sat down for our very exclusive tasting, we were introduced to the various distinctions of traditional Edomae sushi. The live seafood are flown in twice daily from Tokyo's famous Tsukiji market. Even the water, coal and gas used in the restaurant are imported from Japan, in order to recreate an accurate experience from the original restaurant.
Fermentation is at the heart of Edomae sushi, and is termed "hakko" in Japanese cookery. The process dates back to the Nara Period (710-784), and is an ingenious way of preserving fresh, raw seafood. Bacteria is key to fermentation, and the process has been perfected over centuries through trial and error. Some varieties, mainly larger fish such as yellow tail and Spanish mackerel, can be aged for longer periods (sometimes up to a month!) because of the amount of fish oil they contain, while smaller fish, and in particular, delicate white-fleshed fish, are better suited for shorter aging periods spanning a few days. The result is fish that still possess the delicate texture of raw produce, but has plenty of umami depth. The fish are brought up to room temperature before serving.
Our meal commenced with a slightly bruleed bowl of egg custard topped with shirako (cod milt), dusted in yuzu zest. I've had shirako on several occasions, either cooked or raw, and I must say I'm not a fan. Perhaps the thought that it is, in fact, the sperm sac of a fish, also sways my opinion.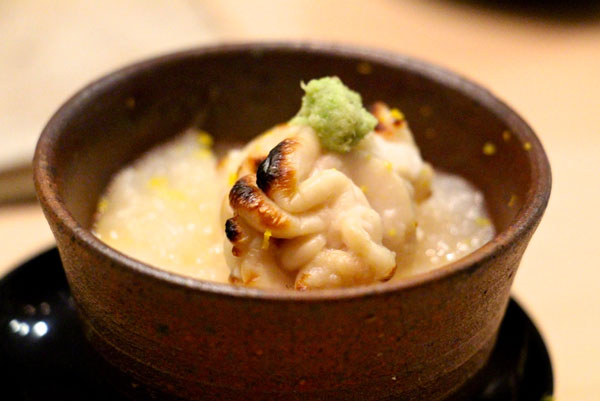 Next, came the tako, or octopus, which has been tediously massaged with salt for one hour to tenderise the meat before being slow braised for 40 minutes in a special pot. The outer skin of the octopus was slightly briny while the inner layers were sweet and tender.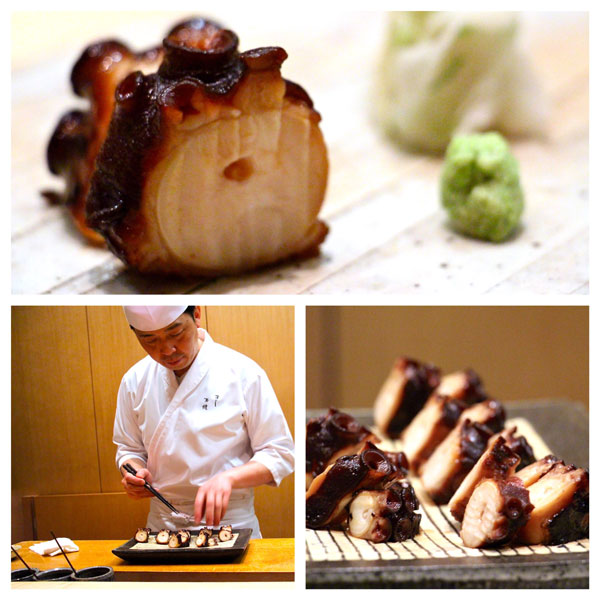 Following this, we come to the seasonal sashimi, which, during our particular tasting, was rock fish marinated for 3 days in kelp, then lightly grilled over charcoal and accompanied by a fish bone soy sauce. The delicate sweet flesh of the rock fish paired well with the very subtle soy, which brimmed with depth thanks to the fish bones. Since homemade soy sauce is highly perishable, this sauce is made fresh daily.
One of the representative dishes at Sushi Shikon is the abalone, and in particular, the silky abalone liver sauce. These shellfish beauties undergo several days of detox with kelp in order to cleanse the livers, before being steamed with sake. This results in an incredibly flavourful, yet clean-tasting liver sauce with a blush of sweetness.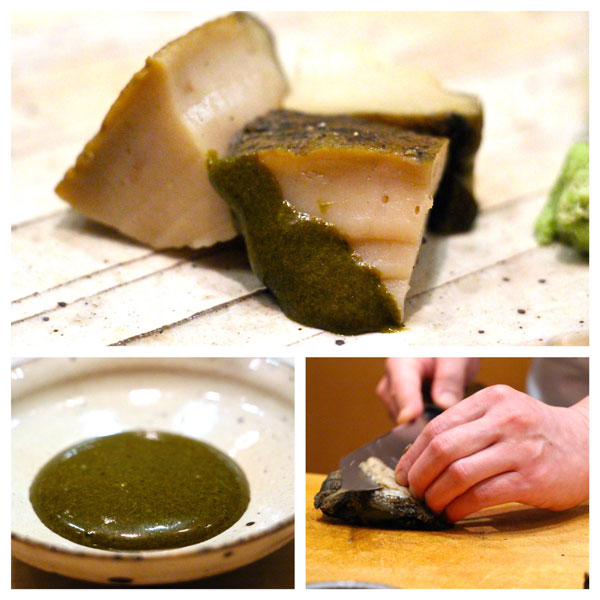 The abalone liver sauce oozed with umami goodness, and we were treated to a dollop of vinegary sushi rice to soak up all the velvety creaminess.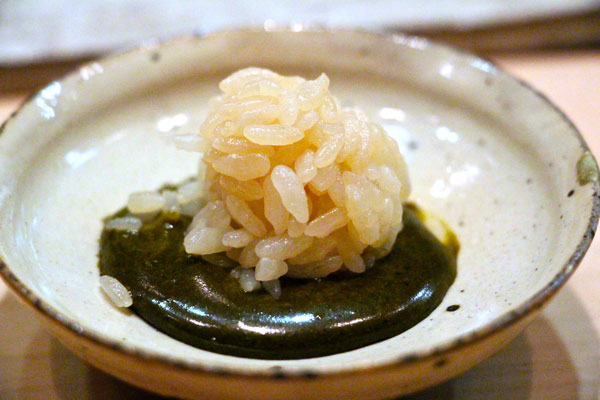 I've tasted several types of fish smoked with hay during my trips to Japan, but often found the smokiness overpowering to the delicate balance of the fish. The Japanese horse mackerel, cured for 3 days over kelp, then seared over charcoal and smoked with hay, managed to achieved the perfect balance. The result was a slice infused with a blush of smokiness and adorned with thin crispy skin. The Hokkaido horse radish wasabi (which is stronger than regular wasabi but also sweeter) was mixed with scallion and ginger to cut through the rich oiliness of the fish.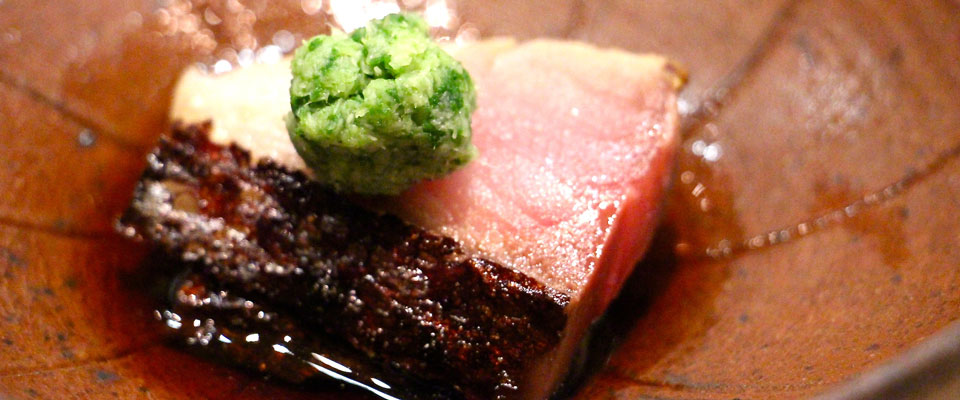 The raw fish at Sushi Shikon are kept at room temperature in wooden boxes, which is a bit disconcerting although a common practice in Edomae sushi culture. The fish and rice, which has been cooked in red vinegar, are served at room temperature, although I found the temperatures to be a bit higher than expected. I did wish that the fish was kept at a lower temperature, as I prefer the firmer texture of chilled fish against warm rice.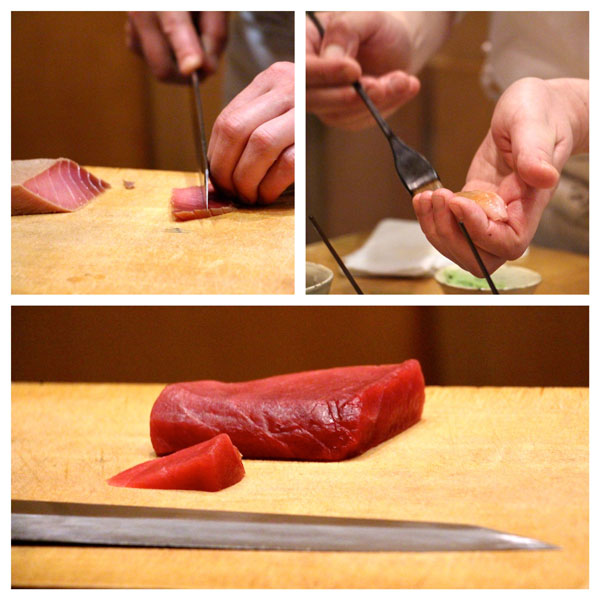 Our quartet of sushi included kinmedai (golden eye snapper), which was aged in salt and vinegar over kelp for 4 days, maguro (lean tuna), uni, and cho-toro (medium fat tuna). The latter, was boiled on the outside and marinated in soy for 10 hours.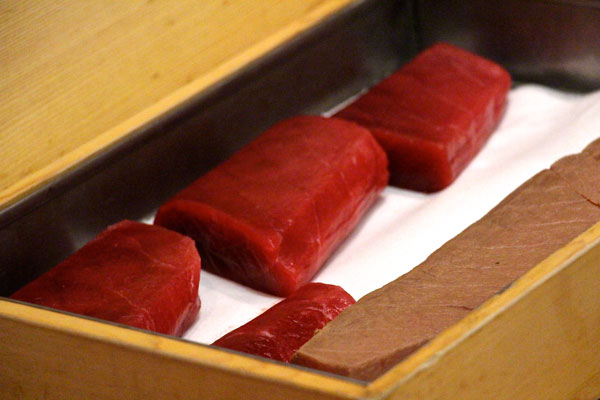 I am a huge fan of uni, and the Sushi Shikon rendition is composed of two kinds of sea urchin – purple and green. The bigger variety is creamier while the smaller ones are sweeter.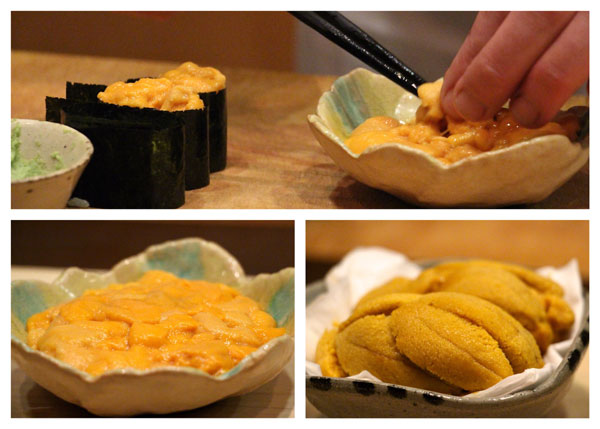 Another octopus dish came stuffed with sticky rice. The tender tako was slow-braised in a miso soup fish bone broth. The dish was simple yet the slight sweet chewiness of the rice was a perfect compliment to the tender octopus. The more you chew, the sweeter it gets. A sweet wheat miso soup followed.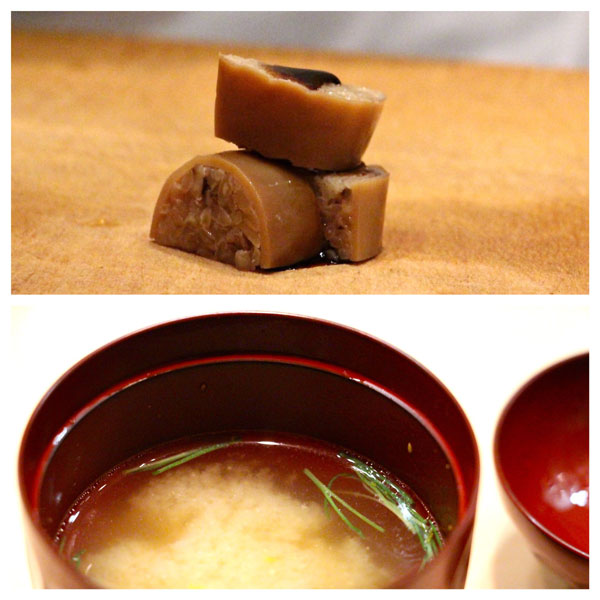 The cooked ebi sushi was surprisingly tender for such a large piece of prawn, although I have a preference for smaller, raw ebi sushi. I just find the combination more refreshing and the flesh sweeter. The prawn sushi was adorned with briny shrimp paste.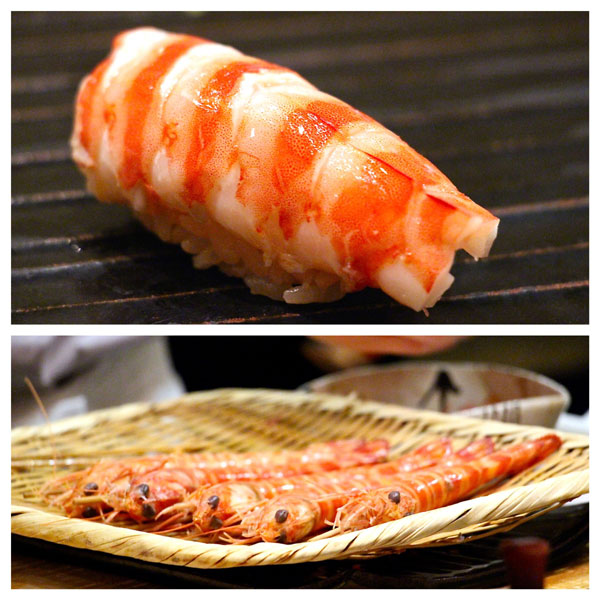 Our final savoury dish came in the form of toro, daikon and shiso wrapped in a sushi roll. The crunchiness of the daikon and the zinginess of the shiso helped uplift the composition.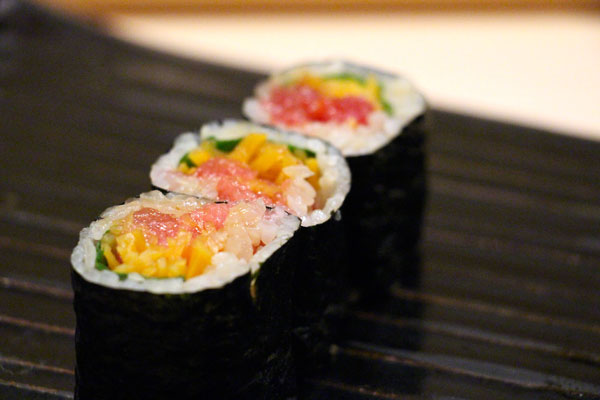 Now, we arrive at dessert. The tamago (castella egg) is as important as the fish in defining the refinement and skill of the chef. A good tamago should taste almost like cake, with velvety smoothness. Sushi Shikon's tamago was so silky, we could have almost mistaken it for cheesecake. It took 3 painstaking hours to make, and is cooked with minced mountain yam and shrimp paste, and absolutely no flour.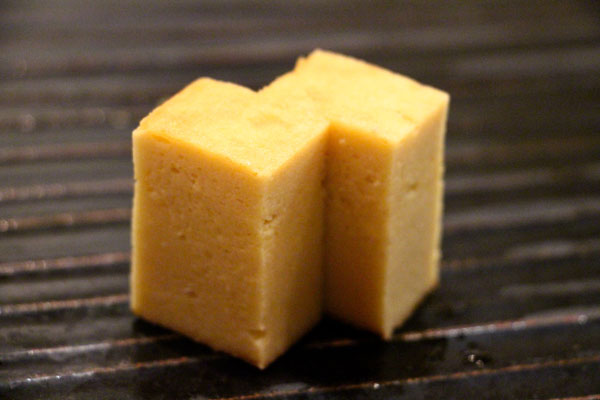 We concluded the meal with strawberries and red beans wrapped in mochi blankets – the subtle sweetness of the fruit and azuki lingers with each chew of the mochi.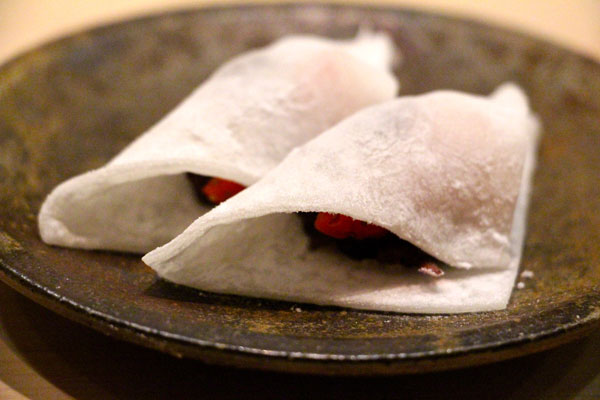 Verdict: One word – pricey. Our meal lingered around the HKD$2500 mark, while dinner goes upwards of HKD$3500. Yes, the ingredients and attention to detail are immaculate, but I felt that the hefty price tag wasn't honestly justifiable. I've heard that the original Sushi Yoshitake in Tokyo commands half the price tag as the Hong Kong location. Sure, granted that there is no transportation costs for the Tokyo location, but could the price really double? I thought the fermentation method was interesting, although I have a preference for fresh, chilled cuts of raw fish. The temperature was just a tad too warm to be pleasing for my palate. For this price tag, I would be better off flying to Tokyo and booking several of my favourite sushiyakis for just a few thousand more.
Sushi Shikon
The Mercer Hotel, 29 Jervois Street
Sheung Wan, Hong Kong
+852 2643 6800
Sites We Adore