Afterthoughts – Tasting The Pawn's 5th Anniversary Menu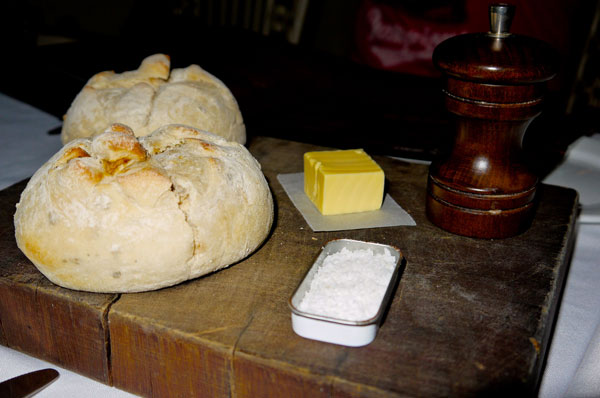 In Hong Kong's cut-throat restaurant business, where openings and closings are equally matched in frequency, and where it takes a definite bit of work to raise the eyebrows of the worldly well-heeled crowd, it says something about a place that's lasted for 5 years.   This past Wednesday, a group of fellow foodies and I were invited to taste a new commemorative menu in celebration of The Pawn's 5th Anniversary.  This year also marks the 125th year that this old shophouse has stood, quietly watching the world around it transform through the hallways of history.   The site was formerly made up of four tenement houses, which included the famous Woo Cheong Pawn Shop.  In 2008, The Pawn refurbished the building into one restaurant, comprising of a relaxed 1st floor "living room", a 2nd floor dining room and a rooftop garden.
Accompanied by the colourful narratives of restaurant manager Andy Young (a true Glasgow lad!), we started our evening by breaking into the rustic bread.  The 5th Anniversary menu brings back some classic favourites, and is designed as a sharing menu for a group of four.
We first wet our appetites with steaming bowls of velvety roasted pumpkin soup, garnished with rocket, coriander and the unexpected crunch of pumpkin seeds.  The soup was fair, although for me on the slightly bland side.  A stronger, more flavourful stock would have really livened up the mix, but I did enjoy the extra touch of pumpkin seeds.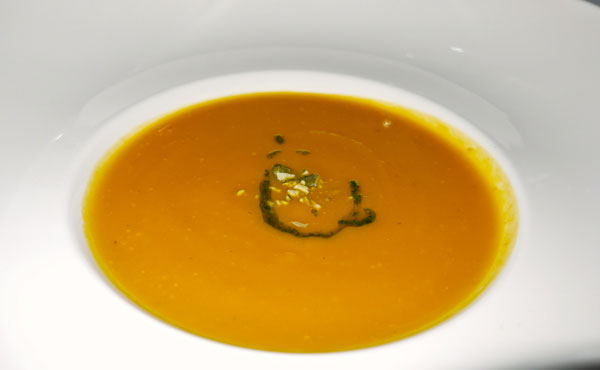 Next, came a platter of British starters, each beautifully presented in a large bamboo steamer in honour of our dining location.  (Clockwise from top:  potted crab, scotch egg, beetroot salmon, ham hock terrine and duck & chicken parfait)
My favourite by far was the Scotch egg – golden, lightly fried, crispy with a creamy centred egg.  I'm told by Andy that a proper Scotch egg should always have a runny centre – which is perfect for me since I only eat half-cooked eggs (unless, ofcourse, it's devilled eggs).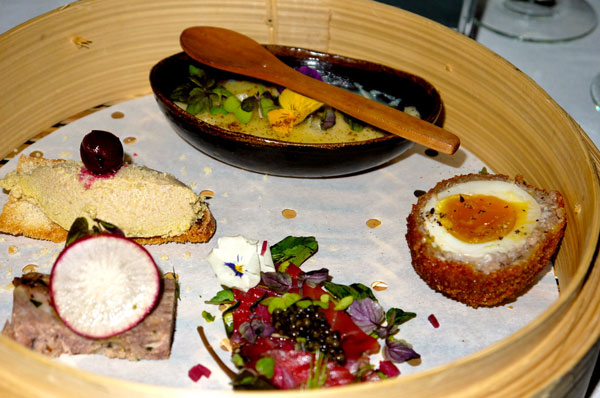 Dinner and libations are best friends, and we tried 2 of the signature cocktails on offer:  the sexy sounding Pawn 5 (Miller's gin, starfruit, lemon juice, Grand Marnier, cinnamon) and the Creme Brûlée (vanilla vodka, creme Anglaise and Frangelico).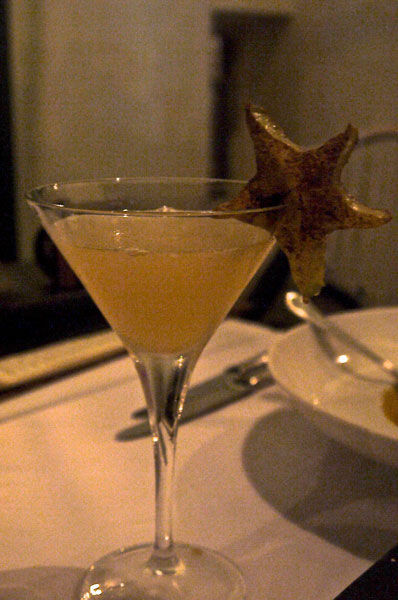 I swooned over the Creme Brulee cocktail, since it tasted like melted alcoholic ice cream!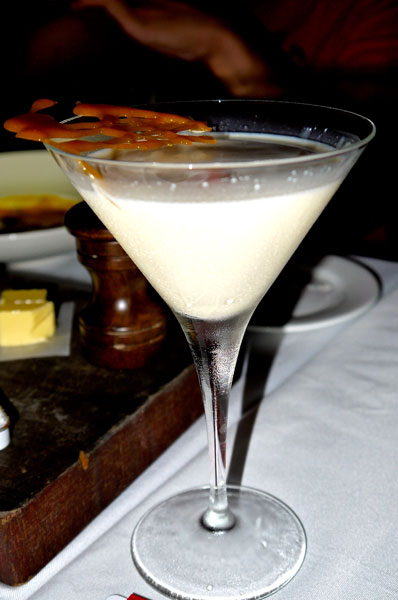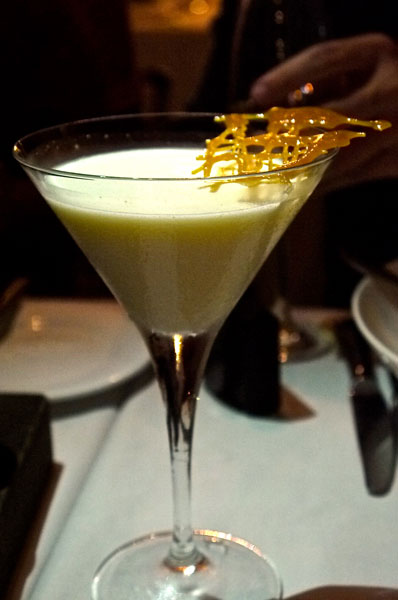 By this point, our servers started clearing our table to make room for the ginormous sharing boards of main courses.  All I can say is that I'm glad to be done with getting married, so I don't have to worry about fitting in the dress again!
First up, the whole roasted sea bass with slivers of caramelized fennel and mixed herbs.  I love roasted whole fish and found this a wonderfully aromatic dish.  I particularly liked the whole springs of thyme, which gave the platter not only great flavour but also a very rustic feel.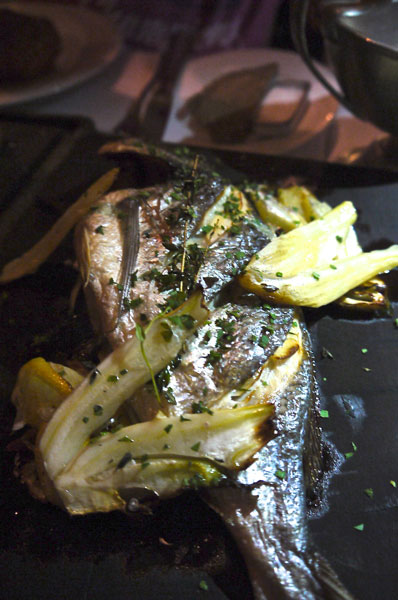 Born a meativore, I can't survive a day without sinking my teeth into a nice hunk of animal protein.  So this next platter made my heart go hubba hubba – grilled prime rib on the bone!  The meat was very tender and juicy, I just wished it had a savoury, chargrilled crust on top.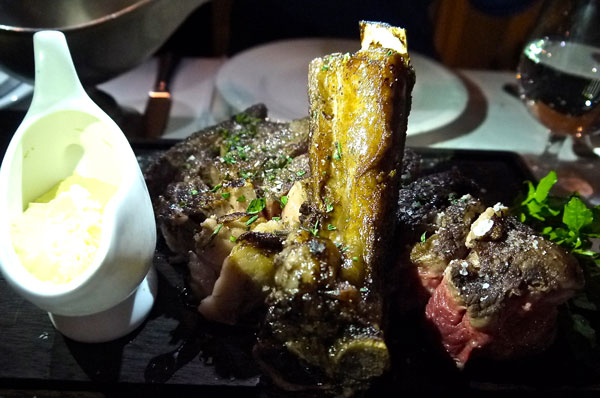 A classic rotisserie dish – roasted chicken with black truffle and thyme.  I found this dish a bit bland compared to the others on offer, and couldn't really distinguish the black truffle aroma.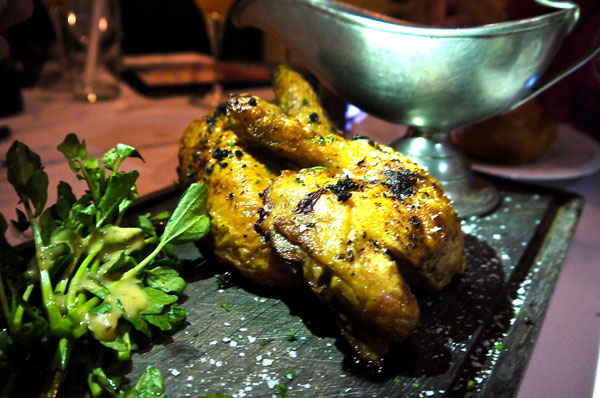 The front runner of the evening was the 48-hours slow-cooked pork belly.  I could taste the love and care that went into cooking this meat!  Sous chef Terry Yeung came out to greet us and explain the dish, which has been sous vide at 62degrees for 2 days before flash broiled for that amazing crispy skin.  The buttery fat melts seamlessly into the tender morsels of meat, and I really could have eaten the whole platter by myself but had to play nice and share…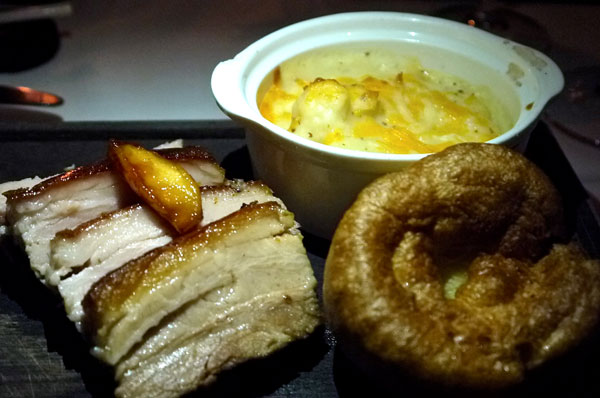 The meal was accompanied by huge Yorkshire puddings, but I have never really been a fan of this.  I always feel I've got better ways of eating carbs and fat.
Speaking of which, on to the dessert!  And again, there were individual platters for us to taste all the classics – apple crumble, brandy snaps, strawberry Eton mess and lemon trifle shots.  My favourite was the brandy snap, filled with wonderfully light, airy cream.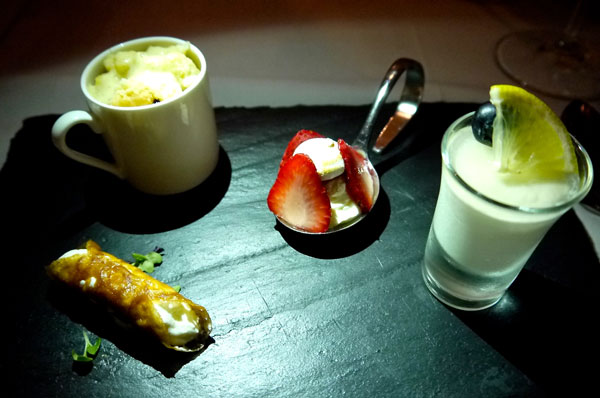 Verdict:  For a set menu for four, the anniversary meal can be had for the very auspicious price of HK$1,888 – which is definitely a good deal.  Quality ingredients and ambiance that harkens back to an era long passed, The Pawn is a great venue for that after work drink or relaxed dinner with friends.  The celebration menu lasts all through October and we even put our names down for the lucky draw, with some tempting prizes like a trip to London, private tailoring and shopping sprees.
The Pawn
62 Johnston Road
Wan Chai, Hong Kong Island
Tel:  2866 3444
Sites We Adore