Afterthoughts – Cheap Michelin-starred Dim Sum at Tim Ho Wan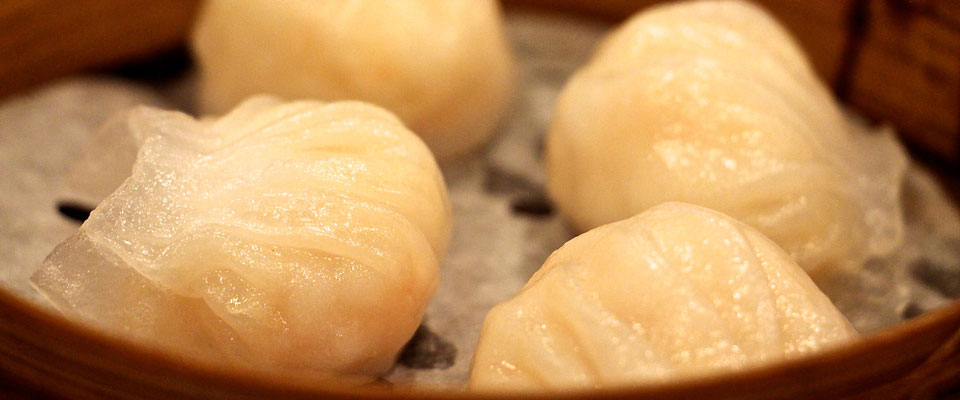 Hong Kong is the second Asian city rated by the Michelin Guide, and the first edition heralded some interesting mentions.  Tim Ho Wan, a humble little dim sum brand that has expanded to four locations in Hong Kong (with franchises across SE Asia), is perhaps the cheapest Michelin-starred restaurant in the world.  Created by Chef Pui Gor, who once was the dim sum chef at the first Michelin-3 starred Chinese restaurant Lung King Heen, in lofty Four Seasons, the menu at Tim Ho Wan strives to fill hungry diners bellies with quality food without emptying their wallets.
You can usually locate this little dim sum place just by the massive crowd lined up outside.  I've tried the Sham Shui Po location, and decided to the tackle the IFC location with some visiting friends from New York.  (Actually, I wanted to take them to Maxim's City Hall, but the opening times didn't work with our schedule)
At 9am, the IFC location was swamped with locals and tourists alike, all waiting for their coveted spot in the little shop.  The IFC location is really a "mall" dining experience, meaning the only view you have is staring at another shop across the hall.  I usually like to stay away from mall dining, but made an exception for our visiting friends.
The menu comes in the form of a single sheet of paper with checklist boxes, and is offered in both Chinese and English.  Prices are very reasonable, with each dish averaging around HK$20.
We started our meal with a steamed plate of pork spareribs drizzled in briny black bean sauce (HK$14).  The pork was plump, succulent and tender, and laced with just the right amount of fat.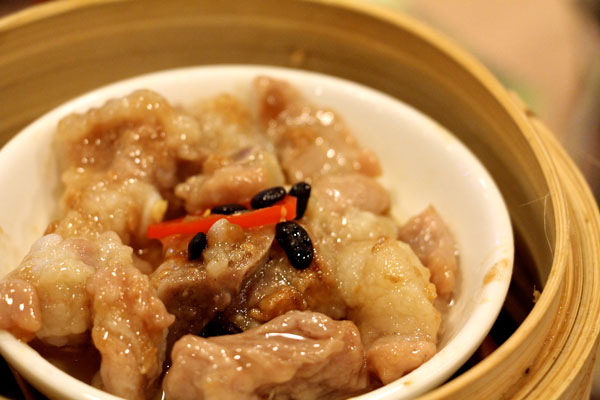 The lotus leaf-wrapped glutinous rice filled with chicken (HK$24) was a hefty addition to our table.  We were pretty stuffed after sharing it between the three of us!  The sticky grains really soaked up all the flavourful chicken juices.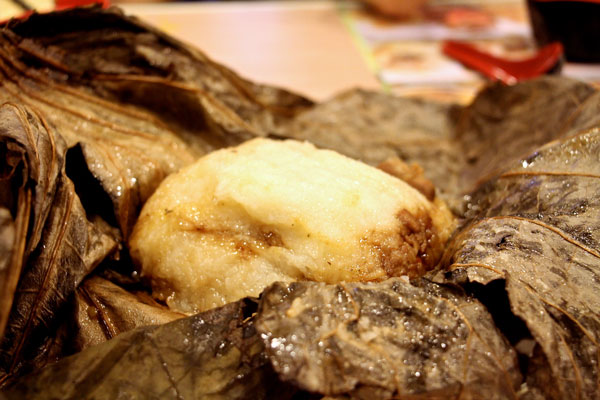 The shaomai (HK$24), an iconic dim sum staple, was filled with bouncing shrimp and juicy minced pork.  However, it wasn't a standout dish, and I could find options of similar quality at numerous places.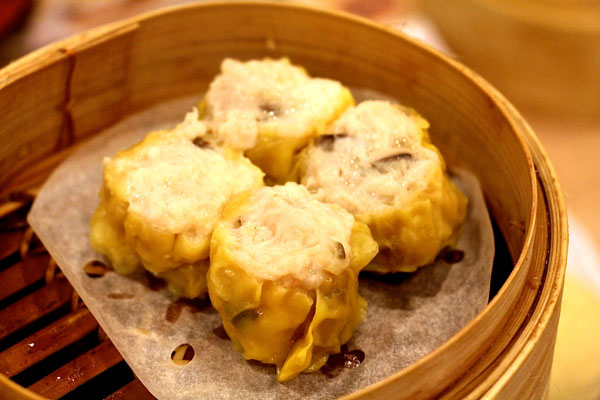 The baked bun with BBQ pork (HK$19), a signature dish at Tim Ho Wan, came to the table looking slightly anaemic.  Usually, I would expect a golden baked cookie crust on top of these buns, but the ones we got that day were very pale and could have spent more time in the oven.  However, the buns redeemed themselves taste-wise, and were delicately fluffy and oozy with gooey sweet BBQ pork.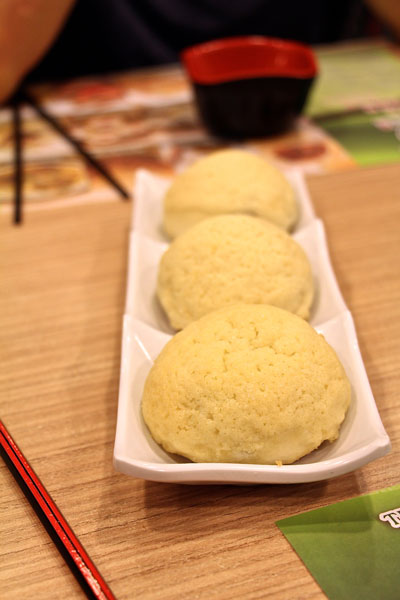 The steamed rice dumplings with pea shoots and shrimp (HK $16) was light and guilt-free, although not mind-blowing delicious.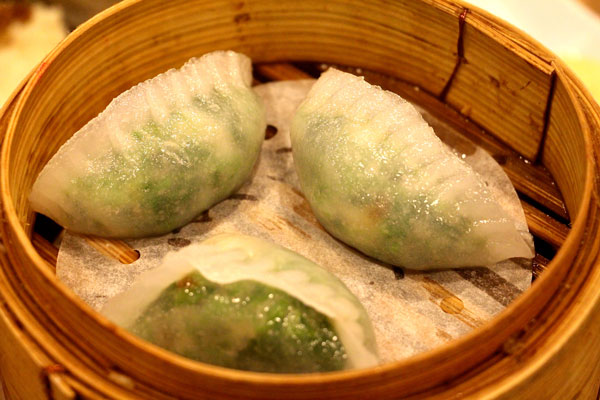 Steamed shrimp dumplings (HK$23) are another essential pick for quintessential dim sum fare.  The translucent morsels at Tim Ho Wan were succulent, plump and fresh.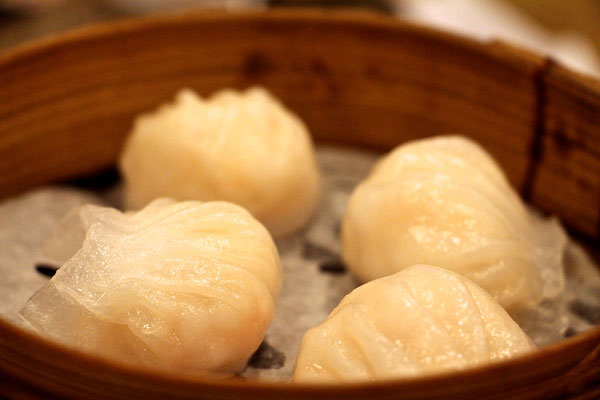 The favourite of the day were the steamed shrimp balls topped with fresh tomato wedges.  A departure from traditional dim sum, the sweet tanginess of the tomatoes really accentuated the sweetness of the shrimp.  I really loved these flavourful tomatoes – it reminded me of those I used to have as a child before the age of GMO.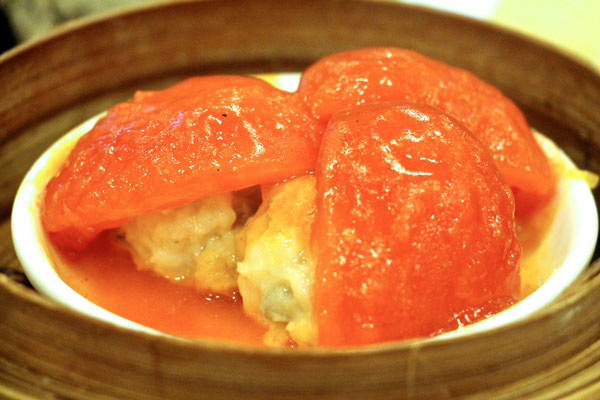 The fried beef dumplings (HK$15) were a miss.  It was exceedingly oily, and flavour wise, unworthy of the calorie intake.
Last, but not least, we have the steamed rice roll with shrimp and chives (HK$26).  This was a great palate cleanser after the oily beef dumplings.  A drizzle of soy sauce really livened up the dish.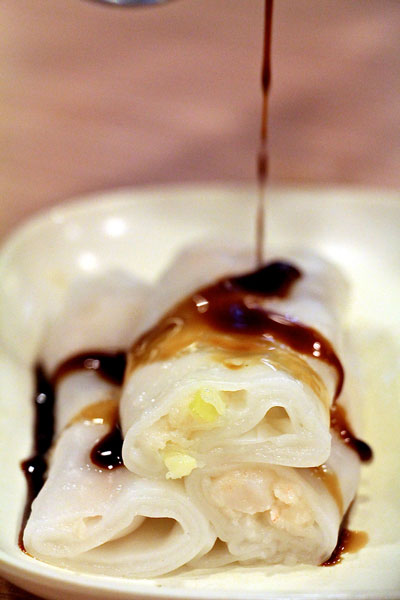 Verdict:  Is Tim Ho Wan really top dog in Hong Kong's dim sum scene?  Definitely not.  But the brand is quite consistent in terms of quality, with a very affordable, no-fuss menu.  There are definitely better dim sum restaurants in Hong Kong.  The Michelin Guide has encountered several controversies when grading Chinese cuisine, so the 1 star rating for Tim Ho Wan isn't really saying much.  However, it's a great spot to grab a cheap and cheerful dim sum treat.  It's just not worth lining up for.
Tim Ho Wan (in Hong Kong)
Central Location:  Shop 12A, Hong Kong Station (Podium 1, IFC Mall), Tel:  +852 2332 3078
Tai Kok Tsui Location:  Shop 72, G/F, Olympian City 2, 18 Hoi Ting Road, Tel:  +852 2332 2896
Sham Shui Po Location:  Ground & middle floors, 9-11 Fuk Wing Street, Tel:  +852 2788 1226
North Point Location:  Shop B, C & D, G/F, Seaview Building, 2-8 Wharf Road, Tel:  +852 2979 5608
Sites We Adore