Afterthoughts – The BEST Korean BBQ in Seoul at Wang Bi Jib 왕비집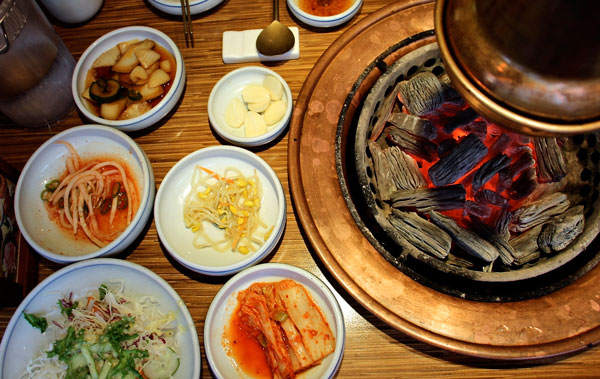 Meat Paradise – A couple of weeks ago, in celebration of a close friend's bachelorette, I flew to Seoul with a group of 8 girlfriends for a weekend of partying, eating, and shopping.  It was my first venture into Korea, and I was eager to explore as much of the culinary landscape as possible.  Korean food, holds a special place in my heart, as it was the only type of cuisine that sustained our little contestant group during our month-long sojourn to the Philippines this past January for the filming of The Amazing Food Challenge.  Ironic, really, how we craved Korean food in the Philippines, despite the fact that we were there to film a cooking show about the local cuisine!
We've all had the usual suspects (bulgogi beef, beef short rib etc) at Korean BBQ restaurants, and I was curious about how Korean food actually taste on its own home turf.  So, after shopping until 4am at Doota (a notorious 24-hour shopping mall), a few of us Earlybirds woke up famished for Korean barbecue.  But in the land of barbecue beef short ribs, which restaurant reigns supreme?  Helpful suggestions from both local and international friends pointed us to Wang Bi Jib (왕비집), a restaurant name that literally translates to "Queen's House".
Bleary-eyed from a serious lack of sleep, we tumbled into a taxi and headed to bustling shopping paradise Myeongdong in anticipation of a delicious BBQ lunch.
Unlike Japanese, the Korean language looks very different from Chinese, so it took us a while of Google mapping before we located the 2nd floor restaurant in the midst of the crowded shopping district.  Wang Bi Jib (왕비집) isn't huge, and seats around 30.  Powerful (yet surprisingly, quiet) exhaust fans hover above each table to whisk away any smoke from the BBQ stations.
We sat down to a tablescape of 3 different condiments for various portions of meat.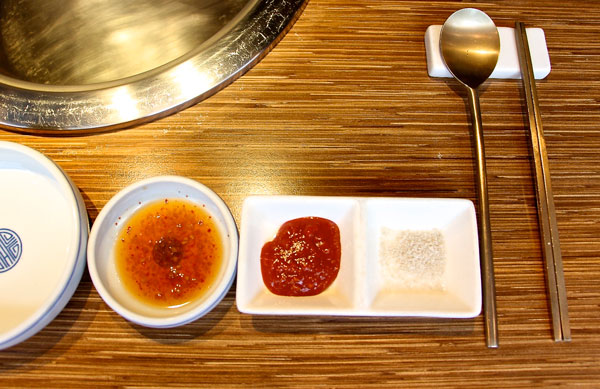 A glowing, amber plate of charcoal was promptly delivered to our table after we placed our orders.  As customary to Korean hospitality, a selection of appetising little dishes ranging from kimichi, to bean sprouts, to pickled daikon, covered our entire table and enticed our appetites.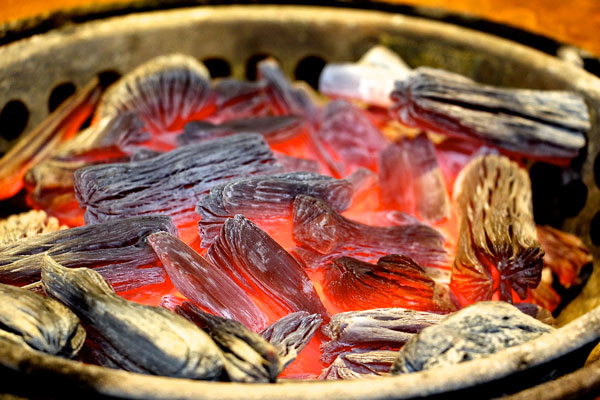 We especially enjoyed the green scallion salad, topped with a golden egg yolk and tossed in spicy chilli sauce.  At first look, we were hesitant about the pungency of the garlicky green onions, but the slices were extremely mild and mellow.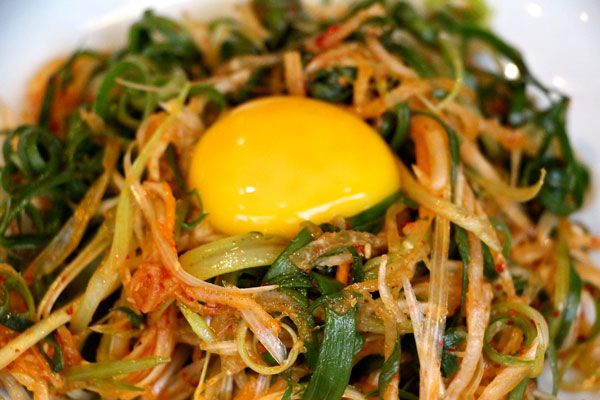 First to arrive at our table was the galbi, a classic in Korean BBQ.  The extra large grilled beef ribs (KRW$32,000) came pre-marinated in a sweet, soy garlic sauce.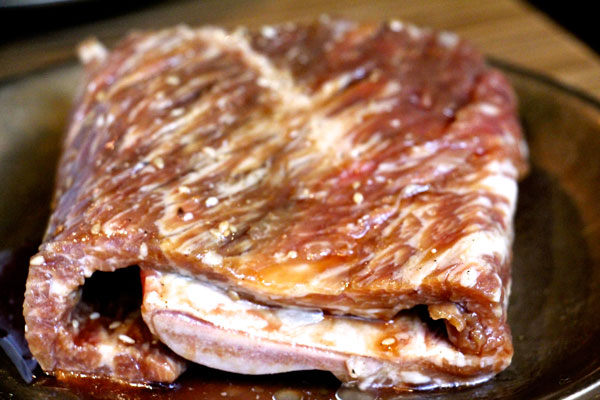 We loved the fact that the helpful servers cooked all the meats for us, and cut them into bit-sized pieces.  Now, that's service!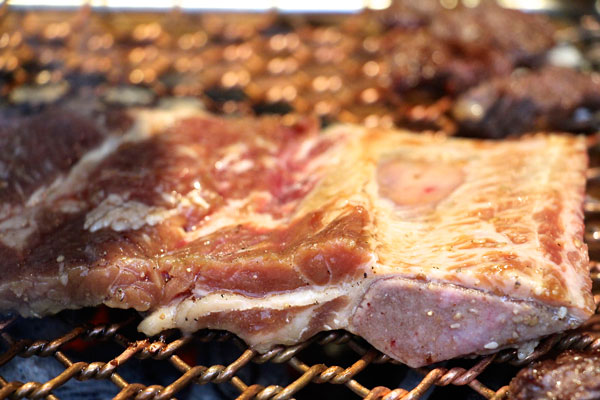 We wrapped these succulent morsels of flavourful ribs in crisp lettuce leaves for that refreshing crunch.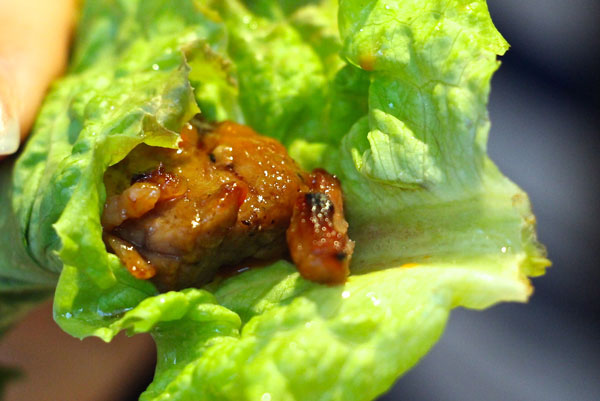 We felt like true carnivores diving into the beef tartare (KRW$28,000).
The silky egg yolk blended beautifully with the tender raw beef, and give each bite a velvety texture.  The beef was refreshingly icy, and mixed with apple pear, giving it an addictive sweet crunch.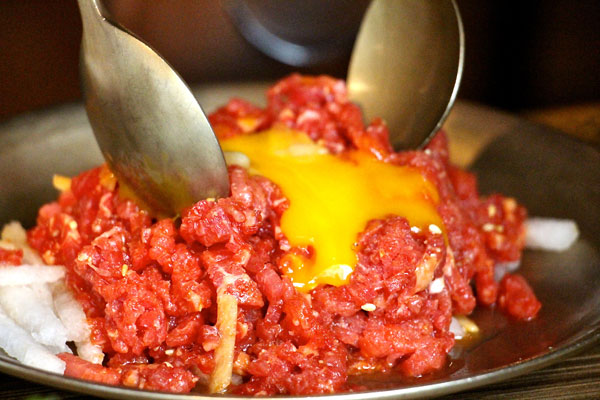 Hey Big Boy!  We ordered the premium beef sirloin (KRW$34,000) and tenderloin (KRW$32,000).  Both had the characteristic "snowflake" marbling we commonly associate with Wagyu, but these cuts are purely from Korean beef.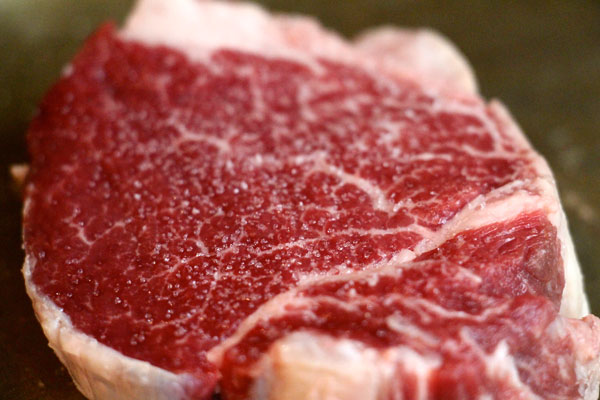 Simply dusted with salt, these ruby slabs were stunning!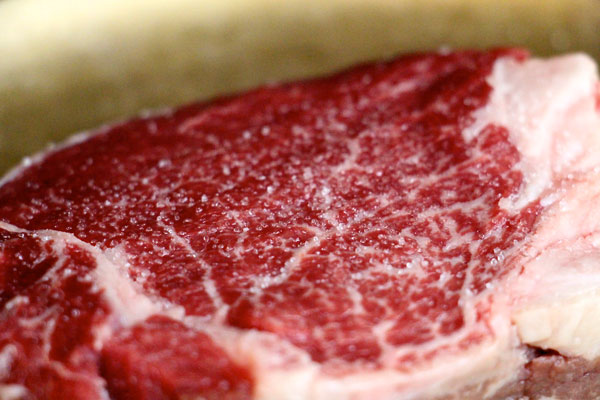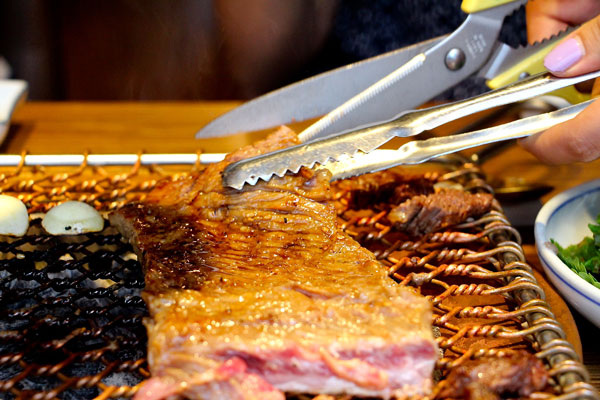 Each morsel of beef gushed fatty richness that reduced us to feverish giddiness.  In my personal opinion, this type of high-quality Korean beef can easily revel the coveted Japanese Waygu, and, it's relatively cheap compared to the latter!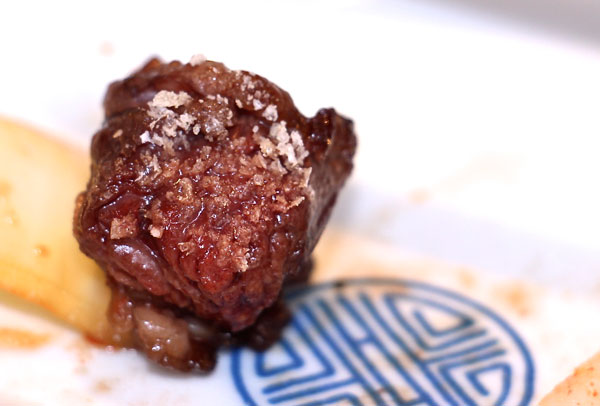 By this point, we were getting meat sweats, but managed to gorge ourselves silly on golden slices of seafood pancake (KRW$13,000).  The pancake came to the table slightly under-cooked, so that we can grill each slice to crisp perfection on the BBQ.  The sauce was garlicky and peppered with chilli.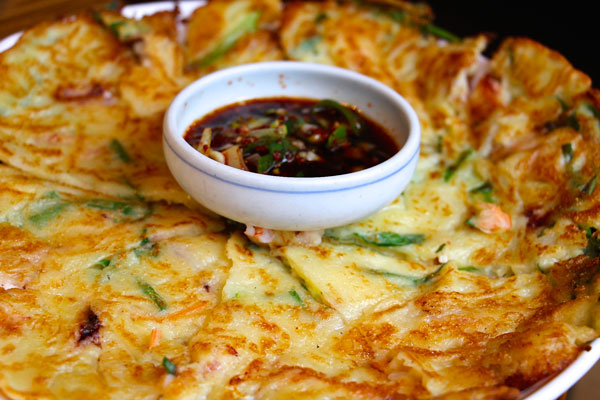 Verdict:  There's something mystical between the union of animal protein and fire, and we were definitely impressed with this temple of fire and beasts.  The quality of ingredients is superb, and the service, attentive.  We were thrilled that all the servers could speak fluent Mandarin, to an almost native level, which made our ordering so completely carefree.  There was definitely no "lost in translation" moment here, although English speakers might find it a bit harder to communicate.  We were concerned about the smell that usually cling to our clothes after a meal of Korean BBQ, but the sophisticated smoke exhaust system ensured that we arrived at our subsequent photo shoot with not a hint of smoke.  Our final bill came out to be KRW$139,000 or USD133 or HKD$1037, a very fair price for the high quality of beef we ordered.  It's hard to find value like this in Hong Kong, so we loaded up!
Wang Bi Jib (왕비집) or 王妃家 in Chinese
2F, 63-6 Chungmuro-2ga, Jung-gu, Seoul
Tel:  +82 02 3789 1945
Sites We Adore