Afterthoughts – Media Lunch for Restaurant Week at Whisk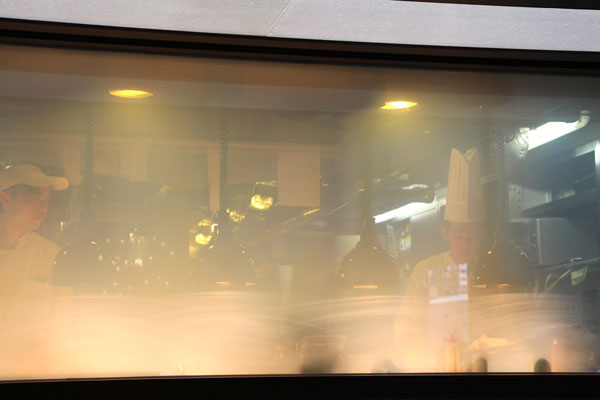 Restaurant Week is always a time of great excitement for gluttons like me, because it gives me a chance to experiment with restaurants not yet on my Hit List.  Whisk, at the Mira Hotel in Tsim Sha Tsui, has long been on the periphery of my tasting vision, not because I haven't heard wonderful things about it, but because I've simply been a little too lazy (or, more appropriately, gluttonous) to make the journey across the Harbour for a meal.  Yes, I do realise it's only a 5minutes ferry ride away from Central Hong Kong, but I somehow manage to elude the Dark Side and stay on the Island, come dinner time (on most days).
And somehow, Restaurant Week always seem to run parallel to my travels (last year, it happened when I was in Paris), as following my tasting at Whisk, I hoped on a plane to Hokkaido for a week of snowboarding.  So I apologise for the slight tardiness of this review.
All being said, our media tasting of Whisk's dinner menu for Restaurant Week was truly a treat.  A tour of the kitchen, and a seat at the Chef's Table, accompanied by Chef Bjoern's hilarious stories, was the cherry on top.  I've always been fascinated about the inner workings of a restaurant kitchen – the hierarchy, the drama, the heat and the chaos.  But I found none of that in Chef Bjoern's kitchen, just a very ordered and extremely efficient, almost eerily calm, environment.  True to Chef Bjoern's German roots, he runs his kitchen like a well-oiled piece of German engineering.
Throughout our tasting, Chef Bjoern Alexander, with his charming, easy manner, regaled us with tales of his travels and adventures.  One of the most astonishing, being his recent trip to Thailand, where he walked from Phuket to Bangkok within the span of 10 days, and worked as a dishwasher or a line cook in various restaurants along the way for room and board.
(Below)  All these orders coming in, and Chef Bjoern still joking, and looking very calm.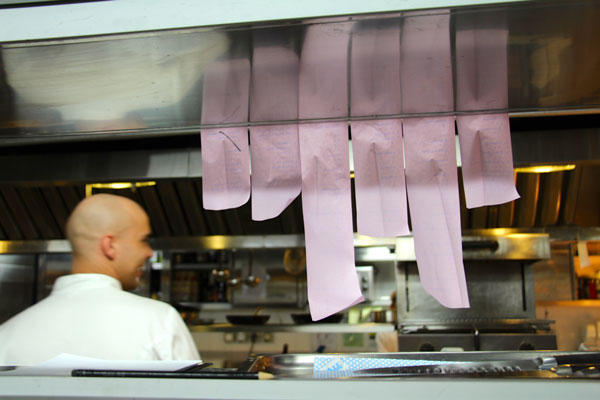 Despite the busy lunch hour, Chef Bjoern still took a moment to relax and smile for my camera, along with his sous chef.  I love the opaque glass frontage that separates the kitchen to the Chef's Table, so guests can see soft silhouettes of the chefs as they prepare their dishes.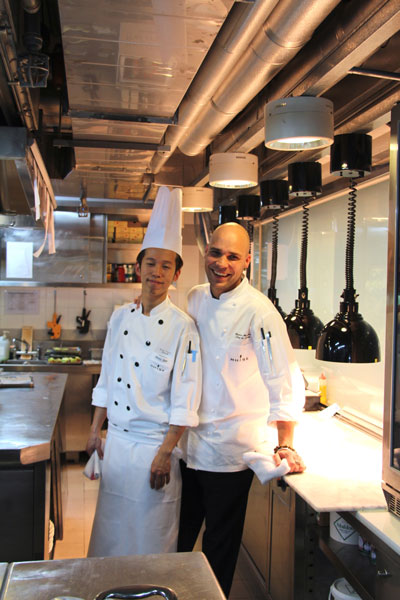 First up on Whisk's Restaurant Week Dinner Menu – mussels and oysters, bathed in apple vinegar, garnished with tangy apple blossom and sea asparagus.  Served on a dome of ice, this dish was almost too pretty to eat.  The sweet yet tangy lightness of the apple vinegar cut through the creamy richness of the oyster – divine.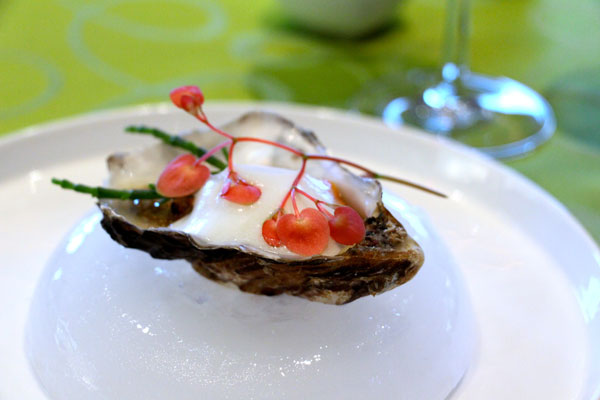 One of the guests at the table was not fond of oysters (I did offer to eat her portion hehehe), so the management at Whisk thoughtfully replaced her starter with a delicate salad, dotted with a potpourri of garden flowers.  I am a huge fan of edible flowers, and apparently, Chef Bjoern has a mini fridge stocked full of them in the kitchen!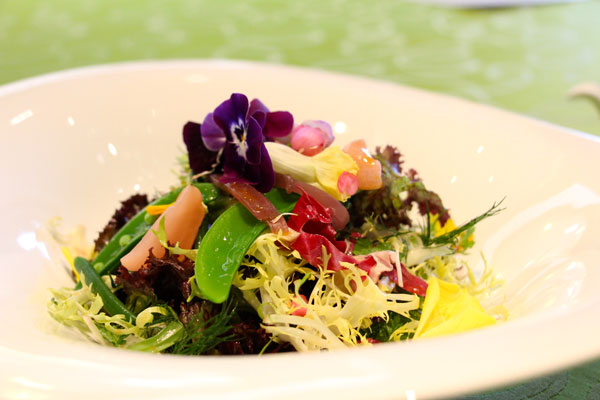 One of us at the table was also not fond of eggs, so had the dish substituted with this grilled eggplant and quinoa crisp instead.  (Please note:  the eggplant and garden salad dishes are not part of the Restaurant Week menu)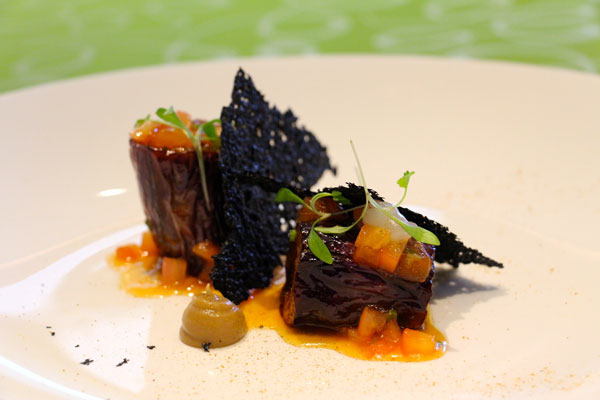 After several diversions from the menu, we return back to our second course – onsen egg blanketed in caramel, adorned with pickled vegetables and dusted with grated fresh horseradish.  Chef Bjoern personally came out to grate the horseradish on each of our dishes.  At first, the fresh horseradish smelled extremely pungent and spicy, but the taste was much more mellow and blended beautifully with the richness of the egg.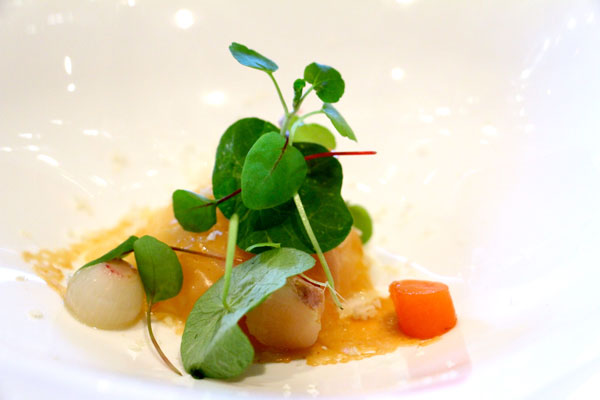 Another sexy shot of the onsen egg and its gooey golden heart.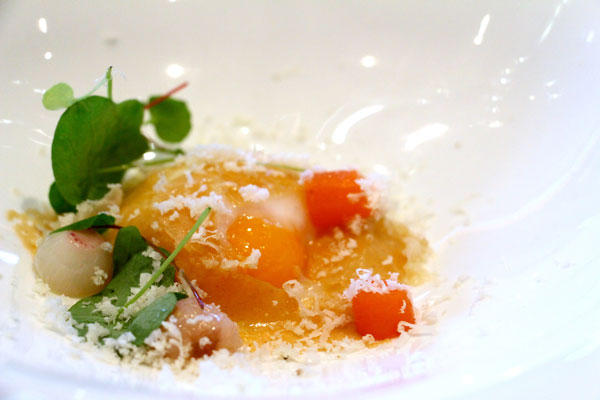 Our main – slow-braised lamb breast with dried carrot, olive puree and black potatoes drizzled in hay oil.  The lamb yielded to the fork like butter, and was incredibly juicy.  The flavour was very concentrated, and reminded me more of mutton due to its robustness.  The earthiness of the hay oil further accentuated the robustness of the lamb. What surprised me most was the black young potatoes, as they were of the most peculiar texture.  The skin of the potato was wafer thin and had a subtle crunch that melted away instantly on the palate, and the centre was light and fluffy.  I was absolutely addicted to these potatoes!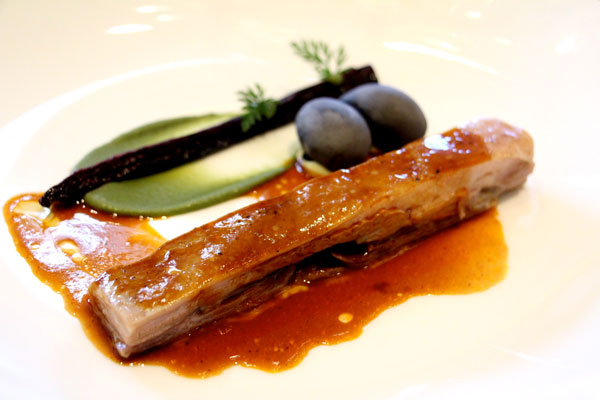 Sweet endings – raspberries with frozen cream, meringue and white chocolate.  The cream was sinfully heavenly, and the raspberries were dotted with a fragrant floral distilled oil that Chef Bjoern orders from France.  Each tiny bottle is the size of a bottle of nail polish, and costs more than HKD$7000, making this a truly indulgent dessert.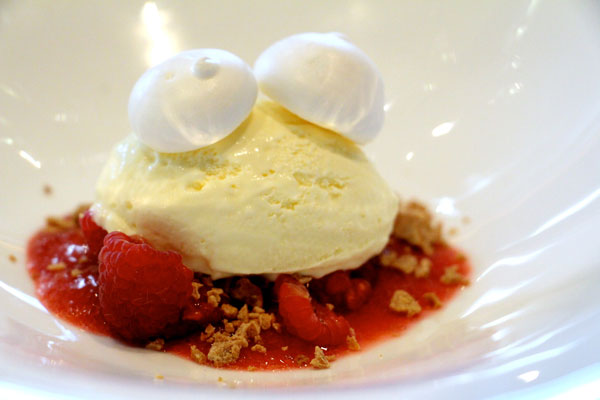 Verdict: A imaginative meal that echoes the Chef's true passion for top ingredients and innovative techniques.   And priced at a mere HKD$438 per person, this is definitely beer bottle prices for Dom P quality.  Restaurant Week lasts from February 21 – March 2, so get your reservations in as fast as humanly possible!
Whisk 
118 Nathan Road, Tsim Sha Tsui
Kowloon, Hong Kong
Tel:  +852 2368 1111
Sites We Adore