How To Make – Piping Hot Bowls of Wonton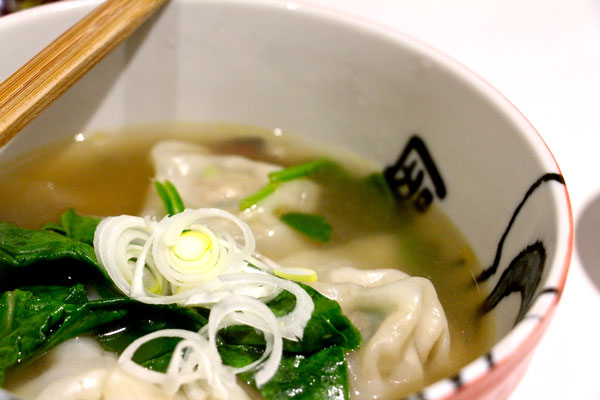 Hong Kong's winters pack a pretty tough bite.  Although the island is labeled deceptively under the "subtropical" category, winter temperatures here can plummet to sometimes 3 degrees celsius.  Now, before anyone living in the Northern Hemisphere start making jokes about how pathetically fragile we all are here, let me clarify that there is no indoor heating here, so, often it's colder indoors than outside.  And the cold isn't a dry North American frigidness, it's a humid, wet cold that sinks deep into the bones, making the chilliness stick to you like an eerie wet blanket.
Luckily, I do have central heating at home – the importance of which 8 years of living in Hong Kong has taught me.  But I still like to warm up during these hard winter months with bowls of piping hot wontons, made fresh (of course) by yours truly.  There's few things more comforting than slurping fragrant sesame oil scented broth and slippery savoury wontons on a cold winter's day, especially when wrapped safely in a warm blanket on the sofa.
Below, I attempt to bring a little bit of comforting warmth into your home with this wonton recipe.  I hope you enjoy this as much as we do.
What You'll Need (makes around 30 wontons):
200g of minced pork
1 large chopped scallion
a packet of baby spinach
1/2 tbls soy sauce
1/2 tbls oil
1/2 tsp salt
ground black pepper
1 tsp chicken powder
a stack of around 30 wonton skins (store bought)
For the broth
pickled vegetables or dong cai 冬菜
handfuls of spinach
chicken broth
sesame oil
soy sauce
vinegar
Cook Time:  5-8 minutes
Prep Time: 15 minutes
First of all, mix the minced pork well with chicken powder, salt, soy sauce, oil, black pepper and chopped scallions.  This may look like a lot of scallions, but it will mellow out when boiled to accent the wontons with a slight garlicky taste.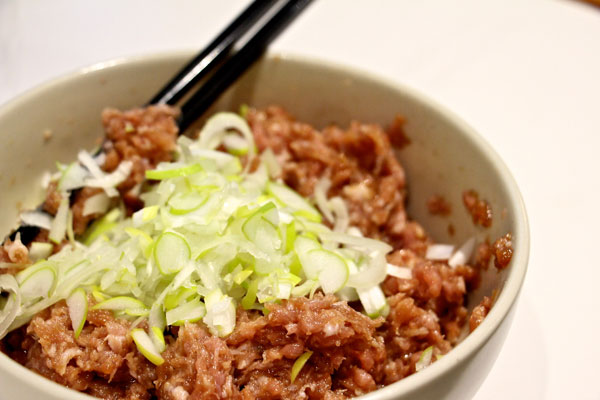 Now, this part is optional (but I like to infuse more vegetables into any meal) so I've diced up some baby spinach to blend into the pork.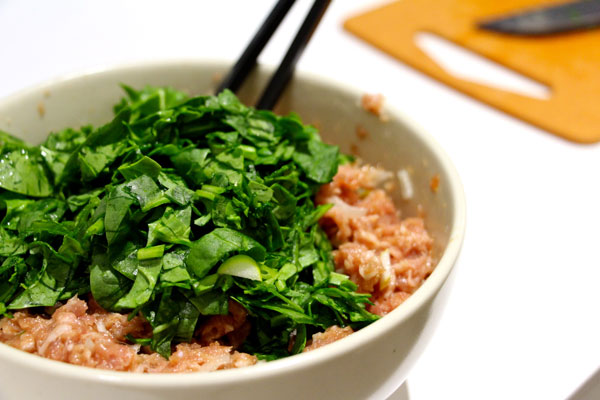 Store bought wonton skins are little miracles, and save so much time in the kitchen!  Follow the steps below (clockwise) to fold each wonton.  It's kinda like origami magic (but with yummier results)!  Tip:  use a dab of water to make the dough edges stick together – presto magic!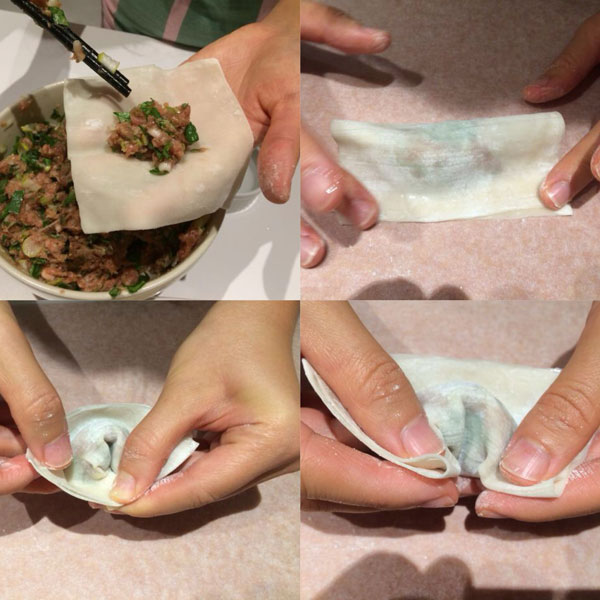 Ta-da!  Each wonton is shaped like the classic currency of China.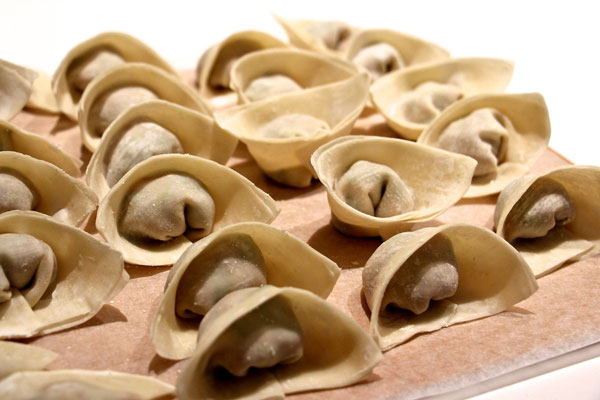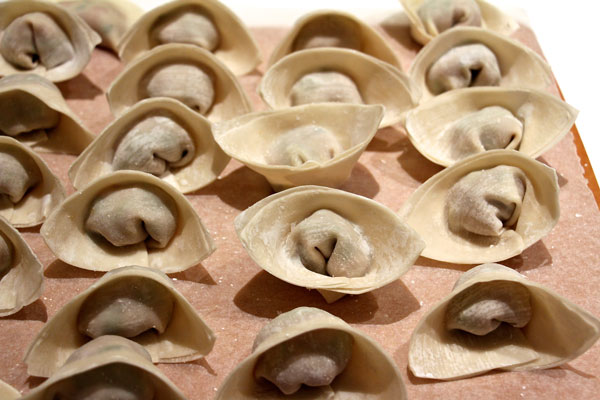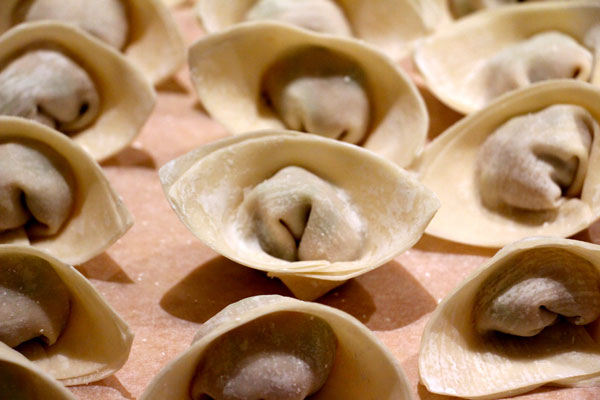 Now, heat some chicken broth, or just drop a bouillon into some boiling water in a large pot.
For the sauce, I love the slightly garlicky taste of salted dongcai 冬菜.  You can buy this at any Chinese supermarket, and I've included even a photo of the packaging (below) for easy recognition.  Be careful, though, as these are super salty, so a little goes a long way.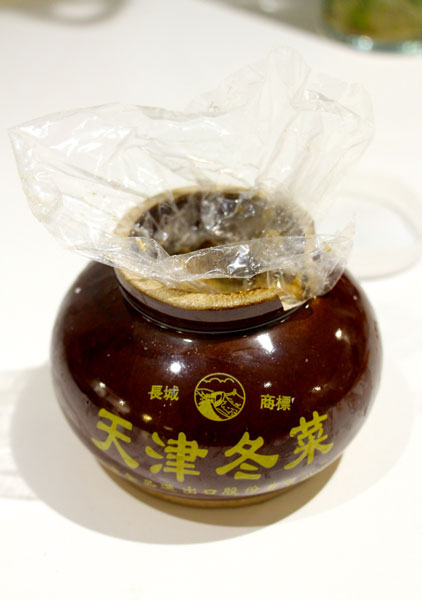 Sprinkle a bit of the dong cai along with a handful of fresh baby spinach into a large soup bowl.  Pour in about 1 tsp of light soy sauce, a drizzle of spicy vinegar, and a few drops of fragrant sesame oil.  (I love these fish bowls I got while browsing through Kappadashi Kitchen Street in Tokyo – other girls shop for clothes on vacation, I shop for kitchenware!)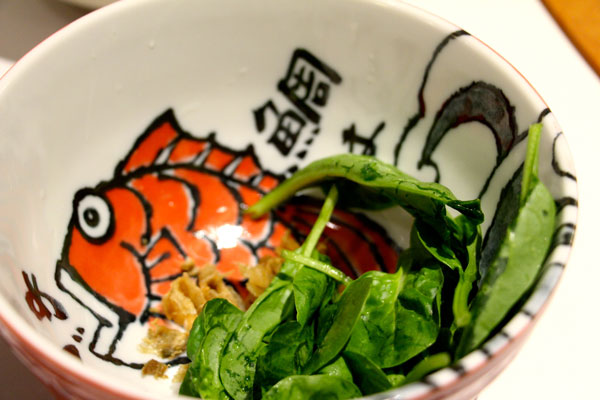 Once the broth has come to a boil, drop the wontons in and allow them to cook for about 5 minutes.  Once they float to the top, they are pretty much ready.  Check for any pinkness, and if none, they are ready to be served!
First, spoon some comforting broth into the bowl and mix together the sauce.  Then, tumble the wontons into each bowl.
Garnish with additional slivers of scallions, and be prepared to be amazed!
So simple, yet so irresistible :) 
Bon Appetit!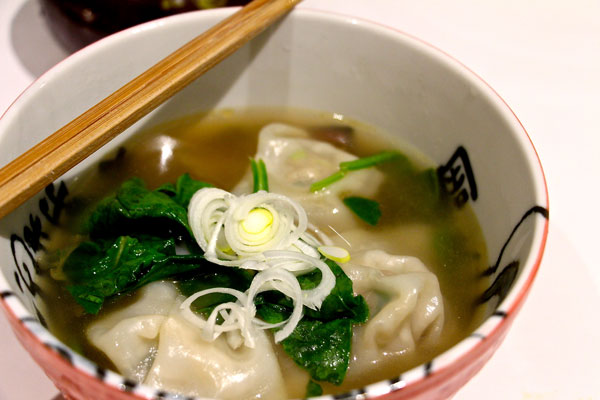 Sites We Adore