Afterthoughts – Iconic Singaporean Breakfast of Kaya Toast & Soft-Boiled Eggs at Ya Kun, 亚坤加椰面包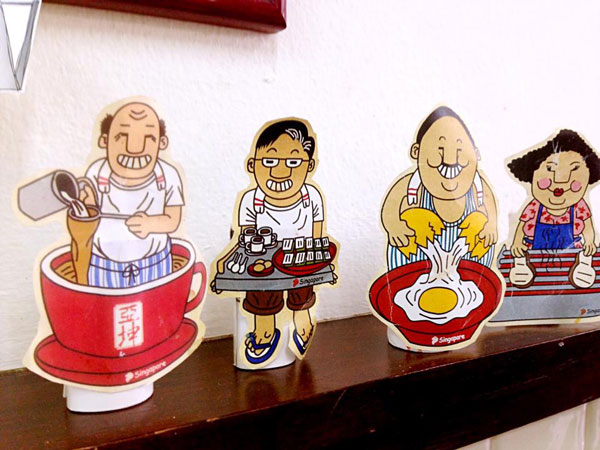 What makes a quintessential Singaporean breakfast?  The answer, is as varied as Singapore's demography.  However, more often than not, the words Kaya toast and soft-boiled soy eggs stand out.  This savoury and sweet combo has fueled Singaporean for decades, from its humble beginnings as a trading post to the financial and IT super center it is today.
I must admit, Kaya toast and I met quite unexpectedly during a breakfast buffet at the iconic, and very colonial, Fullerton Hotel.  I visit Singapore a couple of times a year, but it took me several trips before discovering this unique, and simply irresistible, jammy spread.  Kaya, made from coconut, pandan leaves, and eggs, is unlike any other spread I've ever tasted.  Its rich coconut-y aromas and pandan fragrance is the perfect pairing of Southeast Asian flavours.  When spread over crisp toasts and balanced with a hefty slab of salted butter, it is simply, well, heavenly!
On my recent trip to the Lion City, I bypassed my usual hotel breakfast for a taste of Kaya, in its most authentic state.  A short walk from my hotel on Clarke Quay, Ya Kun Kaya Toast on China Street, is one of the most authentic storefronts of this successful franchise.  The Ya Kun brand began its story in 1944, when Loi Ah Koon, an emigrate from Hainan, set up shop selling coffee and tea (kopi teh) with his wife, who suggested slathering each piece of toast with her homemade kaya and pairing it with cold butter.  Since then, the brand has become a Singaporean icon, and have expanded to over 50 outlets with international presence in China, Indonesia, Japan, Myanmar, South Korea, Taiwan and the Philippines.  Most Ya Kun branches are in modern shopping malls, but the China Street location, with its cracked retro interiors, still retains the nostalgic veneer of an era long past.
There's only 2 options in this original version of Ya Kun – Set A (which includes the original kaya toast, soft boiled eggs, and a kopi or teh) and Set B (which is the same set but with French toast and kaya).   The more modern Ya Kun branches offer menus filled with other options, but this old-school branch only offer the original choices.
Of course, I stuck with tradition and picked Set A.  Friendly grandpa-like servers took my orders, and the food was promptly delivered to the table.
To start – the soft-boiled eggs, topped with a sweet soy sauce.  These velvety bundles reminded me of onsen eggs in Japan, which are also eaten with a savoury accompaniment of either soy sauce or dashi.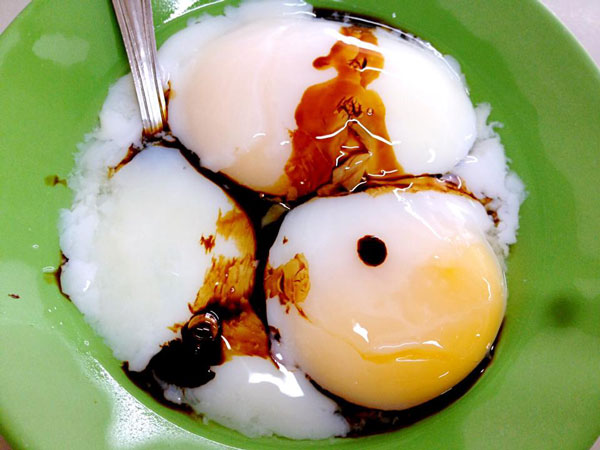 One of the old grandpa servers even sat down with me at my table, and sprinkled white pepper over the eggs.  He told me that this is the BEST way to enjoy these yolky treasures.  He also insisted that I dip the kaya toast in the velvety yolk, which tasted AMAZING!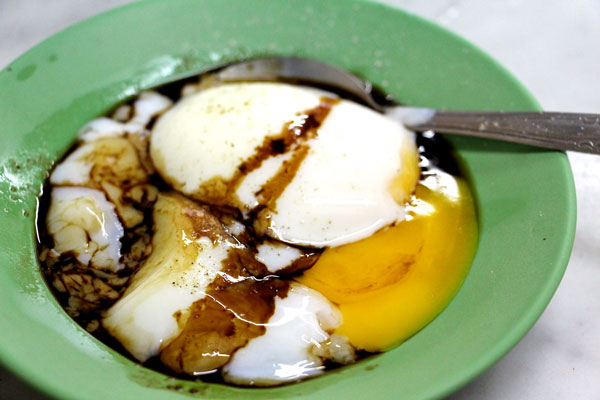 Ta-da!  Toast freshly grilled over charcoal, then smothered with kaya and cold slabs of salty butter.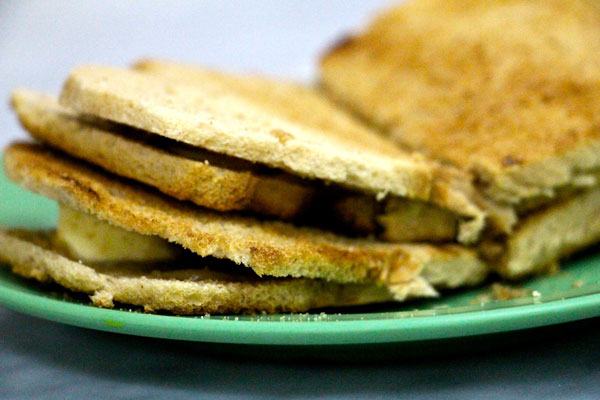 Yep, it's A LOT of butter, but the cold, salty slabs really accentuated the sweet coconut / pandan aromas of the kaya!
I'm a tea girl, so I washed down my kaya toast with ice cold milk tea, strained through a silk stocking!  The Mister stuck to ice coffee.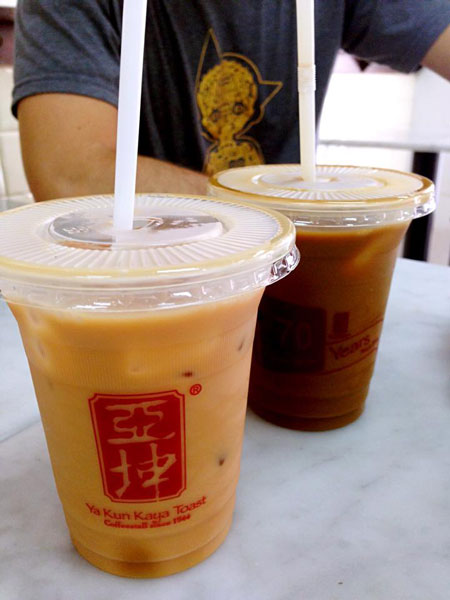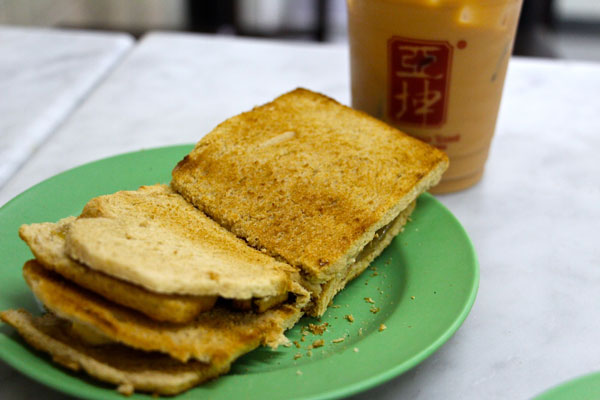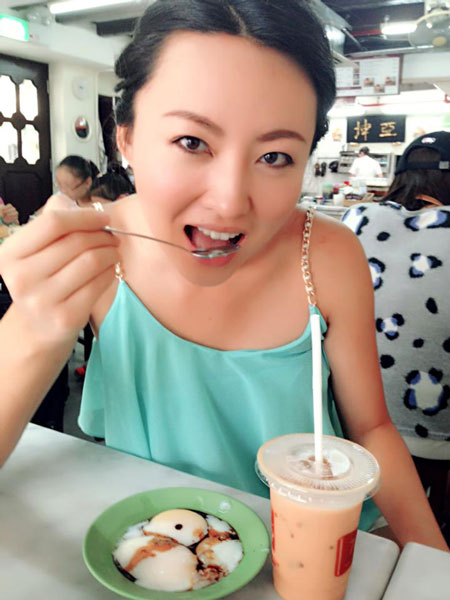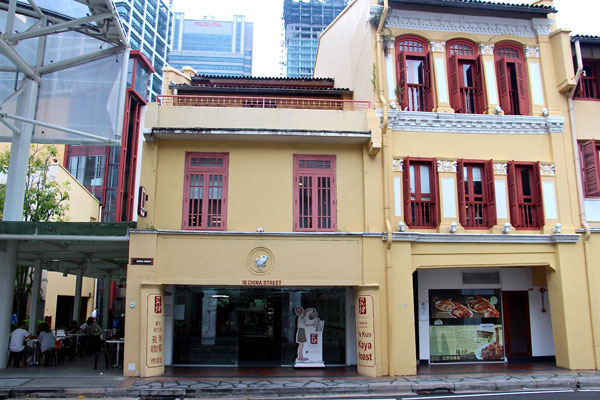 Verdict:  A Singaporean classic!  Most of our Singaporean friends grew up on this humble breakfast, and always hold a soft spot for kaya toast.  It's not fancy, but this breakfast will definitely hit the spot.  And at SGD$4 a pop, Ya Kun is an extremely affordable option in the increasingly pricy city state.   To experience this iconic breakfast, my suggestion is to fully immerse yourself in the old-school location on China Street.  The other Ya Kuns are modern, yet commercialization has compromised on its rustic charms.  Ya Kun – definitely "the toast that binds" hearts!
Ya Kun Kaya Toast
18 China Street, Singapore
For other locations: http://www.yakun.com
Sites We Adore