Carb-Free Dinners – Zesty Chicken Lettuce Cups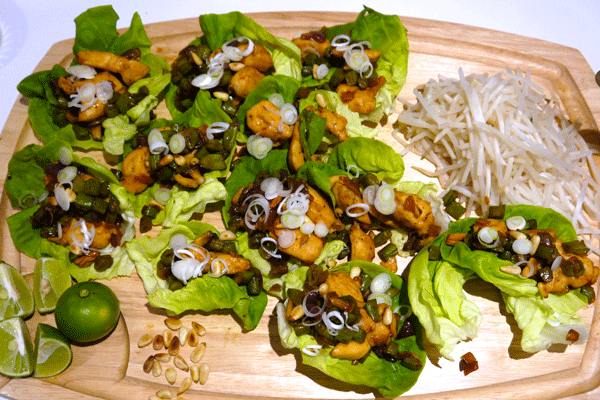 After 2 months of travelling, and eating gloriously in 3 continents, the Mister and I are a bit fatigued from all the decadence.  So we've started a mellow cleansing diet of dedicating 2-3 days each week to carb-free eating.  So far, it's been good, although carbs are such an essential part of any dinner recipe that I find it often challenging to dream up an alternative. On a random Friday, a lightbulb switched on in my mind and I thought "why not recreate something I've eaten in the Chinese restaurants of my childhood and use lettuce leaves as vessels for delicious stir-fry?"  Thus, I went about pulling flavours and memories together, and concocting something that is both irresistibly delicious, and undeniably healthy.  I've tailored the vegetables to what I'd like to eat, but feel free to incorporate different ingredients to your liking!  After all, you are the boss of your own kitchen
 I chose to use green beans and onions because I wanted hardy vegetables that also retain a certain degree of "crunch" to contrast with the juicy tenderness of the chicken.
I hope you enjoy this recipe as much as we do.
What you'll need:
a handful of green beans

1 small red onion
a handful of oyster mushrooms
400g chicken fillets
1 tbls pine nuts
1 head of butter lettuce
2 handfuls of bean sprouts
1 tbls sweet soy sauce
1 tsp sweet rice vinegar
1 tsp chili oil
1 tsp corn starch
cracked black pepper
2 tsp salt
1 tsp oil
chopped scallions (for garnish)
lime (for garnish)
Prep time:  15 minutes
Cook time:  10 minutes
Before cooking comes prepping – dice green beans into 1 cm segments.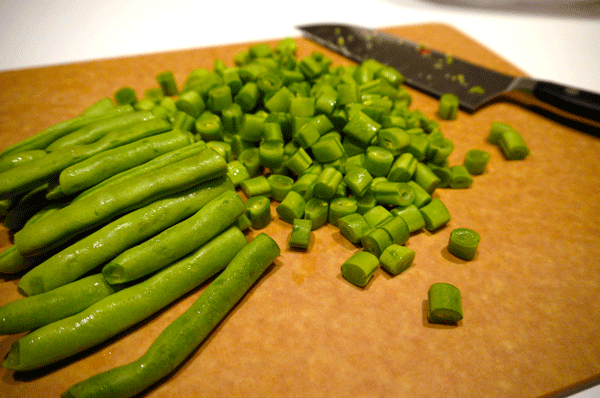 Dice the onion to around the same size as the green beans – this allows all the vegetables to cook at the same pace.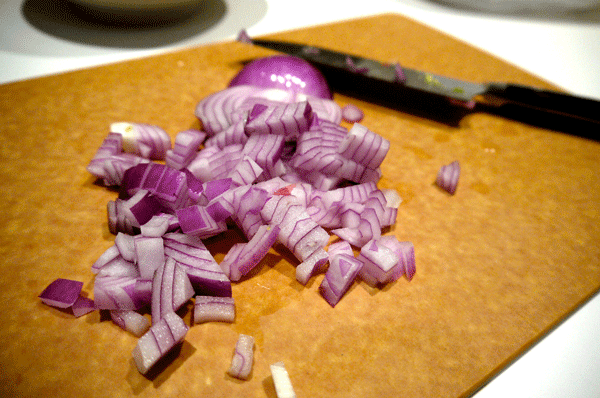 I just love these darling baby oyster mushrooms.  They have full-bodied flavour and give the meal that extra bit of "meatiness".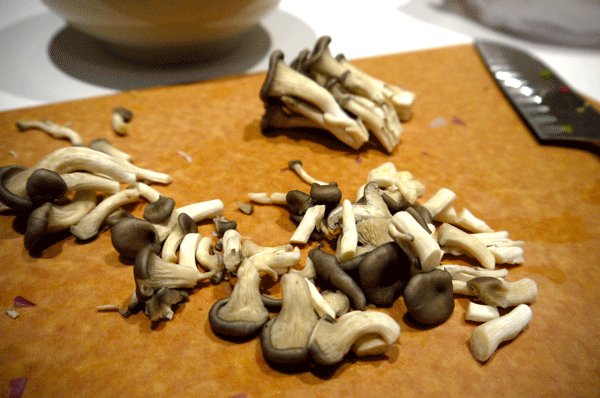 This is a trick I learned from my mom, who is an absolutely fantastic cook.  To ensure that leaner cuts of chicken (such as the fillet) remain juicy, squish the pieces together with a bit of corn starch and oil.  Remember, don't overdo it or you'll get a cake mixture.  You just want that "barely there" look (doesn't that sound similar to a makeup lesson in foundation!).  At this time, I also like to season the meat slightly with a dash of pepper and salt.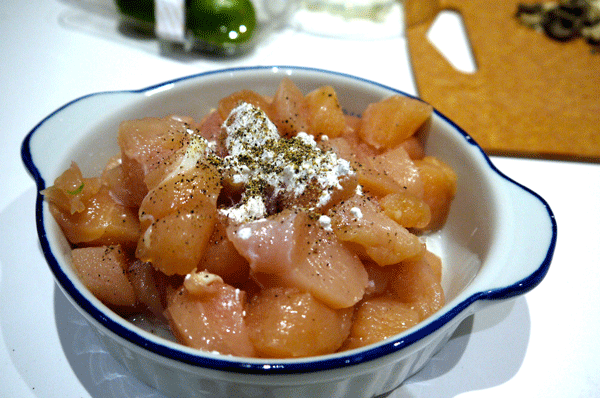 Pine nuts are amazingly aromatic.  Toast them for a few minutes on gentle heat to bring out the essential oils and luxuriate perfume, then set them aside to cool while you get on with the rest of the cooking.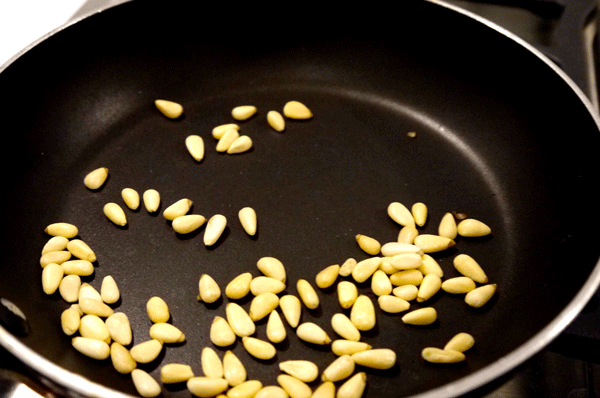 I have been raving about my Henckels Thermolon ceramic technology pan.  This pan basically eliminates  the need for oil during stir-frying or simple frying.  These chicken fillets did not stick at all to the pan, but if you are using other kinds of pans you might need to add a little oil before adding in the chicken.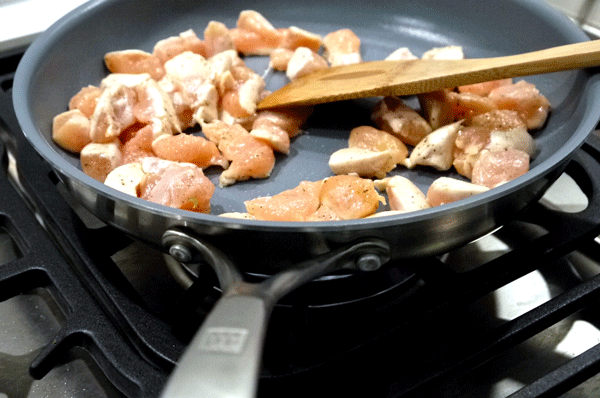 Turn the chicken pieces around in order to brown them evenly over medium heat.  After around 2-3 minutes, add in the green beans and onion.  Stir that around for another 2 minutes.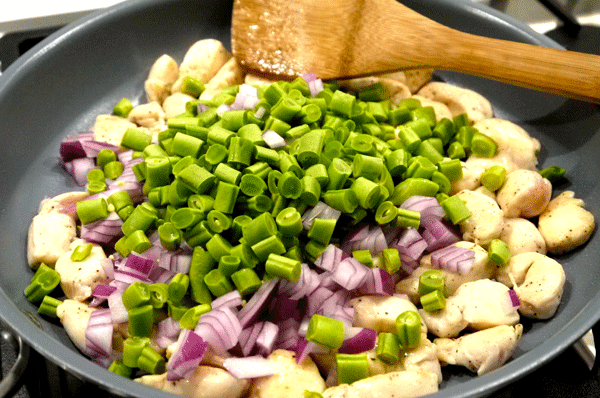 After the vegetables have cooked a little, add in the mushrooms, as they almost require no cooking.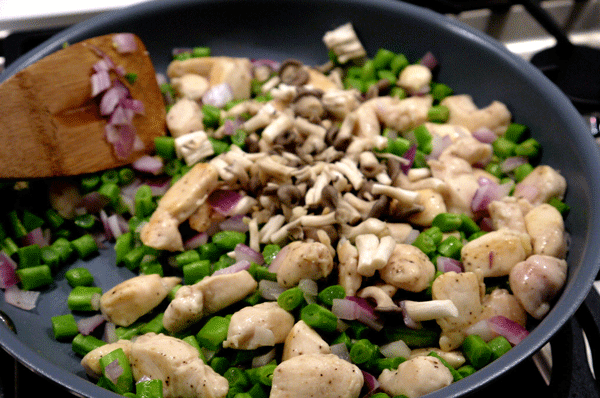 Pour in the sweet soy sauce, sweet vinegar and chilli oil.  For those who are shy of spices, you can always omit the chilli oil part
 Add 1 tsp of salt to the mix and stir well.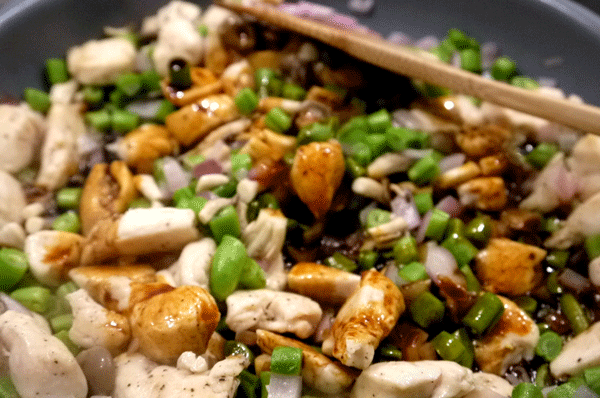 Ta da!  We're almost there!  After about 8 minutes of total cooking time, we are done!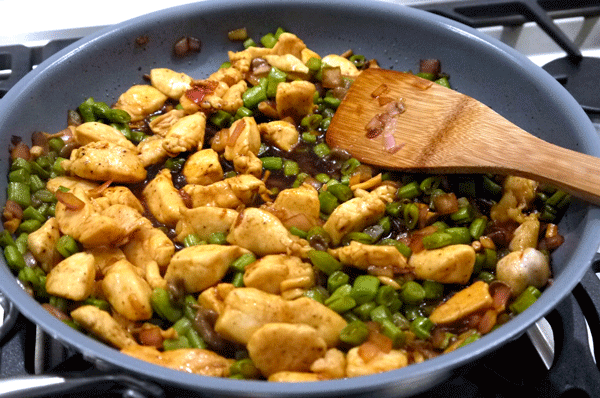 Wash and prep the lettuce leaves.  I love butter lettuce because I find it more substantial and robust than regular lettuce.  Hence, it holds up well as a serving vessel.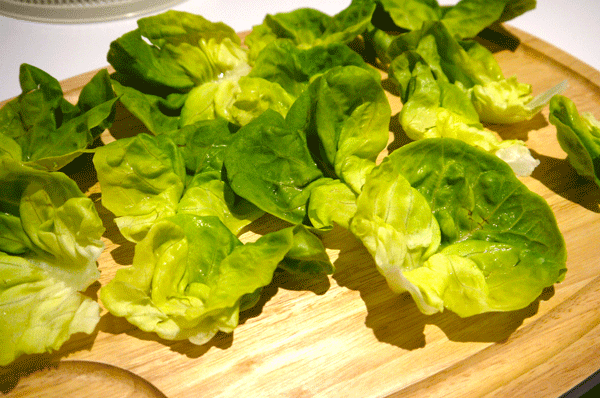 Fill each little lettuce cup with fragrant morsels of the stir-fry.  Garnish with fresh bean sprouts, chopped scallions, pine nuts and lime.
The best way to serve this is on a platter so everyone can get involved.  I would stack a good amount of bean sprouts on top of each lettuce cup, sprinkle in the toasted pine nuts, and squeeze a generous dose of lime juice over the bundle before eating.  The lime really ties in the entire dish and give it a fresh, zesty punch.
Bon Appetit!!!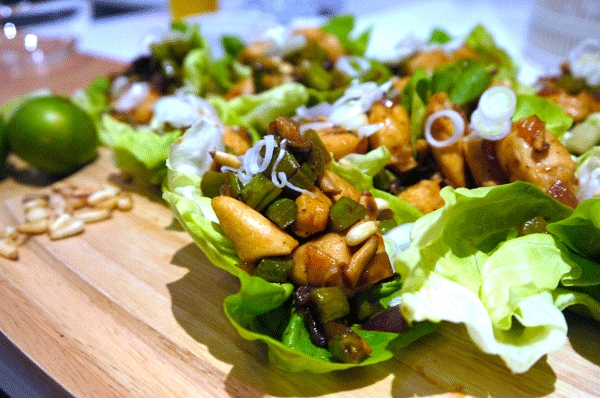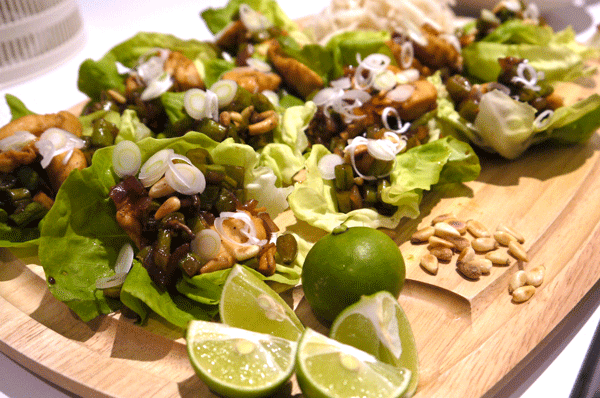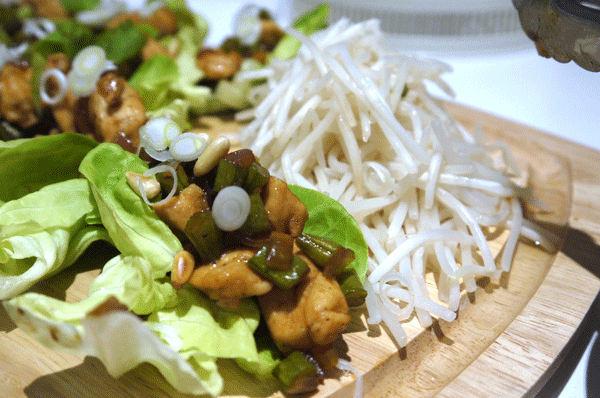 Sites We Adore