NEW Restaurant Review – Bueno Aires Polo Club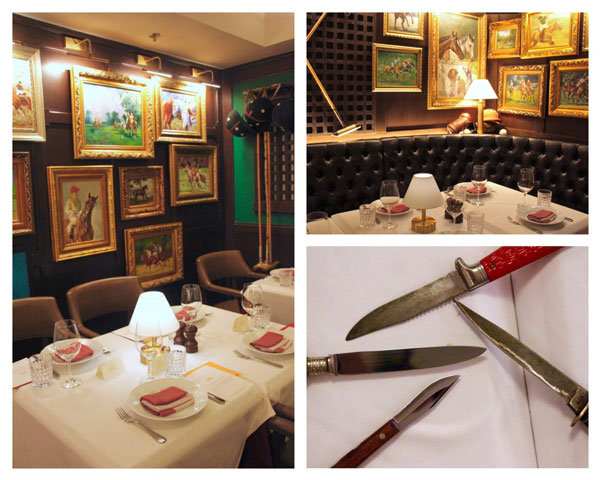 All the pretty horses: Black Sheep Restaurants' newest addition to their arsenal of eateries revolves around the ponies, and embodies the spirit of a bygone era of faded Argentine luxury. Veneered in glossy dark wood and vibrant oil paintings of horses, Bueno Aires Polo Club gives off the whiff of exclusive country club yet feels cozy enough for a tête-à-tête. True to its Argentine inspiration, the menu centers around meat, with a primal focus on steak.
Hong Kong is no stranger to Argentine-style steak, and have seen an influx of grill restaurant the likes of Tango and Gaucho in recent years as well as steady neighbourhood favourites like La Pampa. Unlike fattier cuts of American and Japanese beef, Argentine cattle are leaner and grass-fed, which some may argue, gives it a gamier flavour.
Bar service: A semi-circular bar dominates the entrance to the restaurant, so we couldn't resist grabbing a drink or two before making our way into the main alcove. The bellas ($148) is a refreshing gin-based cocktail blended with strawberry puree and grilled bell peppers, and is perfect for those who prefer a less sweet drink. The bell peppers, although on paper feels like an odd combination, really accentuates the fragrance of the strawberries. The Hurlingham fizz ($128) brings plenty of zing with a hefty dose of ginger, but is mellowed with sage-infused gin. If you are a fan of sweeter libations, there's the la yegua blaca ($138) shaken with tequila, elderflower and ginger.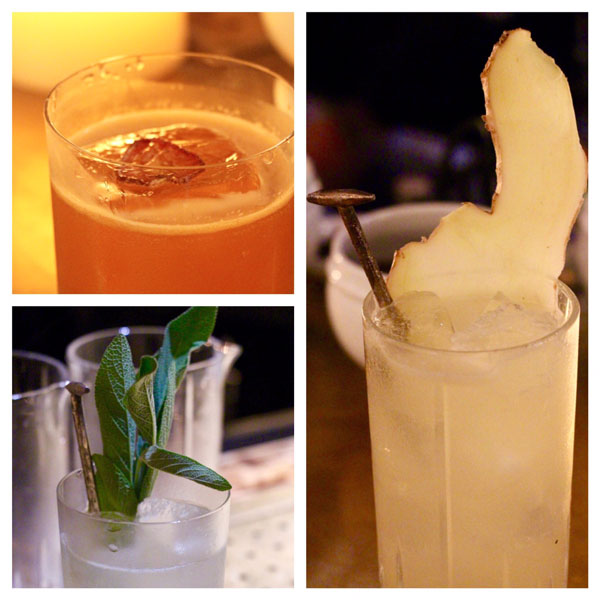 Christopher Mark, the Co-Founder of Black Sheep Restaurants, is an avid collector of knives. Each guest is given a unique knife from his collection to use during the evening, and regulars can reserve their favourite knives exclusively for their personal use. The knife I was given (pictured above) resembled more a surgeon's scalpel than a steak knife, which made me feel like Hannibal Lector for the entire evening! The tiny yet extremely sharp blade made it perfect for teasing off the meat from around the bones………
But nevermind about serial killers, let's talk about the food!
An Argentine classic, the provoleta ($128) is an oozing pan of melted provolone and fontina cheese. Served with rustic bread soldiers, the hot herbed-infused cheese made for an incredibly satisfying dip. Just make sure to eat it quick (which shouldn't be a problem) since the cheese will harden within minutes!
We are big fans of bacon, and the Polo Club's version was no wallflower. The thick cut pork resembled more steak in girth, and underwent a lengthy smoking and grilling process before arriving at the table. The wood-smoked bacon ($168) cures in gin and juniper berries for three days and smokes above the parrilla grill for 24 hours. Then, the fatty slab is flash grilled and smothered in chimichurri sauce. The result – one flavourful piece of meat. We loved the contrast between lean and fat, although the ends of the slab were a touch on the dry side.
Ironically, our favourite of the starters was the golf salad ($128), a crunchy sweet potpourri of baby gem lettuce, avocado and hearts of palm. The combination of creamy garlicky dressing against refreshingly crunchy leaves was the perfect palate cleanser following the heavy provoleta and bacon.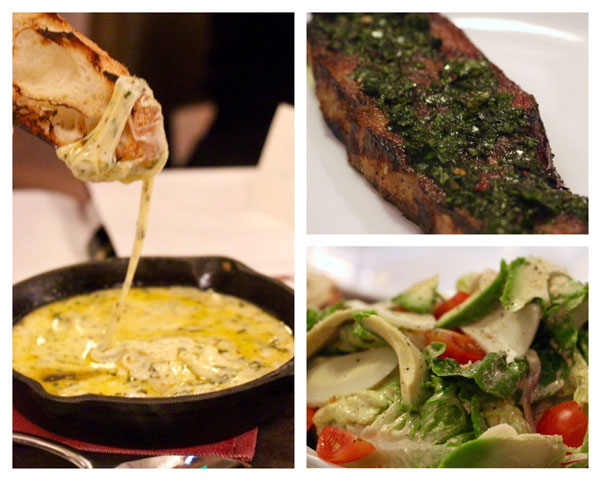 The poster child of Argentine street food, the humble empanadas ($68 each) won plenty of praise thanks to its crunchy buttery crust and flavourful fillings. Between the beef, chicken and vegetarian options, our favourite was the creamy spinach and provolone. The addictive texture and flavour reminded us of Greek spanakopita.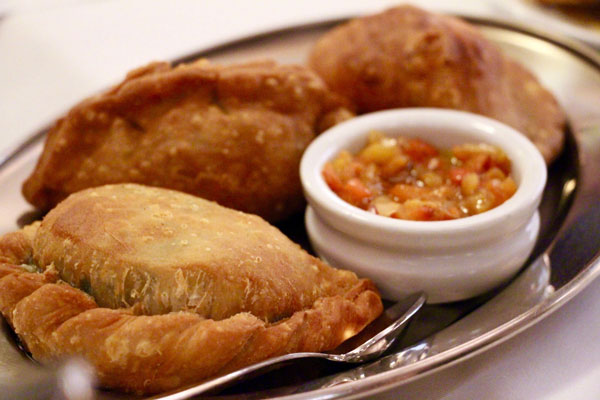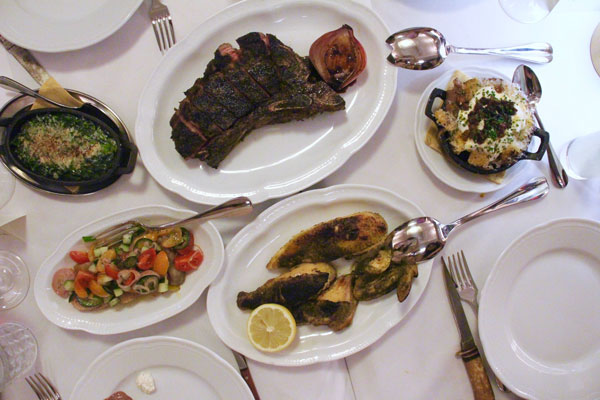 Chimichurri is Argentina's favourite sauce. Polo Club's signature "club rub" is made with dried parsley, garlic, salt and a bevy of other secret herbs, and is generously rubbed over all the meats before they hit the grill.
The 14-ounce sirloin ($298), from the General Pico brand of Argentine pure Black Angus beef, was grilled on the bone to maximise flavour. The rich flavour of spices paired well with the leaner, gamier meat.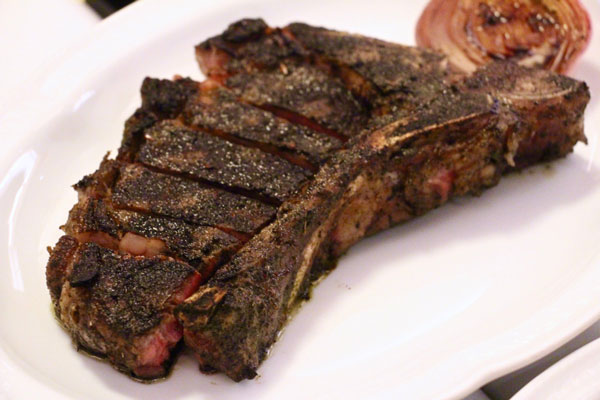 The half chicken ($258) was a glorious tasting bird, brined for three hours to plump up the juiciness factor before slow roasted then flash-grilled. The final dance on the grill gives the meat incredible smokiness and crisp skin. We absolutely adored this dish, and would prefer it to the steak, which is quite odd to say in a steakhouse!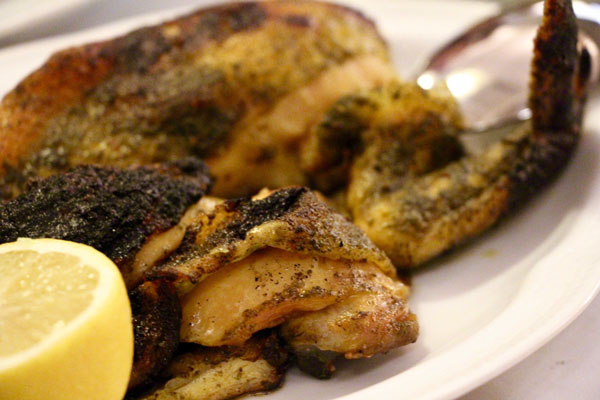 A trio of sides accompanied the meats. The aptly named fully loaded baked sweet potato ($78) heaved under a mountain of sour cream, Manchego cheese, and chorizo. This is a very hefty dish, so only order this if you are REALLY hungry! We preferred the eggplant escabeche ($78), a light summery dish served cold with jalapeño, tomato and shallot. The creamed spinach ($88), however, was our favourite. Topped with garlic béchamel and grana padano with just a touch of smokiness from the grill, this classic side was surprisingly lighter than expected, and balanced well with the heavily seasoned meats.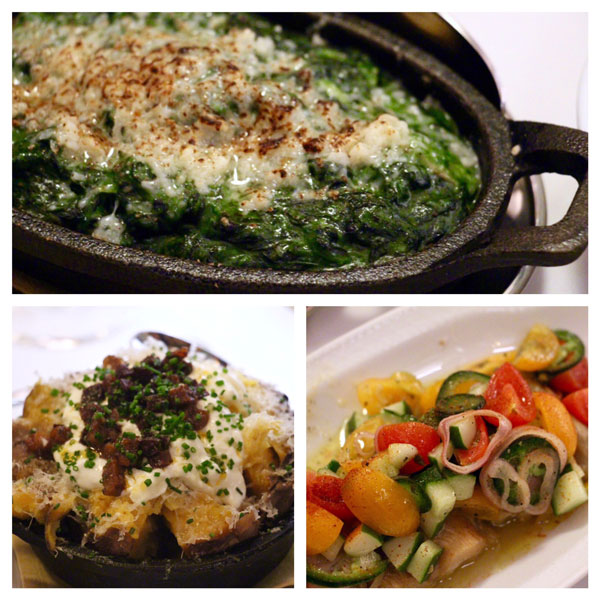 Dessert was an interesting tango of unique flavours, starting from the surtido de helados ($98), a trio of sorbets ranging from cactus flower, mango and smoked banana. Our favourite was the smoked banana, which reminded us of Banoffee pie.
The ananá la plancha (HK$108) coconut cake and pineapple granita came in a grilled baby pineapple, and was topped with coconut ice cream and drizzled with passion fruit sauce. The presentation was a showstopper, and we would highly suggest this for those that are fans of pina colada.
We were lucky to test out the goat cheese topped dulce de leche flan for the first time, since it was newly added to the menu that same evening. The dash of goat cheese shavings on top accentuated the burnt caramel flavour of the flan, and the sweet fig was really the cherry on top.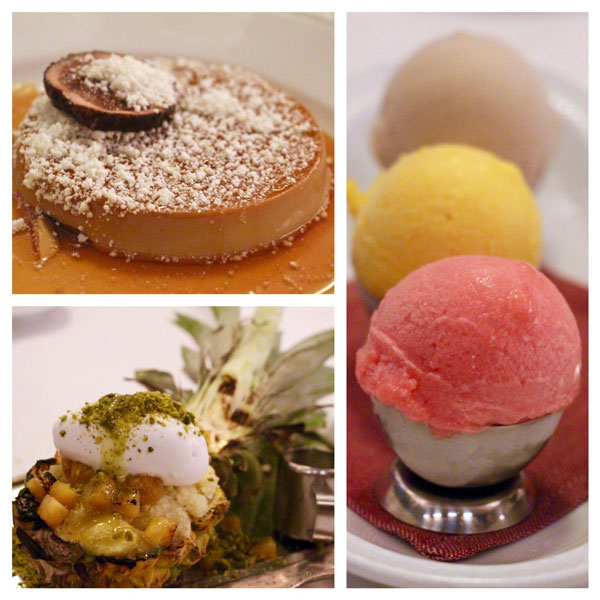 Anyone who've visited an Argentine restaurant would know about this dessert. The notorious Don Pedro ($108) a soft serve swirled on top of a bed of dulce de leche and chocolate, dusted in black walnut, is made sinfully decadent with a generous splash of maple whiskey. We would like to petition for this dessert to be made a drink instead, because it is seriously that strong!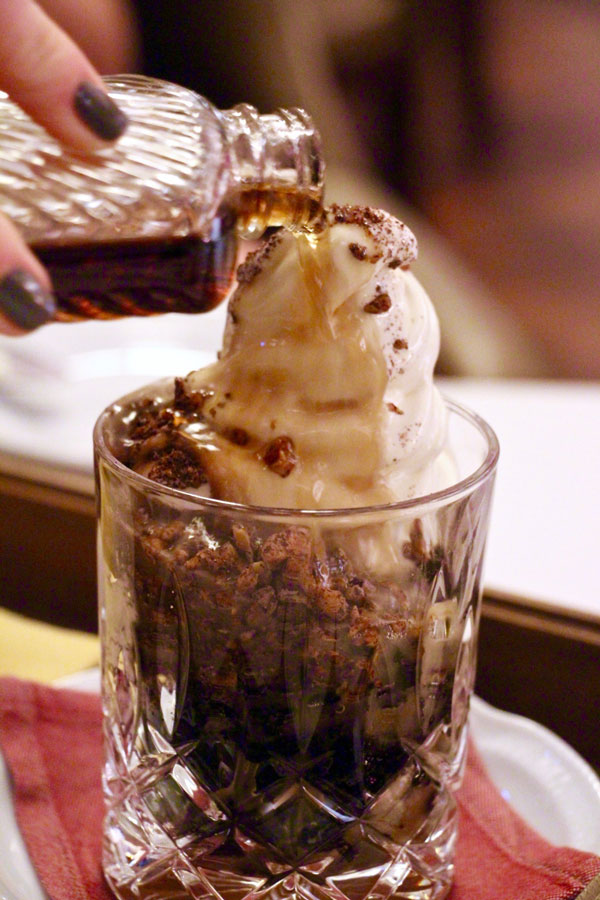 Verdict: We thoroughly enjoyed our meal at the Polo Club. Every detail, from the decor, to the menu to even the cutlery and well-tailored waiters was well executed. However, we should note that the meat dishes are exceedingly salty. At one point, we were guzzling copious amounts of water to wash it all down. We understand that different cuisines have different savouriness thresholds. Visitors to Spain or Portugal may be surprised at how salty the local dishes are there, as the same dishes are toned down for Asian palates here in Hong Kong. This is most likely why we found the meat dishes at the Polo Club so overseasoned, because we were tasting them in their most authentic form.
Buenos Aires Polo Club, 7/F, LKF Tower, 33 Wyndham Street, Central, 2321 8681 
Sites We Adore