The Girl behind the Cooking
Me happily making hometown dumplings in my beautiful kitchen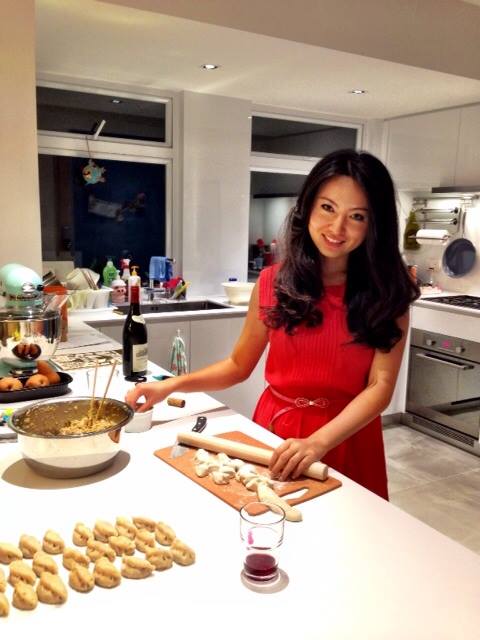 My love affair with food began at an early age, when my hearty appetite as an infant forced my parents to search the ration-ticketed Beijing of the early 80's for black market milk when I exceeded the daily 3 bottle government allowance.  When we moved to North America, my appetite quickly expanded to encompass the bountiful fast food continent, where, as a 2nd grader, I could polish off 8 pieces of KFC in one sitting.  Today, I am a more sophisticated glutton, having travelled and lived in many regions with contrasting and tantalizing local food cultures.  I now reside in Hong Kong with my biggest culinary fan, who encouragingly gobbles up all my culinary exploits with great delight.  I hope my cooking escapades can inspire you to also whip up a little something.
I literally "eat" for a living, and love every day of my job as Editor-at-Large of Foodie Magazine.  I've also recently started doing television appearances, and have worked on programs for The Asian Food Channel and the Discovery Channel.
You can contact me at celia@girlmeetscooking.com
Or
You can "Like" the Girl Meets Cooking Facebook Fan Page
Or
Follow me on Twitter @girlmeetscookin
Or
Follow me on Instagram @ girlmeetscooking
Happy Cooking!
Enjoy and Bon Appetit!