Chinese New Year Traditions with a Culinary Journey through China
Chinese New Year, the biggest celebration in the world's most populous country, is a day of opulent feasting and family gatherings that spans across China's vast and diverse territories.  With its rich tapestry of 56 ethnic groups traversing immensely different climates and landscapes, from the grasslands of Inner Mongolia, to the ice castles of Harbin, to the misty bamboo forests of the Shangri-la, to the golden sands of the Gobi desert, there are, literally, one billion ways to celebrate this ancient celestial hallmark. Despite the vibrant range of time-honoured traditions, there is one essential commonality that reigns paramount – the importance of a New Year's Eve feast (nianyefan), that sets the tone for the incoming year. The exact date of Chinese New Year varies from year to year, as it is based on the Chinese lunar calendar. The calendar is an ancient wisdom finely tuned to the changing of the seasons and environment that has guided China's largely agrarian community on the best times for plantings and harvest for millenniums.
In celebration of this glorious holiday, we've put together a mini guide of festival foods in each of China's five major regions. After all, what better way to understand a culture than through the plate?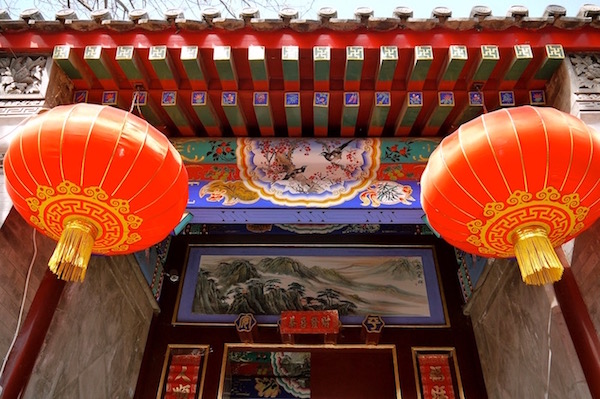 Northern China 
Uniquely Regional: Northern China, the region north of the Yangtze River, is home to Confucian ideals and considered the birth place of Chinese civilization. Comprising of Hebei, Shanxi, Inner Mongolia, Liaoning, Jilin and Heilongjiang provinces, Mandarin is the dialect most widely spoken here, and became the official language of China in the early 20th century. However, the Mongols and Korean tribes to the far north both have their own local dialects. Beijing, the capital, and my hometown, is situated at the heart of this region. For me, there's no Chinese New Year quite like a Northern one, with its crisp dry winters, frozen landscape and cheerful dance of 扭秧歌 during temple fairs ‭(庙会‭)‬
Festive Eats: With a dry climate and harsh winters, the North has been the cradle of wheat cultivation for millenniums. Other traditional staples include cabbage and pork, so it's no surprise that the dish that is closest to any Northerner's heart is a piping hot plate of plump, juicy dumplings. Traditionally, all family members gather around the communal table to make dumplings, which are auspiciously shaped like the gold ingot-money of ancient China. A sumptuous feast of meat and fish is prepared for dinner and as the gong strikes midnight on Chinese New Year, a second feast of freshly boiled dumplings is served. No matter how full you are from the first dinner, it is tradition and a good omen to at least gobble down a couple of dumplings. My family has always celebrated CNY with dumplings while watching the countdown on CCTV's wildly popular Spring Festival Program (春节联欢晚会). After the clock strikes midnight, the skies (and buildings) shake from a cascade of fireworks.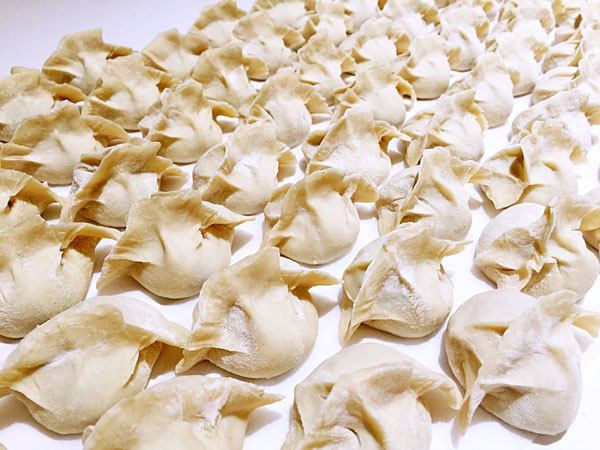 Eastern China 
Uniquely Regional: Lining the east coast of China are the provinces of Jiangsu, Zhejiang, Anhui, Fujian, Taiwan, Jiangxi and Shandong. Eastern China is also home to the commercial powerhouse that is Shanghai. A rich symphony of local dialects are spoken in this region, including Wu, Gan, Min, Hakka, and Hui. The topography here varies drastically ranging from water-canal villages of Suzhou and the majestic Yellow Mountain of Anhui to the glittery cityscape of the Bund.
Festive Eats: Springs rolls are popular throughout Eastern China for the crunchy golden crust and delicious fillings. The stuffing varies but the main ingredient is usually shredded cabbage, which gives the overall roll a hint of sweetness. Coincidentally, the spring rolls look auspiciously like golden bars. Tangyuan, a sweet dumpling made of glutinous rice flour with a black sesame or peanut filling, is also popular throughout the region. The round shape of the dumplings is a homophone for togetherness, or family unity (考途). Fish is essential to any Chinese New Year feast, because phonetically the "yu" sound is the same pronunciation as surplus or plenty. In the Eastern region, the head and tail of the fish should be left intact to symbolize a good beginning and end to the upcoming year.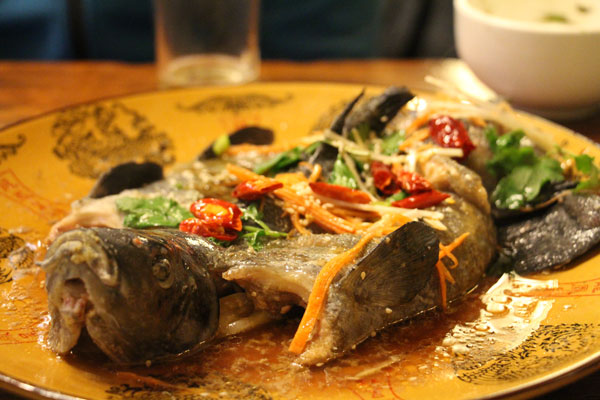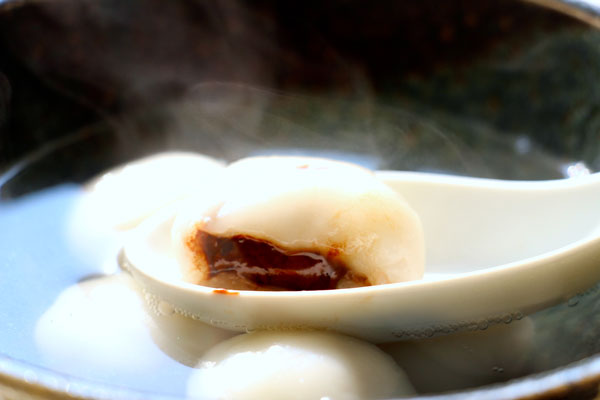 Western China 
Uniquely Regional: Western China is the largest ` district, making up almost half of China's landmass. It borders India, Pakistan, Kazakhstan, Myanmar, Afghanistan, Nepal, and Vietnam, just to name a few, and consists of six provinces including Yunnan, Sichuan, Guizhou, Shaanxi, Gansu, Qinghai, alongside Ningxia Hui, Tibet and Xinjiang Uyghur Autonomous Regions. This is the most culturally diverse region of China with a mind-boggling range of contrasting religions, dialects and ethnicities. The biggest city in this frontier region is Chengdu, home of bamboo groves, panda bears and tongue-numbing peppercorns.
Festive Eats: Depending on where you are in the region, pork may or may not be served. To the far west in Xinjiang, a mostly Muslim district, mutton with herbs and spices, alongside hearty flat breads, reign supreme. This is, after all, where the ancient spice trails wove through. Head further inland, and you get to Sichuan, where preserved pork and sausages are king. Steamed over plump kernels of rice, these flavourful meats are simply heavenly. The famous Sichuan hotpot is also a must in the region, as the bubbling cauldron brimming with spicy red chili symbolizes prosperity and growth (红红火火).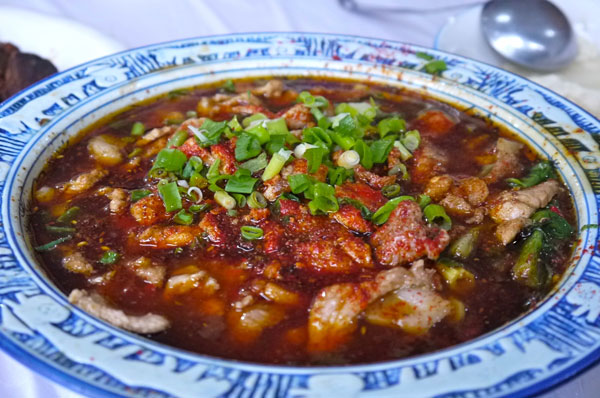 Central China 

Uniquely Regional: The smallest region in China, Central China consists of only three provinces – Henan, Hubei, and Hunan. Home to the Shaolin Temple, and the mystical Zhangjiajie mountain range (that inspired the Avatar landscape), the region might be small but packs plenty of punch. This is also a culturally diverse region, with the province of Hunan alone being home to 41 ethnic minority groups such as the Tujia, Miao, Dong, Yao, Bai, Hui, Zhuang and Uyghur.
Festive Eats: Chicken, which phonetically sounds like the word "to accumulate", is an auspicious menu item. In Hubei chicken soup is served in the morning followed by more chicken as the focal point for the dinner feast. The breadwinner of the family is given the chicken feet to eat, as it symbolizes "grabbing of money", and young people are given chicken wings to symbolize ‭(‬远走高飞) "soar high and prosper" while the caretaker of the family is given pieces containing chicken bones as they are the "backbone" of the family. In Hunan, the chicken served must be a rooster, and there also needs to be mountains of red chili peppers layered over steamed fish. The red colour of the peppers is a symbol for luck and prosperity. Sweet rice wine is also drunk around the dinner table.
Southern China 
Uniquely Regional: Dominated mostly by the province of Guangdong, Southern China also includes Hainan, Macau, Hong Kong and Guangxi Zhuang Autonomous Region. Needless to say, Cantonese is the main dialect spoken here, and seafood plays a large part of the local cuisine. Hainan used to be a penal colony during Imperial China – it's hard to imagine palm trees and sandy shores as much of a punishment!
Festive Eats: When I celebrated my first Chinese New Year in Hong Kong, I was baffled by how different the festive dishes were between North and South. Nian gao, a sweet rice cake made of glutinous rice and red sugar, looked and tasted different from the nian gao back in Beijing, which had layers of rice, red bean and dried fruits. The auspicious meaning behind the sweet treat remains the same, as the phonetic sound of "nian gao" literally sounds like "another year higher" or the lucky phase "another year of improvements". Pen cai is a popular festive dish that sees the whole family gathered around a massive communal bowl layered with delicacies such as abalone, chicken, prawns and dried scallops. Another Southern China favourite is turnip cake, which originated in Guangdong, and is served either steamed or fried, and often packaged as gifts. Fa cai (a kind of black moss) is also eaten during this time of year, as it phonetically sounds like "get rich" in Chinese.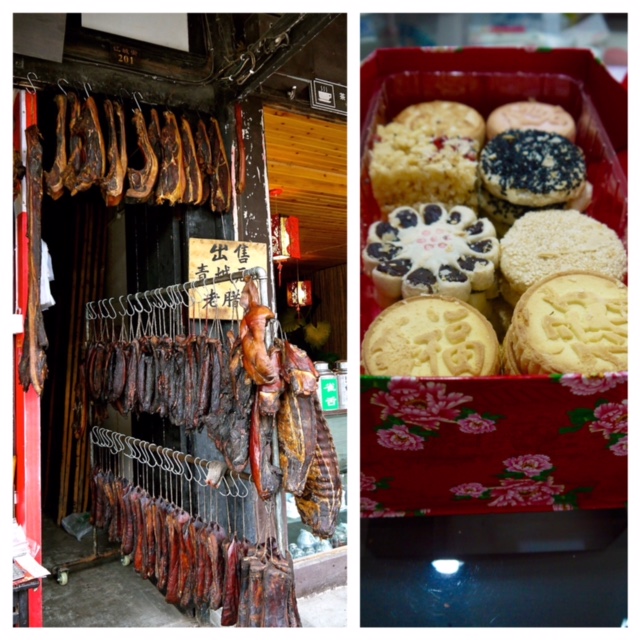 Tasty Tidbits
Fish is a quintessential part of any Chinese New Year feast, thanks to its auspicious homophone meaning "surplus". Traditionally, the head of the fish is placed facing the most distinguished or eldest guest at the table as a sign of respect, and all those at the table can only start eating the fish once the honoured guest has taken the first bite.
The greatest human migration occurs in the 40-day period surrounding Chinese New Year, where hundreds of millions of Chinese return home to celebrate this epic holiday with loved ones. In 2014, an estimated 3.6 billion trips were made during this period.
Want to gain the biggest audience in one night? Get a spot on CCTV's iconic Spring Festival Gala, likely the most watched TV program in China. Last year, the estimated viewership was about 800million in one night. Plenty of Hong Kong and Taiwanese pop stars have jostled for a spot alongside international celebs such as Celine Dion, Shakira, and Sophie Marceau.
Dishes prepared for CNY feasts should be in even numbers, and never odd ones, as odd numbers symbolize difficulties in the coming year.
Laba holiday (臘八) happens on the 8th day of the lunar month prior to Chinese New Year and is based on an ancient festival that occurs shortly after the winter solstice. On the day, laba porridge full of jujube, red beans and peanuts is eaten, as well as garlic steeped in vinegar that on this day will turn a vibrant green hue come CNY. It's rather hard to believe but garlic pickled on any other date remains a cream colour!
Fruits that are golden in colour symbolize fullness and wealth, and are highly coveted during CNY, hence all the orange trees.
In folklore, "nian" (which means year in Chinese) was a vicious monster who ate animals and humans. People feared "nian" but soon realized that the beast is afraid of the colour red and fireworks and thus the tradition continues of using fireworks and the colour red to ward off "nian" every CNY.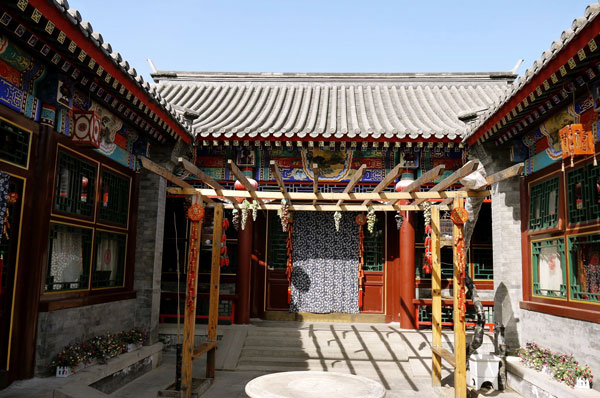 Sites We Adore