Afterthoughts – Munching on 'Roos at BellBrook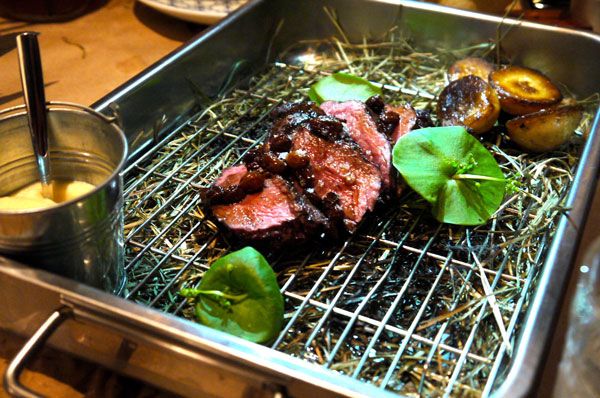 Coinciding with my upcoming The Food Nomad travel food column in Foodie Magazine on Sydney, a group of friends and I decided to try the Aussie-themed BellBrook, the very new baby of Dining Concept and David Laris.  The restaurant is so new, in fact, that on the night we dined there, we were the only customers aside from a few tables of investors.  This meant we received the full attention of the warm, friendly staff, and got a very detailed introduction to the new restaurant.  Situated right above my favourite steakhouse, Tango, which is also owned by Dining Concept, BellBrook's layout is much a mirror image of the downstairs Argentine restaurant.  A lively open kitchen dominates the back of house while low tables fill the main dining area.  Bar chairs and high tables line the airy corridor overlooking bustling Wyndham.
The decor is casual, quirky, and most importantly, fun!  Chalk paint coat the walls, meaning guests can grab a piece of chalk and scribble to their hearts' content.  Funny Aussie phrases adorn overhead beams, alongside hollow-eyed black and white photos of early Australian pioneers, or…shall I say, convicts?  In fact, each paper menu comes with a "Convict Game" at the back, and buttons tucked into table-side metal tins act as game pieces.  Having visited Australia on several occasions, I was keen to see how this Hong Kong-based restaurant interprets the cuisine of the Land Down Under.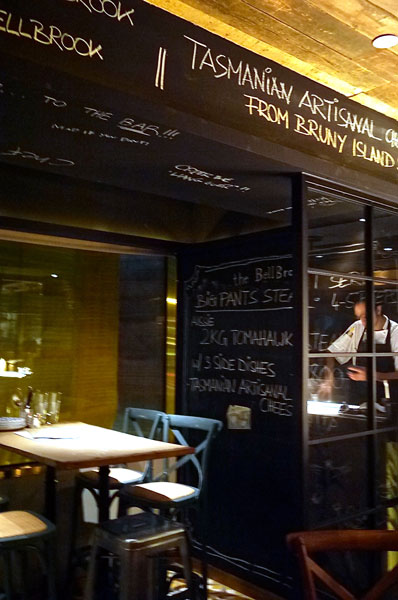 We love the open kitchen – it gives the space so much energy, and plus, the chefs can see the immediate reaction on customers' faces when they taste each dish.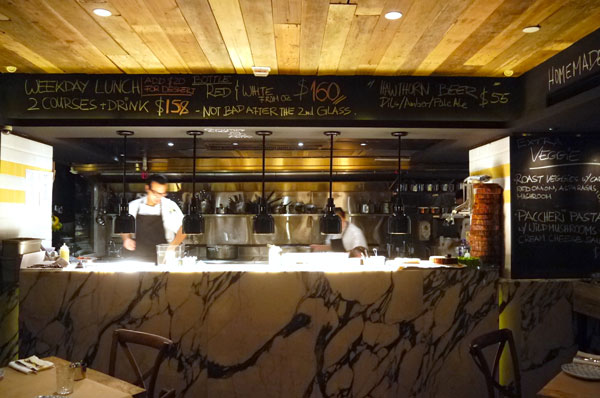 Wall-to-wall wine fridges.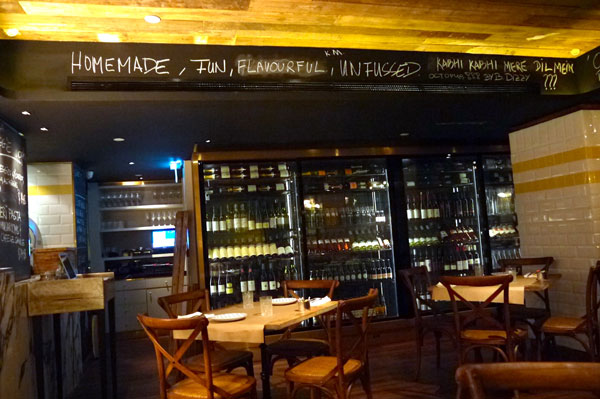 Tablescape.
Simple brown paper doubles as a table cloth, and a canvas.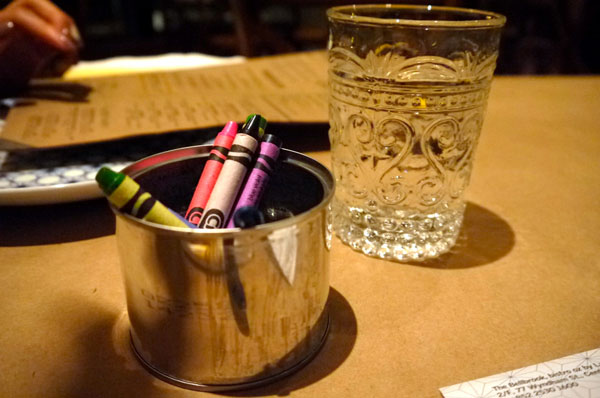 House-made pickles to crunch on while you doodle.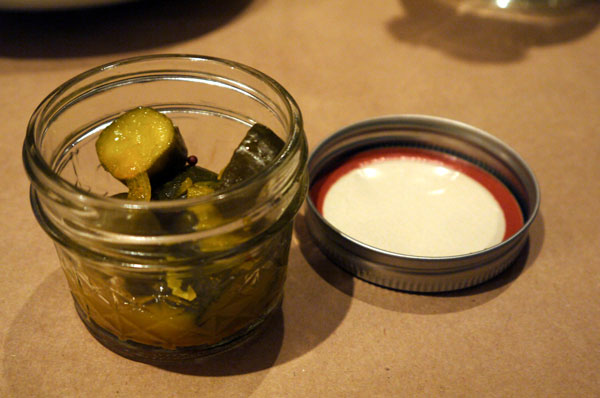 (Below)  Rustic sourdough-like bread with a flavour-infused crust, accompanied by butter topped with "edible" soil.  I've seen this done in restaurants such as the Mandarin Grill, where mushrooms and nuts are dehydrated to look like top soil.  Brings back the child in all of us, since I'm sure we've all tried eating dirt at one point or another.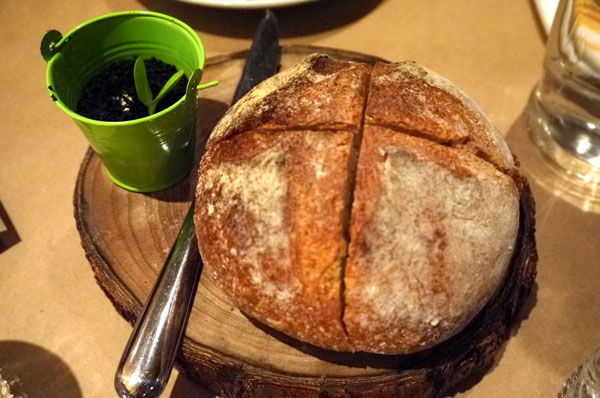 BellBrook has some quirky sounding cocktails, such as the Sydney Slammer, made with bundaberg dark rum, lime and mint.  However, we settled for a pitcher of Pimpy Pimm's ($310/1.5Lpitcher) at the suggestion of the host to share amongst the four of us.  The easy-drinking infusion was made up of Earl Grey tea, Pimms, sweet vermouth, lime juice, mint and strawberries.  I like how the drinks are served in mason jar-like glasses.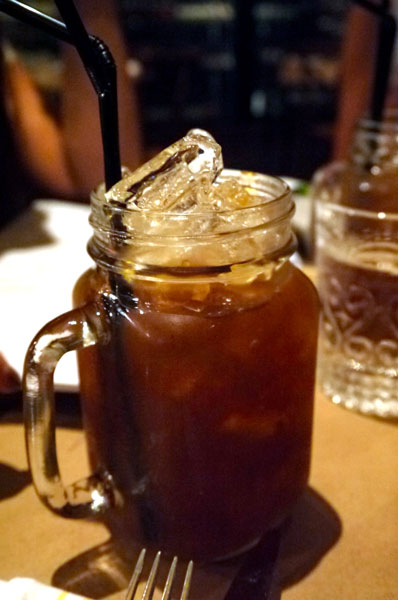 Since there were four of us, we decided to share everything so we can each taste a wider range of the menu.  Ever since I was introduced to burrata cheese 2 summers ago in Vancouver, I've fallen in love with its sinful creaminess.  Hence, we had to go for the smokey eggplant and burrata salad with beef tomatoes.  The eggplant was earthy and tender, and I loved the almost crust-like caramelisation from the balsamic.  The burrata was oozing perfection, and the tomatoes added refreshing contrast.  Our only complaint?  We wished there was more eggplant, especially since the menu labeled it as a key ingredient.
Next up, we had the black pork scotch egg, served on a bed of hay with a petit pot of horseradish creme fraiche.  The plating reminded me of the "bacon and egg" dish from the Mandarin Grill which also serves eggs on a bed of hay.  The scotch eggs were good, and I enjoyed the crunch of the breadcrumbs and the flavourful minced pork shell.  However, I wished that the yolks could have been more gel-like, so that we can savour the texture and flavour longer instead of having it run all over the plate.  Perhaps cooking it a la sous vide at 62 degrees will give this egg the wow factor?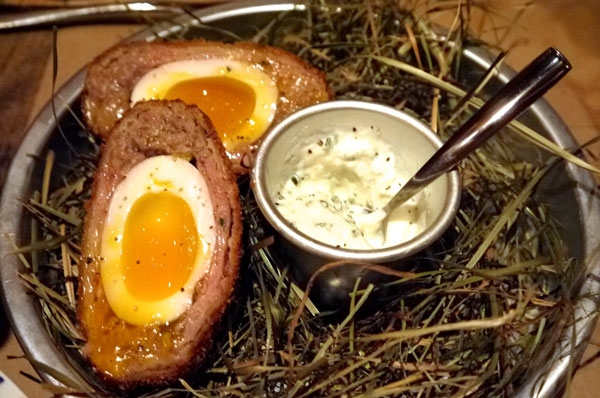 In between our starters and mains, we decided to try our hand at the Convict Game.  We didn't get far though, since the service was so fast.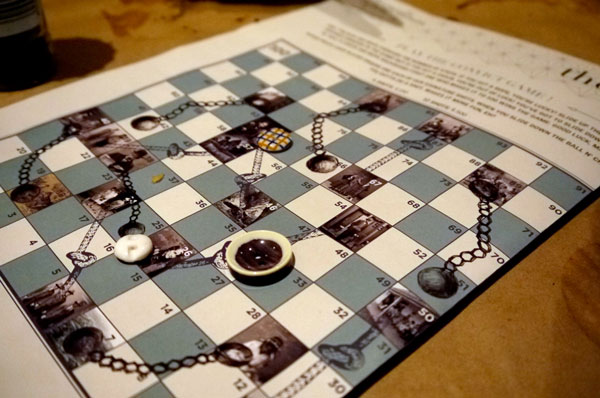 Our first main arrived looking like something out of a Jamie Oliver cookbook.  Grilled black pork cheek & wagyu beef rissoles ($168), nestled on a bed of creamy, cheesy orzo and dressed in a roasted tomato sauce.  I must say that the star of this dish was the dreamy orzo, so creamy and infused in parmesan cheese.  This is comfort food at its best.  Orzo has always been my favourite pasta to cook with as it acts as a perfect conduit for flavours.  The tiny grains remind me of rice yet each kernel retains the unique al dente texture of pasta.  We found the meatballs on the dry, chewy side, and questioned whether it's a waste to use wagyu as mince.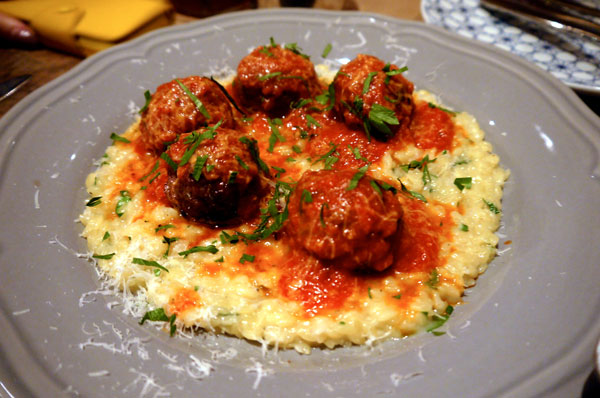 I've had baramundi on quite a few occasions when travelling through Australia and New Zealand.  It's such a beast of a fish that its skin can be used to make leather products, such as wallets.  I wouldn't say it's my favourite type  of fish, but we decided to sample it on the recommendation of the host.  The barramundi cooked in aborigine paperbark ($298) pays homage to traditional native cooking techniques of wrapping fish in the bark of local trees, and came to the table amongst much fanfare accompanied by an ingredient I've never seen before – the finger lime.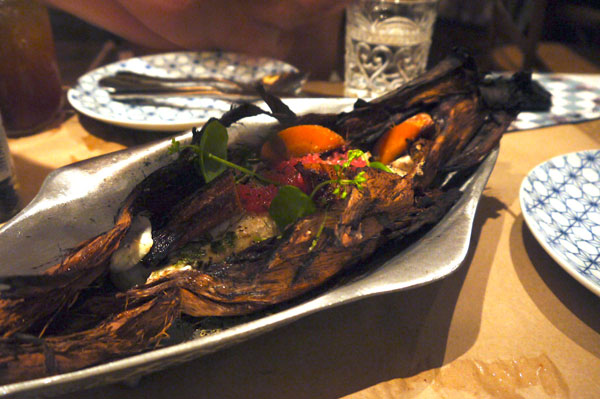 I found this finger lime such a peculiar ingredient that I asked the staff to show me an actual one from the kitchen.  The lime is about the size of a fat sausage finger, and is indigenous to Australia.  It's quickly becoming one of the key ingredients in the gourmet bush cuisine movement, and can be found on many Australian menus.   The lime tree takes 15 years to mature before it can bare fruit.  The result is a tangy, citrusy fruit that comes apart in circular pink pulps that mimic the shape and texture of caviar.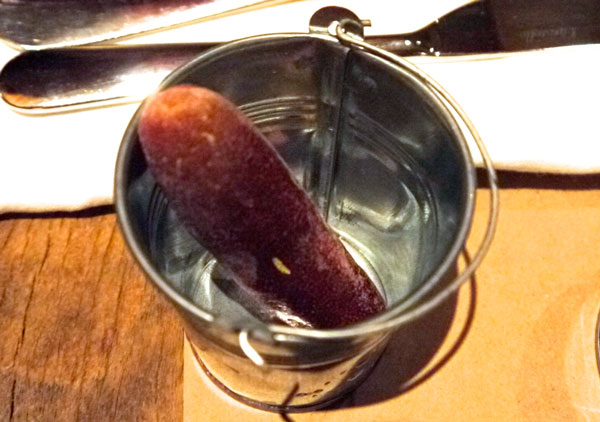 The pink "caviar" of the finger lime.  We loved the tangy "pop" of the finger lime on top of the white fish.  The fish was well-cooked, although perhaps slightly under seasoned, and I liked the gelatinous texture of the meat near the skin.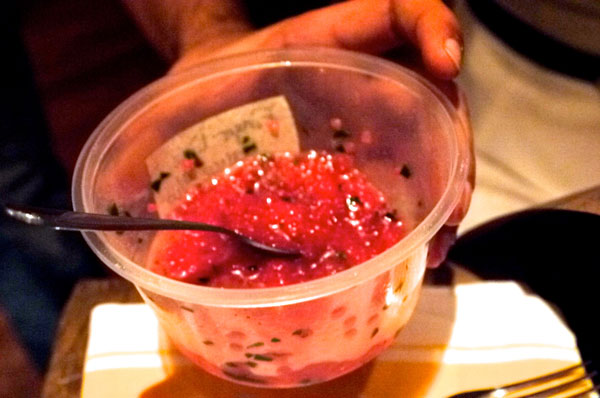 A neighbouring table was having this, so we couldn't resist the swaying tower of kettle chips sprinkled with truffle salt and grated cheese.  It was essentially potato chips stuck on a stick, so there wasn't any amazing flavour surprises.  It reminded me of fair food since I had the exact same thing at the Richmond Night Market this summer in Vancouver.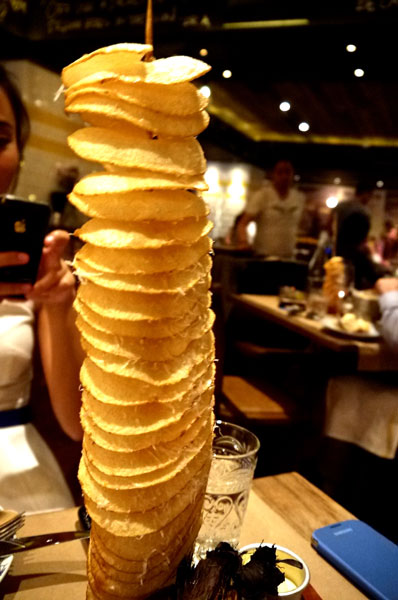 I remember being very excited on my first trip to Sydney and trying kangaroo meat.  It turned out to be a rather an anti-climatic moment since kangaroo meat has a similar texture to beef with none of the fine marbling and delicious flavour.  I've tried kangaroo on several other occasions but have been disappointed each time.  So having said that, the server at BellBrook managed to convince me to give it another shot.  The pan-fried kangaroo loin ($288) served with parsnip puree and roasted potatoes, looked beautifully rosy and soft, but alas, did not match its presentation in taste.  Because of the lack of any marbling, the meat tends to taste rubbery despite cooking it only to a medium rare.  I guess kangaroo meat and I will never be friends, which makes it easier to be friends with a live kangaroo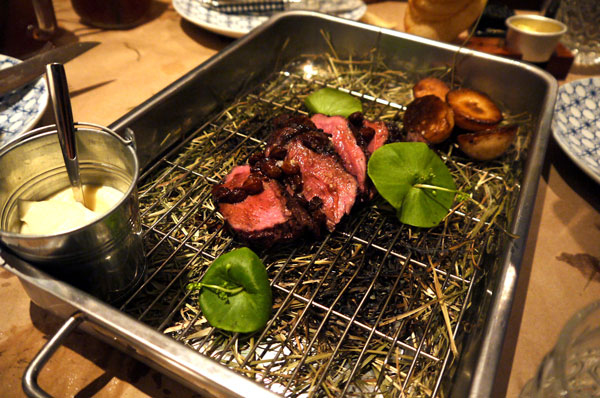 The next dish had a name that was quite a mouthful – "flank steak burnt and pink in the middle…how's that?" The steak ($298) was my favourite dish of the night.  It was perfectly cooked to a blushing pink and was full of juicy, tantalising meaty juices.  The eggplant puree, although not a beauty to look at, was creamy and delicious.  I wasn't too crazy about the lemon myrtle dipping sauce, so decided to enjoy my steak in its most natural state.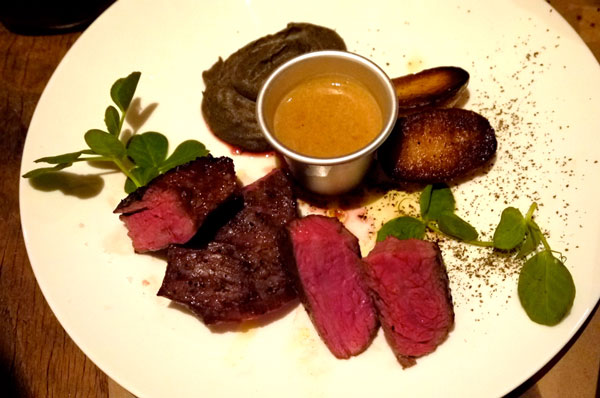 The host managed to convince us into ordering rounds of hot cactus shots ($38/each) before dessert.  The shots were made of jalapeno infused tequila and went down surprisingly well.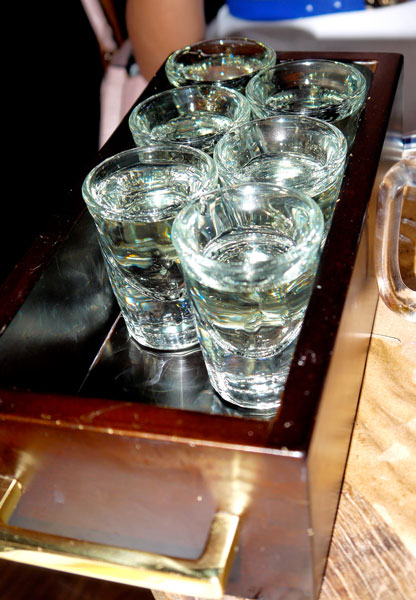 Loved the chalkboard drawing above the kitchen – grumpy chef.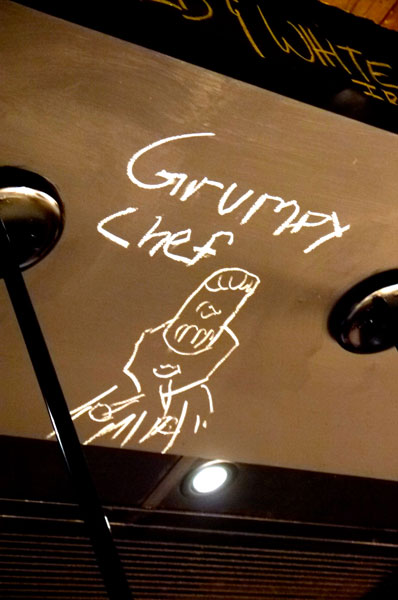 We were pretty stuffed by this point, so decided to split a milk bar ($78) for dessert.  The milk bar came in the form of a salt chocolate chip cookie and a tiny glass of caramel milk.  First of all, I thought that this combo was a complete rip-off at $78 a pop.  Secondly, the cookie was flat in flavour and rather boring – I could definitely have made a more interesting cookie.  The caramel milk was yummy in the sense that it tasted like melted ice cream, and that was about all we can say on the dessert.  The date pudding (served with a giant ball of ice cream) that a neighbouring table ordered looked a lot more enticing.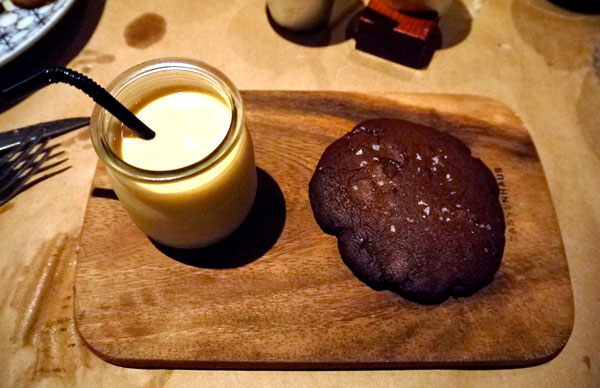 Verdict:  Mm……..I'm undecided at the moment.  I like the fun, informal atmosphere, and there really hasn't been a restaurant devoted exclusively to highlighting Australian specialty produce. These are all winning points for BellBrook.  However, on the flip side, the restaurant is at its infancy, and it can change dramatically as it encounters growing pains.  I usually don't visit brand new restaurants because more chances than not, what I experience on opening day will be drastically different from what I'd experience 6 months down the line.  The Hong Kong restaurant scene tends to pull out all the stops during a restaurant's first few months, then dwindle down as chefs and menus change.  To be a good restaurant, you need consistency.  At the moment, BellBrook is just a "fair" option for me.  Laris has opened several restaurant around Asia to mixed reviews, so I'm keen to see how BellBrook unfolds in the coming months.
BellBrook
2/F, 77 Wyndham Street,
Central, Hong Kong.
Tel: 2530 1600
Sites We Adore